Furniture design
Bloom by Peter Van de Water makes us forget the association between 'recycled' and 'cheap-looking'
Born from a collaboration with furniture company Banne, Bloom is a sculptural recycled outdoor chair by Peter Van de Water. The dutch designer proposes an alternative to cheap-looking recycled furniture with a sculptural outdoor chair made from ecopixel plastic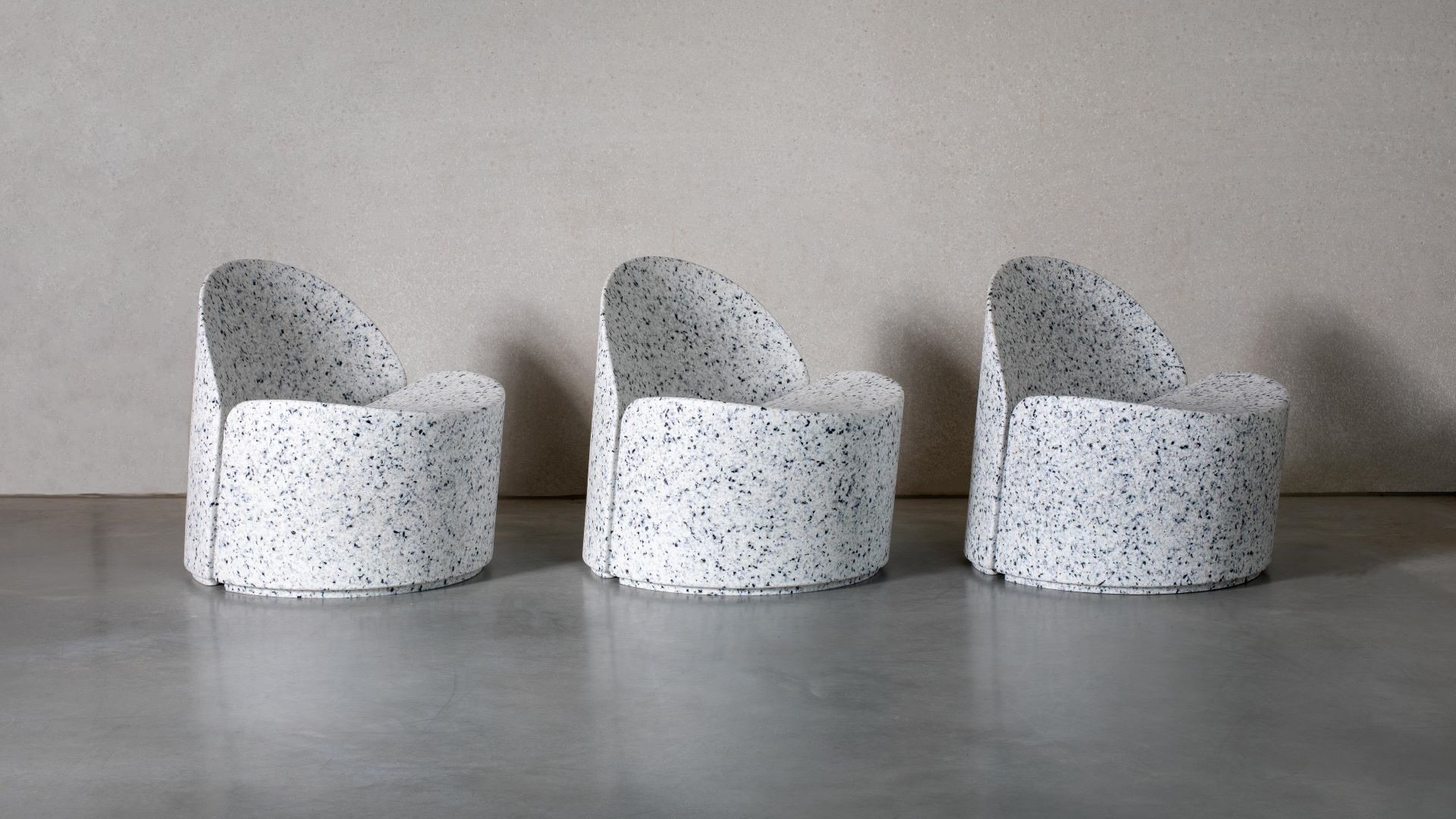 Peter Van de Water is an Amsterdam-based furniture and product designer. He studied architecture at the Academy of Art and Design St. Joost in Breda but decided to make furniture design his focus. In 2019, he was awarded the Dutch design award for his Sett CE sofa, a sofa with a 3D-printed inner construction that utilizes recycled plastic as its main material.
Peter aims to make timeless and durable products, both in design and construction. For him, products should surprise and look great, but also last and age well.
He envisions furniture design with a more sustainable future where recycled materials are considered first. Let's discover how Peter integrates those principles and values into his design process.
Peter had the opportunity to collaborate with dutch company Banne, with whom he designed Bloom, an outdoor chair made out of ecopixel plastic. Once molded, this recycled plastic offers an impression of stone, that led Peter to approach the design in a sculptural manner.
"In my search for new sustainable materials, I came across ecopixel, a recycled plastic composition used with rotational molded products. I liked the feel of quality the recycled material gave me, almost like stone." he explains.
"I knew how rare it was for recycled materials to have a feel of quality. If I could make a stone-like sculptural design I could maximise the stone "feel" and at the same time, add elegance to a recycled piece."
[ How are designers taking action against the damages of the environmental crisis? Let's figure it out with Novoloop, turning plastic waste into performance materials! ]
The pieces made with ecopixel plastic are manufactured with a rotational molding technique. Peter explained to us that he was not familiar with this technique: it was a chance for him to think about his design differently. 
"I never liked rotational molding as a technique, products look cheap and plump. However, as I could see the ecopixel as a "stone", I could design it differently. I worked as a sculptor in order to add elegance and sophistication to the chair. By doing so, I would forget the association with the cheap-looking products. It was very satisfying in the end to overcome this challenge." 
When asked about the details of the manufacturing process, Peter explained:
"The rotational molding technique consists of a hollow mold that is heated and filled with granules of ecopixel. The mold then starts rotating while the granules will melt. The plastic will then spread all over the walls of the mold due to centrifugal force.
After some time, the molding is cooled down while rotating so that the plastic hardens with the desired shape. You can now extract the product of the mold."
"The molds are relatively cheap and so are most of the products made in this technique. In this case, we do not use virgin plastic granulate, but recycled plastic granulate. The product made with ecopixel can be recycled in the same manner, like a wax that you can melt over and over."
Making a seating product through one-step manufacturing requires a very precise design process. As Peter explained, the first idea was born in a steel wire scale model, a schematic prototype to visualise the basic design. From there, he started to sculpt the chair reiterating with numerous models to get the shape right.
"This plastic is a hard and unforgiving material so the seating position had to be spot on. If the mould is made, there is no going back. In the end, we had made a full-size model, CNC milled out polystyrene. We had to make sure we had all the details and sitting position right. The last adjustments were made by hand on the model and translated to the production file for the mould." adds Peter.
"We have seen all kinds of attempts to use recycled materials in a decorative way, but the design has to look good. Bjarke Ingels calls it "hedonistic sustainability". If we can succeed in making a good and sexy design out of recycled material, the consumer will like it and we will get rid of the negative association it can make."
The Bloom lounge chair looks as if it has been carved out of stone giving it a very solid and comfortable feel. The small gap detail in the middle of the seat not only gives dynamism to the piece but also works as water drainage for outdoor usage, while the final surface is finished with a small grain to make it more resistant to scratches. 
With this product, Peter Van De Water became a finalist in Rosanna Orlandi's Guiltless Plastic Award and was exhibited at the MOST in Milan, Italy.
[ Eager to discover groundbreaking recycled materials? Discover how FabBRICK reinvents construction materials from recycled textile waste! ]