Furniture design
Futuristic holographic furniture—Etage Projects X Objects of Common Interest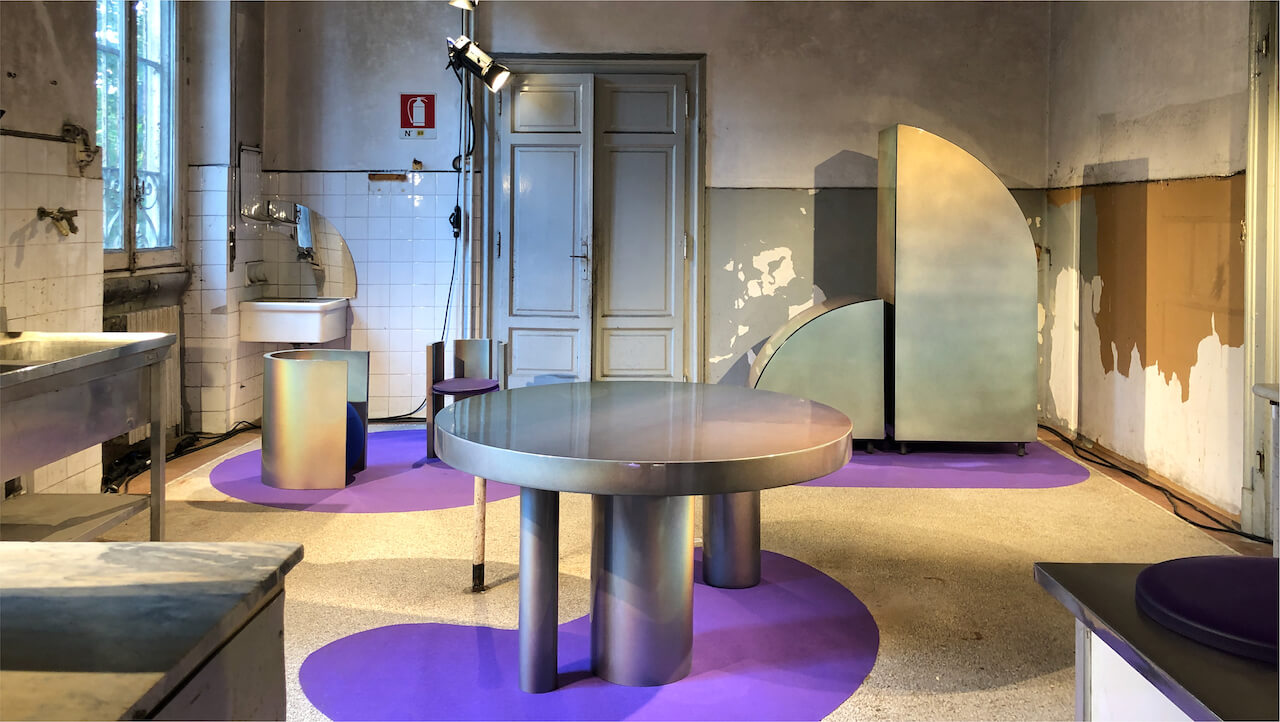 Steel furnishings rendered with a rainbow sheen encompass the Future Archaeology collection by Etage Projects for Objects of Common Interest.
Taking over an old military hospital earlier this month, the Alcova showcase delivered on its annual offering of experimental projects during Milan Design Week. Among our favourites was New York studio Objects of Common Interest (OoCI) who teamed up with Copenhagen gallery Etage Projects to present a collection of holographic furniture.
Called "Future Archaeology", it included a series of elemental objects such as chairs, stools and cabinets, which were exhibited as part of an object-based installation inside of an old nunnery utility room. The overall effect was an eerie domestic landscape made up of unusual monoliths defined by their arching curves.
Future Archeology plays with materials and their sensory effects
Rendered in a metal-like finish with a rainbow sheen thanks to holographic pain and biodegradable acrylic, the collection plays with the perspective of colour and construction, concealing the studio's use of steel and wood beneath one uniformed aesthetic.
"The use of wood versus steel, or both at the same time, came from a technical approach of concealing details and connections to illustrate an overall simplicity of form highlighted through the finish," OoCI explains. "In parts, steel is used for surfaces where one can sit [and] it feels sturdy and sound. Respectively, we used wood for the table tops and cabinets to create a more tactile feel, basically experienced only through the sound of knocking on the material."
Alcova took over an abandoned military hospital during Milan Design Week, check out: Alcova presents a design evolution in Milan.
A concept-based collection inspired by the location
The collection marks the first collaboration between OoCI and Etage Projects. It presents what the studio describes as a "developed as a spatial investigation at the intersection of history, coexistence practices, and contemporary habitation". Continuing the designers' exploration of simple forms, it was also inspired by the Alcova location.
"The show somehow came and clicked magically in timing," they explain. "We have been always working with simple forms, more hidden gestures and concept-based elements [but] the abandoned set-up triggered the show as it appears and the title Future Archeology."
Spaces can be a rich source of inspiration in the world of design, don't miss Spaces that tell a story – Interview with Jotta Studio.