Furniture design
How Ukrainian culture infuses the design and brand of FAINA
Founder of FAINA, Victoriya Yakusha narrates her design journey starting from architecture to furniture design and looking back at traditional Ukrainian design techniques to revolutionize them into modern interpretations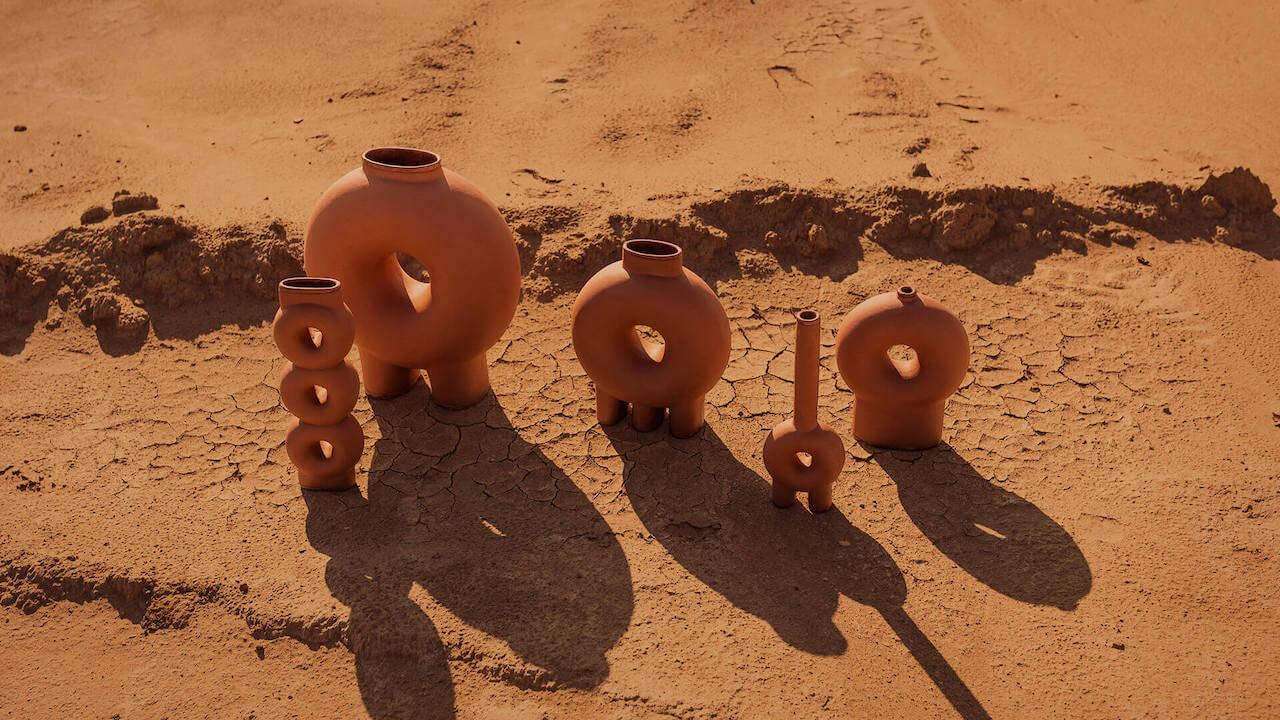 Besides being known as the "breadbasket" of Europe, thanks to its natural resources and agricultural lands, Ukraine also holds great significance in culture and heritage. This being the core influence of the brand FAINA, Victoriya Yakusha focuses on exploring the oldest Ukrainian design techniques with a modern outlook through her creations.
Victoriya studied architecture and her deep interest in her native land brought her to approach product design on an intricate level. Today, FAINA is comprised of intriguing furniture collections and growing steadily with a designated design style of "live minimalism and modern primitivism".
Who is Victoriya Yakusha?
Victoriya Yakusha:
"I am a Ukrainian architect, an interior designer, and creator of design brand FAINA, which presents contemporary Ukrainian design with rich cultural roots and a sustainable approach. I am a designer of the year 2019 in Ukraine according to Elle Decoration Design Award and my works at FAINA Collection became "Best Design of 2019".
I am also an incredibly happy mother of 4, currently based in Brussels where we just opened our first residential showroom FAINA House and continue spreading the word about Ukraine in Europe.
I am an author of a very special and dare to my heart project design-expedition to Ukraine "Earth Inspires", where we invite leading world architects, designers, and press to visit our country and get acquainted with our crafts, traditions and modern design.
I also recently developed a new for myself niche – a collection of home fragrances based on the smell of Ukrainian soil, field flowers, and ritual plant. I never stop creating and my main source of inspiration is my native country, with its rich culture and nature, that I will always adore.
I studied architecture at Prydniprovska State Academy in Ukraine and then shaped my style in France at Institut National des Sciences Appliquées (INSA). I can describe my design style as live minimalism and modern primitivism. Favorite design tools – conciseness, naturalness, and functionality. Materials: clay, concrete, and wool."
Why FAINA, why furniture design?
Victoriya Yakusha:
"I have got a serious "push" on creating design collection in 2014 when Ukraine had a most dramatic moment in a modern history, we were in a few steps from losing our land, identity, culture, so many things and it pushed me to create a design collection that would celebrate Ukrainian culture, traditions, our roots.
The more I got into our past, the stronger I realized what an enormous power is hidden between our ancestors and nature, in their beliefs, traditions, and small household details that we almost forgot in our modern globalized lifestyle. And I decided to give a voice to Ukrainian culture in my design objects, to remind ourselves who we are and finally tell our story to the world.
Ukraine does have a modern design, we do have many talents and crafts, we do have so much more to share with others – not just political scandals. My personal goal is to put Ukraine on a global design map.
Next time when you see one of ours handcrafted ceramic vase or handwoven woolen tapestry in Paris or NY, I would love for you to recognize that this is Ukrainian design, it is created and made in Ukraine."
What other designers you are inspired or influenced by? What other fields and inputs outside of the design world provide you inspiration?
Victoriya Yakusha:
"There are so many! I am fond of Vincent Van Duysen, Patricia Urquiola, Axel Vervoordt, Kelly Wearstler, Faye and Erica Toogood, Marcel Wanders, Gabriel Hendifar and Jeremy Anderson from Apparatus… I just admire their spirit and power of creating really smart and brave design pieces, that would change a perspective of how do we see a design or our homes in the future.
I also follow many of young researchers and scientists, who are developing new materials for design, such as Ukrainian student Valentin Frechka, who developed a paper from fallen leaves, and young designer Dasha Tsapenko, who create a "live fur" from bean sprouts.
Young people are going to change design and architecture dramatically in a way that never of us can see now. I think we should listen to them and support them."
You created a furniture collection called "made of dough". Can you tell us how the idea was born and the process behind it?
Victoriya Yakusha:
"We created an organic line called Ztista which in Ukrainian means "made of dough".
ZTISTA is made of recycled metal, cellulose, wood chips and clay. In developing these design pieces we collaborated with local artisans who use a century-old craft technique, "valkuvannia": a rolling process that involves the coating of a solid surface with a mixture of straw, hay and natural clay.
For ZTISTA's frameworks, we use recycled steel, covered with ecological primer to avoid corrosion of metal and extend the life of the object. After that, the frame is covered by hand with a special mixture of cellulose (recycled paper), linen, clay, wood chips, and straw.
To hold it all together on a metal frame and to give the object durability and high operational qualities, we use a biopolymer based on corn starch which is safe for the environment and human health.
I am using local craft techniques for a contemporary sustainable design approach to emphasize the importance of connection to our cultural roots. I am trying to create a long-lasting responsible design that one day in the future could be found at home of our descendants as one of the valuable family-loved furniture pieces."
FAINA is a creative compilation of ethnic minimalism style. How do you incorporate the philosophy of traditional elements into modern artistic pieces?
Victoriya Yakusha:
"Traditions would always be my source of inspiration, they give me not just ideas for my design, but the power, encapsulated in so many generations before us, all their knowledge of how this world is functioning and how should we live in harmony and peace. I believe in the value and practical meaning of this knowledge for human's future.
To create something today – you have to look back and analyze what people already know about the planet and space.
In my tapestry collection I use very old Slavic symbols; the tree of life, the center of Universe, the goddess of Makosh, symbol of order – they give such a power to contemporary design, such a strong statement to the interior, even if you don't know what do they really mean."
What are the major challenges and struggles of your design process?
Victoriya Yakusha:
"The biggest challenge for me is to embody my design ideas. I never know what would be the final product when I start creating or just thinking about some ideas. It is a natural process, a flow of some energy that comes through me and I am not really controlling it, I just try to draw everything and then see what can be done or not.
You may start with one point or idea and end up with something completely different as a result. So you never know what will be created next."
If you had the chance to collaborate with one designer, who would it be? And what would you work on together?
Victoriya Yakusha:
"I would love to collaborate with Vincent Van Duysen on a public space interior project, such as a library or a restaurant. I would also love to work with studio Apparatus for furniture design, they are so talented and so accurate with the style, atmosphere, every detail. And I would absolutely love to collaborate with Rick Owens and Michele Lamy for decor or accessories.
I believe in a big future of collaborations in everything, it really helps you to deliver the best of you."