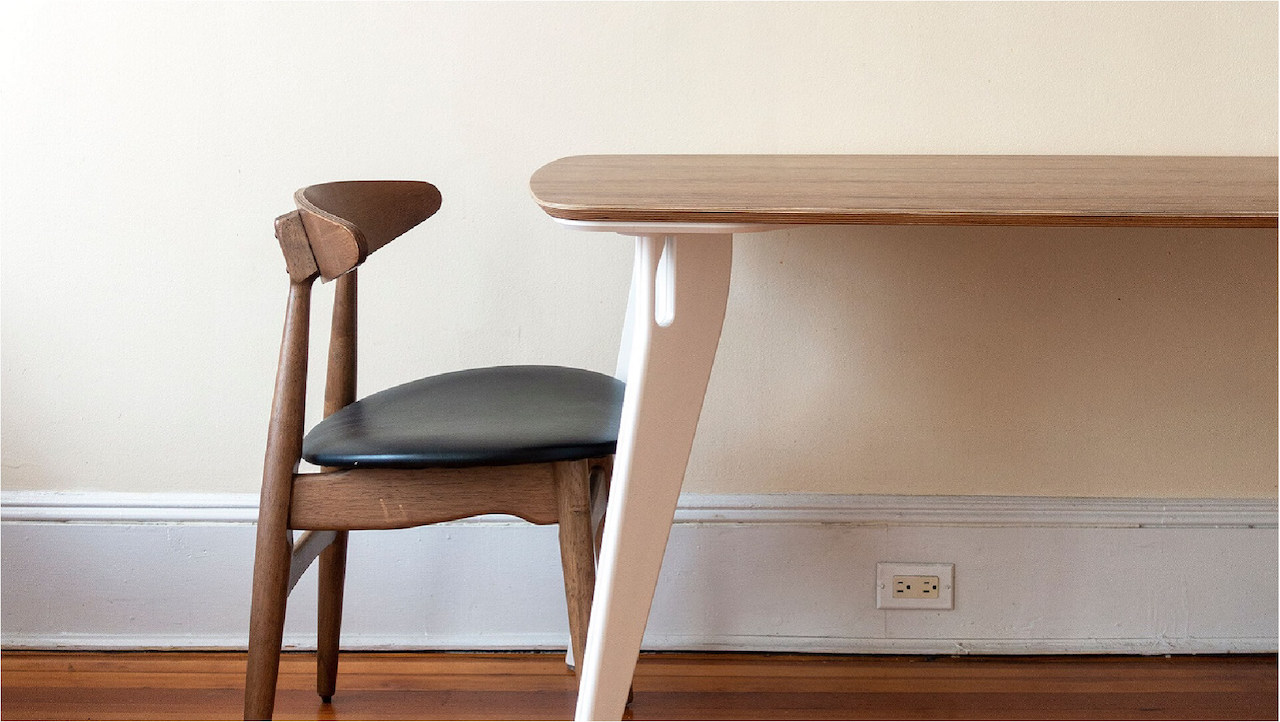 Pieces pop out and snap together in stylish pieces that can be built in less than a minute.
You might be surprised to know that it's not just materials that make furniture sustainable. In addition to the raw bits used to create a final product, there's also company structure, production, delivery and returns, as well as many other factors to consider. One aspect most tend to forget is the ability to maintain the furniture that you buy. That doesn't necessarily mean looking after it, although that does help, but being secure in the knowledge that if you buy a piece of furniture it's not going to be impossible to take it with you from place to place.
After all, young people are moving around far more frequently these days, the majority of whom are also design-conscious consumers aware of the ecological impact of their lifestyle. It's a slight paradox that brands are beginning to respond to, one of which is Hoek whose flat-pack, clickable furniture caters to millennial-minded convenience in more ways than one.
Why Hoek? To create lightweight, sustainable furniture that's easy-to-assemble straight out of a flat pack box
Combining ethically sourced plywood with a base made from recycled materials, Hoek has developed a clever flat-pack chassis with cutout parts that simply pop out and snap into place. This innovative feature makes the framework for three core products: a table, a stool and a desk. If or when you decide to pack up and move on, every piece conveniently folds back down into a form that's lightweight and easy to transport.
The minds behind Hoek – A05 Studio
A05, founded by Brian Chu and Conor Coghlan, is a Brooklyn-based studio specialising in furniture design. It was created with the idea of merging ease of assembly and innovative design with an emphasis on sustainability. It designs bespoke pieces for a wide range of clients on projects spanning retail, hospitality, office environments and public spaces.
Before founding A05 Studio, Brian worked for various architecture firms such as Grimshaw Architects, StudioKCA, RMA, and DDG Partners. Conor worked for world-renowned architect Toshiko Mori. Together they manage a small team of architects, designers and entrepreneurs.
Materials and Techniques – Recycled Milk Jugs
To create the chassis Hoek uses 100% post-consumer HDPE paired with FSC certified Plywood for the construction of every piece. The HDPE comes from repurposed materials and waste sources like recycled milk jugs. The process involves shredding the plastics into a pulp which is compressed into a substrate suitable for milling into furniture.
Now that your house is set, are you looking for a sustainable solution for your outdoor space? Loll Designs has designed and manufactured the perfect one.
Style & Aesthetics – Mid-Century Flat-Pack
Joel's flat-pack furniture is simple in aesthetics with a nod to mid-century style. Tapered legs available in black, white or stone grey support a tabletop with soft edges in both wood effect and solid colour. Customers can choose between walnut and natural birch or light grey, black, white and blue.
Circular Economy
As mentioned previously, many factors make a piece of furniture sustainable and a circular style of production is one of them. When a consumer is finished with their Hoek they can send the HDPE back where the legs will be re-shredded and milled again. This process can be completed up to 10 times without losing any strength in the final product.
The plywood that tops the chassis in each piece is sourced through exclusively FSC rated forests. This monitoring process ensures that the wood used in all Hoek pieces is sourced in an ethical way that puts less overall stress on the environment.
Design memento – Taking ideas in the right direction
Hoek furniture addresses the reality that millennials are moving more frequently than previous generations. More young people today have recently moved into their current home than ever before. Of course, flat-pack is nothing new but Hoek takes this idea a step further.
It has all the advantages and convenience of classic flat-pack furniture pioneered by giants like IKEA, with a little extra. Many people buy flat-pack but after all the instruction-reading and the twisting of keys to fit each piece together, once it's built no-one can imagine it flat again.
The writer's comment – A well-rounded approach to sustainability
Sustainability has become somewhat of a buzzword, the danger being a greenwashing of design principles. Hoek is proof that it might start with materials, but true sustainability morphs into a product with the potential to last and ends with a closed cycle of circular production.
What about a recycled and modular piece of furniture for the office? Supernovas' swappable furniture collection will suit you perfectly.