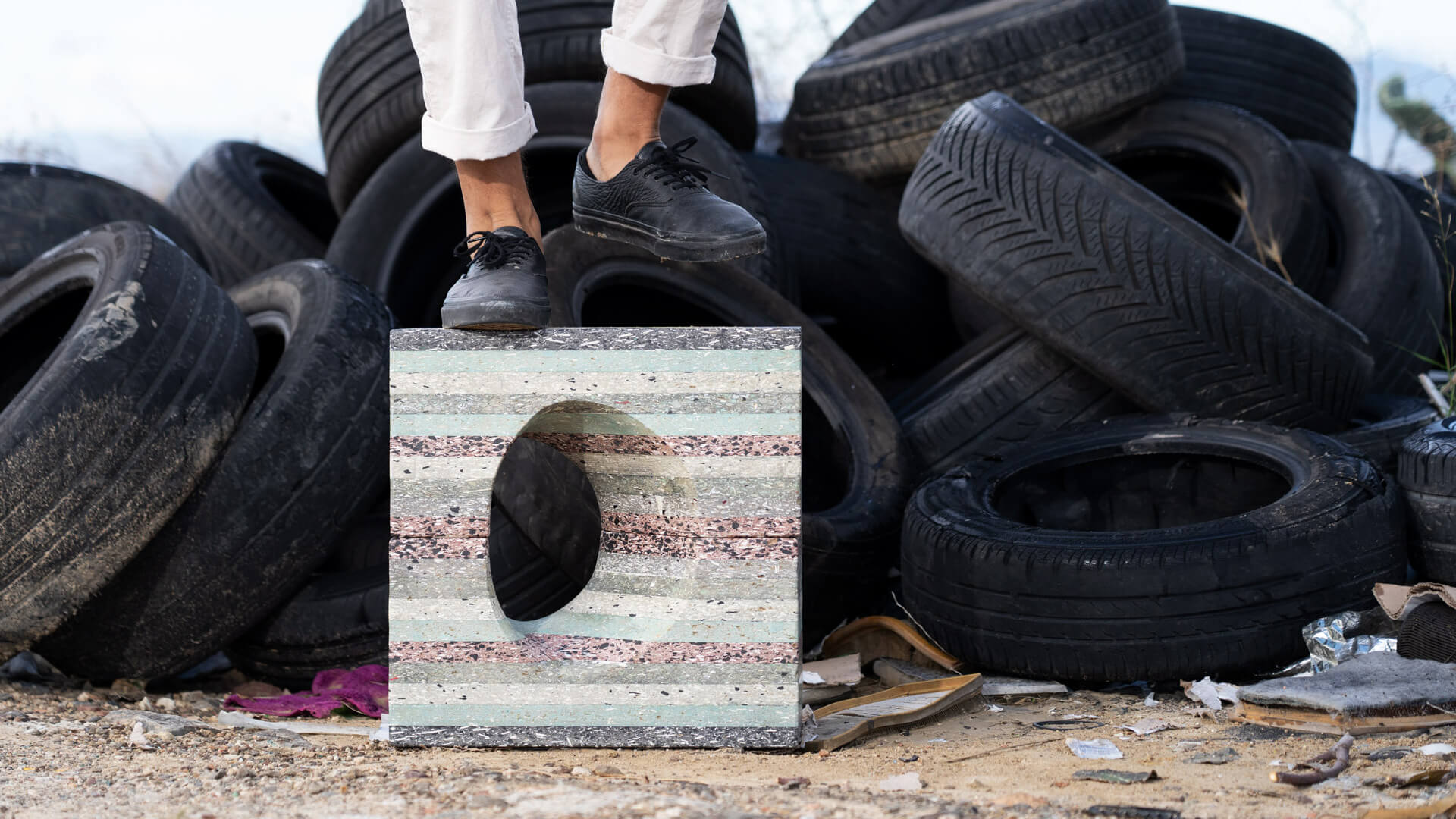 NESTEP reuses manufacturing scraps from the Italian company Gees Recycling and wins 3rd place at Ro GUILTLESSPLASTIC 2020.
NESTEP is born from the specific design research focused on the reuse of processing scraps of furnishing accessory made from Recomplax panels. The boards are made by recycled fibre-glass, fetched from abandoned boats, campers and dummies, mixed with natural oxides and (recycled) expanded plastic.
Once the Recomplax processing scraps are collected, they are used to construct two pure volumes 40x20x20cm each one. The geometry is developed by the removing parts of material with the use of a 5-axes CNC machine for wood milling.
The manufacturing process takes place inside a private-independent laboratory in Sardinia by the designer and an inventor friend of his. Through the combination of advanced manufacturing and wood-craft methodology, it's been possible to achieve an articulated functionality.
Check out other designs using recycled materials! See From beer brewing to seating stools with Instead Mobilier
NESTEP "multi-purpose & user" consists of two complementary geometries, changing their shape according to the user point of view and to the several functional scenarios, such as coffee-table, stool, pet nest. At the same time, it leaves the user free to discover new functionality, through its modularity play.
The project aims to be a design approach rather than just an object, highlighting and approaching a possible solution, to the manufacturing scraps issue in the contemporary productive system.
NESTEP is the result of the collaboration between the designer Lorenzo Demontis and the Italian company Gees Recycling. With them mutual desire to enter into a perspective of complete circular sustainability, through the project.
For this reason, the participation in the competition conceived by Rossana Orlandi the Ro GUILTLESSPLASTIC 2020 becomes central to the project. The decision to take part in the international competition is not exclusively aimed at the possibility of exhibiting in an international location, such as the Salone del Mobile, but instead motivated by the idea of participating at MDW, through the selection of quality of the design untied from dynamics of financial availability.
NESTEP was finally selected among the finalists of Ro Plastic Prize in the industrial design category. Exhibited during Milano Design City in the spaces of the Science Museum, winning third place in the RO GuiltlessPlastic 2020.
Read about the environmental situation of plastics: "I exist, therefore I pollute." – Reinventing plastic waste with Plasticiet