Furniture design
When materials shape function – Interview with Paolo Ulian
Reversing the design process, Paolo Ulian starts by understanding the characteristics of materials, to define the function and shape of an object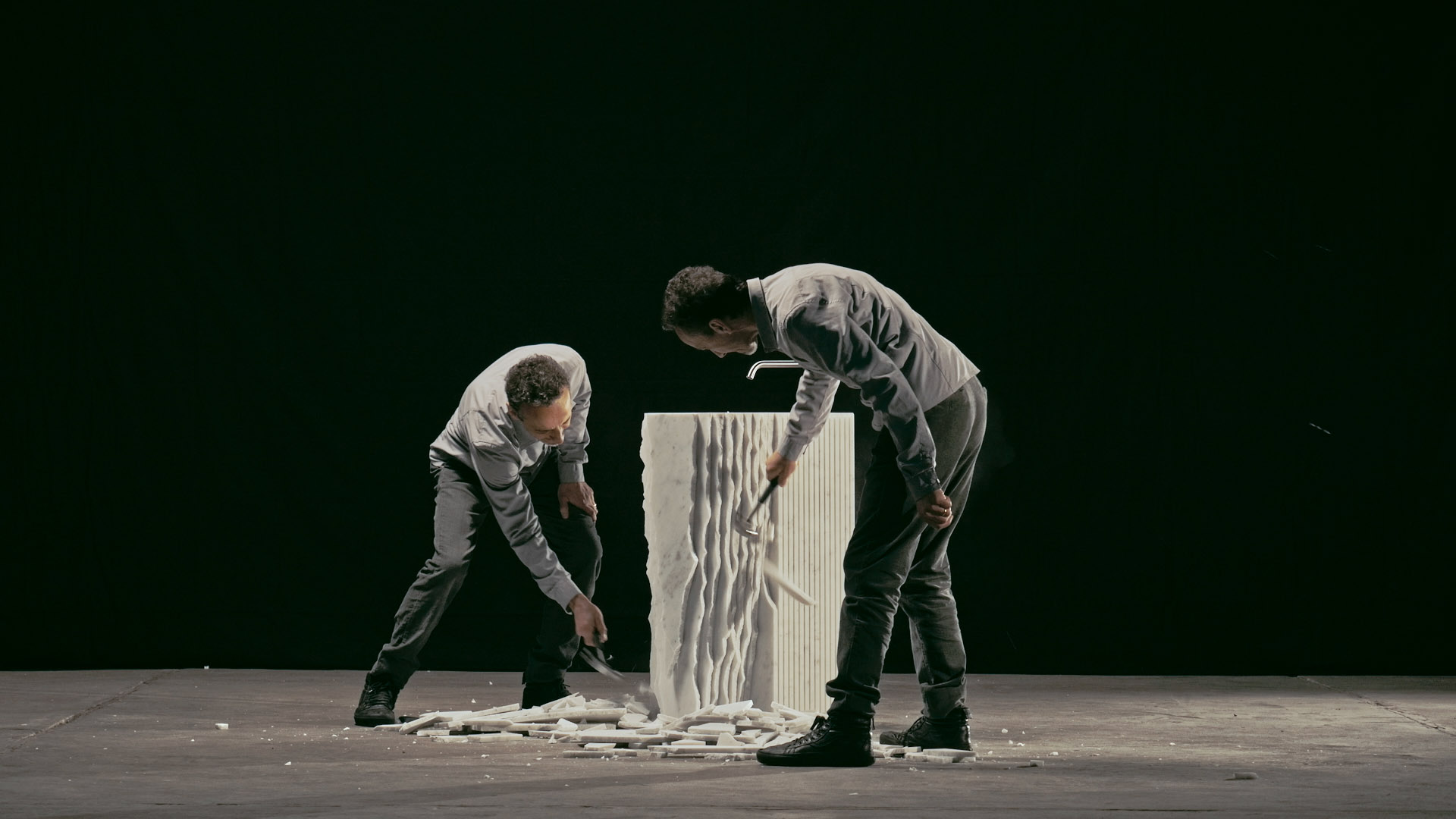 Born in Massa-Carrara in Italy, in 1961, Paolo Ulian completed a painting degree at the Acadamy of Fine Arts in Carrara and a degree in Industrial Design at the Isia in Florence. He devoted his career to experimentation, focusing on sustainable materials and processes.
After graduation, Ulian worked with Enzo Mari for a few years, before opening his own studio with his brother Giuseppe in Tuscany. He participated in a number of exhibitions in Italy and abroad. In 2000, he won the Design Report Award and today he continues to collaborate with prominent Italian companies, such as Antonio Lupi and Zava Luce.
A big part of his career is focused on experimentation with marble. Among his most remarkable works are the "Intreccio" and "Vortice" marble washbasins for Antonio Lupi, in which the properties of the material are enhanced in a poetic assemblage.
Who is Paolo Ulian? How did your journey in design begin?
Paolo Ulian:
"My journey started very early, when I was a kid in the seventies and I disassembled objects and reassembled everything. I had set up in my bedroom a kind of laboratory with tools, where I built small inventions that were very important to me.
My encounter with design started later, after my third year at the Academy of Fine Arts, when I decided to change my path and enroll at the Isia in Florence, one of the first Industrial Design schools in Italy. I had the opportunity there to discover that design was practically what I had instinctively achieved to that moment without knowing it.
The Isia was a very special school experience with legendary teachers, such as Enzo Mari which I was lucky enough to have in the last year of the design course. A shocking and beautiful course, totally beyond the rules and full of deep meanings.
That year spent with Mari was unforgettable for me and it was a great revelation; it made me understand that the project was not just about form/function as we had been taught until then.
It was something much more important, it was a means to communicate meanings and thoughts, it could be an ethical and political tool to try to improve our present. Design could have the same communicative power as art but with a greater potential for diffusion.
The following year, Mari asked me to work in his studio and I accepted with great enthusiasm and this is where the real journey in design began for me."
Why focus on creating objects based on observation, materials and experimentation?
Paolo Ulian:
"The need to communicate meanings through objects has accompanied me since the early nineties, when we started to notice the environmental impact that production had on our planet.
I had just graduated as an Industrial Designer and was wondering how to do this job (which is in close contact with production) without feeling guilty every time I envisioned a new object and every time it was produced, even if in small quantities. So I started thinking about "messages" in the form of objects, which had the primary purpose of suggesting alternative ways of designing and producing, focused on sustainable design.
In 1991 I started an operation in which I collected beautiful semi-finished marble waste products from landfills, sculptural forms that I cleaned up with minimal interventions to transform into essential and useful objects. Objects that I could produce myself in small series because the waste pieces were available in abundance and at no cost.
That was the first electrifying experience for me in the world of design, which opened my prospects and showed me a possible way forward. It allowed me to participate in the design game, but without weighing on the environment.
From that moment on, I continued to tell stories through the objects I made. Guided by the enthusiasm and the will to trigger some reflections, a thought, or perhaps even just to influence those practices that are so strongly consolidated in the production processes and based exclusively on revenue, without ever considering other equally important aspects, such as respect for the planet."
[ Read also Bridging poetry and reality – Interview with Aline Asmar d'Amman ]
Your design research is focused on sustainability and the optimization of materials. What have you learned and discovered through experience from this exploration?
Paolo Ulian:
"Working on the expressive possibilities of optimizing materials, has first of all the advantage of saving large quantities of processed materials.
Pursuing these objectives made me understand that it is possible to overturn the widespread paradigm in which the design process starts with the definition of function and form, and continues, at a later stage, with the choice of the production technique which is most suitable for the purpose.
I discovered that you can also work in the opposite way, starting from the knowledge of the characteristics of the materials and processes, to reach, at a later stage, the identification of the right function and the right shape of the object.
With this design process, the final results never have obvious or arbitrary forms because they are always suggested by the material itself and by the process that generated them, often revealing great surprises, both aesthetic and functional.
An example is the "Drap" marble coffee table designed for Marmomac fair in 2017. The observation of particular knurling produced by cutting with CNC waterjet machines, suggested that I create a special tablecloth effect with the irregular shape of real pleating.
Other examples are the "Intreccio" and "Vortice" marble washbasins for Antonio Lupi, which are obtained through concentric rings from flat slabs that optimize their processing. When these rings are superimposed and offset, they create the sculptural volume of the washbasins, which surprisingly only weighs 55 kg, which is ten times less than a common marble washbasin with the same dimensions and uses a tenth of the material usually needed.
That condition I had set myself of proceeding "in reverse", and design starting from the processes, proved to be very effective for discovering objects with a special character, not just simple shapes, but objects with a soul and a story to tell."
Your work displays an incredible attention to materials and user interaction, how do you choose what material to use? What key aspects affect this decision?
Paolo Ulian:
"My choice of materials is usually focused on those of natural origin, such as terracotta, glass, stone, paper, and metal. I almost always choose to create mono-material objects that combine no more than two materials so that they can be separated and reused easily.
I must also mention that I was born in Massa-Carrara, a city known worldwide for its marble quarries, and that is perhaps the reason why I often use this material in my projects.
Marble is a difficult material to work with, its fragility and its weight can create serious problems if you approach it superficially. But if you get to know the material and its processes in-depth, you discover unique characteristics that open up new horizons of use and design, especially that in recent years the old analog machines have been replaced by digital ones in artisan workshops.
Concerning the interaction with the user that often characterizes my projects (e.g. the "Net" or "Andromeda" lamps in steel for Zava Luce, the "Introverso" and "Controverso" washbasins for Antonio Lupi, or the cardboard vases for Corraini editions), it is an opportunity that arises almost spontaneously in certain projects that have this potential in their DNA.
I simply try to support this special quality by creating a range in which people can help in the formal definition of the object, transforming it into a unique and unrepeatable piece."
Overlooking your career, what would you say were the most important milestones or defining moments?
Paolo Ulian:
"There were countless moments that I remember as absolutely special to me. First of all, the phone call from Enzo Mari in 1990 in which he asked me to work at his studio. I hung up the phone and started jumping for joy, it seemed unbelievable that he had called me!
Another important memory, are the exhibitions that were held at the Opos space in Milan, in which my first experiments were exhibited beside the work of many other promising young designers, during the Fuori Salon. I also remember the first article by Cristina Morozzi in the magazine "Modo" and the first articles by Marco Romanelli on Domus; pure emotions, difficult to put into words.
In 2000, I participated in the Salone Satellite, in which I unexpectedly won the first prize of the Design Report Award. I will never forget the wink I got from Ross Lovergrove, one of the members of the jury, without saying a word, he made me understand on his way out of the bathroom that I had won.
Other unforgettable moments were my first personal exhibitions, the one in 2009 curated by Beppe Finessi at the Fabbrica del Vapore in Milan during the Fuori Salone, and the one in 2010 entitled "Between game and landfill" and curated by Enzo Mari at the Milan Triennale.
The last important event for me was the exhibition project of the great anthological exhibition on Enzo Mari's work at the Milan Triennale. The exhibition opened a few months ago and is still ongoing. It gave me great enthusiasm and happiness to participate in this very important event, bus also great sadness.
Happiness because it was an opportunity to finally be able to give back to Mari, even if only a small part, compared to the huge gift he gave me ten years ago by curating my exhibition. Sadness because only two days after the inauguration of the exhibition Mari left us forever, without even having the time to say goodbye or the chance to visit the exhibition together.
In my artistic path, there have also been many mistakes and failures. Fortunately, all of them are more or less small. For example, in the years in which I opened my studio, I naively entrusted my projects to companies, and they often completely distorted their shape, structure and meaning in the production.
I have never been as ashamed as the time when I designed a chair and a bookcase for a fairly well-known company, and without ever showing me anything about the progress of the prototypes, decided last minute to exhibit them at the Salone del Mobile.
The bookcase had turned out well, but the chair was transformed into an ungainly and totally insignificant shape because the joint between the backrest and the metal structure had been arbitrarily eliminated
For me, that was the most important detail of the project and that made the difference. It was a horrible experience, and since then, I have been much, much more careful on following the development of projects directly from the laboratories of companies."
What's next for Paolo Ulian?
Paolo Ulian:
"These are months of reflection on the motivations of my work. I am trying to understand what is the right thing to do, not to fall into banal and useless.
I see that everything runs fast and noisy around me. I see few ideas and confused directions. Many roads are simply those indicated and dictated by pure economic interest. Everyone screams and paws, especially those who have nothing to say. And social media, which in these times of pandemic seems to replace reality, does nothing but show the worst side of people, which confirms my perception.
I need silence and time to think. You can't always run. In music, the pause is just as important as the notes. The pause is the necessary passage to prepare the return of the notes, charging them with pathos and power."