Furniture design
Disposable masks repurposed into Stack and Stack stool by Haneul Kim
129 billion face masks are disposed of every month due to the coronavirus pandemic, but where do they go? South Korean designer Haneul Kim repurposes them into stackable stools, a case that opens up an exploration of plastic upcycling design solutions.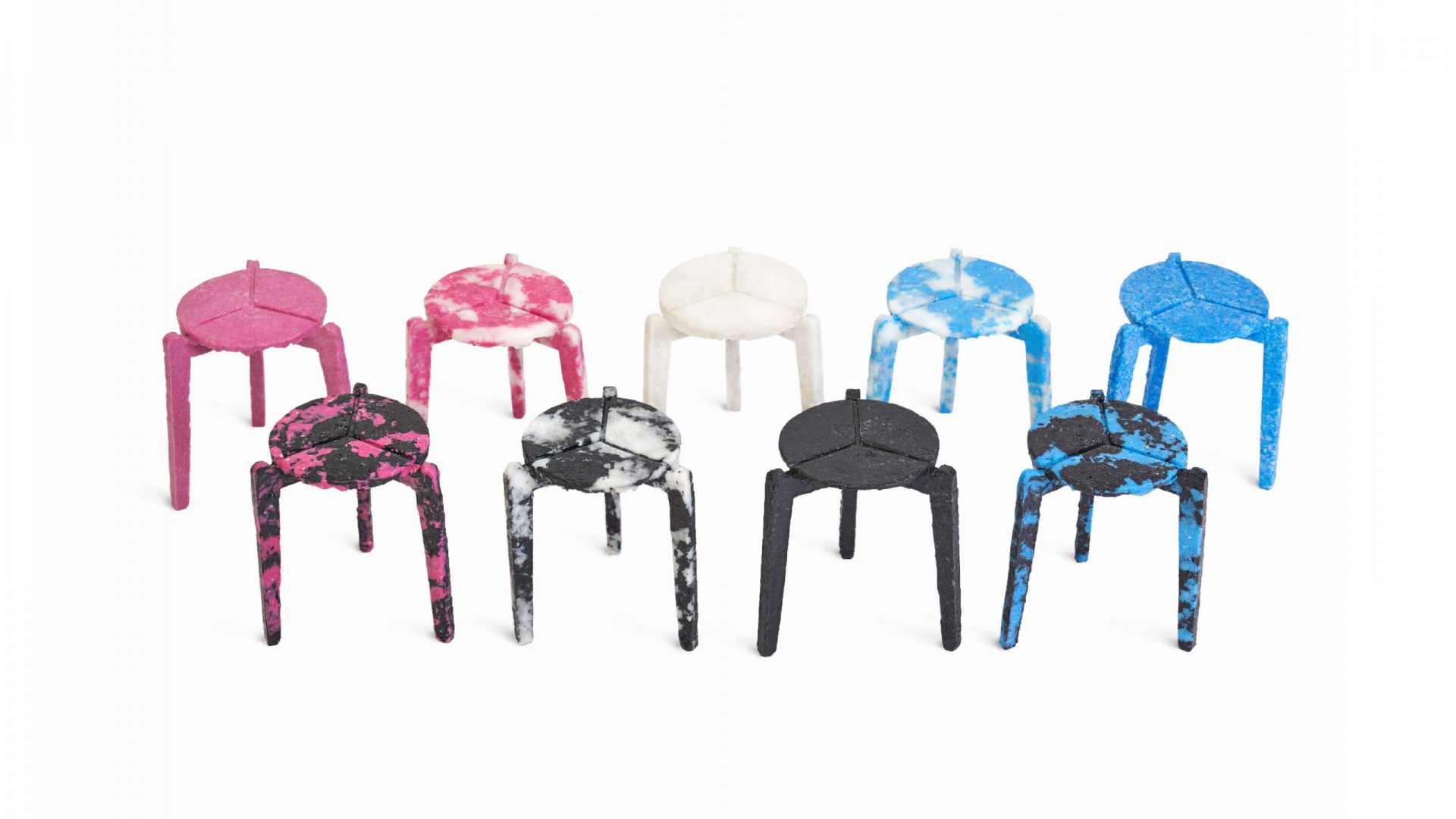 Introducing the Stack and Stack stool by Haneul Kim.
The global pandemic has certainly changed our lives in many ways, from how we behave and where we go (or not go), to what products we use and wear.
With this change, the demand for single-use products such as face masks has increased more than ever, and while being essential to our health and contributing to our safety, these products are also contributing to a larger and ever-growing concern: pollution.
Wondering about such products and where they end up, South Korean designer Haneul Kim turned to design for a solution and started collecting disposed face masks inside Kaywon University campus.
Through various experiments, Kim gradually developed a process (read the interview) that turns them into playful stackable stools with a unique style that resembles a natural material texture.
Each of his stools are made from 1,500 face masks piled on top of each other, melted together, and moulded into shape. 
With a deep interest in the future of our planet, DesignWanted has been investigating the advancements on sustainability and recycled waste in the design industry.
It has been getting involved in the sustainable furniture scene in order to gain more understanding and insights on the innovative applications and processes that exist in the plastic sector.
Curious to know more about studios working with plastic? Don't miss The Plastic Reincarnation process by Mon Terra.
Diving deep into the topic of plastic upcycling, we have encountered many projects such as Haneul Kim's Stack and Stack stool collection, that showcase a successful revival of plastic waste through design. 
With a strong commitment to improving our planet, more and more designers are sharing and taking on Kim's mission by launching sustainable products made out of plastic waste.
Starting from Kim's Stack and Stack stool collection, this article opens up further exploration of plastic upcycling solutions inside the design field.
But first things first, what are those face masks made of?
Well, The answer is polypropylene!
A type of plastic used in many of our everyday objects, from food packaging to toys and so much more.
It first made its appearance in the 1950s, and has become one of the most widely used polymers ever since.
Is it sustainable?
It really depends on how and what you use it for.
Polypropylene has the smallest environmental impact compared to other types of plastic, and it produces less solid waste and less CO2 equivalents by weight than its cousins PET, PS or PVC. 
It is also very durable and has the possibility to be melted and reformed into plastic pellets, which makes it perfectly reusable and recyclable for producing goods.
So, what to do with all this plastic waste?
Haneul Kim's solution shows us the the possibilities are endless!
Haneul Kim, for example, upcycled PP masks into a new collection of stools with the aim of raising awareness and sparking the curiosity around recycling masks.
A single one of his stools uses 250 masks for each leg, and another 750 for the seat, creating an average of more than one thousand repurposed pieces.
Kim's creative solution is just one of the many other approaches to plastic waste in the design world.
What other designers are doing?
Repurposing plastic waste is a factual possibility, and you can notice that by looking at the many upcycling solutions already existing across design.
UK-based company Gomi, for example, is not only catering to our technological needs but is doing so by transforming waste materials into essential technology products; so, don't be surprised if your next phone charger is made of discarded plastic.
But what if this sustainable practice had wider applications?
You are probably already familiar with Mother of Pearl furniture collection by Plasticiet and the Precious Plastic initiative, both challenging the aesthetic of recycled plastic and creating wonderful furniture pieces while doing it.
Furniture design has gained particular attention in this world of plastic upcycling thanks to the work of companies such as ecoBirdy.
This Belgian design company is recycling discarded plastic toys in order to give them a second life in the form of chairs and tables for children.
Similarly, furniture brand Luken uses recycled plastic bottles to create their incredible flat-pack furniture designed by Mexican architecture firm Paola Calzada Arquitectos.
Some companies are upping the sustainability game by following the principles of a circular economy, and that is the case of Supernovas.
This trailblazing studio is giving its customers the possibility to swap or return products from their Afterlife collection while ensuring recyclability of each piece at the end of their life cycle.
What process is used to shape plastic?
Zooming into Kim's technique
The Stack and Stack collection was made with a technique stated in its own name.
Kim stacked masks on top of each other, melting them using a heat gun at temperatures over 300 degrees Celsius and molding the layers into a solid form.
Each resulting piece is unique in its details and composition of colors.
The stool holds together without any glue or resin, and it is completely made from recycled masks.
Even the color marbling details in each stool is reached from the color of the original masks.
Other unconventional ways
While Kim used a heat gun and a mould, other designers have also come up with creative ways of forming plastic objects.
For example, Tom Price's Thinker Table was formed by melting together the endpoints of plastic tubes.
Similarly, François Dumas' Sealed Chair was made by heating plastic rods to make them flexible and placing them in wooden moulds. 
Even modern technologies, such as 3D printing, have joined the sustainability challenge and are facilitating plastic shaping.
Caracol additive technology is an example of using high-performing polymers and recycled materials towards a more sustainable production system.
What are we gonna do with all these masks?
Kim's expectation
30% of UK beaches are already filled with PPE found from the disposal of masks.
The UN predicts that 75% of the overall amount of masks we are using will end up in landfills and waterways.
Hoping for his work to be of inspiration for others, the South Korean designer wishes the process of recycling masks will go beyond the object of chairs and become an important viable solution to seriously contrast environmental pollution.
Worldwide mask-recycling initatives
Today, circular operations for the recycling of protective masks have been launched to cope with the billions of single-use face masks discarded every month during the coronavirus pandemic.
For instance, Plaxtil, a new material made from textiles, was born in June 2020 in Grand Châtellerault, France, with the aim of collecting used face-masks and transforming them into new recyclable materials.
A similar output was reached by Binish Desai, known as India's "Recycle Man", who created bricks out of disposed face masks in his home laboratory.
Moving to the US, TerraCycle, a social enterprise on a mission to eliminate the idea of waste, has introduced the 'zero waste boxes'.
This program collects  difficult-to-recycle waste, including plastics and masks, and turns them into pellets that can be moulded and extruded to produce new products.
Find out more about furniture design addressing environmental challenges, don't miss ECOPIXEL turns industrial waste into fun pixelated designer objects.