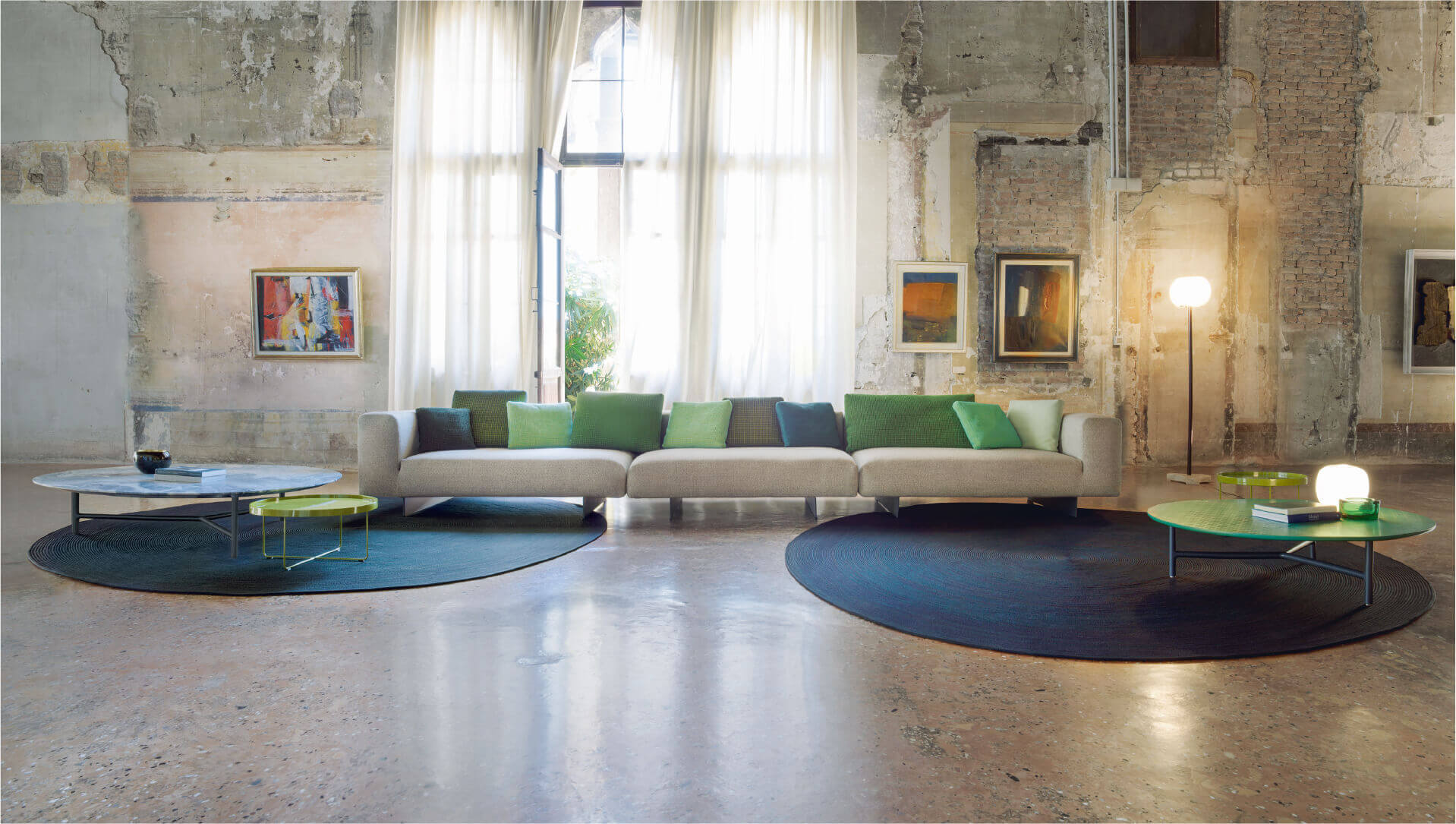 Introducing three newly developed materials to strengthen the commitment to sustainable furniture production, we explore briefly the story and philosophy of Italian design company Paola Lenti and its latest iconic products' revamp.
Beginning its journey around 25 years ago, a few kilometers north of Milan in the city of Meda, right in the middle of an area renowned for great industrial productivity and for delivering top-quality furniture, Paola Lenti is well established as a design company with global recognition due to superior product quality and a genuinely sustainable approach.
Sofas, armchairs, tables, modular panels, cushions, poufs, sunshades, sunbeds, suspended seatings, and even shading structures. The broad collections span through all kinds of furnishing for both indoor and outdoor, keeping the rugs at heart, being the first product ever produced by the company. Throughout the years the company has specialized in the production of high-quality yarns that ensure durability & material robustness while enabling for countless forms of creative expressions through a wide color range.
Employing over 100 people and hitting yearly revenues of 30 million euros, Paola Lenti is present in over 60 countries worldwide and is working to establish its own mono-brand retail stores to strengthen its presence abroad and develop a closer relationship with the international clientele.
The commitment to a sustainable practice
Paola Lenti takes sustainability very seriously. With a broad understanding of the term, the company goes beyond environmental consciousness, introducing ethical practices in the work-life of the employees and the stakeholders involved.
Considering the massive volumes of production of the company, the greatest efforts to secure a sustainable practice are pursued within the manufacturing processes. Production cycles are set around time frames that ensure low environmental impact: sourcing and manufacturing activities take place locally, entirely in Italy.
Moreover, not a single animal-based material is involved in the final products, and most importantly, when it comes to designing the furniture pieces, the smallest amount of materials is involved to guarantee easier disposal and recycling, aiming, when possible, at assembling finished products with one single material.
As a result, the overall impact of Paola Lenti on the planet and on the people involved with its business is as much wholesome as responsible, representing a great example of how excellent business goals can, and should, be pursued without compromising with sustainable development.
Curious to know more about furniture collections focused on sustainability? Don't miss Rugosa, a new furniture collection inspired by Rhode Island Beach Retreat.
The latest sustainable innovations
Accustomed to performing innovative experimentation on materials and production techniques, over 3 years of research Paola Lenti developed Twiggy, a 100% recyclable and eco-compatible thread. This waterproof and durable yarn is transformed in textiles, ropes, or braiding to be implied in the manufacture of finished products such as sofas, armchairs, rugs, and poufs.
Paola Lenti is fully committed to replacing the inner polyester padding for its entire upholstery collection with a thoroughly sustainable alternative named Aerelle Blue ®. The material is developed by German fiber producer Advansa in collaboration with The Plastic Bank: plastic waste is collected before reaching beaches or the ocean and is used as raw material to be transformed into a high-quality fiber to fill cushions ensuring the same comfort standards of traditional materials.
The company also introduced the use of Lightfill, a structural material for seating pieces made of expanded spheres of olefinic polymers. The material is robust enough to hold its shape and to support substantial weight, without requiring additional upholstery or structures when used in furniture pieces. As a consequence, the materials implied in the products are reduced, further simplifying the recycling process.
Iconic products are revisited thinking of the environment
Paola Lenti has revisited its most iconic pieces implying sustainable materials to facilitate conscious consumption with no compromises on aesthetics or disruptive changes in its collection. The Frame sofa now uses the braided Twiggy thread to cover its surfaces while cushions are filled with Aerelle Blue. The smooth lines of these seating pieces identify a contemporary appearance conferring character to any interior or outdoor space, without boasting ornaments, but naturally through simplicity and sinuous curves.
Two other pillars of Paola Lenti's collections were upgraded to sustainable standards now implying the latest environment-friendly materials: the seating piece Ami and the sofa Canvas. The first one is a full-colored armchair designed for both outdoor and indoors, with large-sized braiding as a distinctive component conferring a feeling of comfort at first glance. The Canvas sofa is a modular outdoor piece featuring seating of different depth, designed around simple and essential elements: large comfortable cushions are supported by a geometric linear steel structure.
Rugs couldn't be left out of the recent sustainable revamp: the rug collection Zoe uses the Twiggy thread in cord form, achieving a circular shape from a flat rounding spiral and allowing customers to customize their choice of colors from the wide selection of Twiggy's chromatic variations.
If you want to know more about Italian companies creating amazing designs while being environmentally conscious, don't miss ECOPIXEL turns industrial waste into fun pixelated designer objects.