Furniture design
Feltrin+Masarin masters the art of metalwork to give shape to complex furniture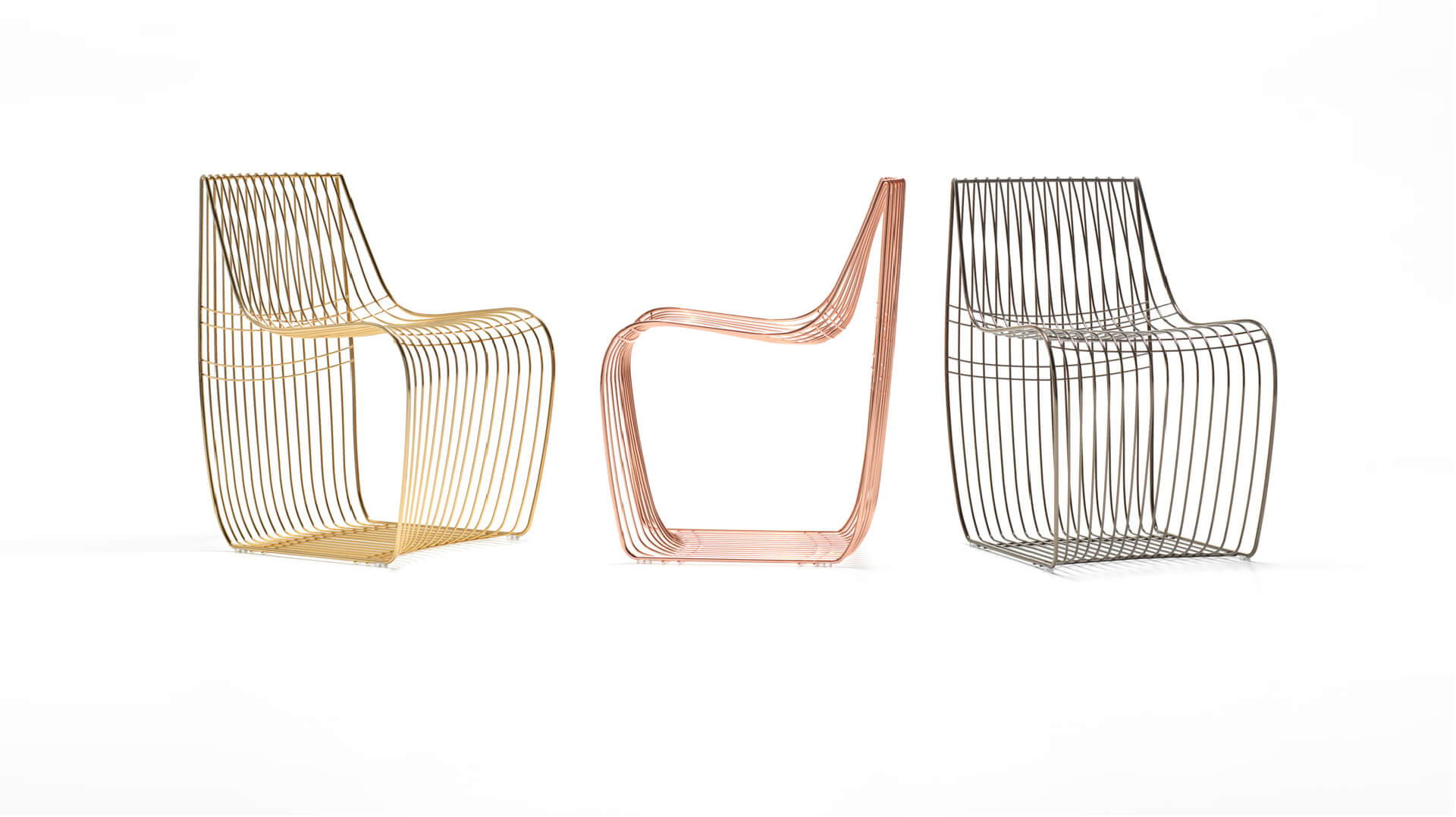 To celebrate ten years since MDF Italia released its iconic Sign chair, the brand presented Sign Filo in 2017. Feltrin+Masarin, the metal manufacturer behind its design, shows us how it realised such a complex vision.
Feltrin+Masarin describes itself as a multidimensional industrial reality, which is no exaggeration. Counting forty years of experience over two generations, in addition to the development and industrialization of innovative metal components, Feltrin + Masarin specialize in aluminum processing. Its manufacturing powers also include a production center dedicated to the design and production of doors and partition walls.
The company is a master of materials, working with iron, steel, aluminium, sheet metal, and brass, as well as wood, glass, plastic and MDF. The company also offers a wide range of finishes including painting, anodizing, electroplating, gilding, chrome plating, copper plating, fabric and PVD. Feltrin + Masarin can do it all.
This is in part because the brand's facilities are so vast. They include three specialised divisions spread over an impressive 7,000 square foot production center based in the heart of Veneto in the northeastern region of Italy. In addition to custom processing machinery, the Feltrin+Masarin factory contains 3 machining centers, 4 welding robots, 6 presses, 1 laser pipe and 7 pipe/wire benders and 7 special machines.
This production power combined with Feltrin+Masarin's expertise means it is capable of producing pieces that break the mould in metalworking. A great example is the Sign Filo chair, a structural feat made from steel wire totalling 45 meters.
This wire draws Sign Filo's silhouette and is made up of 16 rings shaped to create the body of the chair. Fixing these rings in place are 12 cross wires assembled by hand with over 226 sealing points. From design to production, the chair is reflective of Feltrin+Masarin's artisanal experience.
"Sign Filo is a perfect combination of design and craftsmanship and it is built up like a refined jewel," says the company. "The creative process of this chair is reminiscent of an ancient goldsmith's filigree technique, carried out by interweaving and welding thin wires of precious metals."
Curious to know more about designers working with metal? Don't miss Some real hot curves by OBJECTS WITH NARRATIVES – Coloring steel with a flamethrower.
Feltrin+Masarin manufactured Sign Filo for MDF Italia, a Milan-based design company that was acquired by Italian furniture brand Cassina in 2013. Signed by the internationally-renowned designer Piergiorgio Cazzaniga in 2017, it celebrates ten years since the brand released its iconic Sign chair defined by its sinuous lines and ergonomic form.
"On the 10th-anniversary celebration of Sign, I imagined Sign filo," says Cazzaniga. "At a certain point, I felt the need to make a lighter version of Sign inspired by Italo Calvino's lesson on Lightness. It was about to make a leap from the solid to the ethereal. I understood that the shape could be preserved by eliminating the surfaces".
"I met Feltrin+Masarin years ago," he recalls. "During my visit, I had the chance to appreciate their ability to interpret the needs of the various projects and find ad hoc applications for each of them."
"I visited the workshop several times during the definition of this process, and each time I had the feeling of witnessing outstanding know-how and expertise. As a result, SIGN FILO turned out exactly as I had imagined it."
The ability to exactly capture the imagination of the designer is why Feltrin+Masarin is a go-to for furniture brands like MDF Italia. Intrigued by Cazzaniga's explanation of the production process, we asked Feltrin+Masarin to give us an exclusive look with a step-by-step breakdown as seen below…
Step 1 – Wire bending
Working from the inside out, there are eight pairs of identical rings that gradually increase in size to give the chair its form. The process begins using a specialised machine that bends steel wire to create these rings.
Feltrin+Masarin uses a steel grade round FE 37, chosen because of its mechanical strength and suitability for chrome plating.
Step 2 – Folding
At this point, none of the rings is fully closed. Next, a combination of use-specific molds are used to create the narrow fold that defines the backrest and the curvature of the seat's base.
Step 3 – Welding to close
The rings are closed by butt welding the ends together. A butt weld is one of the simplest and versatile types of weld joint designs. The joint is formed simply by placing two pieces of metal end-to-end and then welding along the join.
Step 4 – Assembly
After being cleaned to remove excess material from the first weld, the assembly can begin. To avoid confusion, each piece is individually numbered before being placed into a jig, a device that holds a piece of work and guides the tool operating on it. To ensure they could do all the necessary work, Feltrin + Masarin created a bespoke jig using the final sample of the chair.
"The jig, also known as the mask, is essential," explains Feltrin+Masarin. "It is necessary for the welding process in the production phase but it is also important to have dimensional feedback and ensure that each piece produced faithfully respects the technical drawing."
Step 5 – Welding to add structure
To create a stable structure, the horizontal cross-piece is threaded through the jig and fixed to the two outer rings. This is achieved using a popular welding process known as TIG, which uses electricity to melt and join pieces of metal together.
Step 6 – Spot welding
In the final welding step, Feltrin+Masarin proceeds by using a spot welding tool to fix each ring to the horizontal cross pieces. This involves welding 226 different points throughout the construction of the chair.
"At this moment various problems arose," explains Feltrin+Masarin. "So, we built two ad hoc pieces of equipment for this specific welding phase: the first to weld the backrest, while the second self-insulating equipment was necessary to allow the machine to enter the template and weld correctly."
Step 7 – Welding and cutting
As the welding process is so integral, human contribution was essential to ensure the Sign Filo chair complied with all the requirements of designer Cazzaniga. Every production step is performed manually "with an expert eye" by our team of professionals.
Particular attention is paid to the cutting phase to remove all the excess material including parts of the horizontal cross pieces that extend beyond the outer rings. To achieve this, Feltrin+Masarin built an electromechanical trimming machine tailored to this precise job.
Step 8 – Chrome Plating
After a final cleaning of all the treated areas, chrome plating takes place using a galvanic process to electroplate a thin layer of chromium onto a metal object.
First, the seat is immersed in acid solutions to remove material residues. Then, the seat is degreased by immersion and subsequent manual sponging to eliminate any traces of oils.
Throughout the chrome plating phase, the seat is immersed in various liquids. They include an electrolytic nickel bath and a few options based on the required finish: a copper bath, 24k gold bath or black nickel bath, depending on the color. The preparatory phases last approximately 3.5 hours in total.
Step 9 – Quality Control & Packing
Finally, the Sign Filo chair goes through strict quality control to ensure the design, structural integrity, finishing and packaging are to an excellent standard. The seat is wrapped, boxed, and ready to be shipped.
Throughout the entire process, the artisan component is anything but secondary. In the assembly and galvanising phases, the skills and expertise employed by Feltrin + Masarin highlight the uniqueness and care dedicated to each element. It really is as if the Sign Filo seat were a piece of jewellery. After all, it looks like one.
Interested in knowing more about welding processes? Head to Friction Stir Welding: The future of solid-state welding.