Design
Fuoripista: a smart training bike on glass legs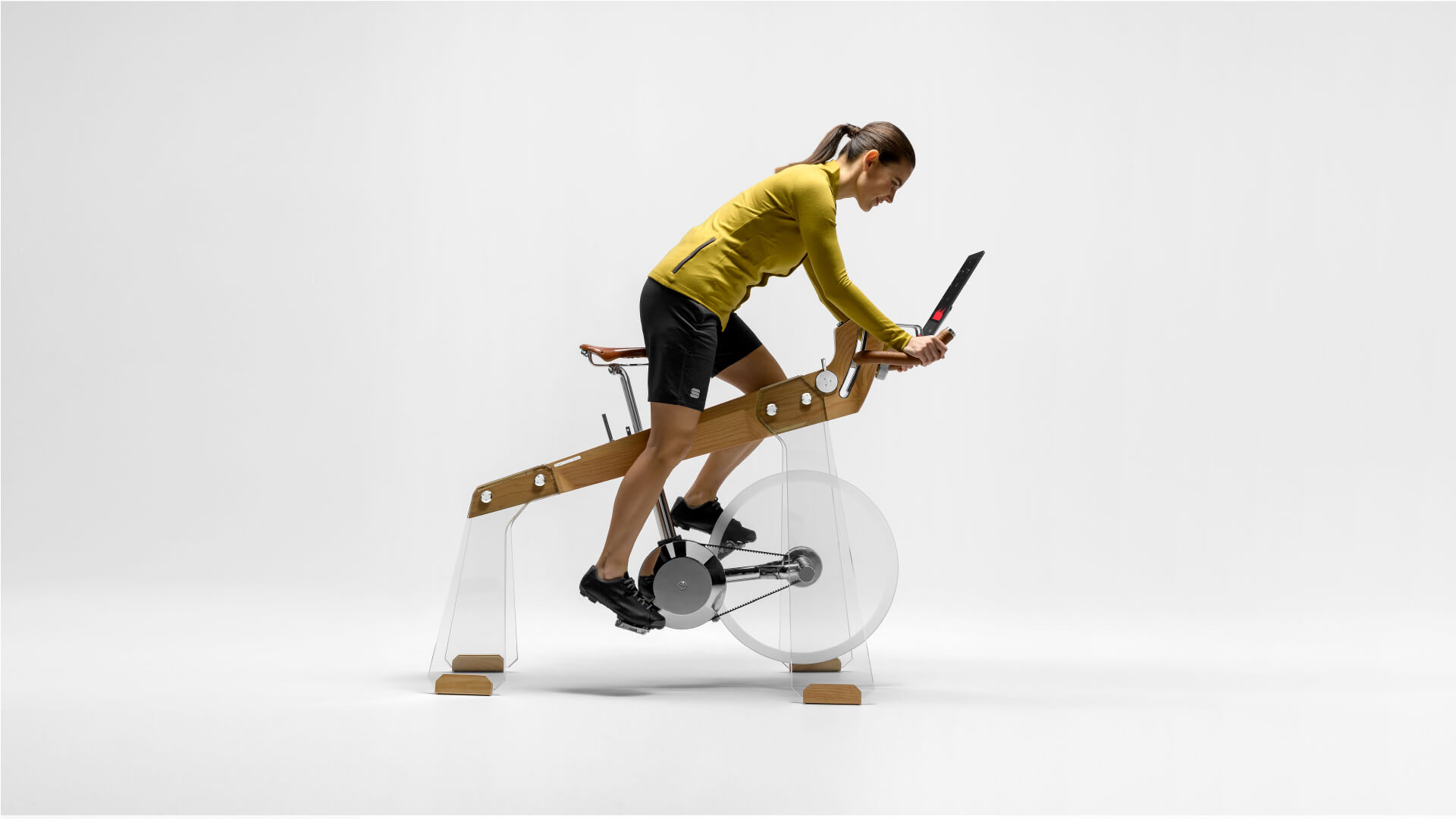 The Fuoripista Bike by Elite is an interactive stationary training bike which offers a sophisticated and high tech indoor cycling training.
Cycling is moving its way towards being an elite sport for personal training. It hits the mark as a solo activity that attracts people who want to push themselves and use it as a vehicle for personal growth. Fuoripista brings a level of sophistication to indoor cycling training that admirably steps up to this elite position.
Why Fuoripista? To create a stationary bike that marries superior technology and user experience with a unique sculptural aesthetic
Indoor bike training is not considered simply a back-up and poor substitute for getting out on the road. A stationary bike is now an important tool in achieving higher levels of performance than outdoor training alone can achieve. And, it is no longer only for professionals.
The minds behind Fuoripista – Elite and Adriano Design
Elite is a market leader for in-home training and indoor cycling technologies. Founded in 1979, Elite is now the official supplier to ten cycling WorldTour teams. The firm has grown through its strong focus on innovation, research, and teamwork. Cycling enthusiasts fill the company and products are designed in-house. The Fuoripista range is a new collaboration with Adriano Design.
Brothers Davide and Gabriele Adriano form the product design firm Adriano Design. Since 1997, they have been champions of innovative design and believe that everything can be forever redesigned and improved. They have partnered with international brands as well as artisanal producers and been granted over 50 design patents.
Adriano Design is well known for the rebranding and design of the innovative 'StackStoves' for artisanal company La Castellamonte. This was a radical re-envisaging of the traditional wood-fired ceramic stove, into a contemporary modular format. StackStove and related products won numerous international design awards, including the prestigious Design Plus Award twice.
Curious to know more about bicycles? Don't miss the 7 ½ electric bicycles to turn you into a daily rider.
Materials & Techniques – Superior materials and universal compatibility
The simple form of the Fuoripista Bike is constructed from high-quality wood, with tempered laminated glass legs, and steel and aluminum seat support bar, levers, and resistance unit. The seat and handlebars are covered in leather. It is a completely Italian made product which has been highly crafted.
The solid ash wood frame is initially milled with a three-axis CNC machine, then hand-finished by craftsmen. Sweat will not be a problem, as it is coated with multiple layers of a water-based varnish that ensures it is waterproof.
No matter what your preferred platform or device is, the Fuoripista will interface with it. The bike will naturally work with Elite's own My E-Training software. It will also connect to all other indoor cycling platforms such as Zwift. It uses ANT+ and Bluetooth, along with FE-C, PWR, S&C protocols.
Everything you need to know and control during a training session is displayed comfortably between the handlebars. From here, the rider can see the mode, power levels, brake calibration, gear shifts, as well as connectivity, and battery status. There is also a bracket that supports a tablet for scenery and app data display.
The flywheel is a 15kg piece of glass with a 50cm diameter. If you need to bring that to a halt in a hurry, the power button right at the centre bottom of the OLED display also doubles as an emergency stop.
Two leavers act as gear shifts and give easy control over the level of resistance. The leavers also function to set a target power value or training level when the bike is used without connection to other devices.
Operation is super quiet. To keep it going, there is a rechargeable lithium battery that supports up to 10 hours of continuous use. An optional power supply is available.
Fuoripista bears a maximum load of 110kg. It measures 150cm x 60cm and is 120cm high.
Style & Aesthetics – More rodeo than a road bike
The form of the Fuoripista Bike is its most distinctive feature. It is a bike with legs. Its simple, sleek wooden form and handlebars bring to mind images of horses or bulls rather than cycling.
The material palette further distinguishes it from other sports equipment. Glass and wood are warm and modern. It appears more like furniture or sculpture than a piece of technology.
Two-colour options are available. The beautiful ash wood can be left in its natural light, golden hue. Or, for a more industrial edge, Fuoripista comes painted matte black.
To achieve the correct fit and posture, both the seat height and the handlebars are adjustable. The pedals are universal and can be replaced as desired.
No end of life
Fuoripista's handcrafted construction from valuable materials means that is designed to last a very long time. The materials are sustainable and natural. Ultimately, this is not a product you will be replacing. Elite considers it to be an inherently green choice, that is designed with no foreseeable end of life.
Design memento – Ensure performance lives up to the style
The Fuoripista Bike is most certainly designed for aesthetic appeal. Yet Elite has not stopped at the facade. The technology and performance are also crafted to match the high standard.
Far from being mere sculptural set dressing, Fuoripista is designed to be used and lived. The user is able to customize it and select from a variety of experiences and modes. There are options to ride real courses, virtual courses, and GPS tracks, connect online with other riders or train with a virtual coach.
Fuoripista provides a highly realistic pedaling experience, with 16 resistance levels. It will simulate up to a 25% gradient, and the integrated magnetic technology power meter provides a power output measurement with an accuracy of +/-2.5%.
The writer's comment – Serious style
This is a stationary bike for those who take their leisure as seriously as a business. For people who enjoy taking every aspect of their life to the most stylish and productive conclusion. It will be most at home in luxury residencies, elite clubs and offices, and in the hands of the pursuit of excellence.
Find out more about beautifully designed bicycles, don't miss Extans Design – Technology meets handcraft in these beautiful luxury bicycles.