Design
Can seaweed solve the plastic pollution problem?
We asked Notpla, a London-based startup company that is designing a seaweed-based replacement for single-use plastic packaging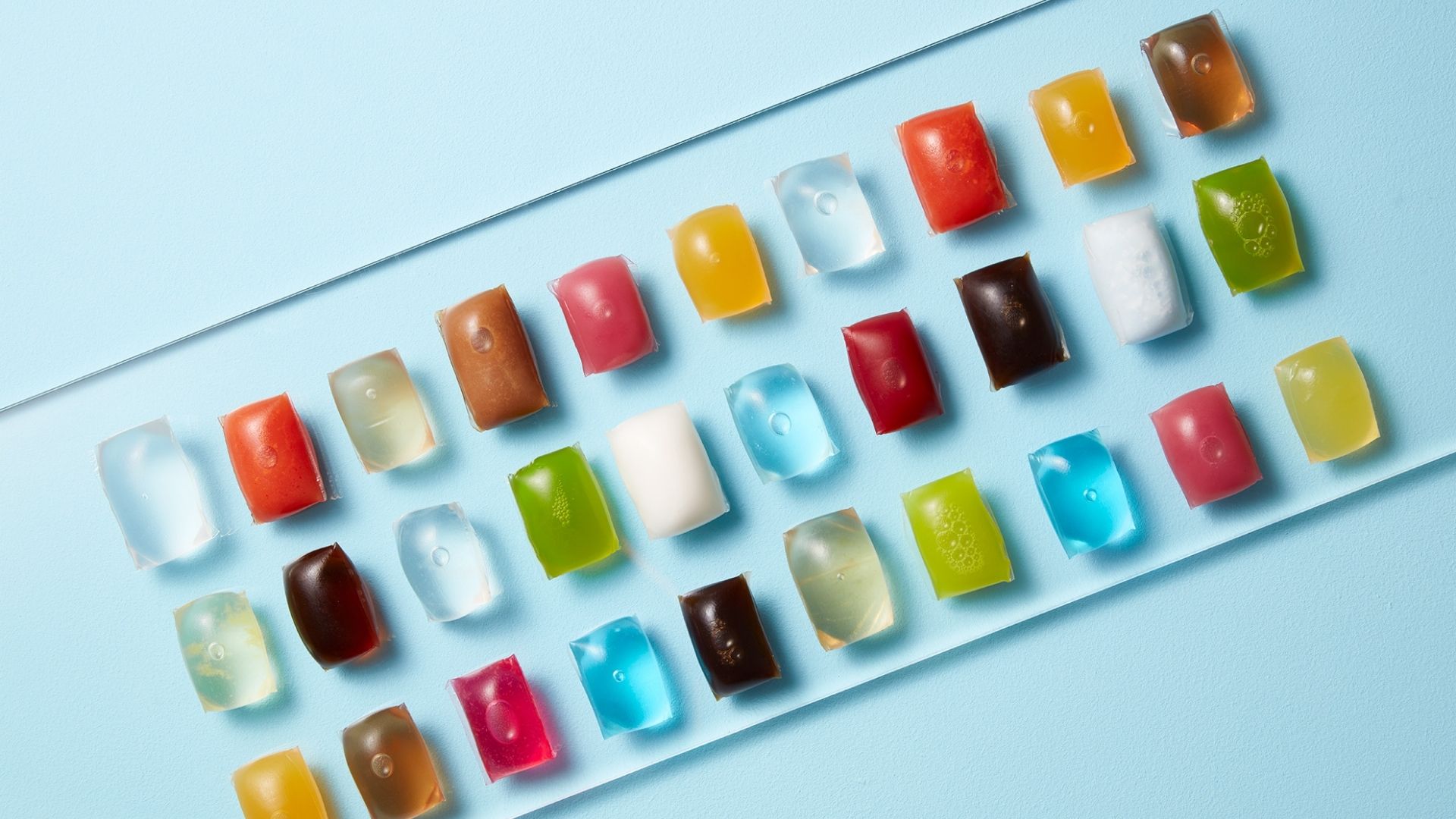 Karlijn Sibbel is the Design Director of Notpla, an innovative, eco-conscious packaging start-up, that provides an alternative to plastic made from seaweed.
Founded in 2014 by designers Rodrigo Garcia Gonzalez and Pierre-Yves Paslier, the company's products feature the company's blockbuster product Ooho, an alternative to plastic made from seaweed that is edible and fully biodegradable in just 4-6 weeks without the need for industrial composting or special conditions.
It's reflective of a push in the design world to come up with alternatives to materials, which are polluting the planet at an alarming rate.
The UN reports that 300 million tonnes (331 million tons) of plastic waste are produced globally each year and that 60% of the plastic produced since early 1950 has been landfilled or discarded outdoors amassing 8.3 billion tonnes (9.15 billion tons).
In December, the company raised £10 million in Series A funding for its sustainable packaging solution, which it plans to use to grow its manufacturing capacity while helping to develop its latest products, which include a seaweed paper.
Ahead of the exciting year, we wanted to speak to Sibbel to learn more about its "new plastic" solution – and to see how exactly it uses seaweed to challenge the supremacy of traditional materials.
Tell us how exactly Notpla seaweed's product works…
Karlijn Sibbel:
"Notpla Film is one of our exciting new products to make flexible plastic packaging disappear. It is made from seaweed, plant and mineral extracts (no plastic or bioplastic!).
It is perfect to package dry and oily contents such as pasta, olive oil, seasoning but also screws, body oils, dry shampoos and many more.
After serving its function of protecting and containing a product, it can either be dissolved in water (with its contents), add extra flavour to your food or biodegrade naturally like a piece of fruit."
What tool and processes can you credit for making Notpla possible?
Karlijn Sibbel:
"The use of seaweed in other industries like pharma or food means that we can work with existing supply chains rather than starting from scratch.
By using and building on these existing networks we can help grow and push the seaweed industry towards packaging applications (read also '7 eco-friendly packaging alternatives')
In general, we try to build on existing packaging machinery as much as possible to be able to replace more plastic. 
Seaweed is in many ways an organism that we don't know that much about and is increasingly and rightfully getting more attention.
This expansion of our collective understanding of its potential benefits for the environment, local communities, human health and tech will benefit everyone working with seaweed.
Think about carbon sequestration in seaweed and the development of blue carbon credit models by Ocean 2050 for example."
What benefits are there to using seaweed as the base material in bioplastics? Can you explain what it is about seaweed that lends it so well to bioplastics?
Karlijn Sibbel:
"Seaweed is one of the planet's most abundant biomass sources, growing at a rate of up to one metre per day. Its production does not compete with land for food crops, requires no fertiliser or freshwater to grow and actively sequesters carbon dioxide.
Additionally, as an ecosystem engineer, seaweed creates habitats for other species to thrive in. Seaweed lends itself well to be used as a material to replace plastic because it contains natural building blocks that give it structure and rigidity underwater.
These building blocks together with plant and mineral extracts make a material that has properties similar to plastic. But at the same time is nothing like plastic as Notpla can be easily eaten by us or nature."
From paper bottles to mushroom mycelium, paper-based and plant-based materials, these are 7 eco-friendly packaging alternatives companies should be using right now.
What would it mean for seaweed resources to make this type of packaging accessible worldwide?
Karlijn Sibbel:
"The seaweed industry is in different stages of development across the world. In Asia for example, as seaweed has been part of their diet for centuries, this industry is much bigger.
In Europe on the other hand there has been a history in seaweed harvesting and cultivation but has never developed to that same extent.
With the growing interest in seaweed and the expansion of possible uses, this has much changed over the recent years and new seaweed farms are popping up everywhere across Europe among others.
Organisations across the globe are developing the blueprints for a sustainable seaweed industry. They are bringing people together across fields and parts of the value chain to build a seaweed network.
Learning from each other to build the best practices that are in balance with nature. For this, we are proud members of The Safe Seaweed Coalition and Seaweed for Europe for example.
Knowing that sustainable farming practices have the potential to sequester carbon, restore ecosystems and revitalise coastal economies across the globe.
We are excited to influence and be part of this growing industry and are continuously expanding our local and global seaweed network."
What has it been like trying to get people's support for the product?
Karlijn Sibbel:
"It has been a very positive journey! People are very eager to move away from plastics. Seeing the negative impacts of our 'throw-away' mentality of plastic products drives people to want to make a difference.
The attention towards this globally shared problem and the growing efforts in trying to map this problem has helped this immensely.
People and companies are understanding the current mismatch between how long a material lasts and how long a product is used much better, which in the case of plastic is often >450 years-forever versus 5-10 minutes.
Although the problems are very complex and solutions are not always clear, we see it as part of our values to educate ourselves and share knowledge to make the best decisions.
Through our social media, Impact webpage and Making Waves blog we make a lot of resources accessible where we break different topics down into more digestible bits of information and reference relevant research. 
Besides that, the possibilities that Notpla brings are beyond what we could imagine with plastic which makes it very exciting to design with.
We wouldn't be able to imagine eating, cooking or designing the material to the extent that we can if we were still thinking about plastic.
From adding flavours to textures and other functions, Notpla can become part of the product. Using only natural materials allows us to completely reimagine packaging as a concept. This is one of the things that as a designer challenges and excites me a lot."
The Notpla seaweed products challenge consumer habits and the way we consume food and drinks — has this been a significant challenge or one you think is overhyped by investors?
Karlijn Sibbel:
"I think it's a great opportunity to disrupt the status quo. Adopting our solutions is not as difficult as it seems, we offer products that are very similar to how nature transports and wraps precious contents such as seeds.
How we eat and handle fruits for example is not as far away from how you would use Notpla products. The main challenge is aligning expectations to what a material can and can't do.
The industry is used to plastic and expects the same properties from a natural material. Its functional properties are similar but not all the same (find our more innovative materials).
We question what properties are really essential to certain applications and machinery and want to match that.
We do this with our great team of engineers, chemists and designers through a make and test mentality. We continue to improve our materials and tackle different applications at a time."
Can you explain some of the problems with bioplastics that require industrial composting?
Karlijn Sibbel:
"The main difference between Notpla and bioplastics such as PLA is that although made from natural sources, they have been modified in such a way that nature is not able to break them down on their own.
These materials require specialised conditions to break down such as elevated temperatures. This can be done with Industrial Composting. 
Although compostable packaging materials are a step towards solving the single-use plastic problem, the reality is that the infrastructure and programs for industrial composting are currently lacking in many countries.
According to the last WRAP report around the composting industry market, there were only 272 permitted composting sites in 2019 in the UK and most generally refuse compostable packaging as they prefer processing food waste that is much faster and more productive to break down.
As a result, industrially compostable plastics are most likely to end up in landfills, along with many other packaging materials.
And if they end up in the environment, they won't degrade and will create similar problems as fossil-based plastic. 
In line with the new EU Single-Use Plastic Directive (which aims to ban synthetic materials such as PLA and other bioplastics), Notpla's products easily biodegrade in nature in just 4-6 weeks without the need for industrial composting or special conditions.
They are made to disappear naturally like a fruit peel, leaf or piece of seaweed."
This brand also believes in a better future for packaging design, don't miss LAYER x Never Go Alone: Refill, Reuse, Repeat.