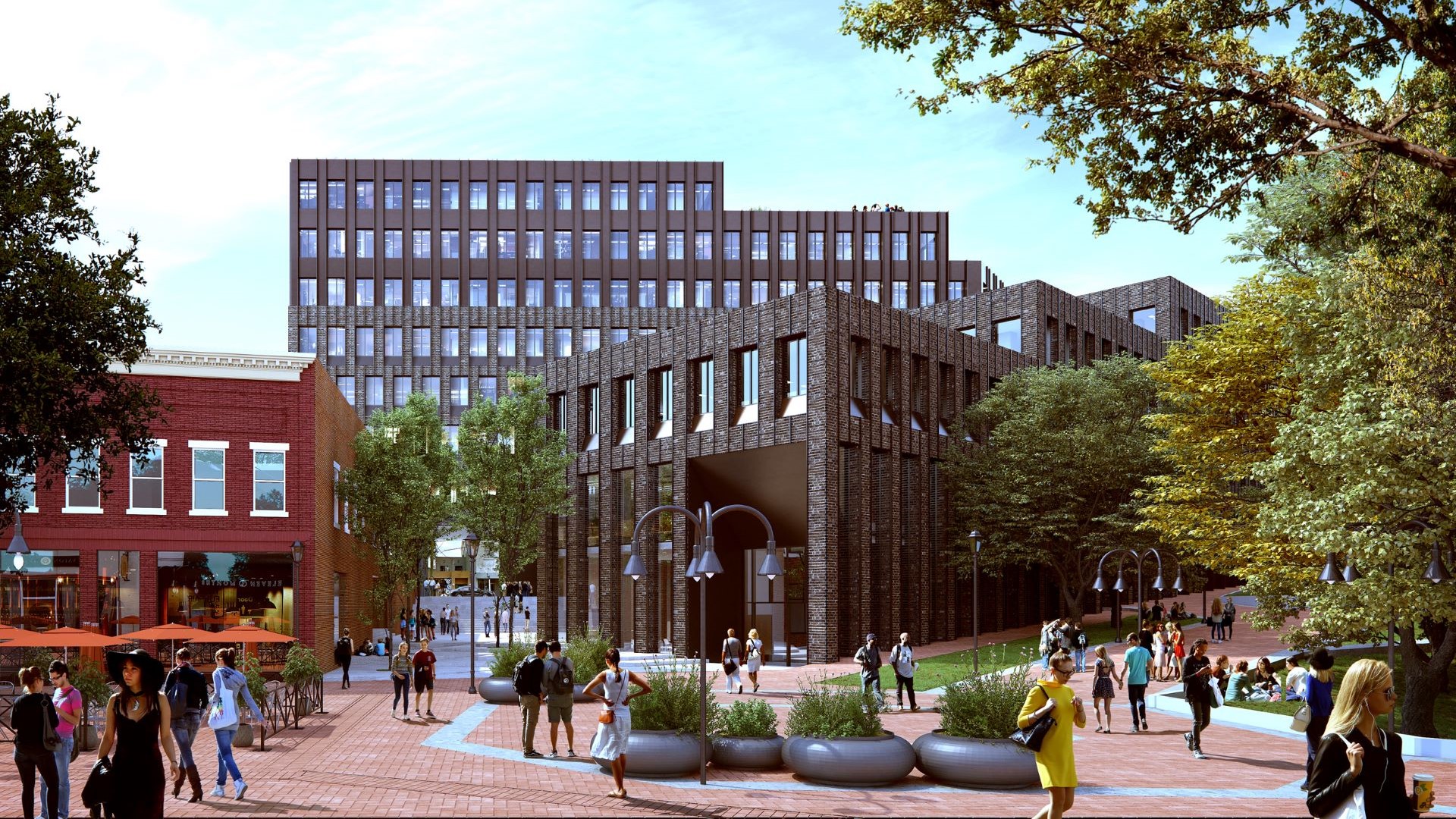 The Center of Developing Entrepreneurs designed by EskewDumezRipple and Wolf Ackerman, and targeting very ambitious sustainability goals, is the source of inspiration for a conversation on health and wellness in workplace design.
The pandemic has accelerated trends already underway in the design of offices and workplaces, increasing emphasis on workplaces that support health and wellness and hybrid models of face-to-face and remote collaboration.
Design teams working on projects when the pandemic struck are finding design elements intended to promote occupant health that used to be "hard sells" – interventions that promote physical activity, provide improved air quality (through higher ventilation, better filtration, and operable windows), or support co-working models where employees may be in the office some days and working from home others – are now in high demand. That's been our experience at EskewDumezRipple.
Two projects serve to illustrate what we've seen: One is a transformation of an existing 1980's building, one a clean-sheet new construction project. What we've found is that designing for ways that support health is key to high-performance, energy-saving workplaces that will continue to be in high demand even as the nature of "office" work continues to change.
Two years ago, early in the design process for a renovation for a local Baton Rouge for-profit business, the client team realized the shortcomings of their aging mechanical systems and the poor ventilation it afforded employees. In tandem with architectural interventions meant to revitalize company culture and teamwork, the design team advocated to rejuvenate the building systems and interior finishes to provide better indoor air quality, light, and views to the outside – shown to improve cognitive performance and employee satisfaction.
The building's existing heating and cooling central plant was married with a high-performance Dedicated Outdoor Air System with Energy Recovery Ventilation (DOAS+ERV), providing more than twice the level of fresh air of typical standard practice, yet cutting energy use by two thirds.
Office nostalgia or office aversion? Find out a major investigation into the future of the workplace starting from Milan.
Today, as the building opens following construction, providing higher fresh airflow than old standards, and feeding this air through the building once (rather than recirculating stale air) is consistent with the latest recommendations from industry organizations and the CDC on modifying workplace ventilation systems to minimize the transmission of diseases that spread through the air, such as COVID19.
The big takeaway of interventions like this one? The strategies that help make the building better for the happiness and productivity of occupants two years ago are the very same ones that result in substantial health and safety considerations during the current pandemic.
At the Center of Developing Entrepreneurs, the building was designed to deliver an indoor working environment informed by the latest research results on how air quality, daylight, and views impact human cognitive function, yet with an anticipated energy use intensity about one-third that of typical office buildings (helping put it on track for LEED Platinum certification).
Several months ago, midway thru construction, the design team revisited floor plans and design elements for COVID consideration. With research and data on COVID-19 being updated daily, the solutions incorporated seemed relevant in a post-COVID world as well. Incorporating more "hands-free" hardware and fixtures and digital messaging, as well as increasing the distance between coworking "hotdesking" seats (along with the pre-ordained considerations for air quality) ensure that the building (with planned completion in 2021) can open safely regardless of an uncertain future.
What we've learned across these examples is that the future will likely encompass a range of options. Workplace design solutions have the twin goals of desirability and practicality. What works for one client may not work for another. As designers, our challenge is always to provide not just boilerplate solutions, but to start with a client's concrete problems, mission, vision, and goals for their organization.
COVID-19 has brought into sharp focus the fundamental challenge in workplace design: to allow people to work closely together to unlock the potential of collaboration, while supporting the health of every individual.
Interested in workplace design? Discover how ecological design benefits workplace environments through natural patterns.