Mobility design
Own less, share more, move faster: free-floating in Milan with Helbiz and MiMoto
In this interview, we have involved two of the most prominent sharing mobility services active in Milan: the shiny yellow mopeds of MiMoto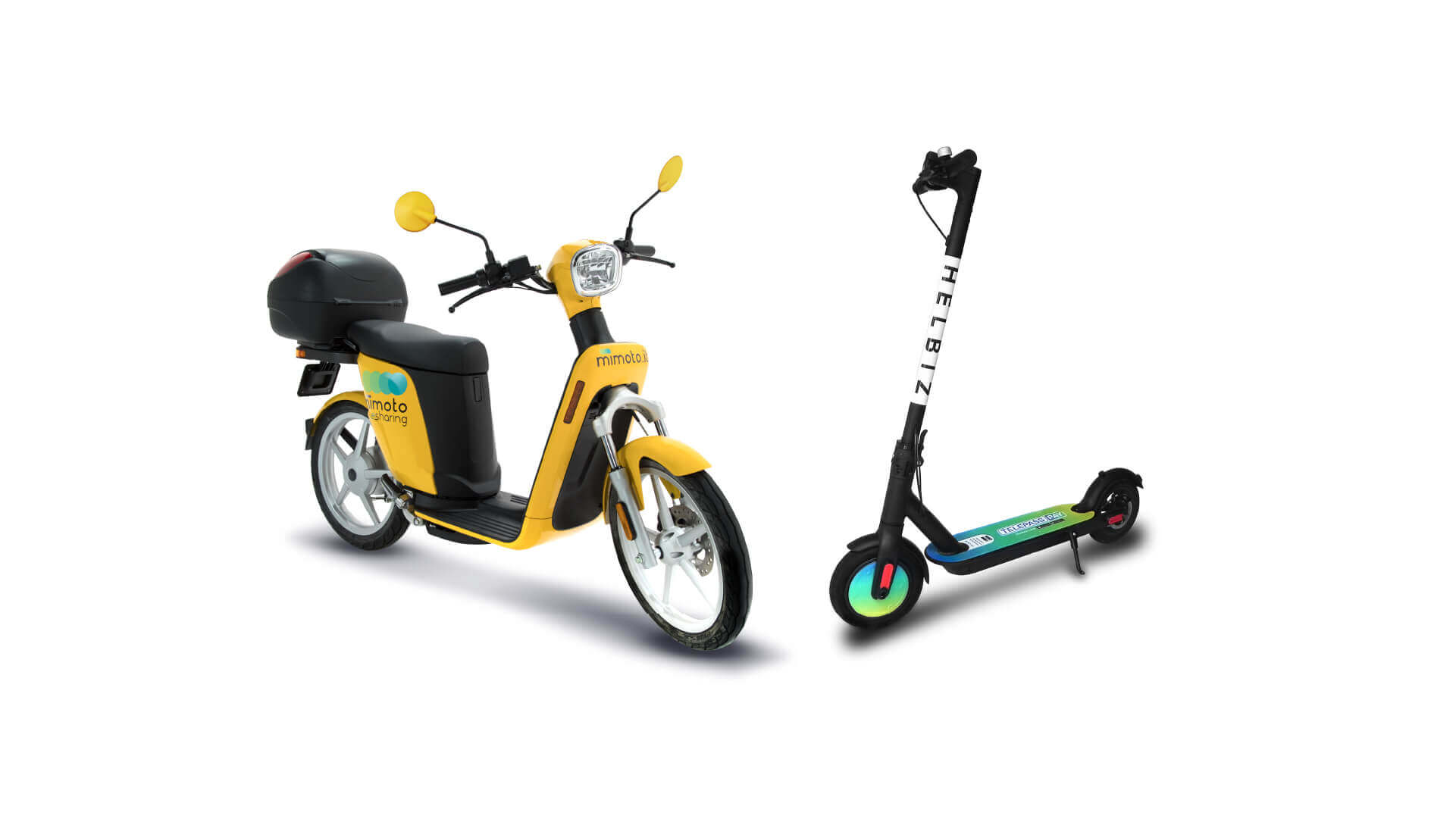 With a growing demand for flex(mob)ility and a population eager to experiment with new approaches to transport, we explore the current state of shared mobility services in our beloved city, Milan, in a double-interview featuring MiMoto and Helbiz.
The great renaissance of Milan is still going on. Within 5 years, the city shifted from a destination "simply" known for high-end shopping or common business, to a European metropolis with an aggressively growing skyline, a wide offering of entertainment and cultural events, a thriving startup scene, traditional and modern eateries alongside unconventional retail concepts, flourishing co-working spaces, big plans for green urban spaces and a fresh wholesome international vibe.
Milanese people are known for being impatient and highly intolerant towards traffic, delays, or anything slowing them down, and that's where new paradigms in urban mobility come into the picture to enhance city life and enabling inhabitants to enjoy everything we stated above.
The broad landscape of sharing mobility in Milan presents multiple means of transports and different services competing among each other to offer cars, bikes, e-bikes, electric scooters, mopeds, and even transport vans.
In this interview, we have involved two of the most prominent sharing mobility services active in Milan: the shiny yellow mopeds of MiMoto, with by Alessandro Vincenti – Founder and Business Development, and the black sleek scooters & e-bikes of Helbiz, with Luca Santambrogio – Country Manager at Helbiz Italia.
Tell us about your services: what are MiMoto and Helbiz all about? What is your story?
MiMoto – Alessandro Vincenti:
"We are the main Italian players in the smart mobility market. In particular, MiMoto is the first electric scooter sharing service in Italy using Italian made electric mopeds in a free-floating service. We are a total green startup company with a bottom-up approach, founded by three young entrepreneurs with smart mobility and green sustainable business as a passion."
Helbiz – Luca Santambrogio:
"Helbiz is an American company based in New York founded in 2017 by Salvatore Palella, with the aim of providing a solution for last-mile mobility through an innovative platform for the rental of transport vehicles. On-board connectivity, electrification, shared & on-demand transport are the drivers that guide the development of the brand, currently present in around 10 countries worldwide and counting 750 thousand active users.
This is the scenario that introduces the revolutionary service for the rental of electric scooters offering users, specifically to those living in urban contexts, a practical and affordable means of transportation for medium and short-range travel.
Helbiz is based on a free mobile application downloadable on smartphones and allowing the geolocation of the scooters and the unlock by scanning the QR code located on the handlebar. Once the ride is completed, the user can park the scooter anywhere, without the hassle to bring it back to any racks or docking station.
In 2018, Helbiz brought micro-mobility to Italy for the first time. Today the company is active in cities in Europe (e.g. Malaga, Bordeaux) and the United States (e.g. Washington, Miami), aiming to expand across the globe."
What is the current state of shared mobility in Milan? What kind of support and challenges is providing the municipality? What is the regulatory state?
MiMoto – Alessandro Vincenti:
"Currently, Milan is one of the main markets in terms of sharing mobility, encompassing 5 moped operators and more than 5 micro-mobility services as well as 2 bike-sharing operators. The municipality is very favorable towards these kinds of services.
In terms of regulations, mopeds services may apply for the official authorization by the municipality, but it is not binding. Whilst for micro-mobility, the service is subject to the public bid provided by the municipality in order to experiment with the service in certain areas."
Helbiz – Luca Santambrogio:
"Helbiz operates in Milan with electric scooters and we are currently waiting to expand our service with our electric bicycles.
The city administration has always supported us showing openness towards sustainable mobility, especially towards micro-mobility. Clearly, all our activities have been facilitated by the latest amendment of the Legge di Bilancio [Budget Law] which made equal scooters and bicycles."
Is the city of Milan easy to ride from a user perspective? Are Milanese people eager to experiment with new mobility services?
MiMoto – Alessandro Vincenti:
"Absolutely yes. The city of Milan has an excellent geographical structure being totally flat and very small, favoring the autonomy of scooter batteries. Furthermore, Milan being the most business-oriented city in Italy, its citizens are very keen on using smart mobility services."
Helbiz – Luca Santambrogio:
"Milanese people are very open towards the use of scooters, as we were able to observe from the trends recorded by our service. In addition, Milan presents smooth pavements and several cycle paths that the city administration aims to increase."
How are MiMoto and Helbiz conceived from a service-design perspective? What features ensure a seamless user experience? How do you use data to improve your service?
MiMoto – Alessandro Vincenti:
"Both services are conceived as fashion & design services since they both chose a design product and the brands are totally recognizable through their respective communication strategies. The main objective is always to try and send the right message to the users, keeping in mind the culture related to where the service is active."
Helbiz – Luca Santambrogio:
"The vehicle was designed to be ergonomic and to allow a stable driving experience on diverse surfaces: stability is an important safety guarantee for our users.
Helbiz Mobility Analytics is an analysis platform that shows data from all journeys using modern geospatial tools. With various options of data visualization, we can see when journeys were made, which paths were taken, and draw reliable conclusions based on general, real usage patterns.
This platform is a flexible and effective tool supporting the operations and urban planning teams as well as marketing and data scientists in making decisions based on data related to a city's infrastructure and transportation framework."
[ Read also How Upshift invented fractional car leasing to replace car ownership in cities ]
The concern for sustainability is ever-growing and traditional transportation methods have the greatest responsibility when it comes to pollution, especially in urban areas. What is the sustainable impact of your services?
MiMoto – Alessandro Vincenti:
"Sustainability is the main mission of our service, this is the reason why we have chosen electric vehicles. Our sharing services not only raise awareness around electric vehicles while boosting their use, but they also disincentivize the use of private vehicles maximizing the value of public spaces."
Helbiz – Luca Santambrogio:
"Since its inception, Helbiz has been committed to making the world greener. We want to make mobility accessible to everyone in the world by minimizing our impact on the environment. Every single Helbiz ride is contributing to making our cities greener by reducing traffic and pollution, improving air quality.
Our planet is in the first place. Every kilometer with Helbiz (with recharging and operations included) produces 63 times less CO2 than a car. In addition, I add that a scooter allows you to save 73 grams of CO2 for every kilometer. Reducing CO2 emissions on a large scale will slow down and eliminate climate change."
Due to the recent pandemic crisis, the way people move around is changing: what behaviors are you observing and expecting in the approach to shared-mobility and by the users of your services?
MiMoto – Alessandro Vincenti:
"Shared mobility will be one of the sectors that will benefit from the health crisis, being a safe alternative as compared to public transportation. People are becoming very keen on using such services."
Helbiz – Luca Santambrogio:
"In recent days, we are not only noticing a higher frequency in rides but also an extension of the routes taken, especially with scooters. At this time, people surely prefer individual means of travel and our vehicles allow it.
We expect this trend to continue even in colder seasons: sharing vehicles are slowly integrating with local public transport, and in some cases, even replacing it."
Considering the rapid changes in people's behavior and the fierce competition faced by that sharing mobility services, what are your plans in the near future and in the long run?
MiMoto – Alessandro Vincenti:
"Sharing mobility services do not work in the exact same way across different locations: you must understand and gain extensive knowledge of the market you plan to operate in. Therefore, we plan to bring our service to new locations and diversify it using different vehicles that are a perfect fit for the newly chosen market."
Helbiz – Luca Santambrogio:
"We are currently investing a large part of our resources on the Italian territory, but we also aim at expanding in the US as well as in northern and central Europe. In the long term, we are also highly interested in the Asian market.
We are working to improve data monitoring further, aiming at offering a better service for our users."
[ Read also Retro futuristic Microlino and Microletta for urban e-mobility ]