Mobility design
Pininfarina Shanghai debuts Xingtu: a smart EV truck with voice assistant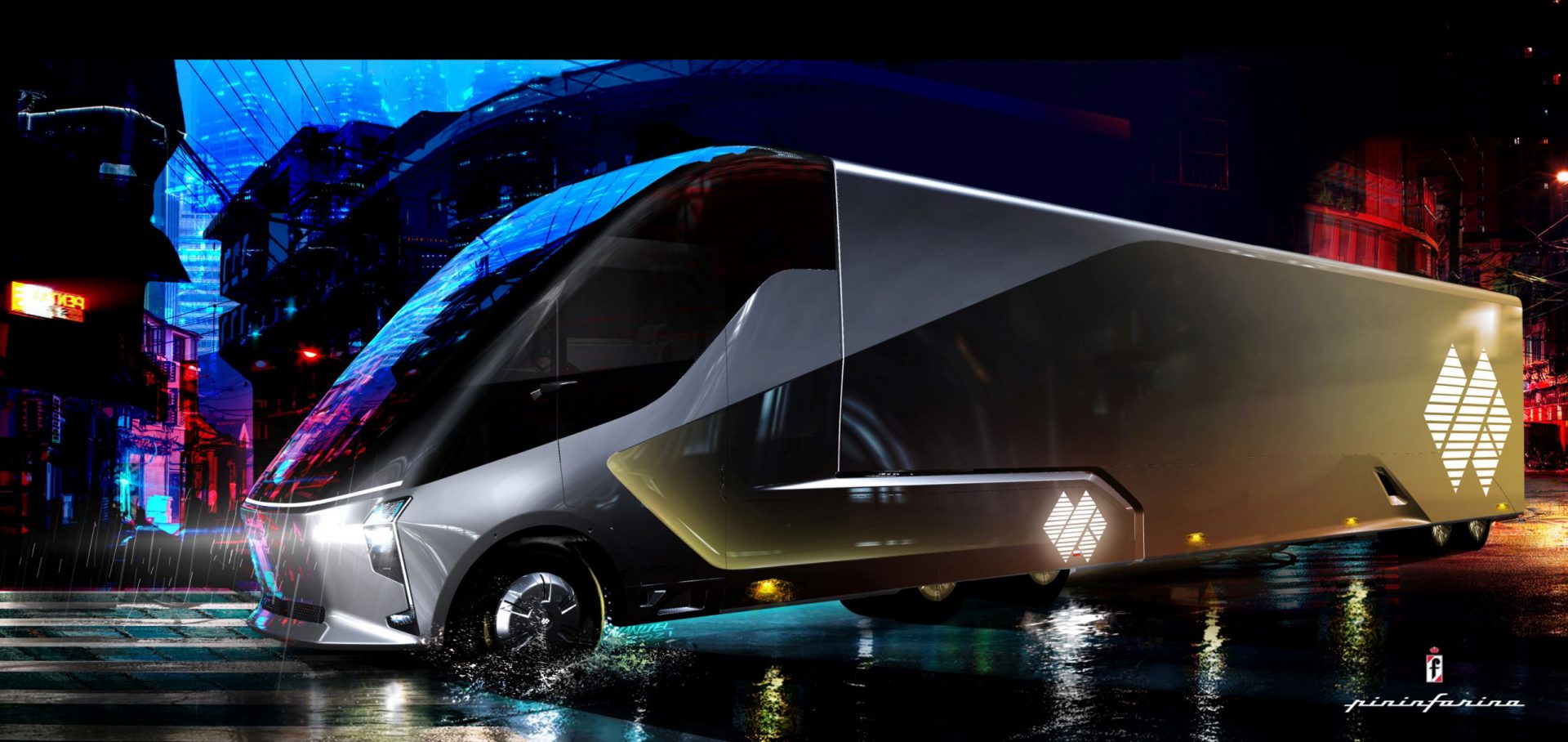 Launched by the Chinese company's subsidiary DeepWay, the self-driving vehicle is aimed at automating highway mainlines.
DeepWay, a Baidu-backed company, has presented Xingtu, a smart new energy heavy-duty truck equipped with 11 onboard cameras, an infrared detector, 5 millimeter-wave radars and a LIDAR sensor, thus achieving end-to-end autonomous driving and ultra-long range detection of more than 1 kilometer.
Designed by Pininfarina Shanghai, the Chinese studio of renowned Italian design house Pininfarina, DeepWay Xingtu is the first fully self-developed intelligent new energy heavy truck in China, precisely designed for operational scenarios, fully satisfying the underlying requirements of intelligent driving and giving full play to the advantages of new energy drive.
"Autonomous driving must use advanced driverless technology to create new products that offer the ultimate experience in order to achieve commercial success,"
says Yunpeng Wang, vice president and general manager of autonomous driving technology at Baidu.
"We aim to create value in real-life scenarios such as transporting people, delivery and life services. This new generation of vehicles is by no means just a modified truck – it's a robot truck."
"DeepWay's trust in Pininfarina has led to this opportunity bringing a successful partnership. Being backed by Baidu and LionBridge gives DeepWay an inherent advantage in self-driving technology, logistics freight and transport, paired with a team of experienced professionals. Pininfarina, over its 90-year history, has been creating timeless beauty through its values of elegance, purity, and innovation. The two parties have joined to create a very pure, avant-garde and technological heavy truck model, marking a significant milestone for both parties in our cooperation," comments Simone Tassi, General Manager of Pininfarina Shanghai.
"Heavy trucks are rapidly evolving to adapt in a quick-changing environment where new technologies allow Smart and Connected vehicles to safely help everyday duty,"
Matteo Piguzzi, Head of Design of Pininfarina Shanghai, explained.
"The sophisticated design of DeepWay introduces a new advanced language, where efficiency and aerodynamic work together to create an iconic exterior shape; and the interior perfectly integrates all the new technologies in a very modern and relaxed space, where the duty of travelling is transformed into an intuitive and seamless new experience. Intelligent, connected, premium but practical, DeepWay Xingtu has a pure and iconic design language, marking the future of a new generation of heavy transportation."
BMW made a car that can change colour: it features an "ePaper" which, when charged with a small electrical current, changes hue and pattern.
The first generation of DeepWay's product, DeepWay Xingtu, offers four core advantages: deep intelligence, deep performance, deep design and deep space.
Deep Intelligence
DeepWay Xingtu features DeepWay's Highway Intelligence System (HIS) based on Baidu's autonomous driving technology. Equipped with 11 onboard cameras, 1 infrared detector, 5 millimeter-wave radars and a LIDAR sensor, along with advanced algorithms, DeepWay Xingtu enables end-to-end autonomous driving – from sensing to execution – in 100 milliseconds, as well as ultra-long range sensing of more than 1 kilometer.
Deep Performance
DeepWay Xingtu offers increased efficiency for freight drivers. Simulation tests with the China Automobile Research Institute showed a wind resistance coefficient as low at 0.35, which effectively reduces overall energy consumption.
At a full load of 49 tons, Xingtu's custom-developed 450kWh battery pack can travel up to 300km on a single charge, and charges in just one hour at a 1C current. In addition, DeepWay has also developed a quick-swap solution for the battery, which enables freight drivers to swap out their battery in 6 minutes.
All of this together can reduce energy, maintenance and operation costs, as well as transportation time.
Deep Design
DeepWay Xingtu adopts a lightweight integrated battery and chassis design, which greatly reduces wind resistance.
Coupled with E/E architecture that integrates across multiple domains, the vehicle is much easier to control, making it more stable and safer to operate.
Pininfarina incorporated its unique Italian design DNA into the shape of this futuristic heavy truck creating elegant and pure lines with a strong focus on aerodynamics, leveraging the experience gained in this field over 50 years as its Wind Tunnel was inaugurated in 1972.
Deep Space
DeepWay and Pininfarina dedicated great attention to the interior space creating an intelligent living cabin, a sort of a second "home" for long-haul truck drivers.
DeepWay Xingtu's new generation of smart cabins adopts the concept of separate driving, working and living spaces, giving more room to the drivers.
Equipped with an intelligent voice assistant, a large touchscreen infotainment system and ultra-comfortable seats and beds, freight drivers will experience a much more comfortable working and living environment while on the road.
The autonomous driving technology base of DeepWay Xingtu – Apollo, developed by Baidu in 2013, has completed 20 million kilometres of testing.
This new energy heavy-duty truck adds intelligent freight to Baidu's existing autonomous driving solutions including passenger cars, Apollo Go robo-taxis and minibuses, expanding the applications of intelligent driving to industry and business.
As of December 2021, DeepWay has completed dynamic testing of autonomous driving technology, interior and exterior clay reviews and model data freeze, and will soon enter the product validation phase.
In the future, DeepWay will continue to focus on R&D and manufacturing of smart new energy heavy-duty trucks and promote the commercialization of L4 autonomous driving technology in the China truck freight industry in the coming years.
Last year Pininfarina launched the "New Dreams for a New World" student competition: meet one of the winners, Junu Kim, and his Instagram-inspired car concept.