Furniture design
The hug you missed for a whole year is now here and blossoming – Hortensia Armchair x Moooi
Starting out as a 3D rendering, the Hortensia Armchair was first made into a limited edition, with 30,000 petals recreating the feeling of a hug: comforting, calming, and soothing.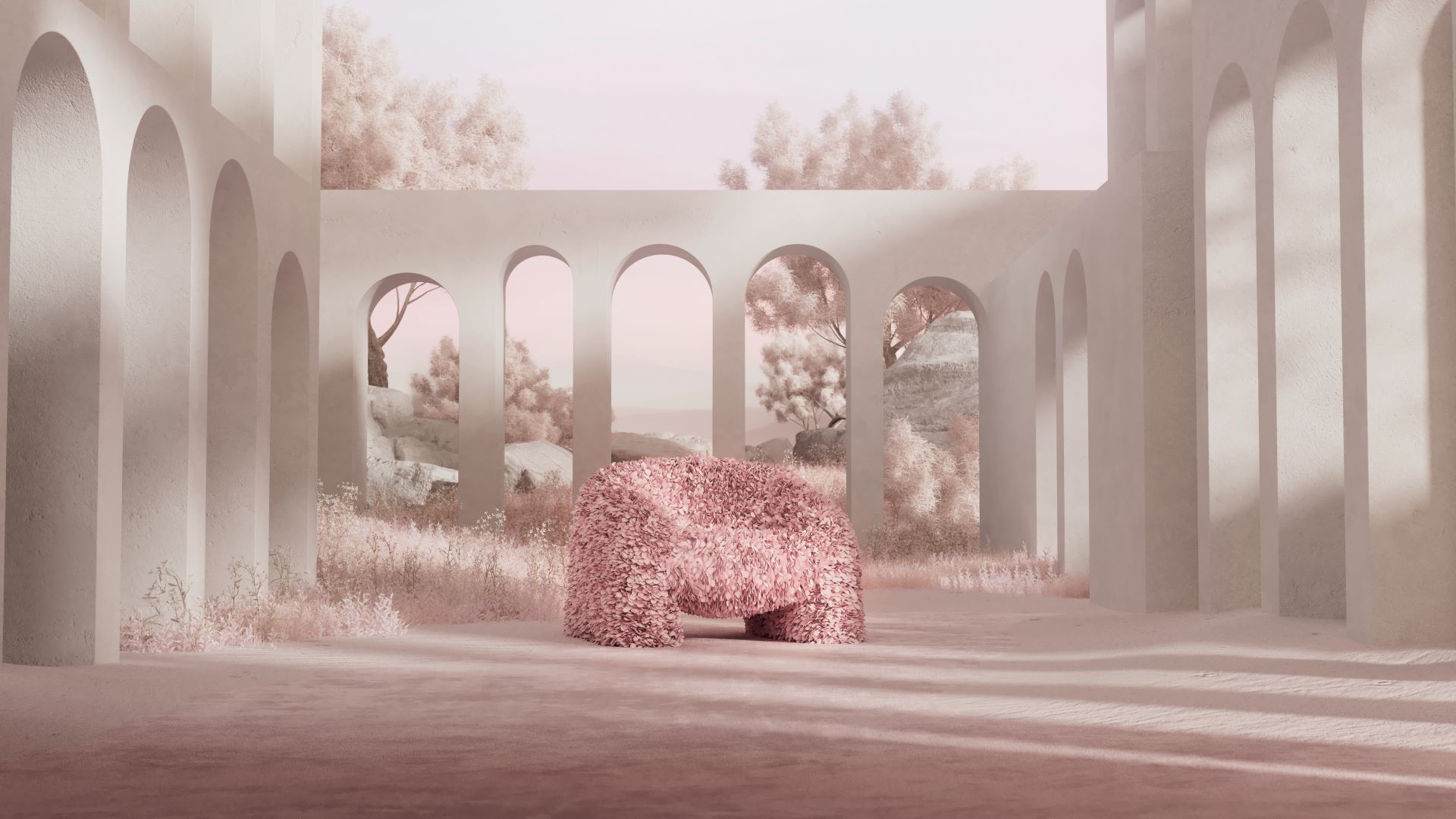 Producing the chair on a large scale was thought unlikely, but together, Moooi, Júlia Esqué and Andrés Reisinger found a way. Together, they made the 'impossible' design possible and accessible to all.
From its first stages as a rendering to the design as it is now, the origin and evolution of the Hortensia Armchair were based on a dream. A dream where in every home you could experience the softness of sitting in a blooming flower.
Designers Andrés Reisinger and Júlia Esqué envisioned the Hortensia Armchair standing in living rooms, hotels, restaurants, any place all over the world. 
The Hortensia Armchair innovatively replicates the beauty of nature. Inspiration for this iconic and voluminous chair came from the need to recreate a feeling of softness.
The same feeling of comfort and calmness that you get when you receive a hug. Andrés Reisinger & Júlia Esque wanted to know what it would feel like when sitting in a flower, enveloped in smooth and gentle petals. 
DesignWanted talked to Andrés and Júlia about their experience of turning the impossible into a reality.
The duo became friends when they started sharing a space in Barcelona, and together, they merged the imagined and the tangible through their design skills.
In a conversation with Fabio Colturri, they walk us through the evolution of the Hortensia Armchair, and the challenges they met along the way.
Creating at the intersection of art, design, and direction, Andrés makes conceptual, yet accessible 3D visuals and otherworldly compositions.
Hailing from Buenos Aires, he applies over a decade's worth of experience working with the likes of Apple, Microsoft, and Samsung to challenge the boundaries of diverse media.
Andrés' progressive spatial experiences and hyped collectible pieces have earned him recognition in the Forbes 30 Under 30 Europe, ADC One Club Young Guns, and the AD100, among others. 
Júlia is a production designer who has spent the first years of her career working between Barcelona and New York before establishing herself as an independent designer in 2019.
Her projects are based on the experience of research and hands-on making and have been exhibited in Brussels' Collectible Fair, Gent Design Museum or HKDI Gallery in Tokyo, among others.
Alongside her studio work, she also teaches and runs workshops at numerous design schools including Instituto Europeo di Design and Elisava School of Design and Engineering.
Are you wondering about Andrés Reisinger's approach to design? Don't miss the chance to take a journey into the surreal realities of Reisinger Studio!
The evolution of a blooming beauty
The Hortensia Armchair started out as a 3D rendering by Andrés that soon went viral on Instagram.
This sudden success prompted market interest and multiple sales orders, even though the chair didn't exist yet.
In response, Andrés called in Júlia to find a way to make the chair into a real-life product. 
We asked him what made him go for it and he said, "I'm a bit stubborn, I actually spent a lot of money trying to make this prototype work, without knowing if anyone would ever buy it."
The chair's signature petal upholstery contains over 30.000 laser-cut petals and will be available in two colours: Petal Pink and Petal Grey.
"We didn't have any idea of how we would manage it", explains Júlia.
"We just started thinking that we would probably need two types of textile, one super soft for the petals, and another a bit thicker and elastic, to force the rubber to wrap around the chair."
Using this intuition, Andrés & Júlia began their process by putting together paper models. They started working in March 2019, focusing on fully understanding the principle of the textile – how it worked and how the petals were attached to the backing.
They built in parallel the wooden basic structure of the chair and the scattered foam.
They reached the first prototype five months later, which allowed them to check and compare the outcome to the initial render.
"It was a big moment for us when we had our first prototype, even though when we look at it now we realize it wasn't so great."
They spent four more months after that, fine-tuning the textile and going into the production details, in terms of colors and volume, before exhibiting the physical chair for the first time at a private viewing in Barcelona. 
"It was really important along the process to find the right people to work with", says Júlia.
"At some point, we met a man in his 60s, whose mother was a seamstress, and father a tailor: he knew a lot, he guided us through the prototyping phase."
Made accessible with Moooi
Andrés and Júlia successfully created a limited edition of the Hortensia Armchair and seeing it in a few spaces made a small part of the design dream come true, but the next logical step was making the chair more available.
They immediately thought of Moooi, thinking the lifestyle brand was perfect to take on the challenge, with their collection balancing between art and product design.
Together they completed the last stage of the chair's evolution; the blooming Hortensia Armchair made available worldwide.
"We sent over our plans, drawings and dimensions and they improved them", explains Júlia.
While the duo's initial prototype was made from a wood structure with sculpted foam, Moooi used a steel structure covered through injection foam molding.
Andrés and Júlia have been following the whole production process through their phone screens, constantly receiving images of the workshop from Moooi.
Iconic and configurable
The Petal fabric, designed by textile designer Júlia Esqué, is the Hortensia Armchair's signature fabric, but the voluminous chair will be configurable in Moooi's extensive fabric collection.
Moooi offers an online configurator on its website where anyone can configure the Hortensia Armchair choosing from a wide range of fabrics, including the Extinct Animal Fabric collection.
When can we sit on the Hortensia Armchair?
The chair will officially be available on April 20th, 2021 at bredaquaranta, Moooi's official retailer in Milan, where Andrés will also be launching for the first time the Ripples carpet collection for Moooi Carpets. 
This collection of two carpets, Ripples in Pink and Ripples in Silver, bears his signature style; the color and tones found in the human body, and the digital spherical sculptures.
Andrés translated the delicate simplicity of a drop falling into the water, into his own design language. The Ripples collection is almost meditative with its calm fluidity.
Where is digital design heading?
Being the first designer to have put up an NFT collection, Andrés is pushing the boundaries of digital art and design, and showing us the opportunities it offers.
In February 2021, Andrés presented a digital furniture collection, called The Shipping which sold out in less than 10 minutes via an NFT auction.
A revolutionary feat in the design world, which allows virtual pieces to be placed in any 3D virtual space and used in augmented-reality applications. 
"We are not escaping from the physical world, we will still need objects, spaces and architecture for a long time", Andrés explains.
"We are just adding a new layer of funding experiences with NFT."
"A physical object will start to decay over time, whereas a virtual artboard can go from one collector to the other without losing its value."
He believes that it is a very democratic medium that offers amazing possibilities. "You can spend 40$ on gifting a friend a piece that is worth 20,000$", he says.
Hungry for inspiration? Get ready for a Dose of design, weekly delivered in your inbox by DesignWanted, as a new newsletter for product and industrial designers!