The Unisphere by HUSH – Data as an expression of brand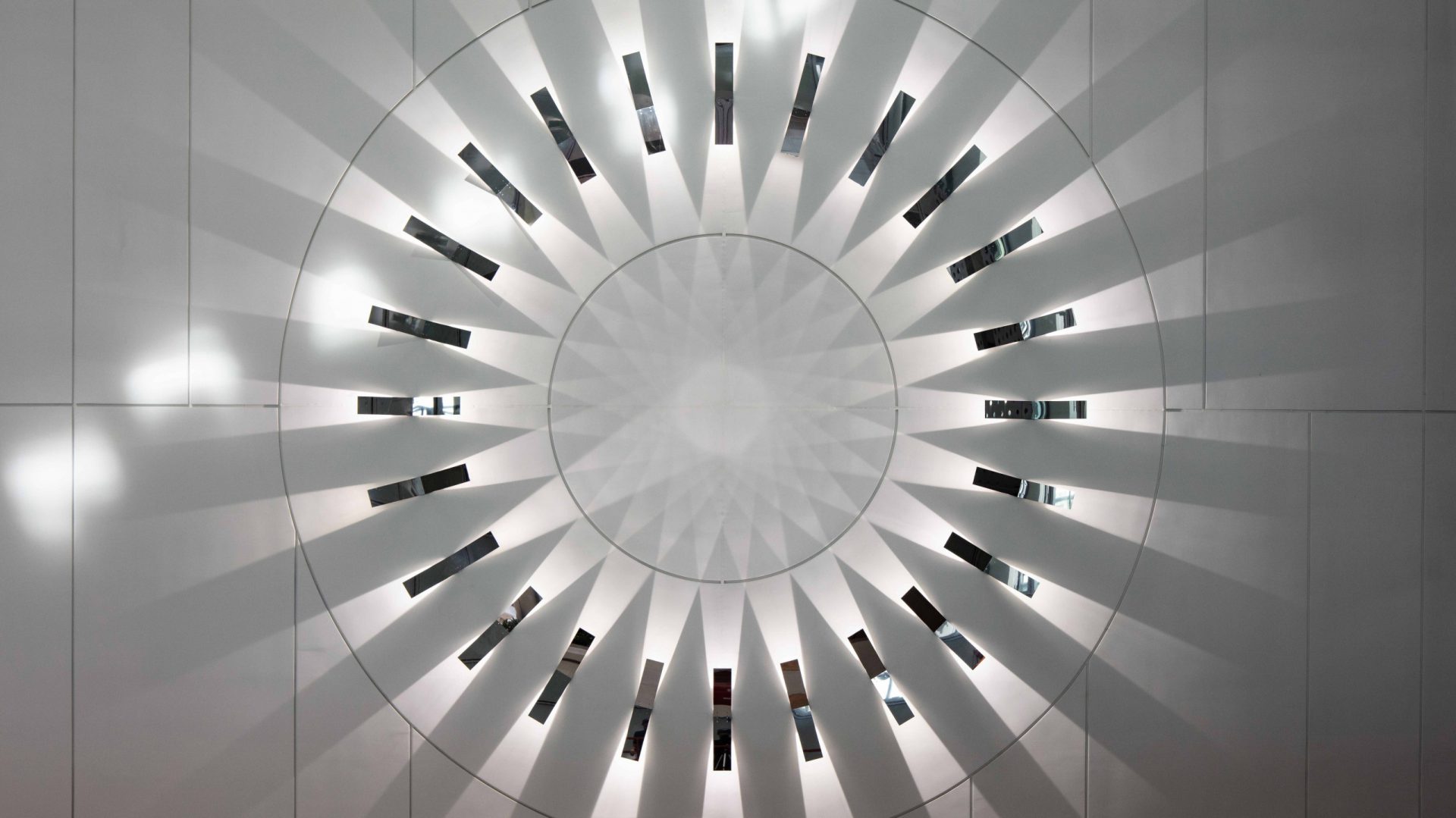 United Therapeutics built the most intelligent and sustainable building. HUSH used its energetic data to create a unique interactive experience.
Experience design agency HUSH creates data-driven experiences that truly express the soul and purpose of an organization, especially by unifying a building's inhabitants and making them an integral part of their own environment. Founding Partner David Schwarz takes us through the process of crafting the data-rich design system at the heart of the world's most intelligent, site net-zero sustainable building.
As a graphic designer, I understand the various ways a company's visual identity can inspire, show value and create impact. But, in today's marketplace, static design can't keep up with the rate of change occurring both inside and outside of leading organizations. Therefore, their culture and mission become an ever-evolving narrative, subject to the internal forces of growth and the external environment's reaction to them.
That's why, at HUSH, we explore equally dynamic ways of expressing an organization's identity. Often times, we do this by designing interactive spaces and experiences that use the organization's own data. By taking the complex, unseen data – whether from employees, customers, systems or environments – and visualizing it in a beautiful way, HUSH creates experiences truly meaningful to the audiences of each brand.
Recently, we completed an amazing project that embodies all of these ideas for United Therapeutics – a multi-billion dollar biotech/innovation company led by Martine Rothblatt and her team. We were engaged to develop a suite of workplace brand experiences at their new net-zero energy headquarters building called the "Unisphere." The project is a great example of why data is such a powerful tool for both companies and designers.
The Mission: Design An Experience Like No Other
For this project, the possibilities were creatively limitless. United Therapeutics had designed a new building as part of its headquarters in Silver Spring, Maryland that would generate all the energy it needed on-site through solar panels located on the exterior, as well as a complex system of interconnected sensors monitoring both contemporary and ancient conservation technologies.
They all work together to make sure the building stays within a predetermined energy "budget." United Therapeutics came to us because they wanted to communicate to their own employees, visitors and guests that this structure marks a revolution in engineering and architecture – a perfect metaphor for the innovative endeavors that United Therapeutics performs every day in its core business. The building would set a new standard for environmentally conscious building design.
The building was designed with data in mind – to collect, measure and distribute a massive amount of information. But engineers simply can't predict the human factor: how the building's occupants affect its energy systems. HUSH's mandate was essentially to design experiences that use the data of the building to help people understand their de facto, and often overlooked, partnership with the built environment, and work collaboratively to attain the organization's "net zero" sustainability mission.
Of course, there were some challenges along the way. Beyond operating within a strict energy budget, we had to figure out how to securely extract complex data from over 11,000 devices and transform it into a language that would be accessible and entertaining to various audiences. Since this was a highly calibrated structure, we also had to be sure that HUSH fulfilled its creative vision without compromising the building's ability to meet its own energy goals.
To satisfy all these conditions, we crafted a series of exhibition-style graphics and wall-sized interfaces, but most importantly, we designed a large, first of its kind, radial sculpture made purely out of light and reflective metal fins. This was called "The Energy Dial." The building's energy data powered the movement and behavior of the light to communicate energy information to the building's audiences in a very visceral way.
Concepting A Better Sustainable World
To start, we did a broad exploration of materials, forms, and concepts. By drawing a line between United Therapeutics' mission and the mission of the Unisphere, we knew that our tone had to be connected closely to nature, to health, and to the act of breathing. As such, our design concepts hinted at these ideas through graphics, iconography, rhythmic animations and materials.
We worked extensively with the architects and engineers at Ewing Cole, and the various systems engineers at Schneider Electric responsible for the building's technical infrastructure, to gain a deep understanding of the building's systems. Our goal was to translate our newly gained technical knowledge about the building into an experiential language that would be accessible to our target audience.
HUSH also learned a lot about the subject – the research, interviews, and studies were in-depth. Our team studied everything we possibly could about architectural sustainability, net-zero engineering, and energy system models along with the needs of the building's employees and the structure's overall performance. This information proved to be invaluable once the real design began.
The Living, Breathing Heart Of The Unisphere
Once we'd developed our design concepts, it was critical that they worked in harmony with each other to provide audiences with various levels of information at the right moments in their day. The touchscreen Energy Dashboard allowed occupants to explore each of the building's systems in more depth. The various graphic illustrations and animations throughout the building's interior were strategically located to deliver simple, bite-sized messages about the building and energy sustainability in general.
None, however, proved to be as central to the project as The Energy Dial. The Energy Dial was driven by real-time data from the building's control systems. It translated this data into giant, 40-foot rays of light that animate in sequence, moving inward and outward to demonstrate the building's energy usage or consumption as part of the natural ebb and flow of daily net-zero forces.
There was also a suite of custom light animations that related to critical thematic moments throughout the day such as solar noon, the sun's peak position in the sky. These kinds of large-scale visual changes created a north star for employees and visitors alike to rally around their net-zero ecosystem.
The Energy Dashboard became the most technical detailed aspect of the entire experience. By positioning low resolution LED panels behind the architectural glass surfaces, the entire corridor became a dynamic, responsive bar graph featuring information about the structure's solar panels, heating, coolants, lighting, and wattage levels. Audiences could also "predict a scenario" by entering the outside temperature along with the desired indoor temperatures to see how much energy would be used to sustain that scenario.
As people interacted with the interface, they quickly understood the energy state of each of the systems within the building, saw their historical performances and explored potential future performance based on environmental and human behaviors.
A Lasting Impact
HUSH multi-tiered effort for the Unisphere supported its technically complex mission in a manner that was inspiring, educational and beautiful. Ultimately, we hope that this will push more building owners and developers to join the growing movement for sustainability.
By visualizing complex data streams in a simple and powerful way, we created an experience completely unique to the United Therapeutics brand. We uncovered how energy stories can truly transform human relationships with their built environment. The Unisphere serves as an intelligent and ever-present reminder to the building's occupants that they are all part of the same system working together to reach a sustainable future.