Home decor
Meet the Insta-makers mastering the slow, mindful craft of pottery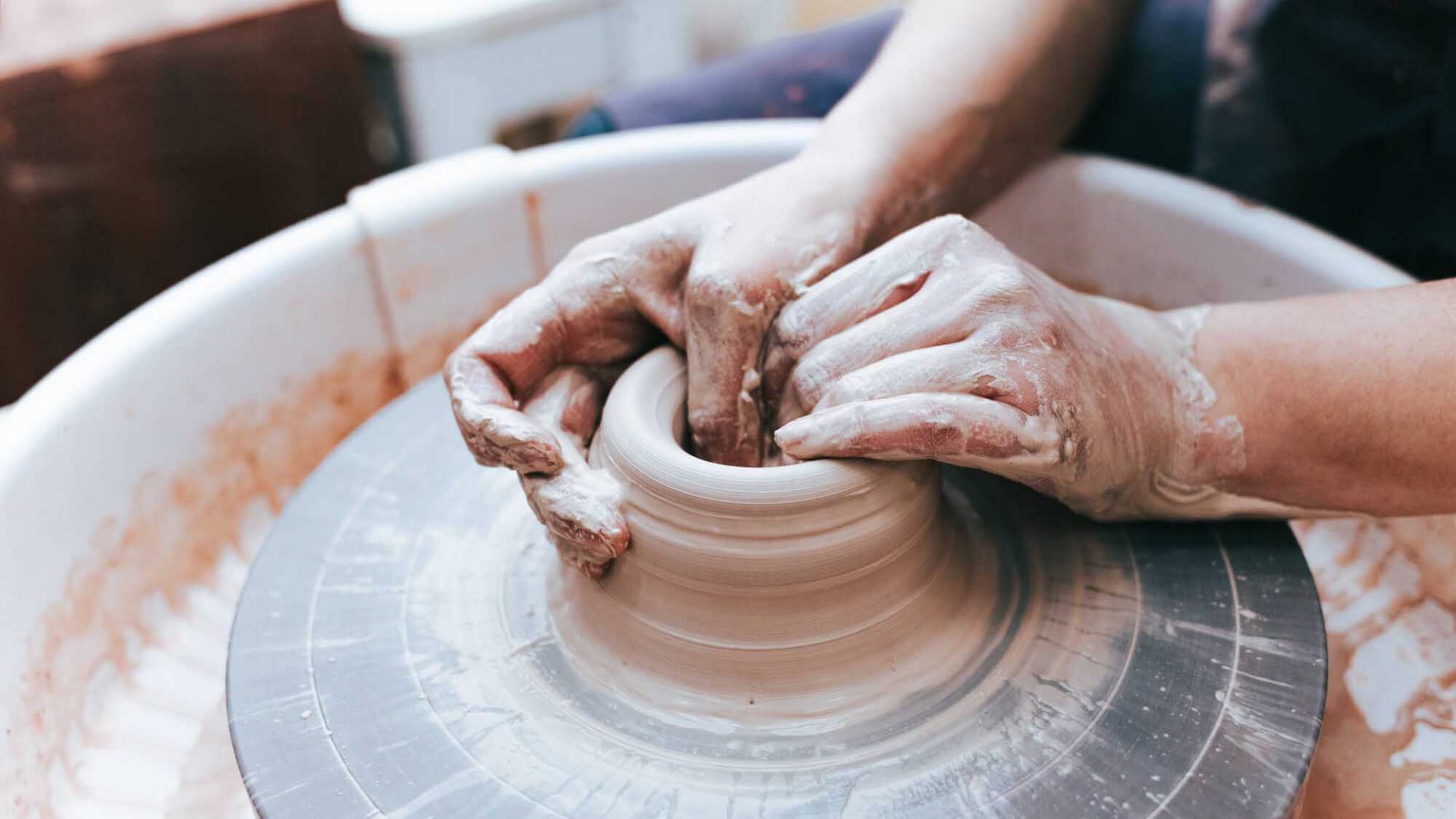 Pottery is everywhere, this mindfulness craft acting as a remedy to our modern day woes. Here are 10 makers we've chosen that are perfect for soothing stress and discovering its hypnotically calming properties.
Pottery and ceramics have been a part of human culture for thousands of years. From as early as 400 BC, pottery is thought to have been produced on a mass scale by a potter's wheel, transforming earth's raw materials into vessels and other objects.
Now, nearly 2,400 years later, handmade pottery is everywhere and ceramics are a coveted design object. People are obsessed with the process, discovering the beauty of hand-crafted goods and rejecting factory-produced homewares. What's more, a growing number of millennials are spending their spare time throwing pots.
What's behind this recent appetite for crafting? Well, it could be the tyranny of zoom calls and our keyboard-centric lifestyles. Working and communicating digitally has become a bore and something as time-honored and hands-on as pottery is the ultimate escape.
The necessary focus it takes to work with wet clay lends itself to a personal experience. Meanwhile, the turning of the wheel satisfies a yearning to slow down and focus on one single activity from which we can yield physical results.
There is no way to speed up clay-drying or firing – ceramics take the same time to make today as they did 2,000 years ago. Still, there is a slightly ironic way that you can get a quick fix of this crafting trend: pottery and ceramics are a huge hit on social media.
Instagram is full of hypnotic videos of people making ceramics by hand that can keep you watching for hours on end. It might not be the same as getting on the wheel yourself but it's a great way to avoid the dreaded news app during these trying times. Here are ten of our favourites for you to get started…
@Tortus: Eric Landon
Ceramics artist and designer Eric Landon captures the beauty of throwing pottery mastering forms that are sensual, elegant and draw from a long history of Danish craft.
He is the co-founder of Tortus Copenhagen, a studio he started with his brother in 2012. Since then, Eric has travelled around the world teaching workshops about his craft. Still, he always finds time to celebrate the harmonizing slow art of pottery on social media, which involves finding new ways to destroy the pieces he creates. His approach is not completely without purpose: the point is to demonstrate the lengths to which clay can be pushed.
@abe_haruya: Abe Haruya
Japanese potter Abe Haruya works using a technique known as yokoku, which he uses to shape bowls, plates and other vessels by carving patterns into their exterior. Yokoku, which literally translates to relief, involves scraping patterns into pieces before they've been fired in a kiln.
Haruya does so meticulously to create detailed patterns along the surface of vases or edges of decorative bowls. As captured on his Instagram, Haruya is dedicated to his craft and often spends up to 3 months working on a single piece.
@Floriangadsby: Florian Gadsby
Florian Gadsby is a London-based potter who creates clean and functional vessels, the result of skills he has acquired during several apprenticeships, working under renowned potter Lisa Hammond for three years – and most recently for Ken Matsuzaki in Mashiko, Japan.
Gadsby documents his work on Instagram, making the effort to post daily about the processes involved in his craft and the ideas and discoveries he encounters along the way. One of the most mesmerizing things he captures is his collection of clay trimmings which he accumulates in his studio and recycles into new pots.
@eniwamura: EN Iwamura
Born in Kyoto, the birthplace of Japanese Kyo ware, EN Iwamura is a ceramic sculpture artist that creates large ceramic sculptures of heads with minimalist facial features.
His playful figures are Manga-like characters with quirky attributes and features, through which he introduces viewers to the Japanese philosophy of Ma⁠—the relationship between viewers, objects, and negative space. ⁠On Instagram, Iwamura captures his creative process including the sketching, sculpting and firing stages.
@handandfire: Sage Cortez
Sage Cortez is the craftswoman behind the studio Hand & Fire and focuses primarily on perfecting the qualities of the hand within functional pottery. Sage is a designer and ceramist whose work is intended to bring life into the home — to be a refresher in a world of cast, symmetrical, and manufactured goods. Hand & Fire is Sage's dedication to being creative every day where she captures each piece she creates.
@lulapottery: Carisa Miller
LULA Pottery is a one-woman, dozen chicken backyard studio in Southwest Portland. Carisa Miller, the one woman behind the studio, creates minimal and functional pottery that showcase the variety of her designs. The pots themselves are very natural looking with neutral colours often in 3 different finishes: a white matte glaze over black-brown clay, a soft whitish satin matte glaze over black-brown clay, and a translucent charcoal grey satin-matte glaze over black-brown clay.
Discover how designers are applying modern technology to ceramics makings, head to 3D printing ceramics with Hilda Nilsson.
@elliottceramics: Elliott Denny
Elliott Denny is a potter from a graphic design and printmaking background, which makes for a beautifully curated image of his craft on Instagram. Primarily, he produces porcelain tableware, thrown and turned on the wheel or produced in moulds in a clean minimalist style. Elliott's shapes, colour ways and surfaces reference the natural environment, industrial components and architectural forms.
@erstudio: Eric Roinestad
Known for his ability to synthesize divergent aesthetics and historical references in an original way, Eric Roinestad produces precise wheel-thrown ceramic sculptures and lighting that offer an elegant visual dialogue between the organic and modern. Roinestad is an American ceramicist, whose Instagram captures his ability to integrate the spirit of California folk modernism with the designer's own Scandinavian heritage.
@claybeehive: Mel Eliades
Mel Eliades is the potter behind Clay Beehive, a ceramics studio that focuses on making functional products for the table. Her studio is located in Victoria, Australia where she documents her designs as well as her process through her Instagram page. Eliades' feed captures hand-made, one of a kind pieces with quirky details that can't be exactly repeated.
@grouppartner: Group Partner
Group Partner is a Brooklyn-based ceramic studio founded by Isaac Nichols in 2012, which has since gained internet stardom for its work dealing with positive body image, sexuality, and a love of plants. Nichols and a small team of artisans craft comical ceramic pots with boobs, tan lines and speedos known as "boob pots" which take up the majority of their Instagram feed.
Curious to know about other traditional techniques gaining popularity on Instagram? Don't miss Meet the makers of Instagram revitalising the art of woodworking.