Furniture design
The honesty of crafting meets the intellectualism of the design process with Wendy Andreu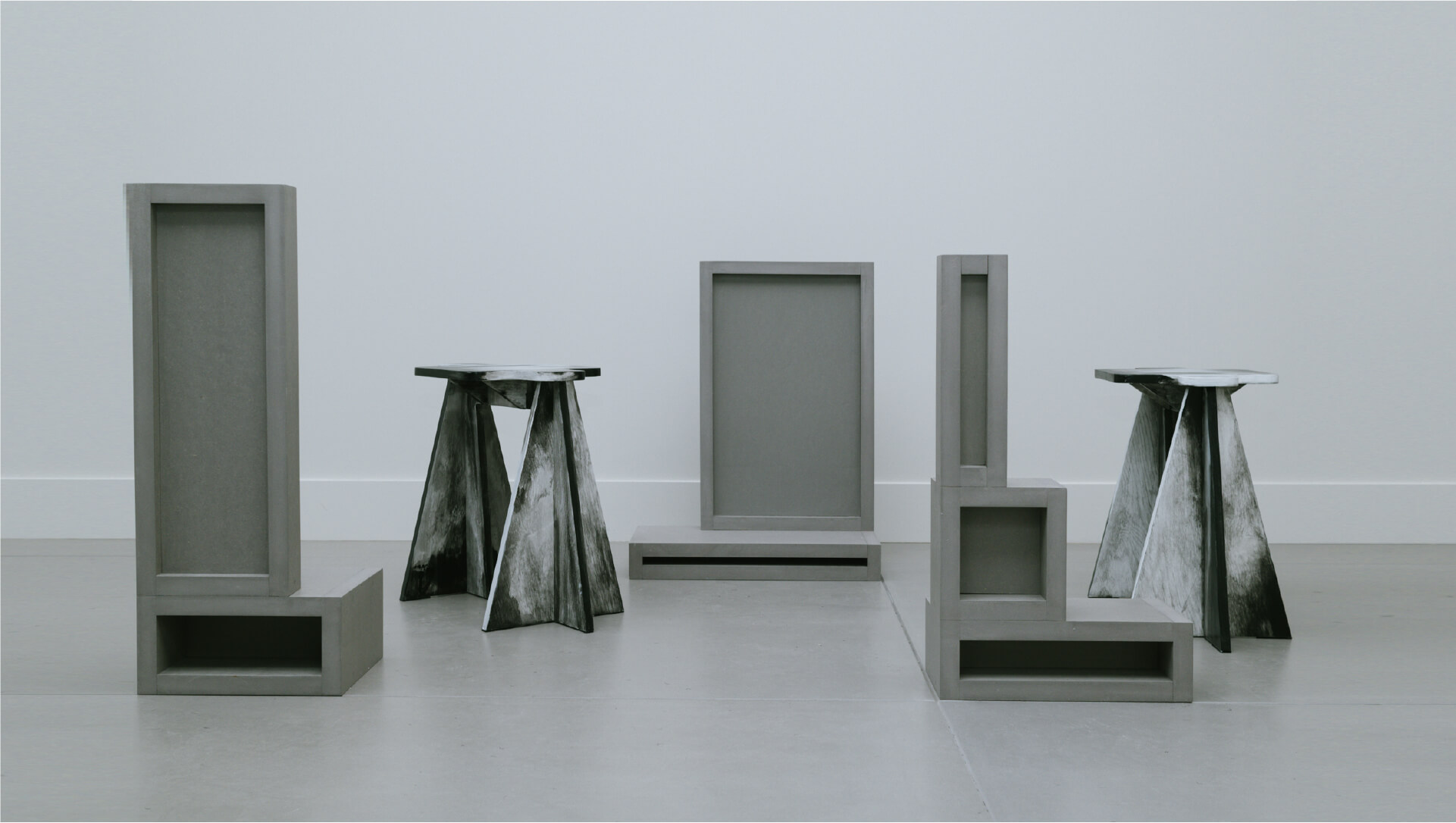 Trained as a metal craftswoman, Wendy Andreu is a Paris-based designer adopting an experimental approach towards materiality. In her atelier, she re-imagines processes to transform materials into talkative design outcomes, which quality goes beyond pure ergonomics.
Honest craftsmanship and analytic design are embedded into Wendy Andreu's practice as a "craft designer". Based in the 19th arrondissement of Paris, where she works on personal and commissioned projects for public and private clients, Wendy seeks to communicate through the materials she uses. Indeed, she adopts an experimental approach towards materiality, transforming the ideas that come to her mind into tangible, communicative designs which give humans real feelings, more than providing only ergonomics.
Interested in the way she processes materials and intrigued by her eclectic personality, DesignWanted interviewed Wendy Andreu to find out more about her journey, experimentation, design research and future steps.
Who is Wendy Andreu? How did the journey in design begin?
Wendy Andreu: "I was born in South West of France in a rural area. I felt very young that I wanted to elevate my mind to culture and art. At the age of 14 I decided to study applied arts in the Basque country. There, I discovered the potential of the creative industries and knew that it was what I wanted to do for the rest of my life. When I was 17 years old, I moved to Paris to study metal craftsmanship at the Ecole Boulle. The education there was traditional and technical.
In 2012 I got accepted to the Design Academy Eindhoven. I was really inspired by the school and the way design was taught there: I was able to be a craftsperson as well as a designer. Making and thinking all at the same time. I was also pushed to go out of my comfort zone and try things I would never have thought about trying.
Therefore, I graduated in 2016 with a collection of rainproof accessories made with a textile I developed and ended up winning the Dorothy Waxman textile prize in N-Y and the public prize of fashion accessories at the Villa Noailles, Hyères in 2017. To conclude, I guess I am the result of my background: the honesty of crafting things by hands and, at the same time, intellectualizing a process in order to give a design a reason to exist."
As a craft designer, how do you approach the experimentation on different materials, which are often in contrast with each other?
Wendy Andreu: "Experimentation is the lead method of my way of designing. I like to think, I like to draw, but I especially like to make things: models, samples and try-outs in order to grasp the tactile potential of an object and a material. I believe very much in our senses. The design outcome is very talkative in its sense of colour, texture, shape. It can tell so many different things, and us, human beings have the tools to perceive all of these aspects.
More than materials, I like to imagine processes to transform them. There are many different techniques and crafts existing, but I always like to challenge them and find newness. I am trained as a metal craftswoman. Because I know how to work with metal so precisely, it is hard for me to be innovative with it. Whereas with textile, I had no experience and was clumsy while confronted to the loom or the knitting machine.
Therefore, I decided to design my own way of working with textile and I started the ongoing project that I call Regen (it means rain in Dutch). Instead of stitching threads and ropes, I was gluing them. Because I was so naive in front of this material, I managed to find challenging ways to work with it."
Textiles provide great opportunities for experimentation. Juliette Berthonneau proves that through her weaving collection Bouncing Patterns, 3D pleated textiles with spring-like properties.
Context and concept are key parameters of your research. Can you tell us more about your investigation as a designer? What information is most useful to carry out your creative process?
Wendy Andreu: "Good ideas need time. Inspiration comes with experience, but also by researching without having a purpose. I like to give myself challenges and try to make them happen: for instance, the Dragon Chairs are the results of research with textile and how to shape it in 3D without pattern cutting nor sewing. I call this work «prospective», it helps to be creative and enriches my imagination.
While working for a client, I use prospective research to find targeted ideas. In another hand, a specific context given by a project allows to frame ideas. Clients also challenge me and bring interesting inputs that may lead to ideas I wouldn't have alone. The most inspiring thing in my work is the people I meet. I love to visit companies, clients, factories and learn from them. They feed me and make my work interesting."
Delivering surprising outcomes that can be translated into functional design proposals, how do you balance aesthetics and functionality while designing a product?
Wendy Andreu: "In my textile research Regen, aesthetics are a consequence of the technique I have developed. It means that I never decided on the outcome of it, it just happened. The silicone sipping through the cotton rope in a random way creates a graphical effect that is totally unique to this technique.
Regarding beautiful things in general, I am attracted to timeless designs. In my own practice, I also try to design things that will still look pertinent 15 years ahead because I believe it is part of sustainability. It doesn't mean that it should be minimalistic, but the work should reflect personnel research rather than following a general trend.
Aesthetics may also be linked to a story and a specific context. For instance, the LN Stools were originally made for a photography agency: Roger-Viollet in Paris and their watery effect directly refers to the revealing bath traditionally used in photography chemistry. I believe I am making rather bare objects in the sense that they are functional but never fully practical. Their quality remains in the feeling they give more than their ergonomics."
While evaluating the potential of concepts that have just come to your mind, what makes a design idea truly communicative?
Wendy Andreu: "Communication of a design idea goes through the design outcome. Designing, to me, is being able to translate an abstract concept into tangible materiality. How do I communicate a specific idea through materials, shapes, textures?
The characteristics of an object can say a lot but are also very much influenced by the user's interpretation. People have their very own vision of an object, that can be different from the designer's. So, to conclude, I would say that a design idea is truly communicative when the translation is well done and reflects the meaning."
Working on experimental projects, together with commissioned works for public and private clients, how do you go about the prototyping phase? Is it a crucial part of your design process?
Wendy Andreu: "Yes and no. Prototyping is useful as it allows to define precisely an object. It is especially necessary while working for an edition house or for the industry.
Though, the more uniques pieces or collectible ones are more driven by a certain spontaneity and in this case making a prototype is not necessary."
In your career, you have received awards, taken part in exhibitions and worked with influential clients, but when did your work start to get recognition?
Wendy Andreu: "Recognition comes project after project, bit by bit. My work is very personal and subjective. When I design something, I am quite sure about what I am doing because it is very linked to myself.
I do not work for recognition, I work for customers and myself. But of course, encouragements are always welcome and help to move forward!"
What is next for Wendy Andreu?
Wendy Andreu: "I am currently working on various and exciting projects: installations, tapestries, furnitures… On a more prospective level, I am continuing the research on the textile regarding shaping techniques and working with waste materials.
One of my most special chairs: the Dragon Chair is exhibited in the Musée des Arts Décoratifs in Paris. Also, I designed a dance floor for the Martell Foundation in Cognac, the exhibition will be visible until January 2022. I am also part of a show that will take place in Lille in April! I truly hope that culture will have more visibility despite the sanitary crisis."
Eager to explore new design processes? Don't miss furniture and home accessory by Debra Folz, blending traditional craft with contemporary visual languages!