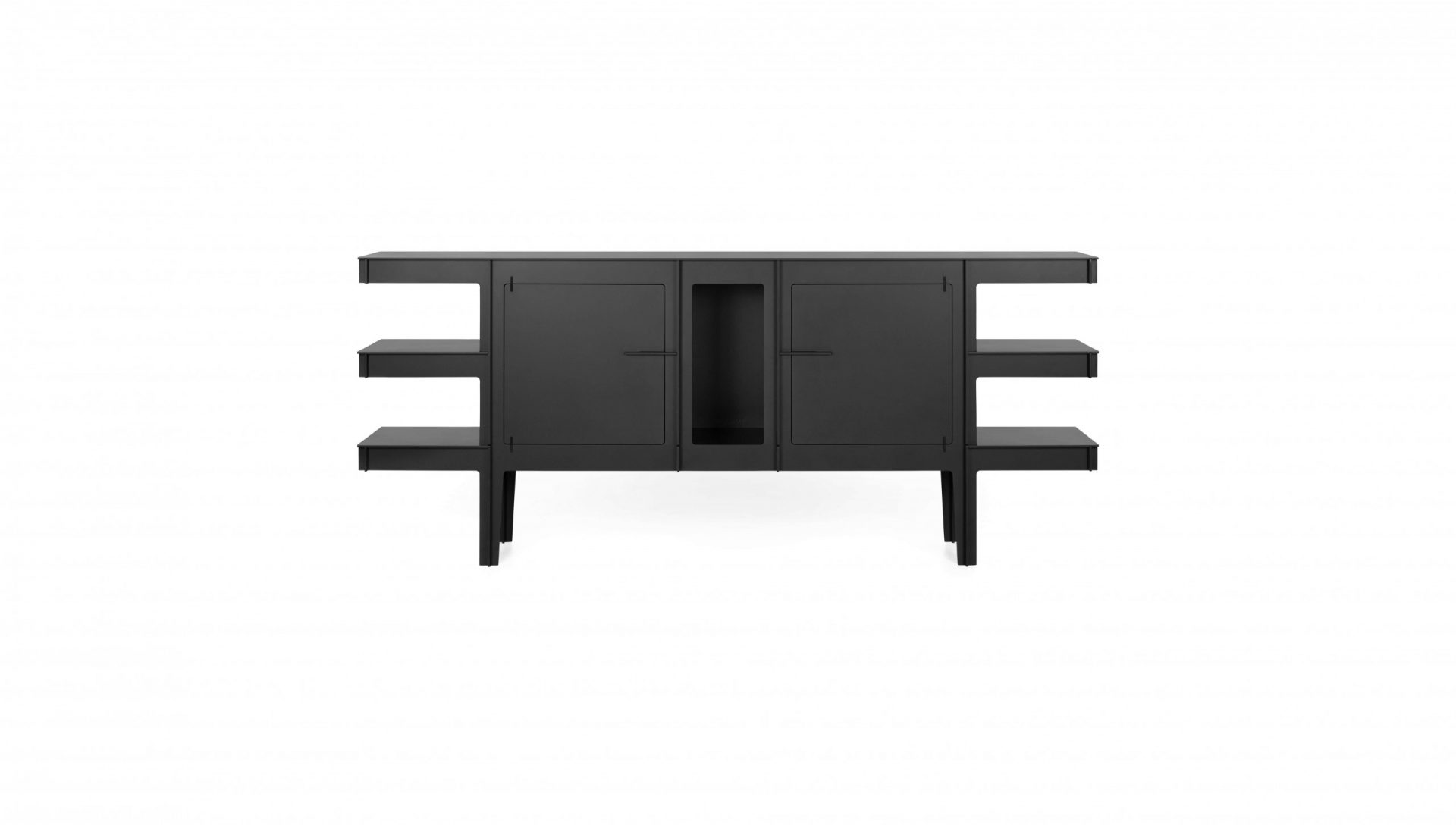 After the iconic Construction Lamp, and the successful launch of the Tinkering lamp in 2020, No Screw No Glue is the next addition of designer Joost Van Bleiswijk to the Moooi collection.
Moooi introduces No Screw No Glue, designed by Dutch designer Joost van Bleiswijk. No Screw No Glue comprises a buffet and cabinet and is a celebration of crafting and timeless design. It evokes a distinct satisfaction when creating something with your own hands. As its name implies, No Screw No Glue is put together without needing screws, glue, or tools.
No Screw No Glue Cabinet and Buffet will be available online and in Moooi Brand Stores after the worldwide celebratory launch on 28 September 2021.
Experience that distinct satisfaction
Nothing equals that feeling of accomplishment when creating something with your own bare hands. It evokes a distinct satisfaction. That love for creating, for a material, for building something with only your hands and wits. Joost van Bleiswijk's No Screw No Glue celebrates that feeling of accomplishment you get when creating something new. As the name implies, No Screw No Glue needs no screws or glue to build it and keep the elements together. You don't need any tools either. It's made from several pieces you slide together.
Eco-conscious in more ways than one
No Screw No Glue is made from Richlite; a durable, versatile, and sustainable material made from recycled paper, responsibly harvested trees and EcoBind resin. It's dense and durable, pleasing to the eye and touch with a natural aesthetic. Richlite is three times stronger than marine-grade plywood and works similar to DIY with Moooi's latest design No Screw No Glue
High-impact resistance and deflective & flexural strength make Richlite an extremely durable material. So, you can build to last. And as a flat pack, the No Screw No Glue Buffet & Cabinet take up as little space as possible when shipped.
Some of Joost van Bleiswijk's studio's designs will be at EDIT Napoli at the end of October, don't miss The third edition of EDIT Napoli is ready to open doors from 29 to 31 October 2021.
Out with the new, in with the old
Because it's easy to forget the value and resourcefulness of designs that are already there, Joost van Bleiswijk honours an existing design of his. A design concept that has had a remarkable journey throughout the years already. A concept that proved its worth time and time again. Joost van Bleiswijk created his first No Screw No Glue designs in 2006. A range of furniture and objects made from stainless steel plates that you needed to slide together to construct. Out of respect of a design that has proven its timelessness and versatility repeatedly, No Screw No Glue makes another appearance. This time, durable and eco-conscious thanks to innovative material Richlite. To respect a design, but the environment as well.
Worldwide launch online
Plié Plissé Light and No Screw No Glue are available worldwide from 28 September on Moooi.com and in the Moooi Brand Stores in Amsterdam, London, Stockholm, and New York. Celebrating the launch are a brand-new chapter in Moooi's Digital Brand Experience on Moooi.com.
A digital life extraordinary
The Digital Brand Experience on Moooi.com is a visual spectacle called Paper Play revolving around the Plié Plissé Light and No Screw No Glue and other new and to be released Moooi designs. Paper Play is the third and final chapter of a Digital Life Extraordinary; three in-depth chapters about the imaginative and resplendent world of Moooi. The first chapter is called Beauty Blooms and revolves around the Hortensia Armchair, by Andrés Reisinger & Júlia Esqué, which was released on April 20th. The second chapter, Defy Gravity, focuses on the Gravity Chandelier by Paul Cocksedge.
Giving value to the process of making
Joost van Bleiswijk is a prolific Dutch designer who gives great value to the process of making. A genuine fascination for the construction of the object – often revealed in the outcome – is the starting point of his process. The workshop is where Joost engages with the experience of designing as an intensely physical act. The creative process unfolds in a quite instinctive and gestural way. Regardless of the scale, the handmade and human touch remains at the heart of his practice and reinforces an intuitive and emotional approach to contemporary design.
A world of innovation design
For twenty years Moooi has inspired and seduced the world with sparkling and innovative designs. The venture founded in 2001 is currently led by Marcel Wanders and Robin Bevers. Moooi is named after the Dutch word for beautiful – the third 'O' in the brand name stands for an extra value in terms of beauty and uniqueness. Moooi doesn't tell designers what to do but listens to what designers want to make and tries to realise their dreams. Eclectic and always on the edge of commercial reality and cultural interest. To trigger, to create conversation pieces that make your environment more special: a life extraordinary.
Prostoria is another company that acts as a collaboration platform for designers, check out Furniture maker Prostoria celebrates ten years of championing Croatian design.