Furniture design
Jorge Diego Etienne on #WFH to designing for Mexico and the rest of the world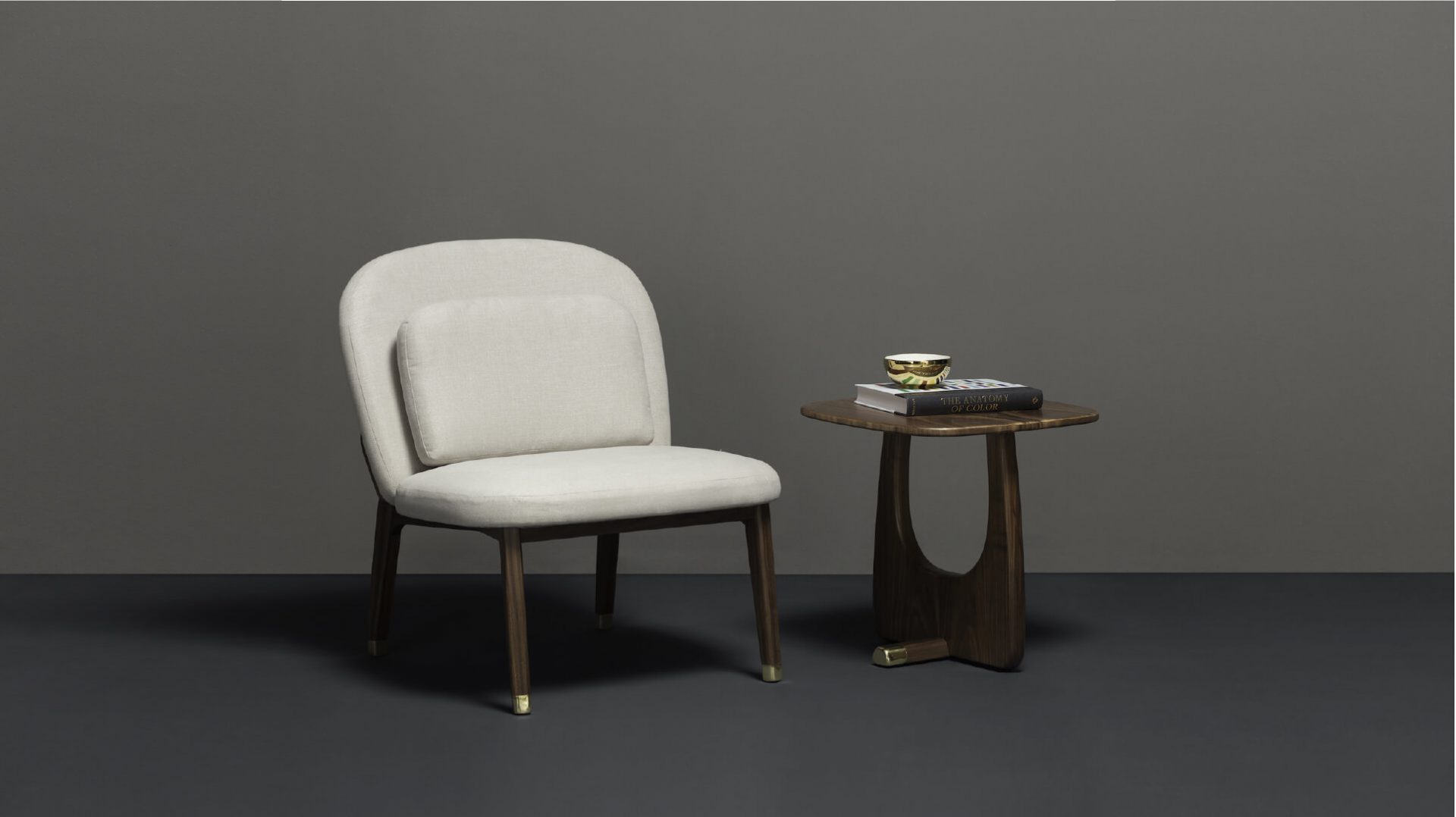 We spoke to industrial designer Jorge Diego Etienne as he approaches ten years of designing and telling stories through objects.
When it comes to design, Jorge Diego Etienne seeks to create lasting impact within a critical and global perspective. It might have something to do with the industrial designer's own experience, which goes way beyond the boundaries of his native Mexico. 
Jorge Diego Etienne's eponymous studio was founded in Monterrey in Mexico in 2012, which is where he received his Bachelor's in Industrial Design, but his globalised perspective includes an internship in Amsterdam with designer Khodi Feiz, and a design and craftsmanship programme in Kyoto, Japan.
With a CV like that, it's no wonder Etienne has such a flair for creating a connection between how pieces and spaces are used and how they are created. Going beyond design and creating physical, emotional, and cultural connections—It is these qualities that have led to projects like his latest collection, Galeana, named after its source of origin. 
Using digital modeling and 3D printing techniques, Etienne designed six deconstructed vases, bowls, and stools, which he passed on to master craftsman Francisco Charles for interpretation. Charles, whose experience sculpting in alabaster spans five decades, brought the pieces to life by hand using little more than a pencil, chisel, and sandpaper.
In addition to physical products, today, Etienne's studio offers services including creative direction, experience design, and trend analysis. It has developed a flexible design process that allows it to work on a variety of projects in Mexico and abroad on specific products for commercial release, conceptual exploration for new business possibilities, creative direction, and design consultancy.
That last bit might sound like any old bio but when you look at Jorge Diego Etienne's portfolio, you'll understand why we're keeping an eye on what he does next. Eager to find out more, we spoke to Jorge Diego Etienne about his studio, his journey and his design processes in and out of the global pandemic. Enjoy…
Who is Jorge Diego Etienne? How did the journey for your industrial design studio begin?
Jorge Diego Etienne: "I am an Industrial Designer born in Tampico, a city on the Gulf Coast of Mexico. I started in design when I was very, very young. What began as a hobby drawing sneakers on the computer evolved into me helping out in the family business of editorial design which led to my own web design studio at the age of 14. When the time came to pick a career, I learned about Industrial Design and never looked back, I knew right away that was my calling. I then moved to Monterrey to study at the Tec de Monterrey, where I now live and work.
During college, every summer I sought experiences abroad that led me to intern at the MFAH in Houston, studying courses in Central Saint Martins in London, Domus Academy in Milan, Parsons in New York, a Vitra workshop in Boisbuchet, and finally a life-changing internship at Feiz Design Studio in Amsterdam. After finishing college at the Tec I did a bit of freelancing and started producing and selling my work before going away again to Japan for a year after I won a scholarship for the Modern Design & Traditional Craftsmanship program from JICA. 
Luckily, while I was in Japan, several of the projects I did before leaving got notoriety in the press and even in museum exhibitions, which led to a couple of companies and galleries approaching me which gave me confidence to open my studio in Monterrey upon my return in 2012."
Find out more about designers disrupting the Mexican design scene, don't miss Héctor Esrawe, a true visionary of design.
As a young studio with a fresh take on design, why shifting between industry and craft in your projects?
Jorge Diego Etienne: "I believe that as designers, our work should respond to our context, and Mexico is a country that dwells between modernity and tradition, industry and craft. It is also a country that lacks good design in our day-to-day life. That is why we have a clear goal within the studio to create value for our culture, our society and the industry, using design as a catalyzer to the great production capabilities of big factories, small workshops, and artisans. 
All the international experience I've amassed has given the studio a global perspective on design and mostly has helped me understand how not to do design in Mexico: not trying to replicate a European or American model, but figuring out what's the right approach for our circumstances. That has helped us connect with the right clients and partners and create projects that have had true impact in both numbers and the people that use them. 
Which are the main values, core concepts or style inclinations that, above all, will always represent the studio and yourself?
Jorge Diego Etienne: "We are passionate about everything we do in the studio. I guess that's something that can be appreciated in every detail of the projects we make. Our process is curiosity-driven and relies heavily on research and experimentation, letting each project produce its own esthetic style rather than imposing one. We go into every project with fresh eyes and use our process to learn something new, and in-depth. 
Another core component of our work is telling stories through the objects we design. This is fundamental to our objectives of keeping our culture alive and promoting a design culture in Mexico or exporting a part of our identity abroad."
Made of converging and diverging steps from the brief to the final design, can you tell us more about the methodology followed by your studio?
Jorge Diego Etienne: "Our methodology provides a path for developing any kind of project in scope and form. We rely heavily on it to give structure to a messy process where many hands, from people in the studio to collaborators within our clients' companies, come into play. No matter what we are designing, from a simple object to a complex project like a full collection, each step is made with the confidence needed. 
In this rigorous process we discover through research, define by analyzing and synthesizing to later develop by sketching our minds out to filter the best ideas to deliver the final designs using hardcore industrial design skills like 3D modeling, prototyping, rendering, and creating world-class production drawings that can be produced anywhere in the world as we serve clients in 3 different continents."
With a global perspective on design gained thanks to your academic and professional background, can you give us a comment to tackle the eternal dilemma of ambitious students: "Should I get a job or start my own firm?"
Jorge Diego Etienne: "I wish I had the opportunity of working in someone else's studio or consultancy when I graduated. I did apply to a bunch, all over the world, but at that time (2009) the global economic crisis had studios shrinking and not hiring, especially someone from abroad. I wanted to stay in Monterrey but couldn't find a place that satisfied my eagerness to work in projects that would further enrich my development as a designer, so I took it upon myself to create those opportunities, which was actually very hard but gave me a broad experience in all those things you are not taught in school."
Jorge Diego Etienne: "After a year of working from home on my own, I still felt I needed more experience in the design realm, so I left for Japan to keep learning and experimenting. This year also helped me plot my return realizing if I didn't find a place that excited me, I needed to create it. I had a clear idea that I needed a studio space and a team to reach my full potential, so as soon as I landed from Japan, I started executing my plan and was open for business no more than 2 months later. 9 years and counting I still feel the same eagerness to keep learning and keep growing as a designer and a leader within my team."
Don't miss the incredible designs of Mexican design studio NOS, check out Everloop Toothbrush – Beneficial for both the environment and your oral health.
What is the next step for Jorge Diego Etienne?
Jorge Diego Etienne: "After a tough pandemic year, we are slowly but steady ramping our project pipeline and interestingly expanding our spectrum of clients and types of work. For example, this past month we completed an urban space for the Tec de Monterrey (my alma mater and where I currently teach a course), and also launched a silver jewelry collection for Tane, Mexico's most renowned high-end jewelry company.
We are working on several furniture projects for clients in Mexico, Canada, and Spain, collaborating with a couple of schools and universities on very interesting projects designing the future of educational spaces and growing our studio project Galeana with more pieces, a book and an exhibition. 
By the end of the year, we will launch our new website and begin to show a couple of surprises. We are also preparing for our 10 year anniversary in mid-2022."