Design
Step inside LEGO's sustainable, diverse and stress-free world
LEGO has always had a positive impact on the planet – not just with the play they inspire but also with the materials they utilize!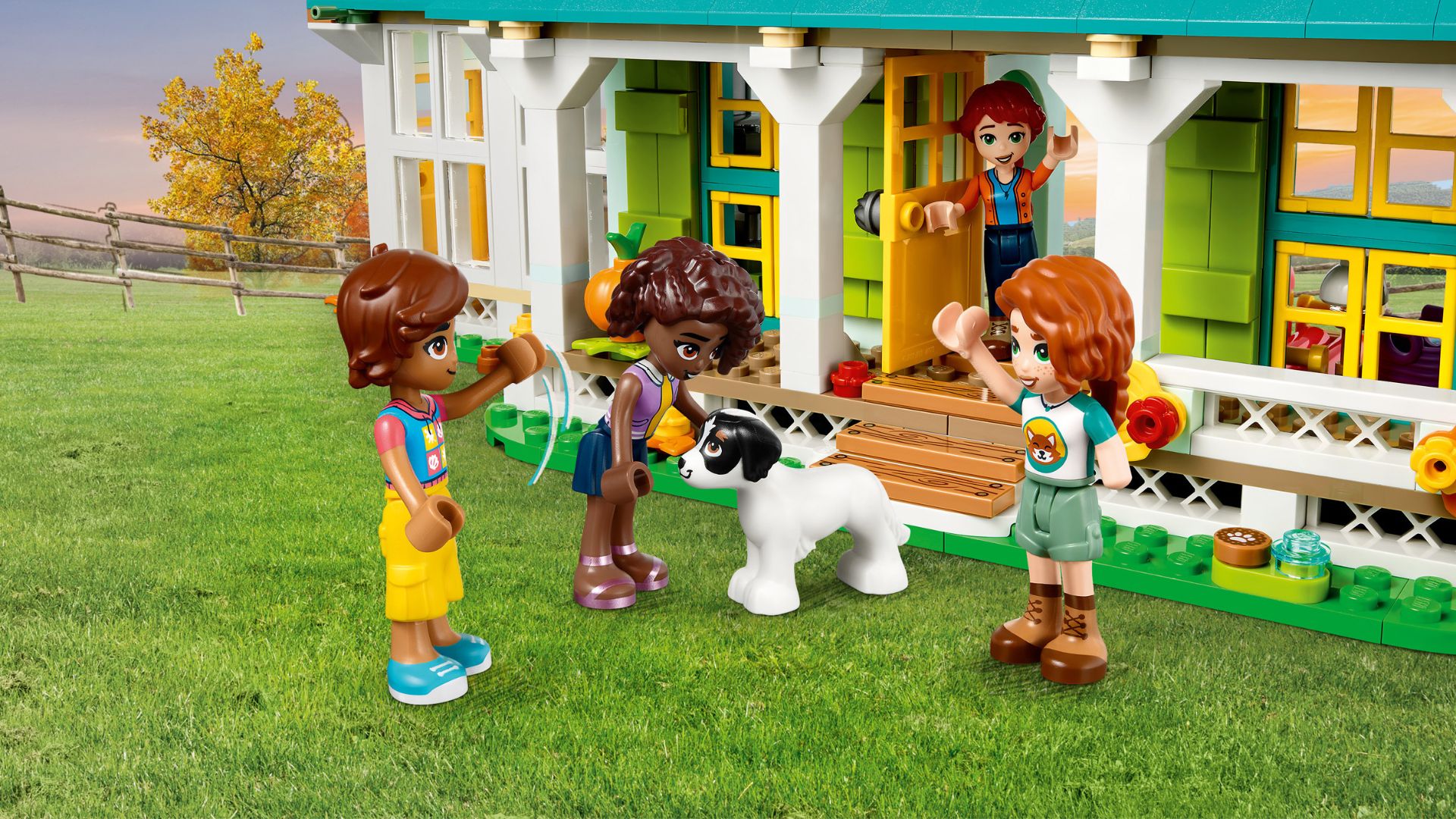 Celebrating 90 years of play – LEGO was founded in 1932 by Ole Kirk Kristiansen in Denmark and is now one of the most successful game brands in marketing history. Named after the Danish phrase "leg godt" (play well) – it's come a long way from a small carpenter's workshop to a global, modern enterprise that's one of the world's largest manufacturers of toys today.
The iconic brick in its present form was then launched in 1958 and it's the interlocking principle with its tubes that makes it unique, offering unlimited building possibilities.
"It's just a matter of getting the imagination going – and letting a wealth of creative ideas emerge!" says LEGO.
Their products have always been about providing high-quality experiences – giving everyone the chance to shape their own world through inventive play!
"The bricks are designed to be safe and durable enough to be passed on from generation to generation rather than being thrown away. Despite this – we are committed to making our products from more sustainable materials!" they explain.
For instance, brilliantly recycling plastic into play and created as part of the Danish company's drive to craft all of its products from sustainable materials by 2030 – they seamlessly fabricated bricks utilizing recycled PET plastic from discarded bottles.
The company further released a variation of its signature building bricks out of plant-based plastic sustainably sourced from sugarcane.
Additionally, research conducted by Opinium Research for LEGO found that 68 percent of children want toys to better reflect real life. This data was gathered from 18,000 children aged between six and 12 in 19 countries.
With this, the brand then launched toy figures that shed light on diverse friendships in the modern world.
After learning that according to research by the World Health Organisation, there are more 19 million children with visual impairments around the world – LEGO made moves to make its traditional building bricks more accessible.
It skillfully created a collection of bricks printed with letters and numbers from the braille alphabet, so that blind and partially sighted children could learn to read as they play.
Lastly, it released flower and bonsai kits to help people "switch off and relax" at home, which included parts made from the bioplastic components.
"As adults look for new ways to switch off and relax – we saw an opportunity to help them switch off after a busy day and relax as they immerse themselves in creating these beautiful botanical builds!" adds LEGO.
Scroll to explore these eclectic but one-of-a-kind products further!
1. Recycled Plastic Bricks
With a strategy to make all core products from sustainable materials by 2030 – LEGO crafts bricks utilizing recycled polyethylene terephthalate (rPET), a common thermoplastic used for products from bottles to clothing.
Its sustainability goals include developing bricks from bioplastic as well as generating little or no waste and with this the company further announced that it would begin removing single-use plastic from its boxes.
They trialed over 250 formulations of the recycled plastic to create a brick that complies with the company's quality, safety as well as play requirements.
A one-liter plastic bottle supplies enough raw material for around 10 2×4 LEGO bricks.
It additionally embodies "clutch power" – the ability to snap onto other pieces of LEGO – which means that it's compatible with the other standard bricks.
Since 1963, the majority of the billions of LEGO bricks produced each year have been fabricated from a plastic known as acrylonitrile butadiene styrene (ABS).
"Any new materials we use must live up to the high quality and safety standards as those we apply to our existing products – this includes the product durability. We're committed to playing our part in building a sustainable future for generations of children!" says LEGO.
2. Sustainable Sugarcane Bricks
In a bid to reduce its plastic waste – LEGO launches a range of botanical elements created from a plant-based plastic sourced from sugarcane. Intrigued?
This soft, flexible and durable polyethylene plastic, made using ethanol produced from sugarcane, is being utilized to produce the brand's leaf, bush and tree-shaped elements.
While the plant-shaped pieces only account for a small percentage of LEGO's output, the company's ultimate goal is to produce all of its bricks using the bioplastic by 2030.
In 2013, they partnered with World Wildlife Fund (WWF) to support and build demand for sustainably sourced plastic and in 2016 the group joined the Bioplastic Feedstock Alliance (BFA) to secure fully sustainable sourcing of raw material for the bioplastics industry.
The plant-based plastic used to make LEGO's new botanical elements is further certified by the Bonsucro Chain of Custody standard for responsibly sourced sugarcane.
They state that these new plant-based elements are technically identical to those produced using conventional plastic (more about innovative materials).
"One will not notice any difference in the quality or appearance of the new elements because plant-based polyethylene has the same properties as conventional polyethylene.
At the LEGO Group we want to make a positive impact on the world around us and are working hard to make great play products for children utilizing sustainable materials!" says LEGO.
3. Diverse Friends Figures
Designed to celebrate diverse friendships in the modern world – LEGO adds five diverse characters including a girl with the skin condition vitiligo, one with limb difference and another with anxiety to its collection of Lego Friends figures.
These new characters have a range of skin tones, physical disabilities as well as neurodiverse psychological conditions.
"The 2023 Lego Friends Universe includes characters with a wider variety of cultural backgrounds, skin tones, disabilities and neurodiversity – all with authentic personalities and relationships!" says LEGO.
Today many companies agree that toys need to be relatable so that children can learn from them and apply their newfound knowledge to their own relationships.
"This re-imagination has enabled us to push the boundaries in the reflection of modern, childhood friendships so that children can truly see their experiences reflected in the world around them.
From the research, it's great to see that kids acknowledge the importance of friendship for their mental health and it's encouraging to hear they want more emotional diversity to be represented in the content they consume and the toys and characters they play with!" LEGO adds.
4. Braille Bricks
LEGO crafts a version of its building bricks printed with letters and numbers from the braille alphabet, so blind and partially sighted children can learn to read as they play.
These Braille Bricks feature the same number of studs used for individual letters, numbers and symbols in the Braille alphabet.
The bricks, which are compatible with LEGO's wider collection, are additionally printed with standard numbers, symbols and letters.
With a playful approach to learning Braille – there are 250 bricks in total, covering the full alphabet, numbers between zero and nine as well as a selection of mathematical symbols.
It's hoped that the interactive nature of this design will give children with visual impairments an opportunity to develop new skills.
"Blind and visually impaired children have dreams and aspirations for their future just as sighted children. They have the same desire and need to explore the world and socialize through play, but often face involuntary isolation as a consequence of exclusion from activities.
With this project, we are bringing an inclusive approach to learning Braille to children. We can't wait to see its positive impact!" says LEGO.
This project is led by LEGO Senior Art Director Morten Bonde, who himself is partially blind.
5. Botanical Collection
Allowing grown-ups to build flower bouquets and bonsai trees from bioplastic components – LEGO's Botanical Collection comprises two customisable sets, both featuring snap-together components derived from sugarcane.
"It was critical for us during the design process to craft products that were not just fun to build but were beautiful pieces of décor that you'd want to have on display and bring you a bit of that focus and joy you felt as you put them together!" says LEGO.
Designed to allow users to create varied alluring arrangements – the Flower Bouquet set contains 756 pieces that can be utilized to build flowers from roses to poppies, snapdragons, asters and daisies, along with several different types of grass.
On the other hand, the bonsai model building kit further contains 878 pieces to create a miniature tree that is displayed on a rectangular plant pot on a slatted wood-effect stand.
Additionally, kits to build individual roses and tulips are also available.
"We wanted to be sure people could make these pieces their own, so we made the flowers adjustable so they would work in different arrangements and the Lego Bonsai tree can be customized to be in a normal green or blossoming pink!" LEGO adds.
All the sets comprise pieces made from plant-based plastic sourced from sugarcane, which LEGO launched in a bid to reduce its plastic waste.
Currently, bioplastic bricks only account for a small amount of its output, but the company's aim is to produce all of its bricks from bioplastic by 2030.