Lighting design
Sustainable materials form the foundations of this lamp's interactive function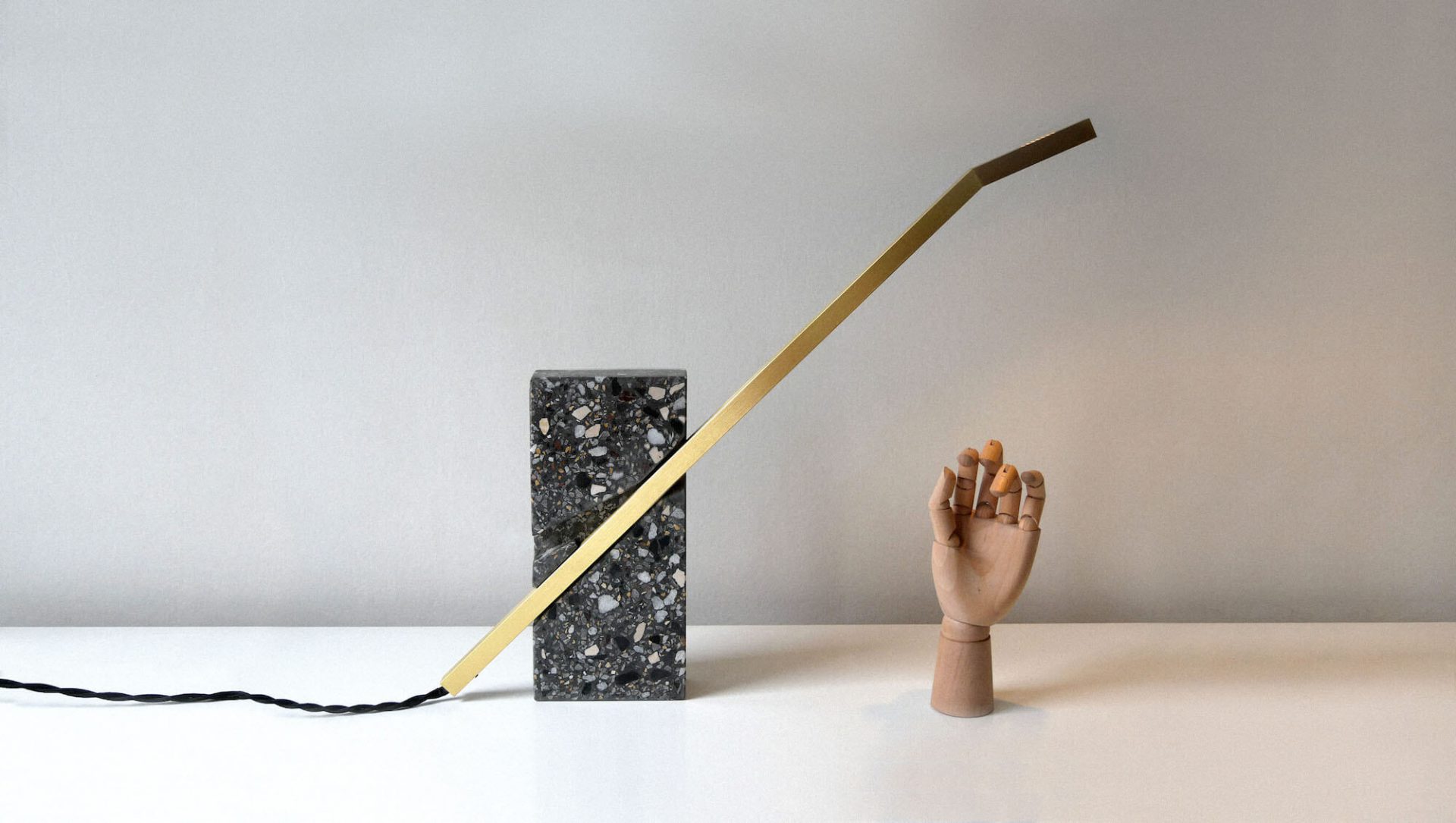 The Line 3 floor lamp by Jan Goderis consists of a terrazzo base with grooves in which a simple, sleek lighting profile can be set up in different positions. Meanwhile, materials have been chosen for their low environmental impact.
The overarching inspiration for Belgium studio Jan Goderis Design Lab was simplicity. As suggested by the name, Line 3 is a minimalist take of the traditional floor lamp.
Through the interaction of lighting profile and the interplay of slots carved into the solid base, the Line 3 Floor Lamp behaves like a light sculpture that enters into dialogue with its surroundings and end-user.
Meanwhile, sustainability has been translated into the application of circular and ecologically responsible materials with a simple construction and production process.
Rather than go for marble, Goderis opted for a base made from terrazzo, which required a custom mold with the indentations for holding the lighting profile. Into this, the designer poured a mixture of cement, lime, clay, sand, a selection of other additives and water. Several days later once the mixture was set, the base was demolded and polished to create the final finish.
As for the lighting profile, it is processed with a CNC machine: its components are assembled with a connector that is 3D printed and that also serves to clamp the socket of the lamp and to hide the wiring. Lastly, a G9 LED lamp, which is an energy-efficient light source provides the necessary light.
It's one of the most comprehensive lighting design competitions there is – Make sure to check out highlights from the LIT Lighting Design Awards 2021.
Simple and sustainable with a timeless design
Goderis wanted to create a light with an innovative function and a timeless design, which he more than achieves. Somehow it feels both retro and contemporary, luxurious and austere. It's thanks to his clever use of materials.
Take terrazzo for example—not only is it an eco-friendly material because it uses up to 80% waste recycled content, but it's also great for producing items on a larger industrial scale and it offers an opportunity for users to feel like their design is unique to them.
"The first choice of material for the foot was marble but this was very expensive and ecologically irresponsible," says Goderis. "Using 'terrazzo' won't change the world but it will hopefully inspire designers to look at cheaper and more sustainable materials that illustrate the infinite possibilities when it comes to form and color."
The lighting profile is made of aluminum or brass, both of which can be completely recycled. Whilst the aluminum is finished with an environmentally friendly lacquer or anodized in an environmentally friendly manner, the brass profile is treated against oxidation with an environmentally friendly wax that is also used for marine maintenance.
This sculptural table lamp is inspired by Ridley Scott's Blade Runner – Australian design studio B-TD elevates contemporary interior spaces with the Fold Table Lamp.