Architecture
LocHal Public Library is the second home of Tilburg people
Adaptive repurpose of urban constructions is one of the most anticipated trends in architecture for the coming years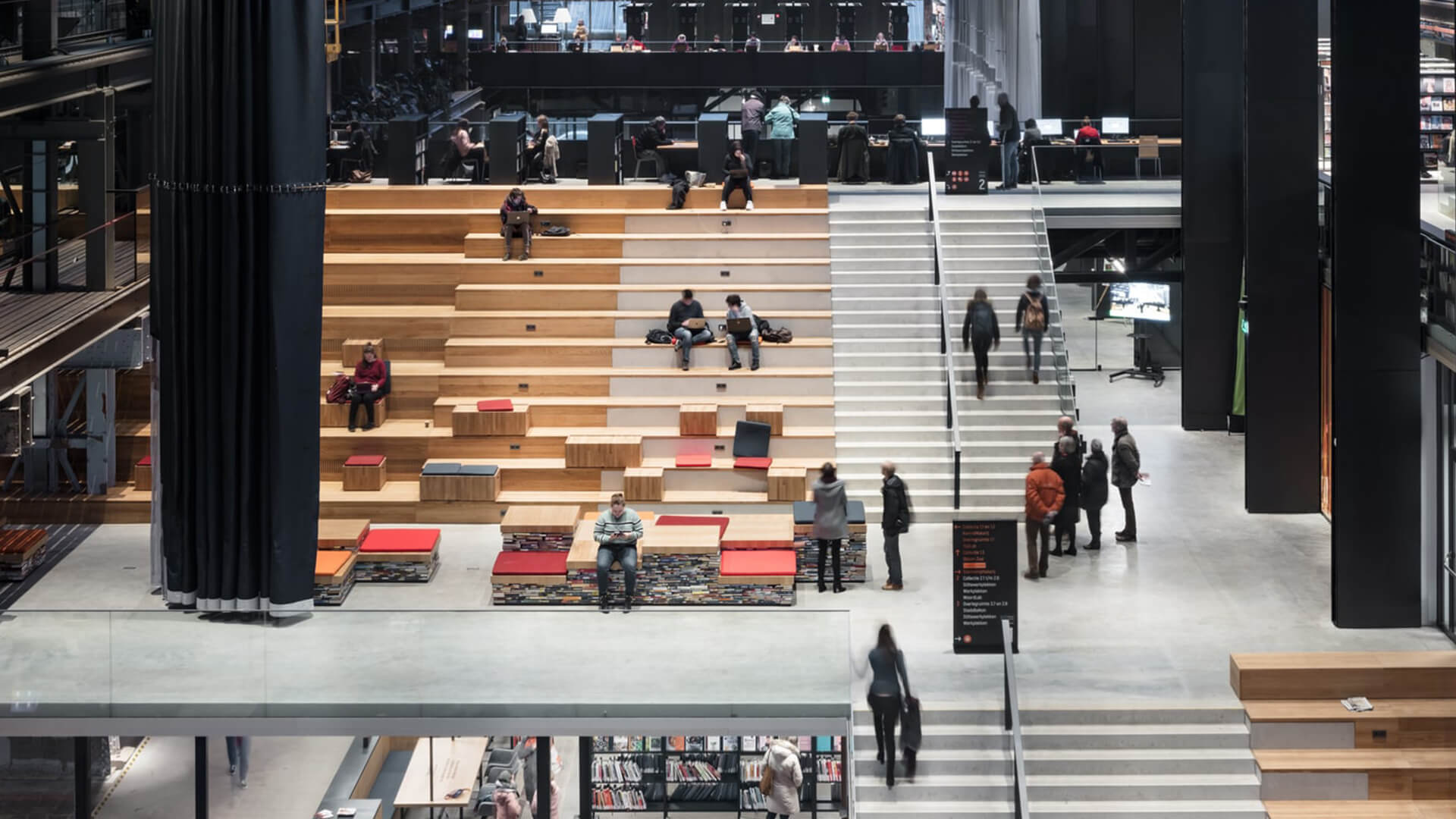 Surrounded by talks of sustainability all around the world of design and architecture, LocHal Public Library speaks up as a paradigm, perfectly delivering its promise.
Space becomes a place when people inhabit it. It is the people that bring a certain life and identity into an empty space. That beautiful transition is even more elevated when you reuse a historical site.
LocHal Public Library is representing the future of public spaces in the cities, combining multi-purpose activities under the adaptive reuse of a locomotive shed in the Netherlands.
But, what is adaptive reuse in architecture? 'It is a process of reusing an existing building for a purpose other than which it was originally built or designed for.' [source]
This gigantic multi-cultural space is designed by Civic Architects in collaboration with Braaksma and Roos Architectenbureau, Inside Outside/Petra Blaisse, and Mecanoo.
This collaborative team effort has paid off in changing the ideology of a public library into a behemoth size home accommodating all age people who are working, playing, attending a lecture, preparing for exams or just having a friendly chat over a cup of coffee, at the same time.
The LocHal Public Library building which once was a locomotive shed now offers co-work spaces, conference rooms, spaces for arts education, a large city hall for public events, exhibitions, and spaces for debates. Although, the most impressive and prominent factor taking into account is the sheer size of 90 x 60 meters industrial box with 15 meters of height, divided by six huge lines of floor-to-ceiling curtains.
The entire renovation is based on a railway theme: interiors are designed to uplift the existing space and not to steal the show. The references are evident through little details such as original railways tracks kept visible on the floor, actual train wheels integrated into the furniture and decaying columns left as raw as they are to show the historical nature of the building.
In addition, the designers also provided 'labs', perfect for small meetings or private business chats. LocHal Public Library is undeniably proving to be a cultural place bringing people closer into an ever more detached and digital society.
LocHal Public Library has recently received Building of the Year at the World Architecture Festival in Amsterdam held on 4th December 2019.
Now, who wouldn't want to hang out in this library?