Architecture
Mask House by Atelier RZLBD, a neat and sleek Canadian residential interior
The Mask House by Atelier RZLBD is a two-story dwelling that grounds its presence by embracing juxtapositional qualities to set an example for its neighbourhood undergoing rapid gentrification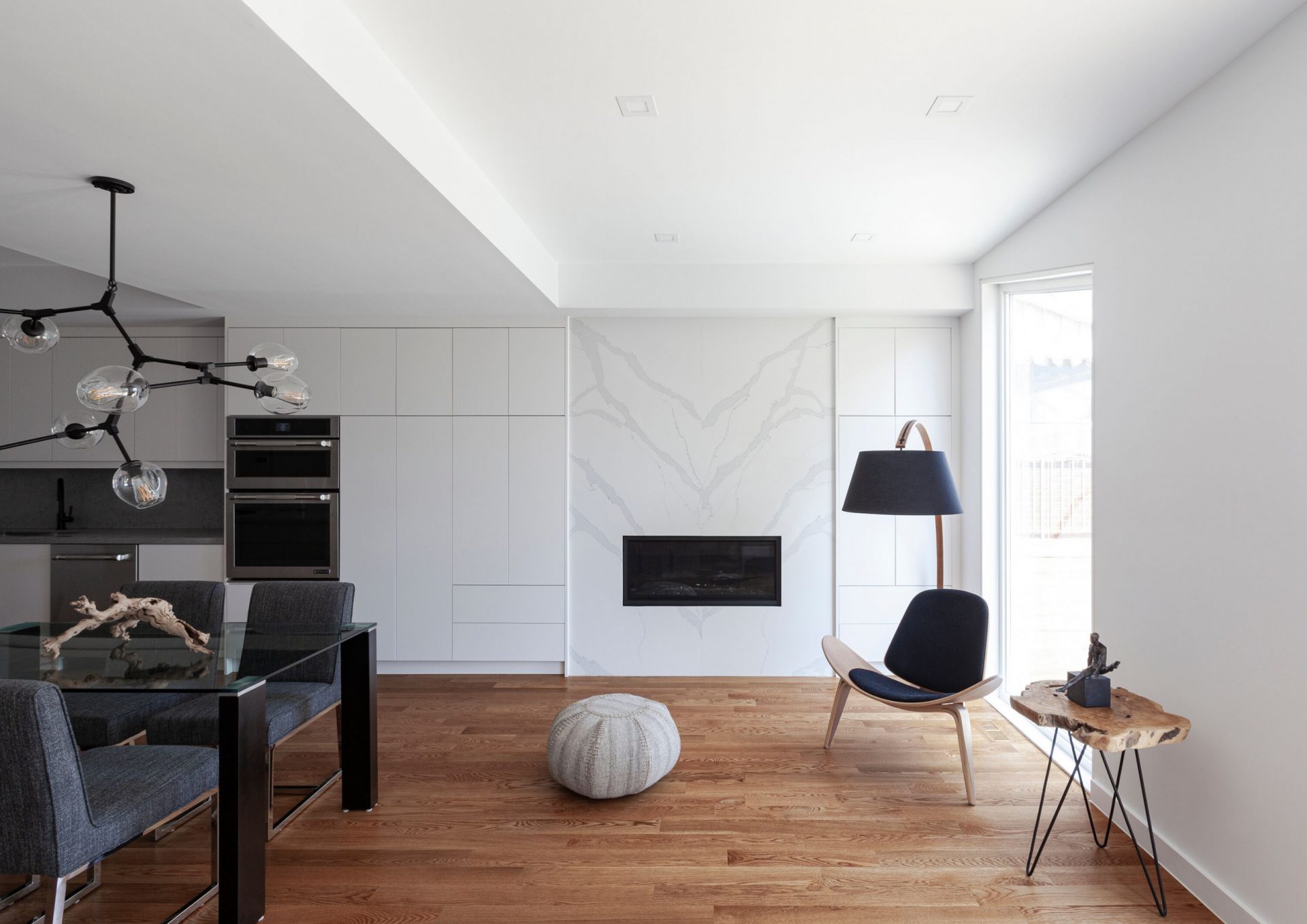 Located at the Roncesvalles Village, in the west end of Toronto, Mask House by Atelier RZLBD was designed and built respecting the narrow elongated trapezoidal site, the limited budget, the very restricted Zoning & By-laws, and of course a demanding brief from the client.
Yet, the outcome brings vivid energy, inspires renewal, and suggests possibilities that design can offer.
The façade may challenge the viewer to speculate a direct relation between manners of the exterior and the interior, assuming alikeness of aesthetics with ethics in regards to spaces being skewed, tilted and angled.
However, the 'mask' intentionally plays the role of being a mediator between the haphazard surrounding environment and the serene orthogonal interior order.
It borrows from next door roof profiles and trapezoidal plots and offers back different readings that are not contradictory but ambiguous.
By wearing the mask the building becomes a "positive virus", it will affect, engage and change its immediate environment — extending out an invitation to play a new game.
Once you enter the house you are greeted at the foyer-cloakroom, while small in plan, it offers a generous two & half-storey space merging into the staircase shaft with a skylight on the very top.
Together, they serve as a reference point in the house. This is followed by a large open space that combines kitchen, dining and living rooms with access to the back yard.
The floor below offers a party room with a kitchenette that could be easily converted into an independent guest suite with its own entrance to the outside.
The second floor accommodates the master bedroom with an en-suite and the kids' bedrooms with their shared bathroom.
In plans, following a strict logistic order, the house withstands a humble and disciplined arrangement, meanwhile, it becomes playful in the section.
The south-west corner of the house has been offset half a floor to create three mezzanines, each as an independent multi-purpose space, semi-separate yet within the whole envelope, linked by the staircase to the rest of the house.
These three areas allow flexible use.
Life dictates changes, and a growing family always require an additional place for work, exercise, and gathering; these offset niches would perfectly adapt and serve any of these needs.
This project is an extension of atelier's unceasing exploration for spatial order and geometry.
And similar to many infill interventions done by Atelier RZLBD in the past, the Mask House intends to be the agent of change.
This time exploring the capacities of a mask as an apparatus to handle the dichotomies of contemporary life in a diverse metropolitan.