Architecture
Visualizing the future of Architecture: an interview with Wafai
The diverse approach that Wafai follows is not only ultra modern, but also has a sense of visual calmness to it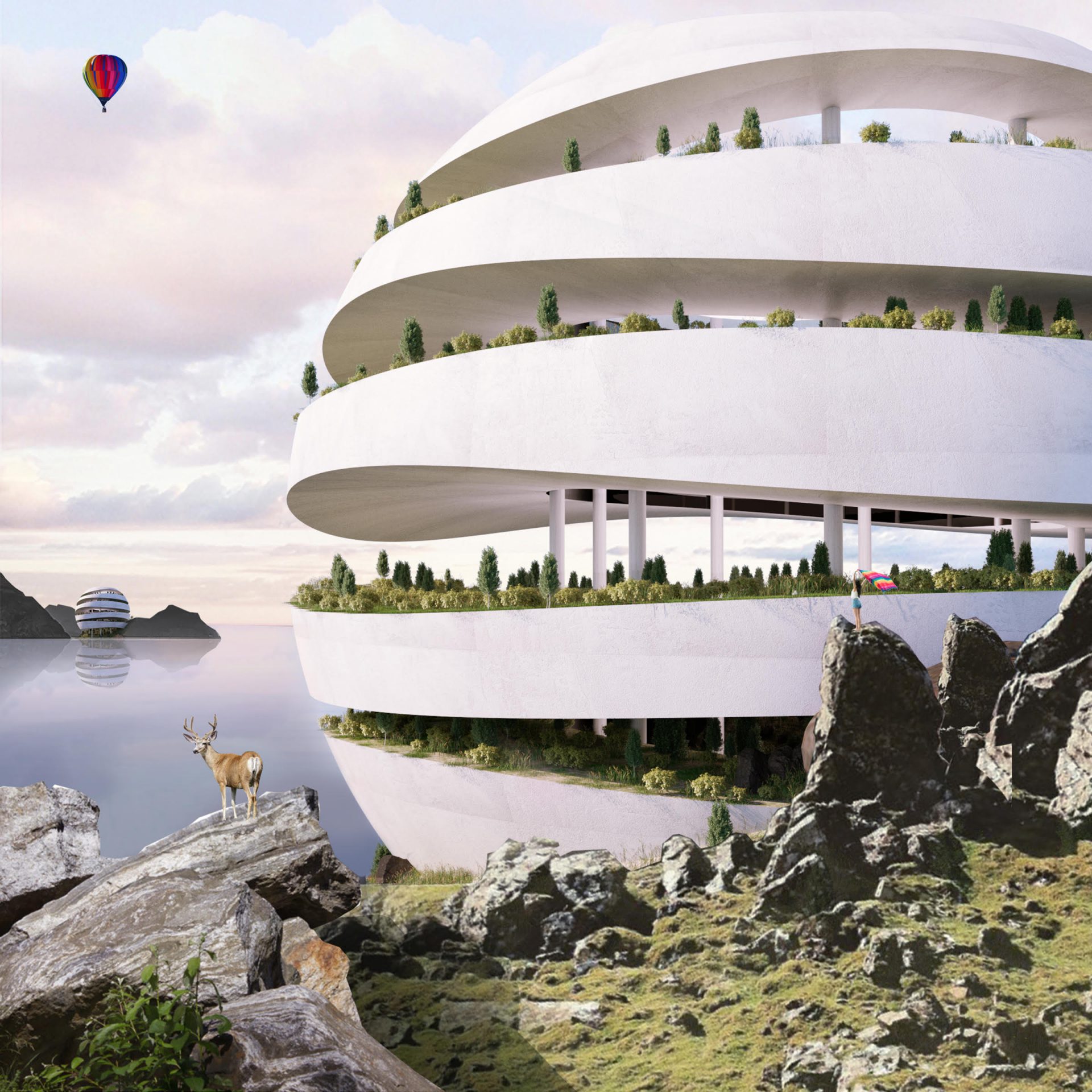 Wafai is a Turin based architect and designer developing an organic design language creating a sensation on Instagram today. DesignWanted had the opportunity to interview him to learn more about the dialogue between mind and space and his use of Instagram as a marketing tool.
Who is Wafai and what is the secret behind his popularity?
Wafai:
"I am Wafai an architect and designer, I am setting up a small architecture practice based in Torino-Italy.
I got my bachelor degree in architecture from Damascus University in 2011. Then I moved to Torino to do an M.A in automotive design at IED/Torino and a M.Sc architecture sustainability at Politecnico Torino.
I worked in the automotive industry as an exterior designer and then as a user experience/user interface designer for a major automotive OEM company in Torino. I think the reason for my popularity is the diversity of styles that my architecture features without losing the strong and strict character."
The Wafai projects feature organic shapes and a contemporary aesthetic: how do you describe your style?
Wafai:
"Architecture is not like any other measures, it is a product of culture and civilization. In my design works, I concentrate on the light values, and the experience of the spaces, transitions and the atmosphere, all enhanced and imposed by one strong theme (or special spatial arrangement) and everything that surrounds the theme is simplified.
My concentrations are playful and manageable spaces that can improve people's life, mentality and inspire/trigger them in every aspect, space/aesthetics that invites the mind to think and stimulate a response. I believe our architecture/city shapes us.
There is a sort of dialogue between the mind and the spaces, this dialogue is demonstrated by the human's recognition of space , light and the following up feelings that are formed toward a place which affect our consciousness, I try to impose this part."
The trending design softwares today are Rhino, Sketch Up V-ray and Photoshop, which software do you use to create your renders?
Wafai:
"I use Rhino for modeling, and V-Ray of 3DMax for rendering (more as a base for light and materials), and then a lot of Photoshop. I think Photoshop is what gives an architect the individual style as there is not a lot of space for individuality in V-ray rendering (pure photo-realistic), there are levels of photo-realistic and once all the high-end images are reached, it looks almost the same meaning it doesn't matter which of them the artist has used. I like the illustrative feeling that Photoshop can offer."
According to you, what is the future of architecture in the high-end residential sector?
Wafai:
"Well, it's hard to predict 100% how it will be, as many factors are involved (like economy/social developments and shifts), but from how the lifestyle is shifting (work/food habits) I can say houses will be more determined by interaction, experience, space continuity and comfort more dynamic spatially, functions are not separated and divided any more in the normal/formal way.
Houses will be more open towards the outside activities informal and vivid. New lifestyles will bring new needs and new arrangements, more people started to think about how and what they eat, then more farmhouses will emerge and this will affect/change how we think/perceive about the outdoor spaces/landscapes as it will affect the form and the overall image of living."
Sustainability in architecture is a hot topic of discussion: what are your thoughts on this? Do your designs integrate sustainable development?
Wafai:
"Sustainability is great when achieved passively by design (passive cooling, natural light as needed, etc..) and not by an unaffordable technology. Also, the architect is a piece of the chain: we shouldn't forget the fact that there are a client's request and a location.
Some building technologies are more ecological but it needs more time or more handwork to be executed and more time/handwork means more expenses or the site of the project contains great natural views that make the client buy the land at the first place, and there the architect is forced 2 times to use a lot of glass for the panoramic views and this will hit hard the building energy efficiency.
The architect can suggest, try to persuade or highlight a direction but can't impose a decision."
What inspires you as a designer?
Wafai:
"I get inspired easily mainly by nature and product design. In these two categories the beauty aspect is most of the time deeply associated with function and experience, and for me, this feature doubles any value of beauty.
I believe that good design or good design mentality comes from non-stop working/thinking , then a couple of moments staring away from the computer screen for a short walk will release a pulse of ideas, in those few quiet moments, I sometimes practically "design" an entire theme in my imagination before I actually arrive at my desk to sketch it out."
All your recent projects have been well appreciated, how do you plan to develop your career in the upcoming years?
Wafai:
"I think the future of marketing/exposure will be on Instagram, (especially for businesses that rely on visual content ), and the type of architecture that I take up needs a client who is really looking for it.
I will continue promoting/branding my presence online and in the community by developing new concepts to situate my design philosophy and show new possibilities that will attract a potential agent.
I prefer to do architecture for my own practice or in collaboration with other firms."