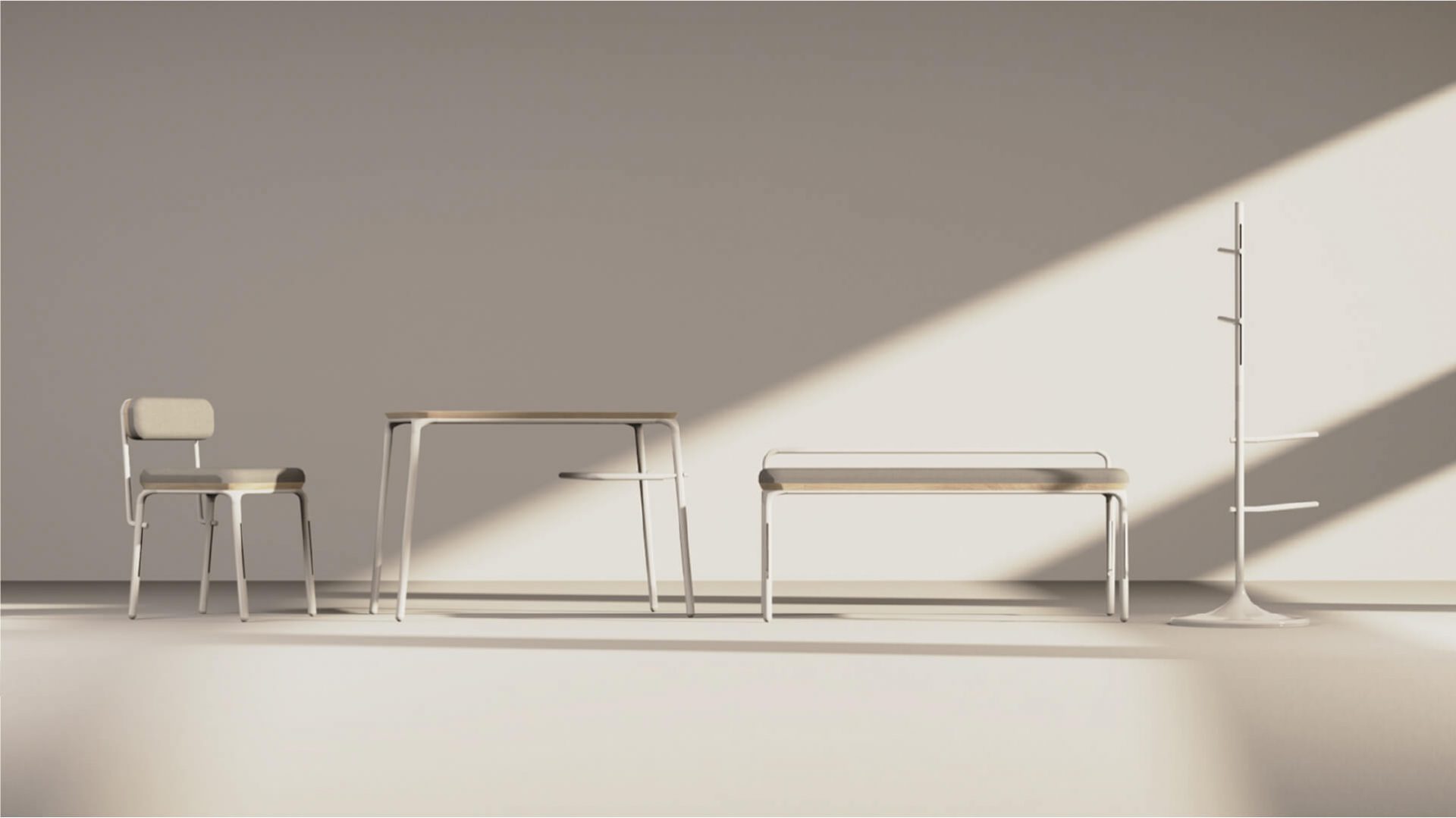 Multifunctional and multipurpose, the "Better" furniture concept utilises space with modular tables and chairs.
The idea of adaptable furniture like Better has gained momentum since the pandemic started. In some sort of way, it feels like a remedy to uncertain times, empowering users by equipping them with all the tools they need to work, rest and play all in the same environment.
Whether you're looking to create more space or simply use it more efficiently, these adaptable concepts also speak to the younger generation who might love design but also care about the planet and prefer having fewer things that do a lot more.
Better is a modular furniture concept that reflects this idea pretty well. It's made up of three distinct pieces: a table, a chair and a coat tree, all of which are made up of similar parts and can be built into various designs. The versatile system is intended for use in multipurpose spaces where flexible furniture can aid users when they need to modify their environment. 
Discover incredible modular furniture designs, don't miss What if furniture could levitate? That's the idea behind Furnicloud.
Think of it as a series of Ikea furniture parts that can be used across different configurations. For example, by adding a few shelves to the stool it becomes a shoe rack and with a few extra pieces, the coat stand can easily transform to become a clothes rail.
Better is designed as an easy-to-assemble, flat-pack kit, which offers a minimalist yet industrial finish. The collection is composed of what looks like a powder-coated steel frame paired with ash wood elements.
Users simply choose the parts they want to buy and those they need to create the furniture best suited to them. The Better team has also come up with a delivery and returns concept that allows customers to receive pieces via mail and use their packaging to send parts back for replacement.
"When buying furniture, you need to go to the physical store for measurement and evaluation," they explain. "We modularize the parts so that some parts can be delivered by mail. What you buy is no longer a large combination of furniture, but a furniture system that suits you best." It's hard to argue with that.
Find out more modular designs for the home, don't miss Magnus is a magnetic play couch that becomes anything kids want it to be.