Furniture design
Modulnova's outdoor collection: nature meets architecture
Tailored elegance for any outdoor space: this outdoor collection brings the indoors out with beautifully blended spaces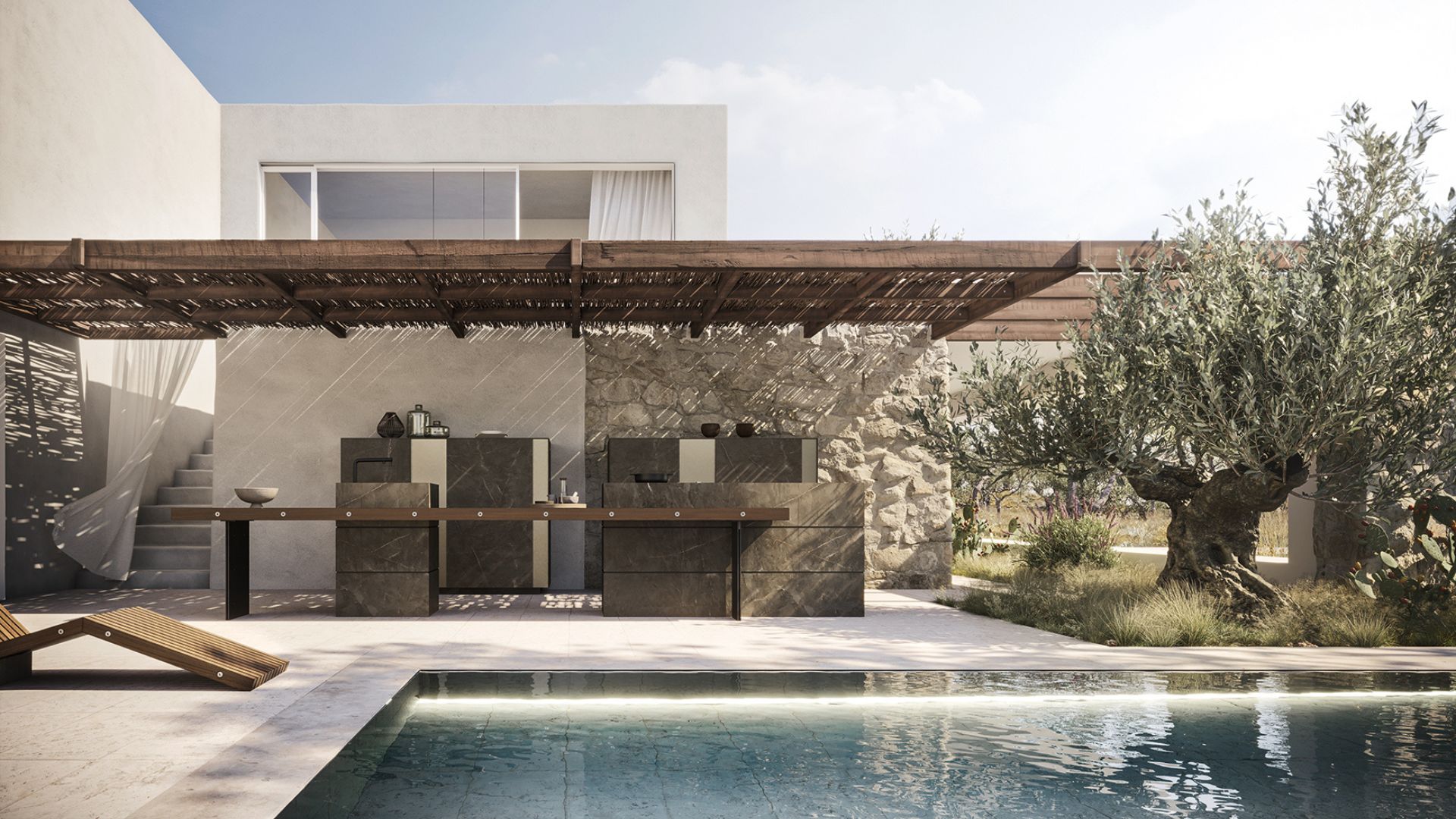 Modulnova's outdoor design system seamlessly blends the beauty and lifestyle of indoor environments with external spaces. Architectural elements are artfully incorporated into the landscape, playing with volumes, colors, and textures that enhance the natural surroundings.
The Block system, for example, boasts a stunning Gold Brown stoneware finish with distinct textures that perfectly complement the kitchen's outdoor setting.
The system features both a sink block, complete with a bowl and a folding mixer tap, and a cooktop block that is complemented by the weather-resistant Mate cooktop, which can be customized with electric or gas options in AISI 316 steel, and even include induction plates, teppanyaki plates or a barbecue grill.
Project 1 of the Outdoor collection introduces the XY peninsula, a minimalist sculpture made of thermo-treated Ash wood and stainless steel with a black epoxy finish. Its clean lines and timeless elegance define a space with a powerful evocative effect.
The Sipario cupboard in Gold Brown stoneware is a customizable storage element that perfectly complements the design project. Its extreme lightness and thin 6mm stoneware sides and top provide a sleek aesthetic, while its hinged doors and recessed fronts offer ease of use.
The combination of materials, including the stone effect of Gold Brown stoneware and the cloudy reflection of Bronze Dust metal, creates a highly contemporary feel that connects seamlessly with the outdoor surroundings.
About Modulnova
From its inception, Modulnova has embodied a commitment to personalized design and complete adaptability in providing bespoke kitchen solutions to its clients. This approach is supported by an exceptional design vocabulary and an extensive range of materials and finishes.
Over time, the company has broadened its offerings, demonstrating a remarkable capacity to satisfy the needs and preferences of a diverse, global audience. In 2000, Modulnova introduced a collection of bathroom furniture, and in 2011, it expanded its range further with Modulnova Living, a natural extension of the company's entrepreneurial trajectory and accumulated expertise.