Visual design
MUE Studio's beautiful visual ASMR
Founded by creative duo Minjin Kang and Mijoo Kim, MUE Studio focuses on creating visual experiences through soft-lit minimal dreamscapes.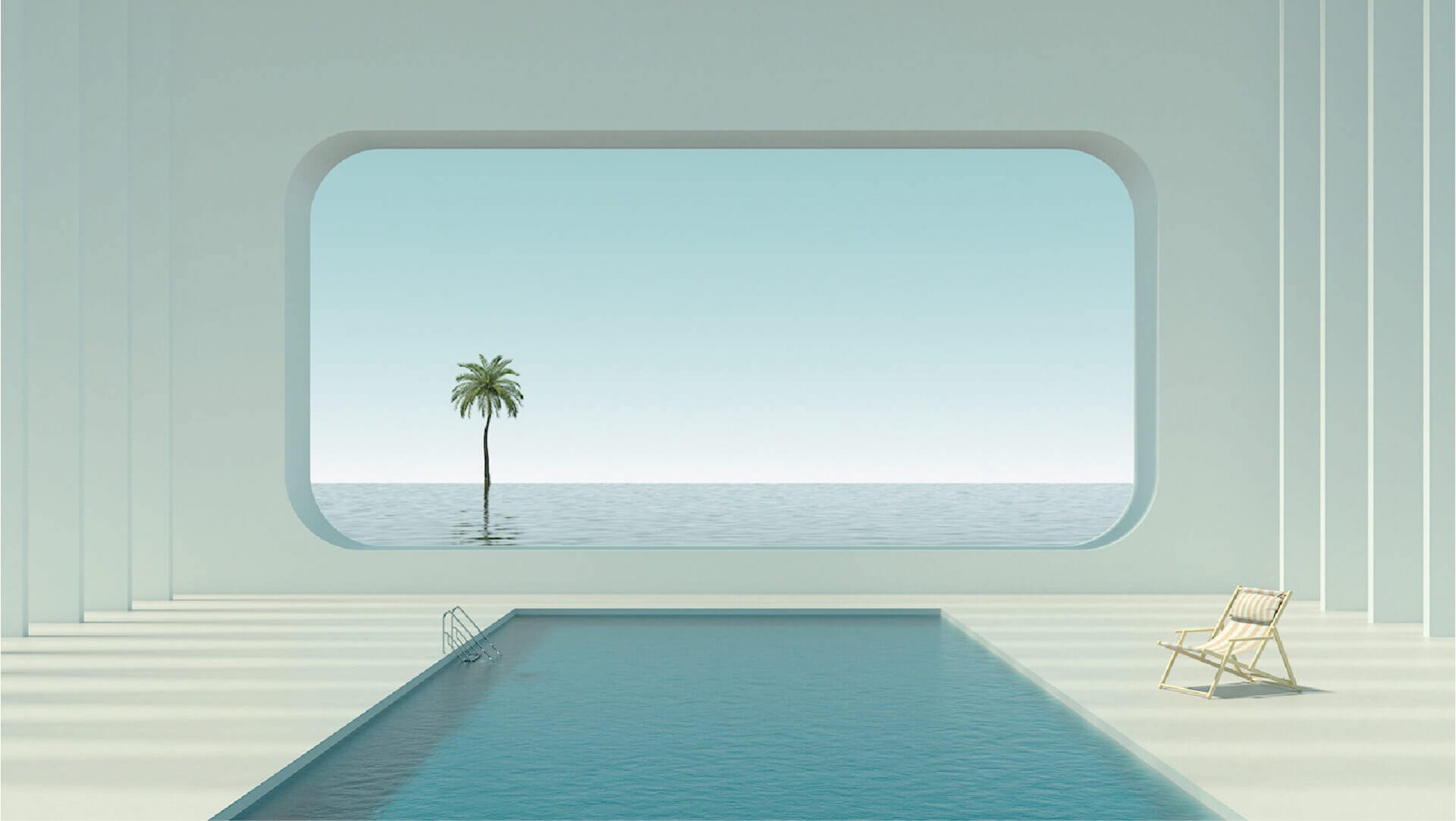 We all need an escape from reality and what better place to escape than to the otherworldly dreamscapes from MUE Studio. Founded by creative duo Minjin Kang and Mijoo Kim, MUE is a New York-based image studio specializing in 3D design, visual identity, art direction, commercial and editorial photography.
Focusing on creating a visual experience, MUE Studio's work mixes fantasy with pure experimentation through spaces that invite us to depart our reality and challenge us to push the boundaries of our own imagination. 
In a visually overloaded world, MUE Studio's use of light, the language of color, and minimal approach allow them to create virtual getaways where we find peace and comfort, a mental rest stop where reality and fantasy collide.
Excited to take a deep-dive into these dreamscapes, DesignWanted interviewed Minjin Kang and Mijoo Kim and found out more about MUE Studio, their creation process, and what is next for them.
Who are Minjin Kang & Mijoo Kim? How did the journey for MUE Studio begin?
MUE Studio: "We both have a background in fine art photography. Both of us are fellow alumni at the School of Art Institute of Chicago(SAIC) for undergraduate and the University of North Carolina at Chapel Hill for graduate study. Also, we served as a visiting lecturer there. 
Minjin started to study photography with the hope of becoming a documentary photographer. She was interested in sharing her memories and experiences with other people. Throughout her journey, she found new ideas and inspirations, and she wanted to bring those ideas to come to life. 
Mijoo originally studied computer science and statistics, and she had a turning point in her junior year by taking a photography class. With much inspiration and fascination, she eventually transferred to pursue her goal to become a photographer. 
We were introduced to each other when we both transferred to SAIC in 2006, and really got to know each other during some darkroom work. Throughout the course of our academic work, we provided genuine feedback to each other's projects, and also provided assistance when needed. In 2015, we both moved to New York City, and decided to work together.
Our first project was the series of Coney Island: The Modern Paradise, and we traveled to further cities while performing as a creative duo."
Interested to know more about designers creating dreamscapes? Don't miss The world through the eyes of 3D digital artist Alexis Christodoulou.
Why MUE Studio, why focusing on art direction, photography, and 3D image design?
MUE Studio: "As we had studied fine art photography for several years, we were always thinking a lot about our future as an artist. "Photography could soon go beyond its current 2D boundaries." At that time, we had a chance to attend Adobe MAX, 3D could be quite a powerful tool to push our creative boundaries from 2D to 3D fields.
We believe there are some commonalities as well as differences between photography and 3D art. The strongest connection is the fact that we are still creating a desired image, while the working process behind them might differ.
Our ultimate goal is to develop MUE Studio as a multidisciplinary design studio. Expanding our style and work in the field, we would love to develop our brand as a global identity."
Your work portrays soft, open, dream-like compositions, which artists are you inspired or influenced by? What other fields and inputs outside of the design world provide you inspiration?
Mijoo Kim: "As a long-time photographer, I was always interested in other mediums, and had a longing for other artists who used different mediums. These artists tend to inspire me, especially from painting, sculpture, and the music industry. Another source of inspiration is from the architecture and culture that I see when I walk down the street, and I'm keenly interested in human beings and their environment."
Minjin Kang: "I get inspired from everything I see, hear, and feel. One of them being New York City, which is the perfect city to live for someone who likes walking, including myself. Every physical and emotional experience I experience on these streets turn into my inspiration. As I live in a constantly packed state of mind, both physically and emotionally, our images tend to present the opposite."
With over 90'000 followers on Instagram, what is your relationship with social media? What is the impact of social media on your work as compared to the "real" world?
MUE Studio: "Social media holds an important significance in MUE Studio. During the time of pandemic, our work was reached to different creatives throughout the world. As a creative, we have always established our creative identity as someone who makes a piece that provokes positive emotions, and offers comfort and inspiration when needed.
We really appreciate a lot of comments such as "these images are calm", "I would like to be present in that space", "this image is like a visual ASMR", as these words fuel us as an artist. We also appreciate the moment when people share their genuine thoughts, memories, and stories inspired through our images. 
We are currently living in a world that consists of multilayers with digital culture and social media. Yet, we feel that our emotional and social connection is actually fading away, and the episode of pandemic further separated the society physically as well. Technology should function to connect individuals and build a stronger community, yet the opposite is being observed, as we feel more isolated and disengaged.
Through our social media platform, we offer a variety of semi-surrealism images. This provides an opportunity for viewers to escape reality momentarily, creating a safe digital space that the community can relax and interact with one another."
With soft light and directionally lit compositions, what is the message or feeling MUE Studio wants to convey through its works?
MUE Studio: "We believe the minimalistic design is the best way to express our theme. Our approach is 'less is more', as it effectively presents a comfortable vibe (i.e. virtual vacation). Otherwise, it becomes difficult to promote comfort when the image gets cluttered. Soft light and directional light scenes that imply early dawn or dusk are best depicted during sunrise and sunset.
These are the ideas that facilitate the best to deliver subtle emotions, melancholy, and mysterious scenes that we like to create. It also makes your images more intriguing.
Also, the sky at the time of sunrise and sunset display a full spectrum of colors with many details. In the larger context of psychology, sunrise and sunset represent the cycle of nature, including that of human and other livings. This is why we like to utilize sunrise and sunset to provoke feelings, through colors, tones, and compositions."
What is a day like in MUE Studio? How is the creative process behind the scenes?
MUE Studio: "We used to start our day in the studio every early morning, however, due to pandemic we only see each other 2 to 3 times a week. However, we both still start our day early in the morning. To us, the best time to focus on creating something new is morning time. 
New ideas and progress meetings occur 2 to 3 times a week as well, and these meetings inspire each other and guide us to which direction we would like to go from here. Lately, we have been busy focusing on the collaborative opportunities that are ongoing."
What advice would you give to new 3D visual artists to their own style and overcoming the creative block?
MUE Studio: "We would like to quote Jerry Saltz (Senior art critic at New York magazine) from the book, "How to be an artist", and there are two of our favorite quotes.
We would like to share them with you: "Make art for now, not for the future" and "Don't worry about making it good – just make it"."
Coming from a photography background, to now being a recognized 3D visual art team, what is the next step for MUE Studio?
MUE Studio: "We used to focus on the medium in our previous work, however we realized that we cannot limit ourselves based on what medium is being used in our work. That is when we decided to define our identity as a multidisciplinary artist, constantly pushing our creative boundaries.
Even though the message has been the same, constant changes in our mediums including photography, 3D art, video, and more, allowed us to expand our work.
While maintaining our own color, we would like to further challenge ourselves, expand our disciplines, and share inspiration with the creative community. Ultimately, we would like to expand MUE Studio as a multidisciplinary design studio and a global brand."
Digital surrealism make us escape reality, take a journey into the surreal realities of Reisinger Studio.