Design
Nagami is redefining the concept of design, production, and consumption through 3D printing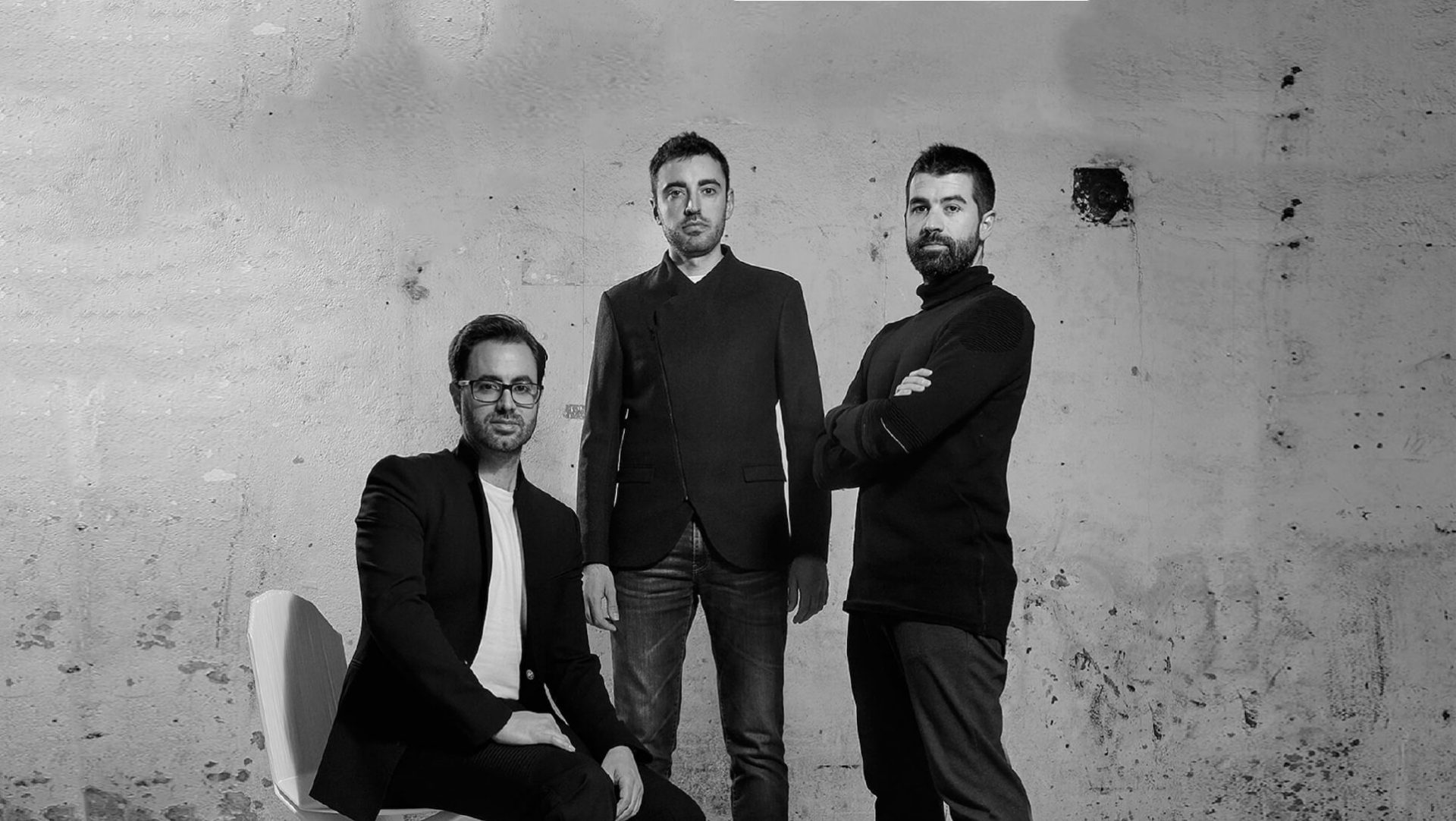 Spanish design studio Nagami is paving the way for the future through their combination of innovation, computational design, and large-scale robotic 3D printing.
Based in Avila, Spain and founded by Manuel and Miguel Angel Jiménez García, and Ignacio Viguera Ochoa, Nagami is showing the incredible versatility of 3D printing through their research-filled, innovative and transcendental work that explores new ways of furniture and environment production.
It is their unique vision, talent, and creativity that led them to collaborate with internationally renowned designers and create with them groundbreaking products that leave us amazed and make us question everything we thought we knew about 3D printing.
DesignWanted had the opportunity to interview Nagami's co-founder, Manuel Jiménez García, and learn more about their innovative ways, 3D printing, and how it will change the future of manufacture and design.
Who is part of Nagami? How did it all begin?
Manuel Jiménez García: "The domain of the digital always fascinated me, I studied architecture in Madrid, right when 3Dmodelling software started to appear in the discipline, suddenly opening a whole universe of new possibilities. I jumped straight in, being one the early adopters of 3D software, and more importantly, 3Dthinking, in my school. Right after graduating I studied DRL (Design Research Laboratory) at The AA (Architectural Association) in London, a Masters specialized in computational Architecture, that was my first contact with digital manufacturing tools, I soon started teaching and actively participating in research projects at the AA and other schools around the world, in 2013 I commenced a Research Cluster at The Bartlett BPro (UCL), together with my colleague Gilles Retsin.
From the very early stages of the cluster, we focused our research on large scale 3D printing and other robotic manufacturing methods, believing that automation would soon produce a new turn in design and architecture, and mainly in construction, making it cheaper, faster and more efficient, as well as allowing to create forms that couldn't have been imagined built before."
Manuel Jiménez García: "We only had a very small ABB robot back then, but we exhausted it with all kinds of experiments. After a few years running this research, in parallel to the increase of machinery and other equipment at UCL, we started to envision a commercial company that could capitalize in the advantages of robotic 3D printing, bringing objects previously unimaginable without this technology to people homes, rather than limiting this formal and technological expression to museums and galleries.
It was, however, the Pompidou Centre, through their commission of a new 3D-printed piece, that brought both light and pressure to this initiative."
Manuel Jiménez García: "My brother Miguel Angel, and my good friend Ignacio Viguera, both also trained in architecture, were at the same time experimenting with desktop 3D printers in Spain, and it just took a short talk to cheers for the uncertain but incredible adventure that we were embarking ourselves into. We bought a second home robot and rented a subsidized garage-size industrial space in my home town, Avila, just 100km from Madrid and started developing our own extrusion method that would allow for more professional printing quality, first for the Pompidou Centre piece, but with the idea of later on creating our own line of 3D printed products.
VoxelChair v1.0 was completed and exhibited in the Centre Pompidou in Paris in 2017, becoming part of the permanent collection of the museum right after. Since then Nagami started working on products such as Nital, Nobu and Estrat, until the company officially launched in Milan Design Week 2018, with a line of exclusive products designed by Ross Lovegrove, Zaha Hadid Architects, and Daniel Widrig."
Why focus on 3D printing and robotic manufacturing?
Manuel Jiménez García: "We believe that automation will change manufacturing in all disciplines, leading to a more sustainable future. Particularly the furniture industry still operates in a very traditional manner, with very long production chains, and with high initial capital investment to start developing a new product, this leads to an inevitable serialization to allow product mass-production and bring the retail cost down.
3D printing allows for a much more sustainable and versatile product development. This leaves the door open for the designers' creativity to be tested in the physical world iteratively, from the computer to the prototype in a single step, followed by the adaptation of the digital model to be tested again in a few hours. There is no need for complicated assemblies, expensive mold production or exclusive machinery for one product, and it goes without saying that each product could be unique and personalized."
Manuel Jiménez García: "Furthermore, and more importantly, this incredibly short production chain contributes enormously to the reduction of CO2 emissions in manufacturing. 3D printing is as well the ultimate tool for distributed production, leading to drastic reductions in shipping and carbon footprint; although it is still too early to envision a future where you could print commercial products in your local "3D printing hub" or even at home, this future will soon arrive and with it massive improvements in our impact to the planet.
In short, we do what we do because it allows us to dream the impossible and touch it just a few hours later, but also because we all need to change the way we produce to let our future generations to enjoy the world as we did."
Which are the main values, core concepts or style inclinations that, above all, will always represent Nagami?
Manuel Jiménez García: "Nagami is, above all, a design brand that explores objects that couldn't be conceived without 3D printing technology and automation. We are interested in those forms and products that push our technology to the limit, those that create new concepts of elegance and beauty. But these objects are not just a pure manifestation of technology, the fact that an object can be 3Dprinted doesn't mean it should."
Manuel Jiménez García: "We carefully curate our catalog and our projects, we are designers and come from 25 years of admirations for those who changed the role of design in society and produced objects that remain relevant today, those who, not by chance, also embarked themselves in the uncertainty of new manufacturing methods at the time, like Raymond Loewy pushing the limits of the automobile industry, Charles and Ray Eames bending plywood to transform its function, or Verner Panton pushing injection molding to a new frontier.
We believe that digital design is a step forward in this long tradition of incredible design, as should be judged for its evocative character, its functionality, and beauty, and not just for its use of a specific technology. As we do not talk about plastic molding when we look at a Panton Chair with admiration, we would like to imagine the objects we produce equally relevant when 3D printing becomes a common everyday tool with no need to be talked about at all."
With technology being at the core of your projects, you have put your projects and productions on hold and focused solely on producing 3D printed COVID-19 Masks to help with the current health crisis. Can you tell us more about this project and its impact?
Manuel Jiménez García: "Probably this is a feeling that everyone had, but when the pandemic started we were extremely nervous about how our public health system would be able to cope with it, and in fact, from very early days the shortage of equipment in hospitals became evident. We knew that such a versatile manufacturing method could rapidly react to this kind of catastrophic situation, much faster than most traditional methods which require long preparation time, so we started brainstorming from the beginning about what we could do to help.
It was only a few days later when Face Shields became the request number one from health workers, and makers all around the country started producing them without hesitation, organizing autonomously, delivering them personally, basically doing all they could. We immediately jumped into action together with CV19_Fab_Avila, the makers' platform created in the city where we are based. We needed a few adaptations to print thinner than we normally would, we designed a version of the Prusa model to be extruded with our robots and started producing non-stop."
Manuel Jiménez García: "To the time of writing, the amount of makers producing face shields around has increased to almost the entire community, even large architecture offices like Foster and Partners and big companies like Apple and Nike have jumped into making face shields for their country's health workers. It is indescribably beautiful to see how the entire world is working together to help to protect those who save our lives, becoming one of the most global but essential projects in history, but also one we all wish would never have started.
This unfortunate event is also demonstrating the power of digital technologies and distributed manufacturing, today no one doubts that 3D printing a face shield in the closest printing lab to a hospital makes incredible sense, and we hope this advantages of the technology is not forgotten when this is over, and we start taking it into consideration for the production of our everyday objects."
Your project, the Voxel Chair, was a first prototype created using a design software specifically developed for robotic 3D Printing. Can you tell us how did it all happen? What was the inspiration behind it?
Manuel Jiménez García: "From the very early stages of our robotic 3D printing research at The Bartlett BPro, we believed that if 3D-printed buildings are to exist in the future, the approach and software must be rethought. When Maria-Ange Brayer contacted us to develop a 3Dprinted piece for the Centre Pompidou to be showcased at the "Imprimir le monde" exhibition, my colleague Gilles Retsin and I didn't want to limit the project to a single piece, but rather developing a software specifically for large scale robotic 3D printing, following the methods that were in the core of our research lab, the Design Computation Lab, in collaboration with Nagami.
One of the problems with 3D printing is the uncertainty that the print can fail after a few hours. Often times, this is because of technical errors in the printer, but more commonly due to a part of the geometry that falls beyond the limitations of the machine. The software that we developed, Discrete Design Software, allows the rationalization of any given three-dimensional geometry into a combination of voxels (3D pixels). For this project, we created two different line-fragments to be inserted in the voxels, the first type being more porous and fragile and the second denser and stronger."
Manuel Jiménez García: "By limiting the number of possible printed pieces to just 2, we can easily prototype them beforehand to make sure that they will not generate any printing problems in any of their positions. The software locates denser line-fragments in the areas that need higher strength to support the person's weight and the porous ones in those areas that can remain weaker. These lines are then automatically rotated and connected into a 2.4 km continuous line to be printed non-stop with the robot.
The VoxelChair v1.0 prototype is indeed, just the first physical output of the software, however, Discrete Design Software has the potential to create an infinite amount of variations in terms of material organization and overall form, which we took from the iconic Panton Chair (as a shift in manufacturing with the same material – plastic)."
You've collaborated with many renowned designers such as Ross Lovegrove and Patrik Schumacher, to name a few, and created incredible products. How do these collaborations come about? How do you choose who you want to work with?
Manuel Jiménez García: "I have been working on computational design for more than 10 years now, and especially in London, I've had the opportunity to meet and share inspirational conversations with architects and designers whose passion for pushing the boundaries of design and architecture has led them to become lead references in the field.
When we were planning the official launch of the company, we wanted to showcase objects that, before this technology, could only live in our imagination, and those to imagine them and work with us to bring them to life needed to share our passion for the future that this technology could bring.
Ross Lovegrove, Patrik Schumacher, and Daniel Widrig were definitely some of the first names that resonated in our minds since apart of being incredible designers, they perfectly understand the technology, its limitations, and its opportunities, and they always push it to the very limit, to create objects an buildings of inexplicable beauty. In fact, our conversations about the new nature of design in the age of 3D printing and automation had already started way before, and Nagami became the natural vehicle to materialize them together.
Brave New World, our Milan exhibition in 2018, became in fact just the beginning of an adventure that we keep on sharing with our partners and collaborators, they are very involved in the company and incredibly supportive of our venture, and we are still working together on exciting projects that we hope we can launch soon."
3D printing is at the basis of what you do, and with technology continuously developing we see the importance of it and how it is changing and reshaping the manufacturing processes. How important do you think the relationship between 3D printing and design is? How do you see this relationship in the future?
Manuel Jiménez García: "3D printing is the most natural vehicle to bring design from the digital to the real world, and ultimately the perfect tool towards democratizing production. As design became digital data, able to travel instantly through the web and to simultaneously appear in multiple places in the world, 3D printing has the potential to materialize those designs almost as instantly.
Today we are familiar with desktop 3D printers in workshops, fab labs or architectural offices; this was just a dream when designers and architects started using 3D modeling software and computer programming in the late 90s and early 2000s, what Mario Carpo describes as the digital turn. Those early adopters of Computer Added Design have been fighting against the limitations of traditional manufacturing methods for two decades."
Manuel Jiménez García: "Today we acknowledge how 3D printing, and broader, automation, is not only indiscriminately allowing the production of those complex shapes that served as cover images for what started to be called "digital design", but also many others never associated with a particular style, in a novel way, faster, more sustainably, and in some cases – rapidly increasing in numbers – even cheaper.
Although we are still far from the day when anyone could design or purchase a product online, of any scale and material, and pick it up at "the local 3D printing hub"; the technology will undoubtedly develop to bring that future soon to reality, redefining completely the concept of production and consumption, and more importantly helping us to move towards a more sustainable future, not only making us consider differently the materials we use but also leading us to rethink the way we transform them into our everyday objects."
What is next for Nagami?
Manuel Jiménez García: "Right now all our efforts are in what is probably the most important project we've ever worked on: produce as many face shields as possible, using 100% of our resources and efforts. We have the hope, however, that the projects that we had in development continue to the next stages very soon.
We have a project in Shenzhen about to be completed, a series of large-scale pieces designed by Ross Lovegrove. It's one that has been in production for long and that we are very excited to launch. Ross has indeed been very actively participating in the company and continue supporting and sharing inspirational ideas, some of those are shaping into projects to be launched in the next Milan Design Week."
Manuel Jiménez García: "We are as well preparing a new product collection with Parley for the Oceans. We recently joined forces in the fight against ocean plastic pollution, and we are indeed incorporating their Ocean Plastic ® in most of our products. We are working together to bring recyclability and circular economy to a new level in exciting projects.
We are highly invested in this partnership, since we should not forget that, when this crisis is finally over, we still have a much harder one to fight to protect our planet. We are also collaborating with one of their partners, the To: Foundation, that shares our passion for sustainability, we are featuring our products and technology in some of their initiatives.
Furthermore, we keep developing our technology to increase its efficiency and application. As architects, we are always eager to see our robots printing building parts, this is currently been tested for a pavilion in Rotterdam, to be completed this year, but without a doubt, this will be further explored in other research projects, such as a 3D printing housing system that we are developing together with Design Computation Lab."