Furniture design
A lovely modern cat tree designed by the Japanese Yoh Komiyama
It offers a private space for the cat while serving as a decorative interior object that fits seamlessly with its surroundings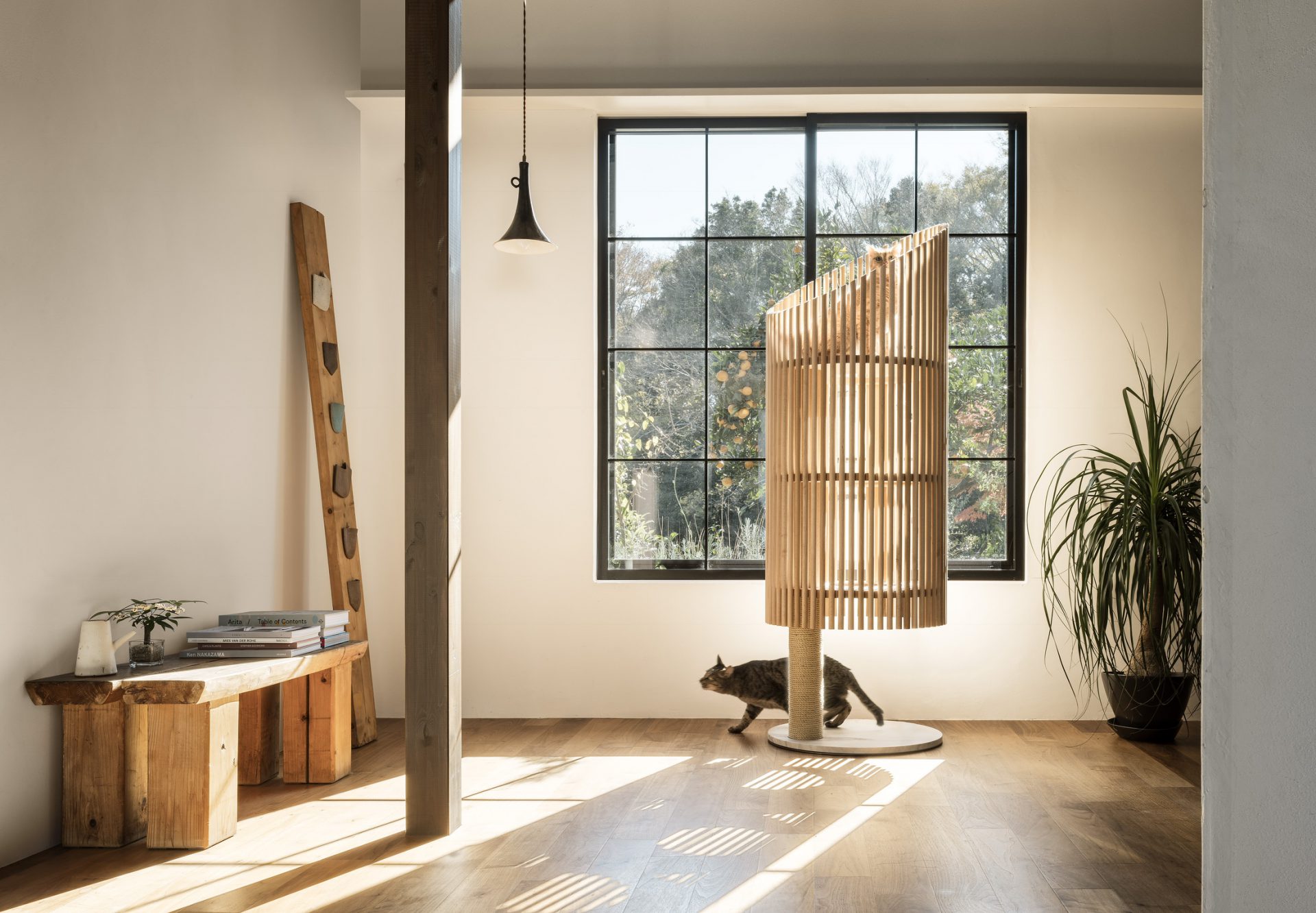 This vertically oriented Neko cat tree called designed by Yoh Komiyama for Rinn covered in natural wood offers a private space for the cat while serving as a decorative interior object that fits seamlessly with its surroundings.
The natural marble base, an innovative idea that goes against conventional design norms in the cat tree product category, was inspired by seeing a cat sprawled out on the floor of a house's entrance area, using the surface to cool its body.
The overall Neko cat tree design, incorporating high-quality, natural materials and a practical yet artistic approach, makes good use of each material's inherent characteristics as well as masterful techniques to achieve the form that facilitates comfortable climbing for the cat as it ascends and descends.
Designed to feel your cats at anytime
The spaces in between each cylindrical post provide glimpses, and thus convey the mutual presence, of both cat and human, maintaining a furtive connection between the two for greater intimacy. As the axis of rotation is built into the outer structure, it can be opened like a door for easy maintenance.
The Greek marble used for the base not only helps the cat regulate body temperature more effectively, it also provides a low center of gravity to stabilize the cat tree.
As for the materials, they offer design and functional value while also expressing a cultural fusion between the wooden materials of the East and the stone materials of the West.
Neko cat tree is made with natural and functional materials
Marble
This high-end material starts as magma deep within the earth, which is transformed into marble through exposure to ultra-high temperatures and pressures.
Marble's smooth feel to the touch, alluring luster, and rich variety of patterns and colors enchant people everywhere, and it has been used since ancient times as an architectural interior design and decorative material to create sophisticated, elegant spaces. This marble's white color is permeated with grays that seem to flow gracefully throughout.
Fabric
Coming from the Danish company Kvadrat, established in 1968, with deep roots in Scandinavia's design tradition.
Wood
About 70% of Japan is covered in thick, green forests. Gifu Prefecture's Hida region serves as a particularly abundant source of broad-leaved trees, which are also known as hardwoods, and the wood from these is often used for furniture due to its attractive textures and high scratch-resistance (thanks to high hardness).
The company – RINN – uses domestically grown oak, beech, maple, and other wood primarily from the forests of Hida, applying each type for different purposes and in specific locations based on individual material characteristics.
The Neko cat tree designed by Yoh Komiyama serves as a testament to the diversity of Japan's forests, and the warm feel of the wood materials is pleasing to both owners and cats alike.
Hemp Cord
The pillars are wrapped in hemp cord to create scratching posts, using high-quality, made-in-Japan hemp cord from a company with more than 100 years of history behind it.
Scratching posts not only provide a way for cats to sharpen and maintain their claws, relax, relieve stress, and play, but they also give the cat a feeling of owning its own domain. Moreover, owners can rest easy knowing that we are able to replace hemp cord as it grows old and tattered.
[ Read also Need for weed? 5 unexpected hemp-made designs ]
The masterful craftsmanship of Hida dates back more than 1,300 years.
Carrying on the techniques and traditions of their predecessors, craftspeople in Hida have long utilized sophisticated wood-joinery to create buildings without the use of a single nail, and they actively integrate wood-bending techniques learned from the West in furniture production.
These seasoned artisans, characterized by a deep respect for both tradition and innovation, expertly shape and arrange wood from the broad-leaved trees of the mountainous Hida region, which are usually considered very difficult to work with due to their large variety of species and forms.
RINN's cat trees are made from carefully selected materials supplied by Hidakuma Inc. a company that strives to create new value through forests, and products are built by Masaaki Ito, a master craftsperson who lives with his cat.