Architecture
Turning the ordinary into the extraordinary with NEON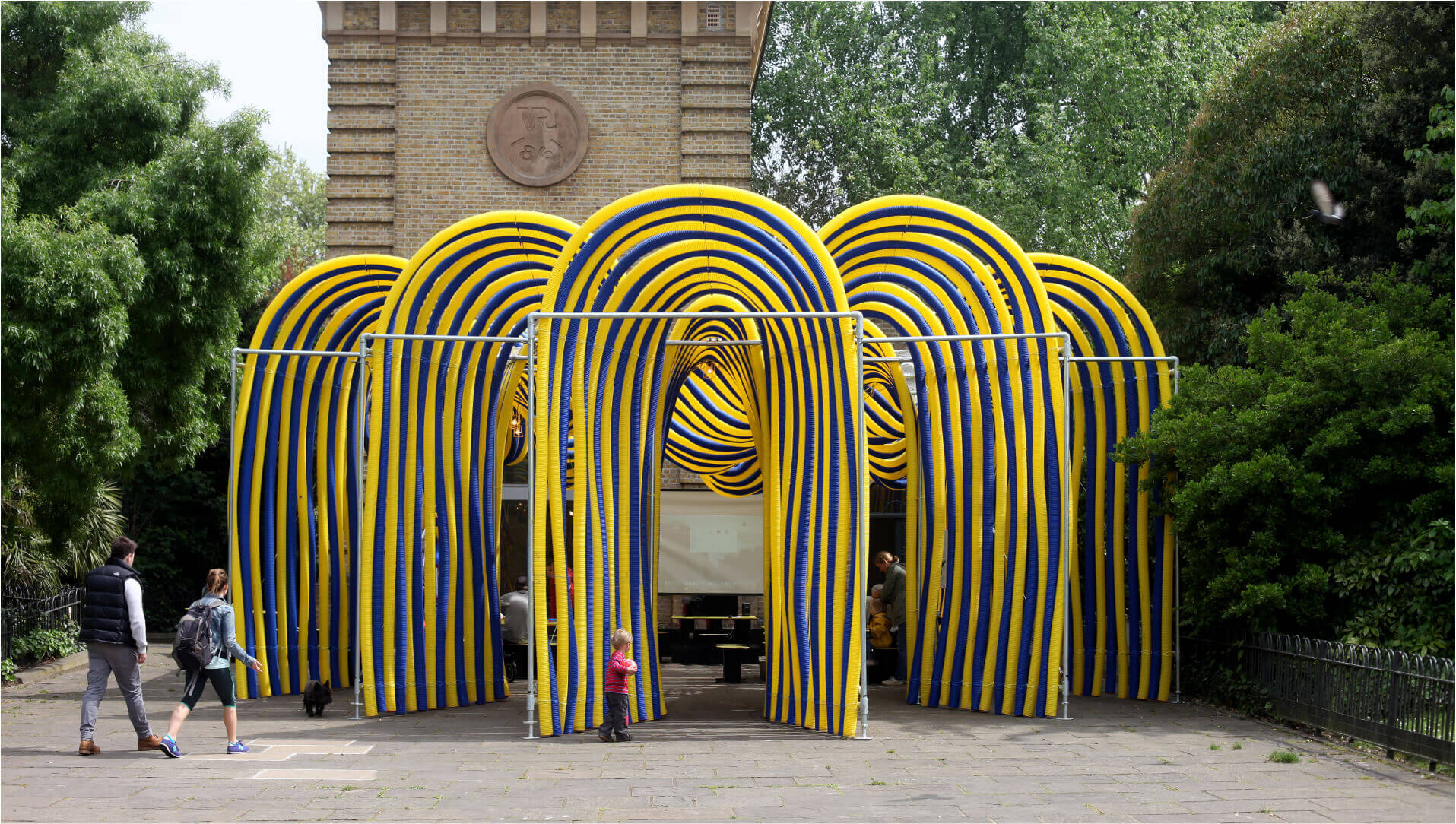 NEON breaks the monotony of everyday life by creating moments of surprise and excitement through their fantastical work.
Founded by British architect Mark Nixon and Finnish artist Viliina Koivisto, NEON is a UK-based design studio exploring new territories between art, design, and architecture. With their unique point of view, their attention to emotion, and their unexpected use of familiar material, NEON creates fantastical designs that not only evoke an emotional response but elevate our everyday.
Their work ranges in scale, from objects to monumental art installations, showing in each one of them their profound and incredible attention to how people interact. Perhaps it is their approach to design that possesses no preconceptions or their ceaseless creativity, or maybe its the magical combination of the two, either way, NEON manages every time to create extraordinary works of art – sometimes intriguing, sometimes mesmerizing, but always extraordinary and unexpected.
Always on the lookout for remarkable designs, DesignWanted interviewed Mark Nixon to more about NEON, its design process, inspiration, and their ability to create once in a lifetime emotional experiences.
Who is Mark Nixon and Viliina Koivisto? How did the journey for NEON begin?
Mark Nixon: "NEON is Mark Nixon, a British architect and Viliina Koivisto, a Finnish artist. We work with a small full-time team and expand to collaborate with fabricators, specialist consultants, and engineers to make our projects happen.
To gain experience and complete architectural education I (Mark) worked for a number of different architectural practices both in the UK and abroad. During this period I always felt somewhat removed from the actual projects I was working on. This was due to a combination of factors including large project teams, the "hands-off" role of the architect, and the projects often being remotely located.
During this period (2011) I happened to see an open-call for a well-known exhibition "Sculpture by the Sea" in Denmark and decided to submit a proposal. The project "Chimecco" was selected from 300 entries and was subsequently realized and highly published. I found the experience of delivering this project to be incredibly rewarding and decided to continue on this path working outside of traditional architecture. NEON was founded in 2012.
In 2015 I was participating in the artist residency program AARK in the Finnish archipelago working on "Shiver House". Viliina was there at the same time and she later helped me to construct the project. We have collaborated ever since."
If you are curious to know more about Shiver House, don't miss NEON's "Shiver House" is re-imagined in wood to celebrate its five year anniversary.
Why NEON, what moved you to investigate the territory between architecture, art, and design?
Mark Nixon: "Working between the known limits of different disciplines is where the magic happens. In reality, we don't spend a lot of time thinking about what part of each project is architecture, design, or art, we aren't loyal to any of them! We are curious people and love to investigate different areas of interest. Working in this way means that the outcome can be whatever best suits each particular project. Our projects to date have been as diverse as sculptures, films, light installations, shoe collections, furniture, and pavilions."
Having a variety of projects ranging in scale from objects up to monumental art installations, which designers or architects are you inspired and influenced by? What other fields and inputs outside of the design world provide you inspiration?
Mark Nixon: "There are many but some key influences for us are; Thomas Heatherwick for his use of materials and breadth of his practice, Theo Jansen for the way he brings life to manmade materials and teamlab for their incredible digital environments.
Beyond figures within the industry, we take a lot of inspiration from travel. Despite being a relatively small practice the internet has meant NEON has been able to operate internationally pretty much from the beginning. One benefit of this is that we often get the chance to visit amazing places along the way. One particular example of this is a British Council funded project we completed in 2019 called "The Things That We Do" that took place over 2 months in East Africa. As part of this project, we were lucky enough to travel to Danakil Depression in the north of Ethiopia, the hottest and lowest point on the planet. This technicoloured, bubbling landscape is unlike anything else in the world and has been a source of inspiration ever since!
Closer to home, some years ago we decided to relocate our studio to Margate on the southeast coast of the UK. In the past, Margate was a favourite of the artist J.M.W. Turner who often painted its breathtaking sunsets. For us, its spectacular coastal landscapes and its unique light provide a constant source of inspiration as well as space to think and reflect."
You are known for delivering once in a lifetime emotional experiences, which are the main values, core concepts, or style inclinations that, above all, will always represent NEON?
Mark Nixon: "All of our projects aim to evoke a strong emotional and physical reaction in the viewer. This can take a range of forms depending on the project, from decreasing your anxiety to giving you goosebumps or even making you weep.
In addition, our work aims to allow people to see things they are very familiar with in a new way. This idea applies to many things from materials to historic and natural environments to the forces of nature. This reimagining of the familiar is a powerful idea that can instill people with a new sense of pride or understanding of their environment, or a new awareness about the potential of a certain element, object, or material."
You usually manipulate familiar materials in previously unimagined ways. What is a day like in NEON's studio? Can you describe the general process of your creations?
Mark Nixon: "Our days can be quite varied depending on what projects we have currently in the studio and at what stages they are at. Although it's been nice and calm during the Covid-19 period we would generally have between 5 and 10 live projects on at any one time which requires a lot of planning and time management.
With regard to our project process, as a general rule, each begins with a site visit or meeting where we fire lots of questions at the client to try to understand both their aims as well as the potential and restrictions of any site. We love constraints as they make for really unique projects! After this stage, we develop ideas in the studio through discussion and sketching which would be shared with the client at regular intervals. As part of this process, we also create prototypes that explore the project at 1:1 and use scale models alongside VR to understand the project's form and materiality.
As we begin to settle on the proposal, we would begin to engage engineers or fabricators to add further resolution to the design. In the beginning, NEON would install and fabricate projects ourselves (and we sometimes still do) but as the scale of our projects increases, we tend to just be there to support the professional fabrication teams who are doing it. Installation days can be very long and tiring but we love seeing the projects we have been working on for months or even years coming to life!"
Your projects have a really bold style and a great visual impact, what kind of reaction do you receive when people pass by your creations?
Mark Nixon: "Children always love our work but with adults, we find that the reaction strongly relates to the type of spaces they are installed within. In a setting where people expect to see art – for example, an art gallery or a sculpture exhibition the reaction is almost always positive but in other types of public spaces, our work can be quite surprising as it alters a space people are familiar with. Because of this the design process for our projects often requires a lot of sensitivity. We often navigate this by collaborating with community groups in the early stages to better understand the context of the project.
Due to the range of different interpretations, many interesting discussions take place around our projects, sometimes we even like to covertly hang around and listen in so next time you are at a NEON project look out!"
What is coming in the future for NEON?
Mark Nixon: "While we have a number of projects in the pipeline, I'd like to say that one of the most joyful things for us is the way we can't predict what projects we will be working on from one year to the next. We don't believe in a grand vision for the future but rather choose to be flexible and remain open to possibilities that come our way, NEON is an adventure!"
If want to know more about unique and incredible installations, don't miss Deciphering the poetic work of ART+COM Studios.