Architecture
Into the light with Bruce Munro: few artists manipulate light like him
DesignWanted interviewed British artist Bruce Munro and got an insight into his dreamlike immersive light-based monumental installations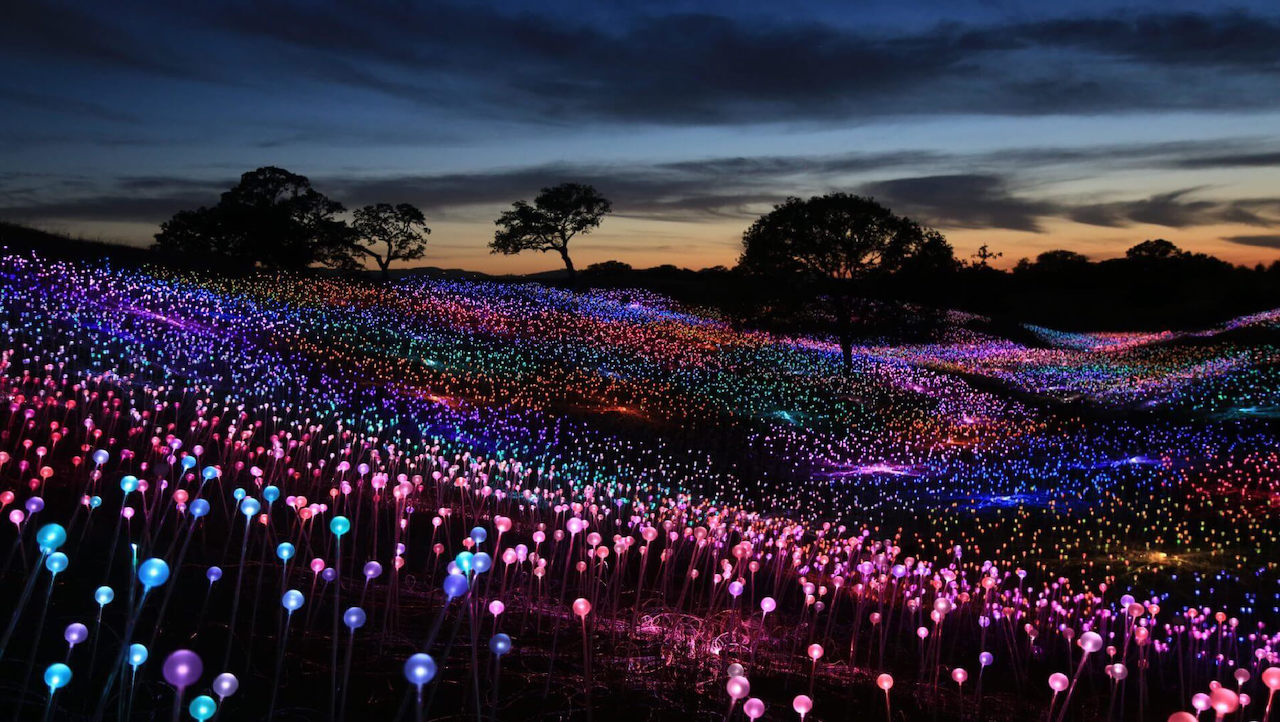 Light is the inspiration of many designers, architects, and artists, it is a medium that has been designed, incorporated, shaped, and transformed in a variety of ways, but few artists have managed to manipulate light and create utterly beautiful art pieces like British artist, Bruce Munro.
Internationally known for his immersive, large-scale light-based installations, Bruce Munro is able to take ordinary and mundane materials and create monumental installations that invite people to experience light and look at materials in a different way.
Inspired by his interest in shared human experience, Munro uses a process of repetition and order to create dramatic and mesmerizing backdrops that submerge people in a journey where time stops and light becomes an exploration of emotional connection. 
From the United States to the UK, Australia, and South Korea, Munro's work has made a breathtaking impact across the globe. His exploration and aim to create emotional connections through art make him unique, and his ability to immerse us in colossal installations while transforming its surrounding into magnificent 'glowcapes' can only be described as the work of a true master.
Whether it is through sculptures, installations, or monumental experiential artworks, Brunce Munro's creations bring bright and unadulterated joy every time. 
Who is Bruce Munro? How did the journey for light-based installations begin?
Bruce Munro:
"I am an English/Australian artist living in the UK. The notion of creating light installations was initially inspired from my travels in the Australian Outback in 1992." 
Why Bruce Munro Studio, why focusing on large immersive site-specific installations?
Bruce Munro:
"The studio grew organically in response to a passion to create works in the landscape."
What moved you to begin this career? Ultimately, why do you do what you do?
Bruce Munro:
"Soon after my father's death in 1999 I decided to dedicate my life to making art that was inspired by fleeting moments of connection with the world around me. My ultimate goal is to carry on as long as possible.
The purpose I serve the studio is simply being a member of a team where the sum of the whole is bigger than the individual parts. I do what I do in order to make a small but positive contribution to the here and now."
[ Read also Night time blossoming in a Field of Light ]
With over 30 years of experience, your practice has produced monumental temporary experiential artworks as well as intimate story-pieces. When and how did your work start getting recognition?
Bruce Munro:
"The first Field of Light installation we created in our field at Long Knoll seemed to catch peoples imaginations in 2004."
The recent artwork 'Time and Place' for the Salisbury Cathedral's 800th-anniversary exhibition uses filmic data abstracted into pixels. What fields and inputs provide you inspiration?
Bruce Munro:
"The Time and place series is inspired by my belief that the chromatic and tonal data from a panoramic photograph can be interpreted as a unique momentary bubble of light. Many designers and Artists inspire ones work, it is not possible to exist in isolation."
How do you choose the type of project to work on?
Bruce Munro:
"I like working with optimistic people who believe like myself that art with nature has the potential to make the world a better place. Botanical gardens and Museums are also wonderful spaces to work in."
Having had work exhibited in different locations internationally including the UK, Mexico, USA, Denmark, UAE, and Australia, what is the purpose or message Bruce Munro Studio wants to convey through your works?
Bruce Munro:
"There is not a specific message other than expressing that 'we all' experience moments of clarity during our lives where we feel connected with the world around us.
This is often an unselfish view of how we individually fit into the world. To encourage empathy towards others and an optimistic spirit is beneficial to all."
Bruce Munro Studio installations are largely inspired by the interest in shared human experience. What kind of feedback or reactions do you receive when people interact in your installations?
Bruce Munro:
"Smiles and positive emails make it all worthwhile. Its important to realise that the spectator plays a key part in every artwork …nothing can exist in isolation."
Most recently, the 'Ribbon of Light' project serves as a reminder of the selfless work of NHS volunteers and workers during the COVID-19 pandemic. What is the next step for Bruce Munro Studio?
Bruce Munro:
"I am hoping to create an artwork to support the wonderful work of a local hospice, Dorothy House Bradford upon Avon. Project wise we are working on installations and exhibitions in Japan, Australia, USA and South Korea. We are continually creating new works …the most interesting being the one yet to be conceived!"
[ Read also RE_light redefining light performances in and out of Milanese clubs ]