Architecture
Future-proofing the future of architecture with UNStudio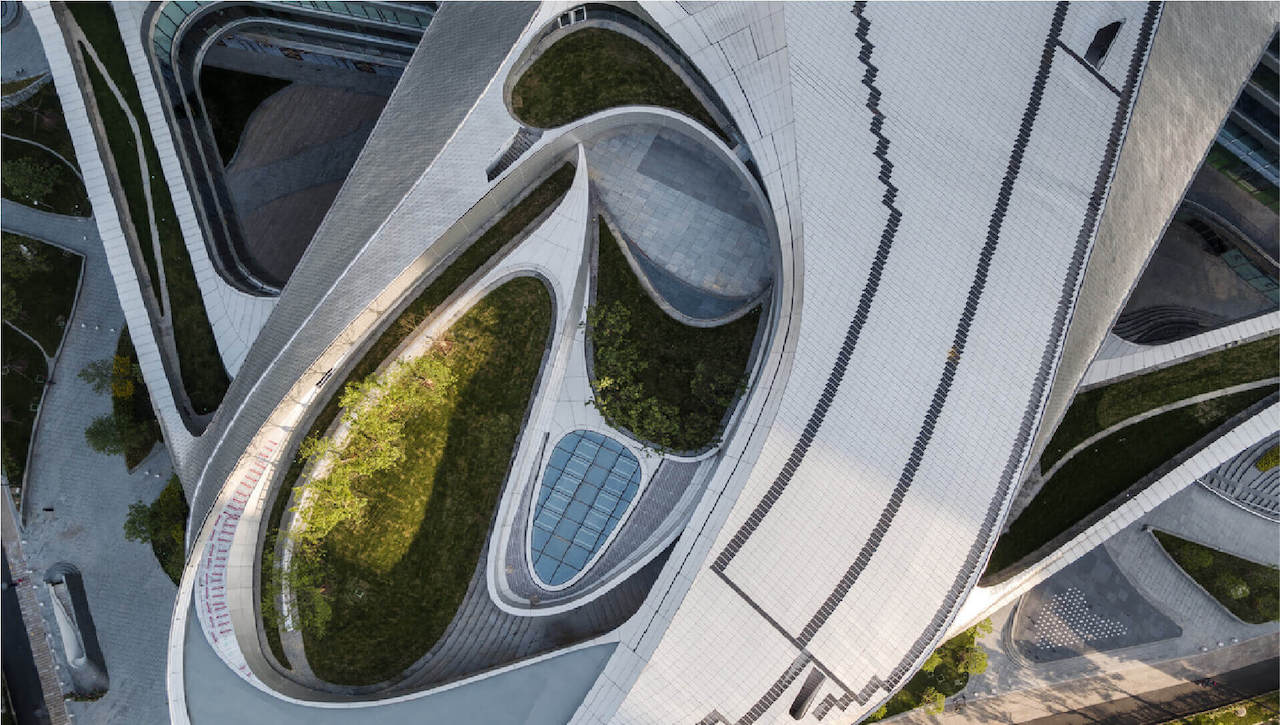 Founded by Ben van Berkel and Caroline Bos, UNStudio is an international architectural design network focusing on innovation, sustainability, efficiency, and 'future-proofing the future'.
As technology advances and our world seems to change by the second, the demand for architecture to be future-proof is higher than ever before and the need for thoughtful, visionary, and innovative architects is now fundamental. While there are architects and studios now adapting to these new 'set of requirements' the world has put in place, there is one studio who has been one step ahead all along, UNStudio.
Founded in 1988 by Ben van Berkel and Caroline Bos, UNStudio – UN standing for "United Net" – is an international architectural design network specializing in architecture, interior architecture, product design, urban development, and infrastructure. With more than 30 years of experience and championing a collaborative approach to design with four international offices in Amsterdam, Shanghai, Hong Kong, and Frankfurt, UNStudio has worked with a variety of international clients and successfully completed projects across Asia, Europe, and North America.
Their focus on innovation, sustainability, and efficiency is fueled by their vision of 'future-proofing the future'. It is through this belief that they have dedicated units such as UNKnowledge, UNFuture, and UNSx to contribute to their mission of producing user-centric designs that are adaptive, resilient, and above all future-proof.
While future-proofing is at the core of their vision, sustainability is their commitment. Through an 'attainable design' method, UNStudio takes into account social and ecological sustainability issues in everything they do, resulting in projects that are both socially and financially feasible. Impressed by their incredible and visionary work, DesignWanted interviewed founder Ben van Berkel and learned more about UNStudio's approach, future directions within architecture, and their recently founded sister company UNSense.
Who are Ben van Berkel and Caroline Bos? How did your journey in design begin?
Ben van Berkel: "Caroline and I first met in Amsterdam, before deciding to move to London, where I did my Masters in architecture at the AA and she studied History of Art at Birkbeck College at the University of London. Initially we did a lot of writing about art and architecture, but after we both graduated, we decided to return to the Netherlands and set up a practice together. So our journey began with a very small team at our kitchen table in our apartment in Amsterdam and then grew from there."
Why UNStudio? Why focus on architectural design?
Ben van Berkel: "Initially, before moving to London, I had studied graphic design at the Rietveld Academy in Amsterdam, but I realized early on that the permanence of architecture can have such an impact on you, whereas graphic design was so fast and had a kind of temporariness.
I worked for a Japanese designer who said to me, "If you want to know everything about package design and design in general, then you need to also experience architecture, you need to see the Katsura Palace." So I did, and that experience at the Katsura Palace was extremely powerful.
There, architecture, landscape and the origins of living were all seamlessly merged into one. I had already studied a lot about how the Japanese introduced their tea ceremonies around the world, how they use these palaces and these ritual codes related to health and the balance of life. That was so powerful for me and I wanted to bring that into architecture. That's the reason why I wanted to become an architect."
Ben van Berkel: "And why UNStudio? Initially, we had another name; we were called Van Berkel and Bos Architects. We didn't like this because it related to us as individuals too much. Caroline felt that the name should be much more related to our mission and the philosophy we were pursuing. At the time we were reading the works of Baudrillard and Foucault, and we were interested in social and political change.
Especially interesting for us was Bruno Latour, who presented the idea of a network society. He considered how a network-based society would be different from a linear hierarchical system. Deep inside, we had always liked the idea that you are part of the network, rather than being above others in a hierarchical sense. I have always wanted to be an architect who connects people who are important to each other. This kind of attitude helps you to develop ideas with other specialists and after Latour, these specialists were referred to as 'actors' in the network. With a good balance of the right people you can potentially make more intelligent projects than you would in a more linear, top-down system."
You believe the key to 'future-proofing the future' is knowledge, for this purpose you created the research and innovation unit UNSKnowledge. Can you tell us more about this unit and the type of work you do here?
Ben van Berkel: "Initially our Knowledge Platform was set up to share practice-related knowledge, share ideas and exchange knowledge – both in-house and with external collaborators on R&D projects. However, in the intervening years this has evolved into two separate units. One, UNSFutures, focuses on forecasting and designing future scenarios. It turns knowledge into tangible designs that move projects forward from concept development through to design implementation. To do this, the unit works closely with cross-disciplinary teams of academics, technologists and design leaders, as well as with the designers at UNStudio.
The second and most recently established unit is UNSx and is tasked with designing for the shared human experience. It is set up as a think-tank and experience lab to devise products, services and strategies that push the boundaries of what is possible in the way we live, work and play. This unit consists of a team of architects, computational designers, product designers, creative strategists, VR/AR specialists and sustainability consultants."
"Sustainability" is the current buzzword within architecture and design, although many fail to properly tackle this complex matter. What does it mean for UNStudio to have a sustainable approach in architecture?
Ben van Berkel: "We are constantly researching new materials and building and design techniques to continuously develop new sustainable solutions in all of our projects. But we also take a broader view of sustainability, referring to it at times also as 'attainability'. This is an approach that tries to enable social sustainability on given locations, flexible, efficient ground use, alongside affordability, so that all our projects are financially and socially feasible. We refer to this as 'attainable design'. Within architecture sustainability is very far reaching in its scope, so we do a great deal of site analysis, such as sun and wind studies etc., prior to starting the design. We are also very concerned with designing energy neutral buildings and incorporating circular design principles and solutions in all our current projects.
We have also developed a number of sustainable products, such as The Coolest White paint we recently created with Monopol Colors. The Coolest White is an ultra-durable paint that protects buildings and urban structures from excessive solar radiation. We have also developed aesthetic, printed PV panels for use as a facade cladding material, meaning that the full facade of a building can now be used to harvest energy, instead of just the roof. These are now going to market with a company called Solar Visuals."
Meet the Toronto based PARTISANS studio that is revolutionizing Architecture with its innovative projects.
What are the main trends & future directions within architecture and what do you think of them?
Ben van Berkel: "Health is of course an extremely pressing topic in light of the recent pandemic, but so too is the integration of technology in the built environment. For architects, designers, and urban planners, technology can be used as a tool to improve the built environment; to shape it around the actual needs of the end-users and make our buildings and cities more healthy, resilient, and sustainable. Technology in architecture is primarily related to new efficiency models.
For example, we now have sensor technology that allows us to understand the performance of buildings, meaning that today architects can design with data. These sensor technologies can bring architects closer to the users of their buildings, discovering what they need, what they enjoy and what kind of flexibility they require.
This is why in 2018 we founded an Arch-Tech a sister company called UNSense, where we implement technology to create better human-centric spaces. But unlike the more common smart city concepts, UNSense pushes beyond mere efficiency and performance-related goals, instead designing for positive human, societal, and environmental impact. We believe that such considerations should always guide the development and implementation of technological solutions."
Ben van Berkel: "I have also been teaching about health in architecture at Harvard for 4 years. Now, with the emergence and rapid global spread of the Coronavirus, it has become an even more important topic, as this virus has not only highlighted the need for healthy environments but has added new and challenging factors for consideration in design. We also need to consider the health of the planet. As such, we need to find solutions that are beneficial to both people and the environment, but these have to be solutions that are viable and affordable.
But the Coronavirus has also presented us with another new challenge, namely that whilst we have recently been very concerned with how we can meet the requirements and challenges of densification, we now have the added factor of coping with urban growth while ensuring safe living and working distances and maintaining the health of the economy. So health is an extremely important and wide-ranging topic, with the result that flexibility and resilience in design are also a key focus for architects today.
Another growing trend is user participation. Especially in urban planning, participation and people-first design is becoming more and more common. This means that in many urban projects the value of a purely top-down approach is being increasingly challenged."
Thinking about the many talented and ambitious students out there, what is the most important piece of advice you would give to recent graduates in the architecture field?
Ben van Berkel: "Try to discover your own language. That is quite difficult today, as there is so much going on in the field of architecture, so you have to be very original and develop a content-related set of ideas.
I don't mean you should develop an individual style. Today it's much more important to come up with an individual approach to architecture that is based on a very thorough set of arguments. So I would say, keep on experimenting. Push the boundaries of your imagination and be open to other fields of reference.
But equally as important: never stop learning."
What is the next step for UNStudio?
Ben van Berkel: "We are working on many new and exciting projects and products. Both within UNStudio and UNSense. Too many to mention and all over the world, but they range from urban designs to buildings, to products and from there to urban strategies and branding. We have also just launched a new Kid's Collection for Alessi, which was wonderful to work on, and we are very excited to see UNSense grow and develop as more city councils approach us for their projects.
A particularly exciting and groundbreaking project we are currently working on is Brainport Smart District (BSD) in Helmond (NL). BSD will be designed as a living lab with new forms of energy generation; emissions-free mobility and data sharing, where new ideas can be tested and adapted. The district will not be built according to a set design plan but developed in response to the needs and habits of its 4,500 future residents and what is learned along the way. UNSense is also carrying out a project there involving 100 homes in the district. So we have a great deal going on right now and are very excited about the future!"
The recent pandemic has highlighted the need for new spaces, that's why the 2020 edition of HiHack has opened a call for design for the neonascent Design Tech within MIND Milano.