Furniture design
The beauty of Italian craftsmanship: Pedrali launches New Ideas 2020 collections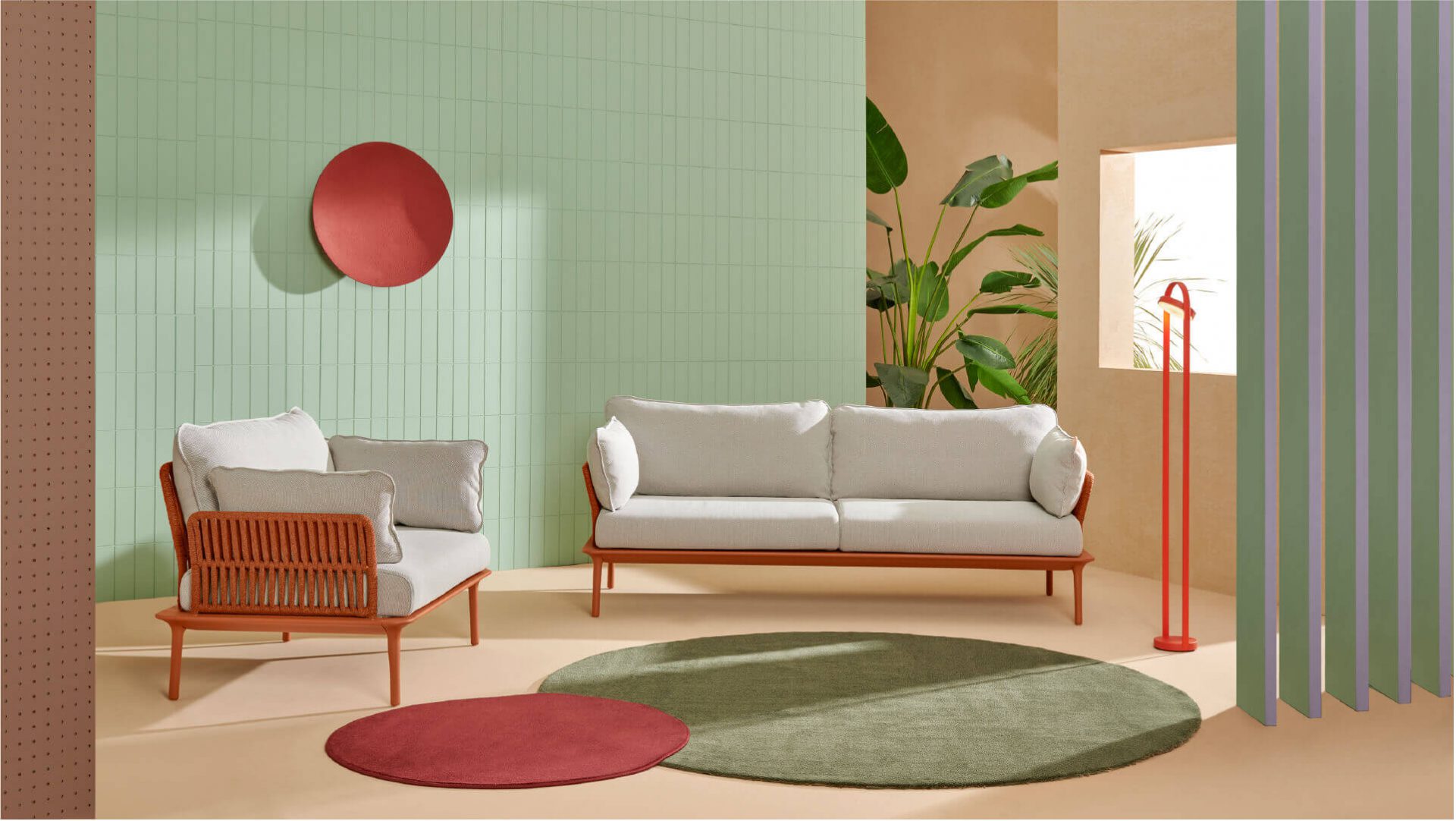 Discover the latest collections of Pedrali, an Italian furniture company whose proud heritage informs its philosophy of quality, functionality and craftsmanship. Key to their production is a manufacturing process driven by constant innovation, demonstrated in the automated qualities afforded by its state-of-the-art 'Fili d'erba' warehouse.
Pedrali, a furniture brand based at the foot of the Italian alps in Bergamo, has been manufacturing contemporary design furniture for the residential and contract markets for over 50 years. Established back in 1963, Pedrali's history begins with Mario Pedrali who started making furniture inside a blacksmith's workshop. It has since earned its rightful position as an influential ambassador of Made in Italy furniture building on a proud heritage.
Pedrali's beliefs lie in an ability to combine human wealth, aesthetic excellence, and craftsmanship. Its products are renowned for their use of raw materials like metal and wood, but also plastic materials and upholstery, to form refined designs with clean lines and surfaces, for which it has received important awards such as the Compasso d'Oro ADI for the Frida chair in 2011. It's also resulted in their management of contracts for hotels, offices, museums, libraries, and exhibition centers, including projects such as Google Headquarters in Dublin, Microsoft House in Milan, or Kanazawa Umimirai Library in Japan.
Pedrali also developed contract projects for top-class restaurants across the globe for the likes of Alain Ducasse: The Dorchester, the three-star Michelin restaurant in London, inside the ancient royal residence of Versailles and miX, inside the prestigious Emerald Palace Kempinski in Dubai. To mention a few more, the list continues with The LAGO Restaurant by renowned Michelin-starred Chef Julian Serrano at the Bellagio Resort & Casinò in Las Vegas and the Caffé Fernanda inside the Pinacoteca di Brera in Milan.
To fully identify the soul of Pedrali, we engaged in a conversation with Monica Pedrali, Chief Executive Officer and Sales and Marketing Director of the company.
Looking back at the history of Pedrali, which are the main values of the company, being a landmark for "Made in Italy"?
Monica Pedrali: "Beauty, tradition, and innovation, we can use these three words to define the soul of Pedrali.
The "tradition" is the one linked to the history of Pedrali, which began with my father Mario who, in 1963, founded an artisan workshop in the town of Palazzolo sull'Oglio in the province of Brescia, where he began producing the first outdoor collections of wrought-iron seats. Since the 70s, Mario started to collaborate with architects and designers – both in Italy and abroad – and also to get involved in interior design, specializing in industrial production to address the contract sector.
"Innovation" is our second pillar. Pedrali belongs to the industry 4.0 with factories equipped by interconnected machinery and investing for several years in the digitization of production activities. Every year, a large part of the turnover is invested in innovation and technology for production facilities. In 2016 "Fili d''erba" was opened: the automated warehouse designed by CZA – Cino Zucchi Architetti. A cutting-edge facility, fully automated and active 24 hours per day, allowing storage of 16,880 pallets of finished and semi-finished products.
Curious to learn more about iconic design companies? Explore our Design History section.
"Beauty" is the end result of all this. It is the natural consequence that takes shape in the company's collections, presented every year at Salone del Mobile, for the past 32 years. Pedrali's beauty was born from the collaboration with designers like Jorge Pensi, Patrick Jouin, Eugeni Quitllet, Odo Fioravanti, Sebastian Herkner, Robin Rizzini, CMP Design, Claudio Bellini and Patrick Norguet, to name just a few.
Beauty is found also in the interior projects – within which our products find their own space and character – and ultimately lays in the products themselves, like in the Frida chair designed by Odo Fioravanti, which in 2011 won the ADI Compasso d'Oro award.
To us, "beauty" also means being representatives of "Made in Italy", a symbol widely praised around the world. We take care of production entirely across the two sites of Mornico al Serio and Manzano: the first one is located in the province of Bergamo, and that's where metal, plastic and upholstered furnishings are processed, while the second one, in the province of Udine, produces wooden pieces. Our goal is to guarantee authentic quality to our customers through full control of the entire production chain.
"Made in Italy" must be protected and recognized as a strong means of connection between manufacturing and culture, demonstrating how a company can produce culture too by creating products that promote ideas and values communicating to the market and its consumers."
How does Pedrali combine innovation and sustainability? How do you manage to ensure innovative development with an ethical and environmental-conscious impact?
Monica Pedrali: "Innovation also means looking to the future with an eye on environmental sustainability since, today more than ever, well-being and environment-consciousness represent our priorities. In our production processes, we pay maximum attention to reducing consumption of raw materials, rationalizing resources, reusing, and recycling waste, as well as controlling emissions.
Making long-lasting products, from both an aesthetic and a resistance standpoint, is the key element to ensure sustainability. Since the first design phase, Pedrali furnishings are designed to be disassembled and produced through processes aimed at limiting the consumption of resources.
Our plastic products are recyclable and eco-friendly. The new collections presented in 2020 are completely made of recycled polypropylene: 50% coming from consumers' plastic waste and 50% from industrial plastic waste.
Moreover, the wooden furnishings are FSC™ C114358 certified – guaranteeing the use of wood coming from controlled forests – and are finished using water-based paints mostly made of resins with a vegetable origin, drastically reducing the presence of chemical compounds if compared to traditional paints."
The automated warehouse working 24 hours a day
Employing meticulous sourcing of certified raw materials and a manufacturing process driven by constant innovation, Pedrali exports all over the world via a distribution network that reaches over 100 countries. 2016 marked a significant year for the company as it opened the doors to its automated warehouse, "Fili d'erba" designed by architect CZA – Cino Zucchi Architetti.
Located in Pedrali's production site in Mornico al Serio, the cutting-edge building inaugurated a fully automated factory system connected by a skytrain and self-steering shuttles with the ability to work 24 hours a day. Spread over 7,000-square-meters, the warehouse enables Pedrali a higher efficiency in the manufacturing times of job orders, better serving even the most pressing timing of projects with an automated system that can process 150 pallets per hour.
The building's impact continues through to its exterior, where a visual pattern makes a strong statement that connects with the surrounding landscape. Transforming a typically dull and uniform volume into a visual phenomenon, Fili d'erba – which translates as 'blades of grass' – facing up the different conditions of the countryside landscape across all four of its 29-meter-high walls. Cino Zucchi does so using a series of simple elements made with extruded aluminum profiles in shades of green to create a striking combination of vertical and oblique lines that mimic gigantic leaves of grass. Extending beyond 'environmental mitigation', the final result is a necessary nod to the roots of Pedrali and the importance of the company's origins.
Exploring Pedrali's New Ideas 2020 collections
In June, Pedrali released its new collections for 2020, collaborating with both Italian and international designers whilst championing wellness, comfort and sustainability in light of the impact of COVID-19. Presented through its 'New Ideas 2020' release, which incorporates a pastel palette, shapes and materials to convey the desire for beauty and a sense of escape, the collections reflect Pedrali's constant attention to detail whilst considering real-world contexts.
Collaborating with German designer Sebastian Herkner, Pedrali announced Blume – a collection defined by flower-shaped profiles that draw inspiration from concepts of elegance and sophistication. Employing Herkner's love of poetic compositions, distinctive seating is reinforced by a steel element below a cushy polyurethane-foam seat that also keeps the legs in place. Once the chairs reach the end of their life-cycle, they can be disassembled and disposed of responsibly. The decorative element continues through to the coffee tables, which are available in various heights, featuring marble tops of different colors reflecting the collection's versatility and ease of adaptation.
Pedrali also announced a collaboration with Anglo-Italian designer Robin Rizzini, combining traditional artisan skills with new production technologies. Toa – a minimalist table centered on coherence and rationality – comprises a solid die-cast aluminum frame with tapered bridge legs, which are thinner at the base and widen to form a 'T' element that supports a range of large tops in various finishes. Light in volume, a fluid, geometric design comes in a variety of widths and depths to suit both living areas and workspaces.
In light of social distancing, the search for the best outdoor furniture has taken on newfound importance and Pedrali's newest collaboration with Italian studio CMP Design promises just the thing. Together, they have created Panarea, a collection of outdoor seats which includes an armchair and a lounge armchair featuring a traditional element hand-woven in Italy that speaks to the collection's Mediterranean aesthetic. Panarea has a wide and curved backrest woven in polypropylene cord, creating a geometrical pattern that wraps around the tubular steel frame and the armrests. A comfortable cushion in dry-feel polyurethane foam is covered in a fabric from the same yarn used in the woven element.
If you want to know more about beautiful furniture design, don't miss our dedicated section.
Finally, Pedrali joined forces with French designer Patrick Jouin again, who returned with the Ila armchairs, sculptural solutions in large volumes to promote their cocoon-like comfort. Jouin wanted to create a sense of comfort and protection, augmenting it with the inner side of the backrest that lightly wraps around a flexible polyurethane foam seat. The Ila collection's versatility lies in the possibility of choosing a geometric and swiveling central base in the shape of a cone section, whose inclined design evokes dynamism and lightness, or a four-legs steel tube frame available in different colours and finishes.‎