Mobility design
A scooter that runs on air? Poimo is portable and inflatable
Poimo, an inflatable personal mobility device, was developed by R4D and the University of Tokyo labs as a first-and-last mile mobility solution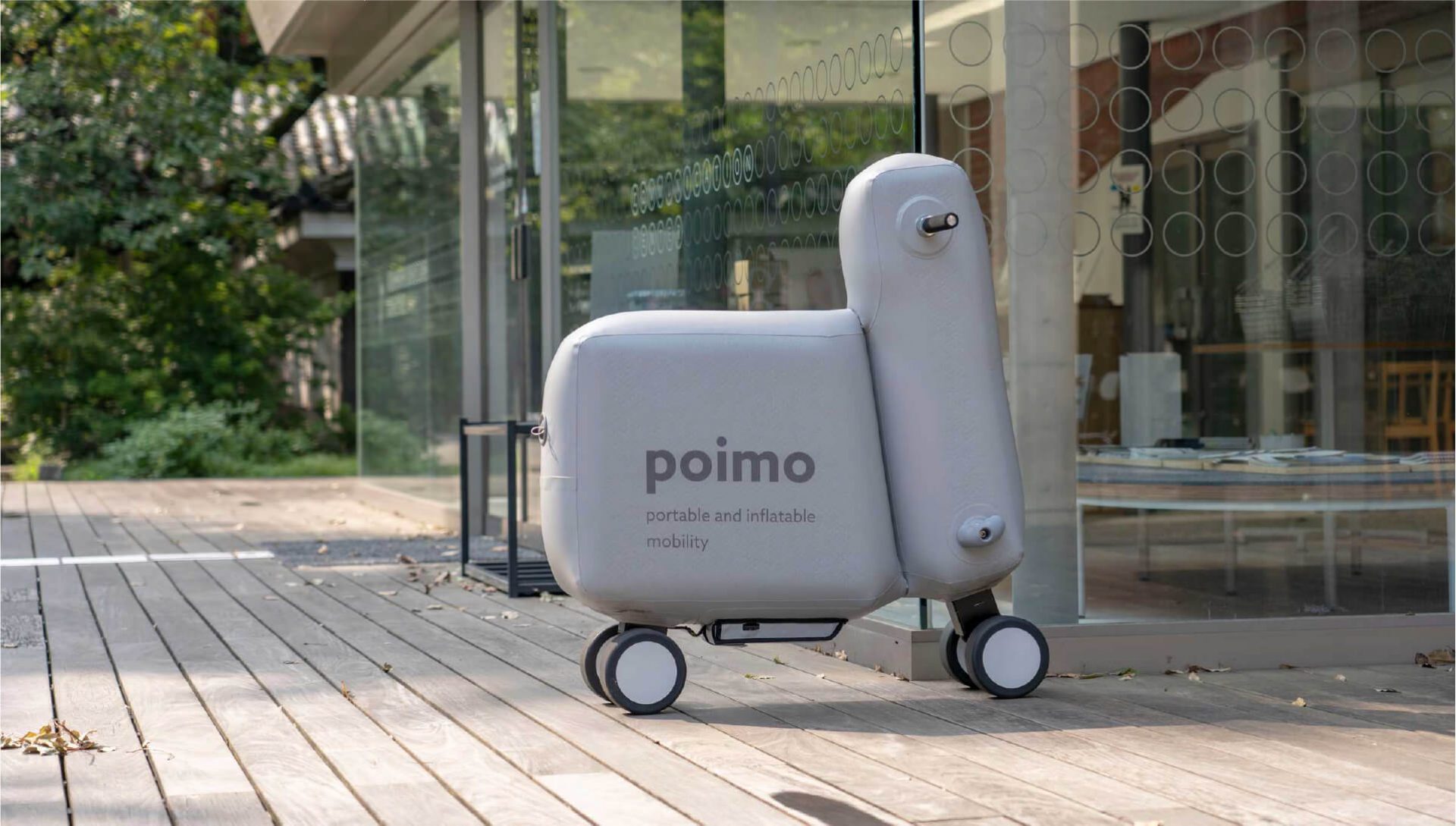 Poimo stands for portable and inflatable mobility. It is light enough for absolutely anyone to carry and has a soft body to ensure a high degree of safety. It was created out of a desire to provide a safe vehicle and minimize the potential for injury in the event of a collision in a pedestrian occupied space. 
Poimo is a first-and-last-mile electric mobility device that connects public transport with people's final destinations in a portable, light and secure way.
Poimo redefines electric personal mobility by combining it with soft robotics, portability, and ease of use. Mercari R4D is working together with the Kawahara and Niiyama labs from the University of Tokyo to develop Poimo since January 2019. 
The minds behind Poimo – Mercari R4D
Mercari R4D is a research and development organization of Mercari, Inc. established in December 2017 in Japan. R4D name represents 'Research' and the four Ds of 'Design', 'Development', 'Deployment', and 'Disruption'.
Their goal is to conduct research in a wide range of areas, including blockchain, quantum computer and internet, HCI, AI, and mobility.
[ Read also MVRDV and Airbus collaborate to design the integration of Urban Air Mobility (UAM) into our existing cityscapes ]
Materials & Techniques –  Thermoplastic Polyurethane and packable minimum weight
Poimo's body is made of easily customizable thermoplastic polyurethane (TPU), fits in a backpack while folded up, and takes just over a minute to be inflated (with a small pump) into a stable and comfortable pressure to sit on. 
Rigid components account for wheels, brushless motor, battery, and handlebars with a built-in wireless controller and have to be attached to the inflated body (that weights 2.3 kilograms). The total weight of Poimo is 5.5 kilograms, but researchers expect to further reduce it. Poimo can be deflated again and packed into its backpack after use. 
Style and Aesthetics – Minimalist and Neutral Design
Poimo is built around an inflatable minimalist rectangular fabric frame of grey TPU that brings to mind space designs of yore. It is utterly neutral in shape and color, aiming to be visually pleasing while avoiding any decorations or extra elements that might add to its weight or hinder its practicality. 
The streamlined ergonomic curved appearance of the soft inflated body makes it smooth to the touch and friendly in shape and form. It is a design that both children and the elderly would find approachable. 
The possibilities for customization by the user are also endless, either printing the thermoplastic polyurethane, adding stickers, or drawing on the body directly. 
Feedback from users – The prototype was widely well received
The researchers got great feedback from Poimo test users in Japan. Most said that it was more solid than they expected, that it was fun to ride and that they wanted to use it with their children. 
Ryuma Niiyama, one of the main researchers behind the project, believes that after the prototype stage, Poimo can be much more cost-effective than current vehicles, while remaining modular and customizable.
The plan is to continue optimizing the system to minimize weight, maximize comfort and portability, and determine social feasibility and pricing through further testing.
Design memento – Personal mobility systems that are portable, safe and do not generate clutter on sidewalks
The trend towards using personal mobility systems has resulted in injured riders and pedestrians around the globe, as well as cluttered sidewalks and questionable business practices. Poimo was created with soft robotics techniques to create an electric safe vehicle that could minimize accidents and the potential for damage, particularly in overcrowded pedestrian spaces and sideways like the ones in Tokyo, Japan. 
Whereas other vehicles of the sort are heavy, Poimo is portable thanks to its soft body that allows its volume to change removing the need of parking while users can carry it around effortlessly. It also functions with wireless power transfer so no wiring is needed for charging.
After one year of research, Poimo will now focus on improving driveability and other technical issues, with a focus on using automated or assisted driving for last-mile logistics in response to the demand for contactless delivery systems due to COVID-19. As well as market research and concept testing.
The writer's comment – Safer sideways and cleaner environment
Having experienced the crowds in Japanese sidewalks first hand, it is easy to see the potential for disaster that other mobile devices currently present. The need for a safe option that could eventually replace bikes on pedestrian sidewalks is very real. 
Considering how Poimo is built, it is also environmentally friendly since in the event of a collision or puncture, the inflated body could be replaced or fixed without major issues, creating less pollution than discarded bikes (which is a huge problem in cities like Tokyo).
[ Read also Quarter Car provides ride-sharing with privacy ]