Technology
Turn seawater into drinking water with the QuenchSea hand-held filter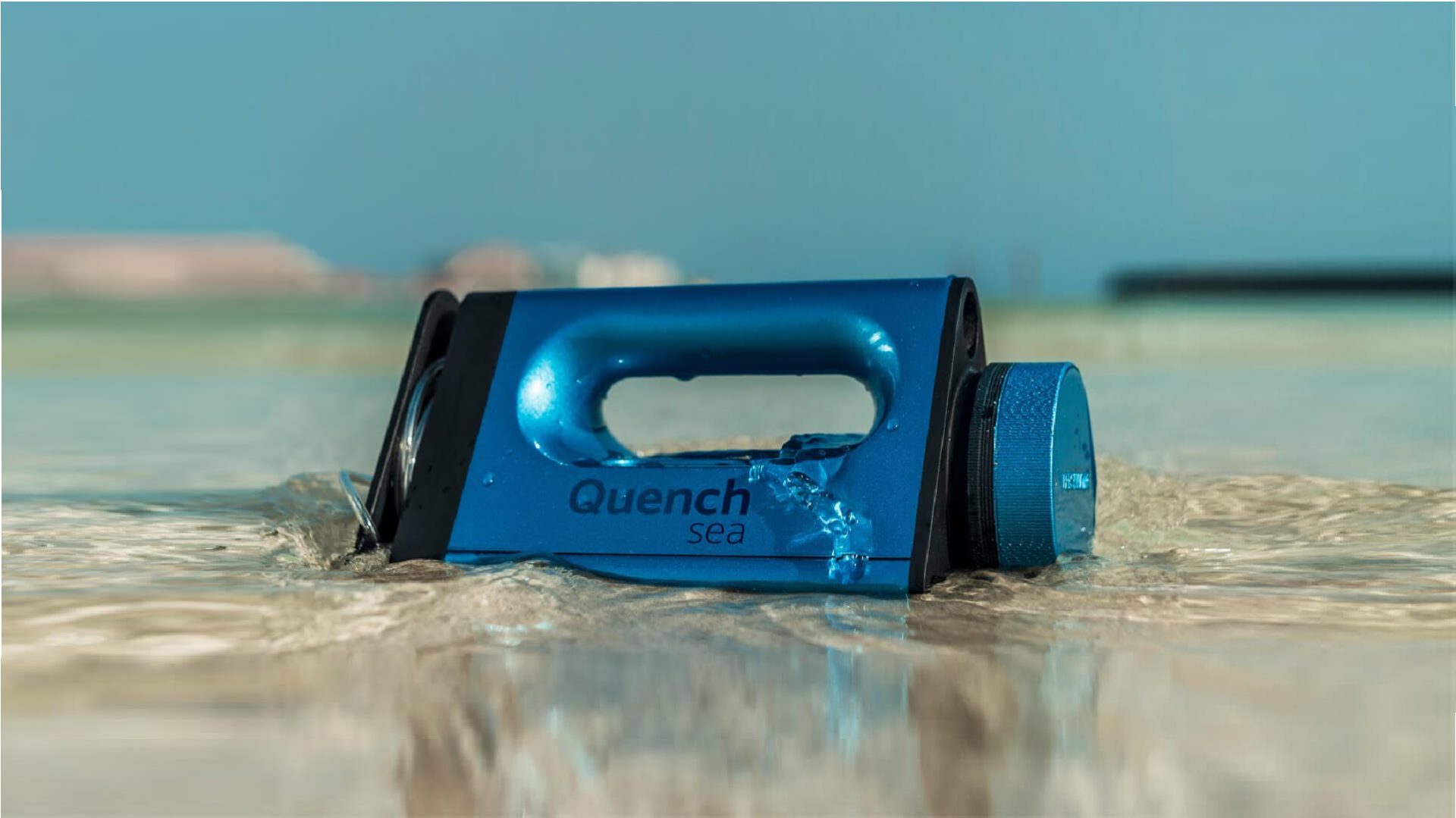 London-based startup QuenchSea has developed a portable desalination device that turns saltwater into drinkable water.
If you could take one thing with you to a desert island, what would it be? Here's your answer…
Why QuenchSea? To create the World's first low-cost portable desalination device for campers, travelers, emergency use and humanitarian relief
QuenchSea has pledged to donate 100 Million Quench Sea Devices in a bid to end the world's water crisis by 2027.
The minds behind QuenchSea – Energy firm Hydro Wind Energy
QuenchSea is a London-based startup owned by Hydro Wind Energy, an energy firm based in Dubai. Comprising a team of designers, environmental engineers, and fundraisers, the company is driven in its own words, 'by a moral sense of duty to protect the natural environment'. Leading the team is Lee King, who is the CEO of both Hydro Wind Energy and QuenchSea, the latter also being the name of the startup's first product, which is currently seeking funding via Indiegogo.
Curious to know more about innovative products launched through crowdfunding? Don't miss Pura-Case lets you purify your clothes with ozone.
Materials & Techniques – Plastic and Silicone
Housed inside what looks like predominantly plastic casing, QuenchSea combines a hydraulic system, triple pre-filtration process, and a small reverse osmosis membrane to desalinate seawater into freshwater using human power to draw water through a silicone tube. The unique hydraulic system builds pressure to 60 bars in order to remove salts from seawater through a reverse osmosis membrane, in-built ultrafiltration, and microfiltration system removes suspended solids, pathogens, parasites, and microplastics, whilst an advanced activated carbon filter that ensures the taste and odor is pleasant and palatable.
Style & Aesthetics – Portable, ergonomic design
Colored in black and metallic blue, QuenchSea looks like a cross between a futuristic power tool, a projector, and a conventional iron, of which it is similar in size. The device weighs less than a kilogram, hence the marketed portability of the device and features a somewhat ergonomic design with a rounded handle incorporated into its prism-like shape.
To operate QuenchSea, users slide out a footpad to hold it in place whilst pulling a telescoping lever attached to an integrated pump within the device that draws water in. Pulling the lever back and forth sucks water into QuenchSea's triple filtration system and out through another silicone tube into the desired vessel.
Fresh water at the World's fingertips
In ideal conditions, QuenchSea can produce 3 litres of water per hour with the resulting liquid said to meet World Health Organization standards. It was primarily developed to make an impact by providing access to clean fresh water globally. At its core is a special type of filtration known as 'Reverse Osmosis', which uses a semi-permeable, thin membrane with pores small enough to pass pure water through while rejecting larger molecules such as dissolved salts and other impurities like bacteria.
It took the team at QuenchSea over a year to develop the device. It is currently trying to reach economies of scale to reduce costs to donate and distribute 100 million units by 2027 with a grand vision to help alleviate the World's water crisis over the next 7 years both in small and large scale projects.
Design memento – QuenchSea recognises an urgent need to respond to the World's water crisis
According to the United Nations, more than half of the world's population will live in water-stressed regions by 2050. QuenchFirst responds to this crisis with an economical solution to water scarcity and a clear, ambitious objective to impact over 1 Billion people worldwide.
Each order will also help to save the lives of others across the world with the company providing one additional device for use by humanitarian clean water partners with each full-price purchase.
The writer's opinion – Humanitarian design at its best
The QuenchSea is a significant invention because, for the first time in history, an economically priced device is available to turn impotable liquids such as seawater into drinkable water.
Today, two-thirds of the world's population live in areas plagued by water scarcity and 2 billion people do not have access to clean water. If successful, QuenchSea could save millions by fulfilling their human right to water.
If you want to know more about products that are sustainable and environmentally friendly, don't miss Edible insects are the future according to BeoBia.