Design
Forest and Whale's tin can coffee cup is a sustainable alternative
Design studio Forest and Whale has created KopiCup, a reusable drink container that takes inspiration from the past to deliver the ultimate experience for the users today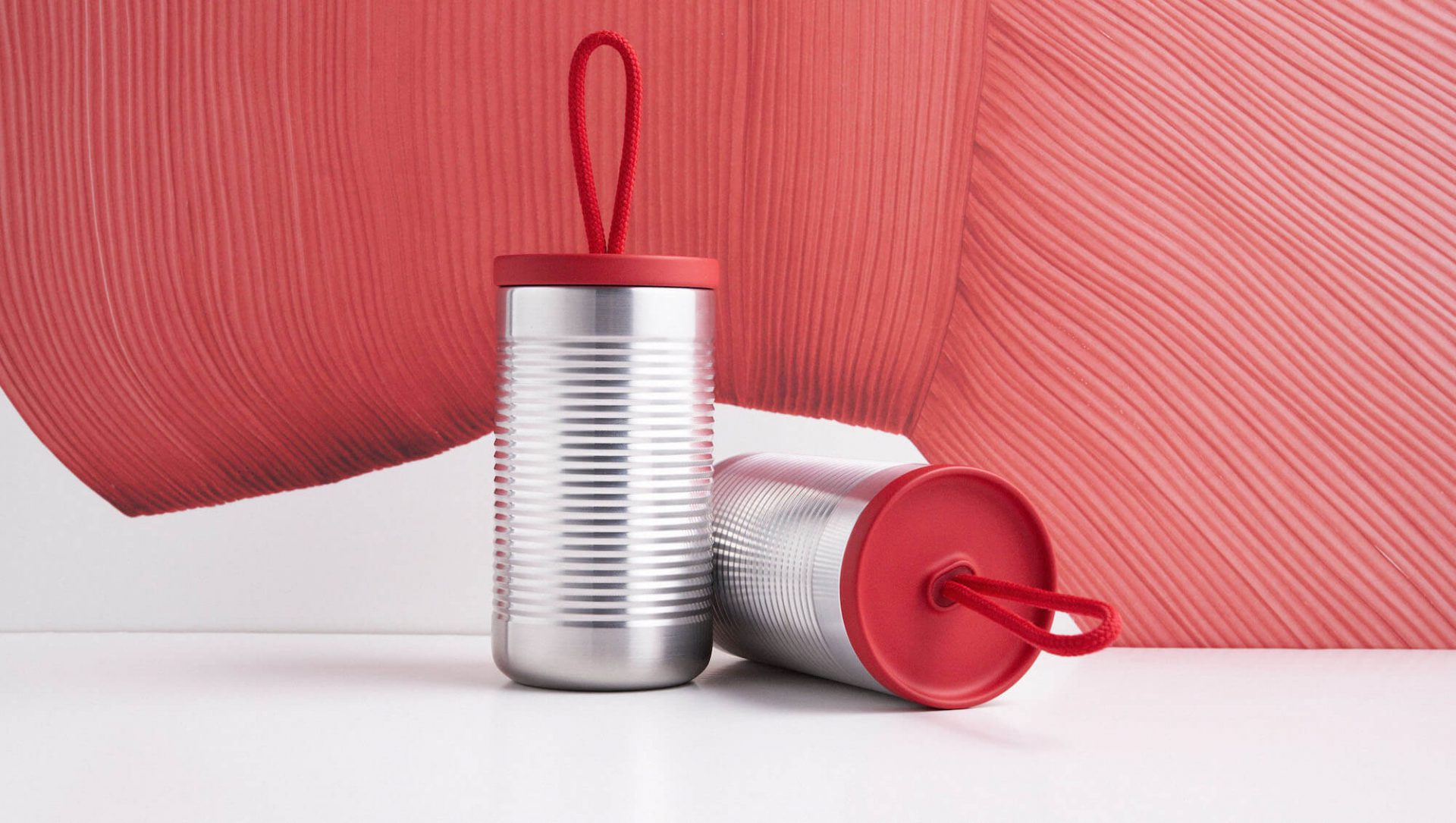 Working together with international design studio Stanziano, they have developed a reusable coffee cup as well as a mono-material food container, which can be recycled up to 300 times.
Reuse Lab, the experimental branch of the multidisciplinary design studio Forest & Whale, has embarked on a series of products that aim to reduce single-use plastic in food and delivery takeaway systems.
It forms part of the studio's mission to propose circular innovations in products and the service industry. 
Below, the studio details the research and development process behind each product.
The KopiCup—All new is not always better
A lot of the time as designers we want to create new products, new shapes, new colors, and new ways of using products. With KopiCup we took a different approach, we dived deep into the Asian local coffee culture and were very inspired by some of the old frugal innovations from the 60s.
We wanted to design a cup that felt familiar, carried stories, ignited memories, and at the same time was extremely easy to use, and most importantly durable, very durable. KopiCup reinvents a cultural icon for the Bring-Your-Own movement in Asia, inspired by the frugal, circular innovation of traditional practices that dates back to the 1950s.
From Global circularity to local cultural pivots
We believe global circular design philosophy needs local cultural pivots to nudge behavioral change and mindset shift.
In Singapore, this means diving deeper into the ubiquitous food centers, known as hawker centers, where most locals dine in or take away meals. Hawker centers are large-scale food halls with various food vendors who specialize in distinctive culinary dishes from different cultural origins, a testament to the multicultural identities of the nation.
Sustainable practices that can proliferate in the 114 hawker centers and almost 1300 coffee shops and food courts in the country would have a huge impact on reducing the carbon footprint of our consumption habits.
Inspired by the frugal innovation of the past, a local cultural icon of the BYO movement was born.
The "baristas" of the traditional coffee shops would refashion used milk tin cans into takeaway packaging for drinks — a circular economy that existed since the 1950s! The practice has slowly faded with the proliferation of foam and paper cup packaging.
The consumer today would also find drinking from the sharp edge of a milk tin can be daunting.
But what if we can revive this cultural icon of local circular wisdom in a contemporary bring- your-own reusable container?
Getting the basics right
We asked ourselves, what are the most important things a reusable coffee cup needs to get right? Having a clear objective and prioritizing elements and properties are essential in product design. The KopiCup focuses on the basics:
1- It is designed to last a lifetime (really) 
As with any reusable product that replaces single-use alternatives, a key factor to consider is how many times it can and will be used, so that the additional cost and C02 emissions from the complex manufacturing process are offset over multiple uses.
KopiCup has an undulated stainless steel body that gives the cup additional strength and at the same time there is no paint that will chip off when you accidentally drop it. The metal body will slowly age with you over the years.
2- A new way of carrying
Most of the reusable cups in the market are designed for drinking on the go. Without a carrier, the cups are not convenient if one is cycling or pushing a pram. The iconic raffia string handle of the original upcycled milk tin can is redesigned as a braided cord.
This makes KopiCup easy to carry or be hung even when your hands are full. Highly customizable, the braided cord adds a stylish touch and can be easily changed within seconds for a play of colors.
The braided strap, which may be subject to wear and tear, can be purchased separately and easily replaced by the customer without any tool.
3- Leak proof and thermal insulation
We decided to remove the sipper option, since our reach showed that those always end up leaking. So we went for a regular lid, with a silicon seal at the end of the thread to ensure it has no liquid when you open the cup.
Meanwhile, a double-wall stainless steel construction keeps the drink hot or cold for hours with its double-wall stainless steel construction.
The Clamshell box—a new reuse model for takeaway food
The idea of reusing food containers provided by and circulating in an ecosystem of restaurants has been implemented in various cities across Europe and the US with different levels of success.
The idea of reusing food containers provided by and circulating in an ecosystem of restaurants has been implemented in various cities across Europe and the US with different levels of success. 
In Singapore, where most of the population takes away meals daily from hawker centers, there are specific requirements for a reuse model to be successful.
The main challenge of nudging cultural behaviors towards reuse practices lies in the potential to shift people away from disposable packaging to reusable models with the least friction from key stakeholders.
The most important piece of the puzzle is the container itself, which has to be familiar to consumers and functional for hawkers who often prepare and serve the food in less than a minute during peak hours.
The disposable styrofoam box is the preferred option for many food stalls because it is economical and very functional—one small food stall uses up to 1000 of these takeaway styrofoam boxes every week. But styrofoam is rarely recycled and most of the time ends up in landfills or being incinerated. 
Observing hawkers illuminated the importance of speed and familiarity with the containers for stakeholders to adopt a reuse model. By understanding these needs, we designed the clamshell box and based it on the ubiquitous styrofoam clamshell container.
The container is provided by the hawker stall and is returned after use, cleaned in the washing facility of the hawker center and returned to a new use cycle.
In this way, the reusable model is built around a familiar container that is perfect for the operations of food vendors and familiar for consumers' use. It is also designed to be mono-material so that it is easy to wash and recyclable once it has been used 300 times.
The new clamshell food box is made in PP (Polypropylene) and can be used around 300 times. Since it is mono-material, it is easier to recycle and reuse the pellets to make new boxes. It comes with a reusable silicon carrier, so you don't need to ask for a plastic bag. Nothing is disposable.