Furniture design
Shape it, click aaand: print! Unleash your imagination with Roche Bobois' 3D printed concrete CORAIL table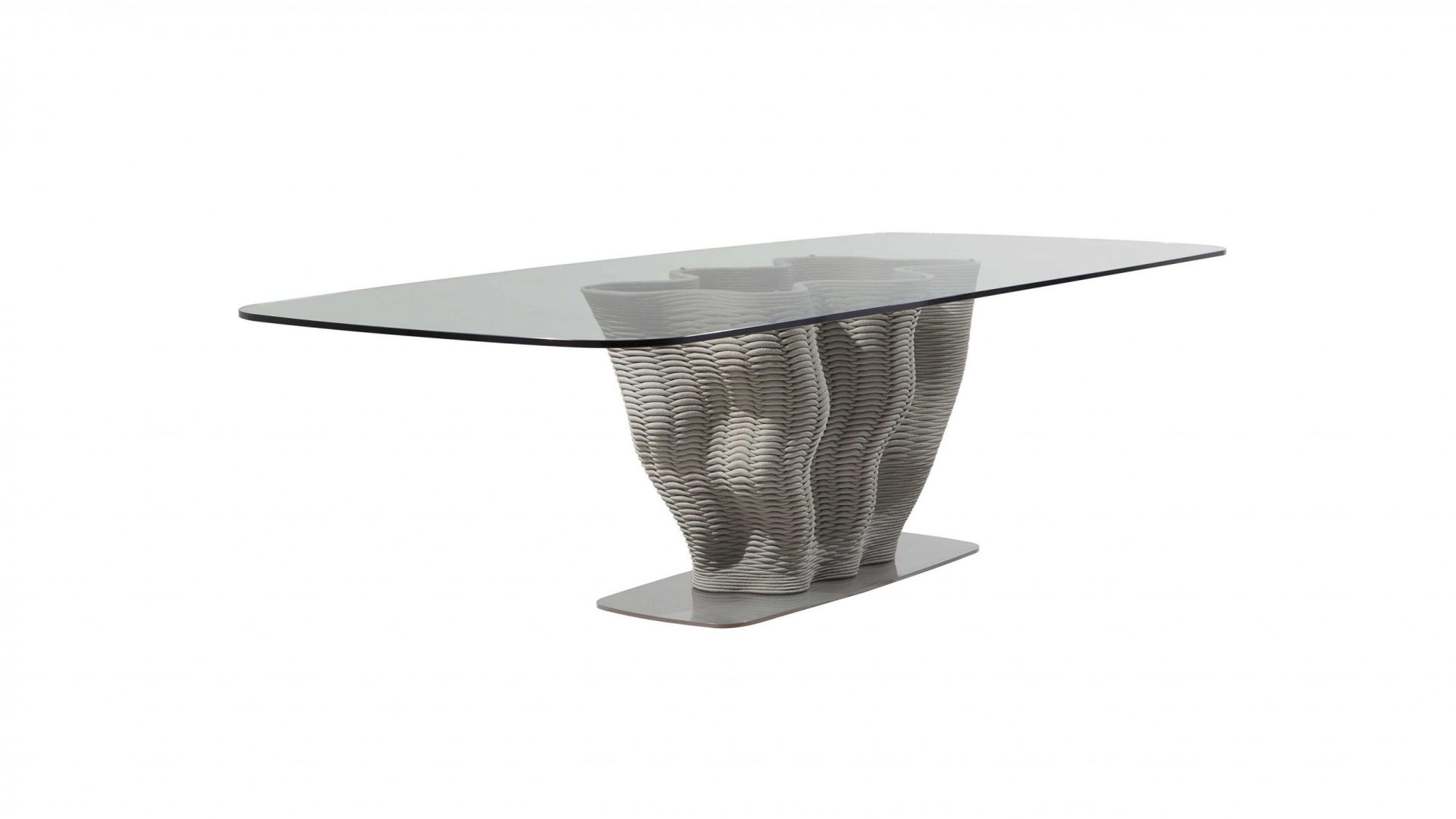 Roche Bobois challenges furniture codes with the CORAIL table, which features a 3D-printed and fully customisable concrete base.
From design to production, 3D printing continues to make waves across the industry. Yes, furniture might still be mass-produced using traditional methods but with the power of additive manufacturing, brands are finding ways to experiment with homeware.
One such brand is french furniture marque Roche Bobois, which recently celebrated its sixtieth year creating innovative designs for inside the home. Earlier this year Roche Bobois unveiled CORAIL, a dining table created using 3D printing technology that opens up completely new aesthetic possibilities.
Adding to its roster of designers that include the likes of Marcel Wanders, Kenzo Takada and Ora Ito, as well as Haute Couture fashion houses Jean Paul Gaultier, Missoni Home and Christian Lacroix, the French Furniture mark collaborated with design duo Antoine Fritsch and Vivien Durisotti to create the table.
How is the CORAIL table made?
The CORAIL dining table features a distinct design that combines an elegant, 3D-printed concrete base with flowing walls that support a tempered glass top, leaving the interior visible from above. The undulating form is intended to evoke sea coral, however, the shape and texture of the concrete base are fully customisable.
Roche Bobois has launched an exclusive application in tandem with the table which features a configurator. The configurator can be accessed at home or with an in-store advisor to create a design that is completely unique, choosing its shape, size, and whether they want to apply a weaving effect and where. Users can view their edits in real-time and once the design has been finalised, the 3D automation can be activated.
In a continuous upwards movement, the digitally operated nozzle dispenses a ribbon of UHPC (ultra-high performance concrete) that hardens in the course of layering, similar to the coiling process used to create pottery. A base takes no more than 30 minutes to produce, and about ten days to dry.
Not only does Roche Bobois' innovative software allow customers to craft their own design but it forms part of a process that is more sustainable and ecologically sound. After all, it is easier to send a digital file to the United States or China and have the base manufactured by a local printer equipped with the technology. This generates carbon savings by cutting out long haul transport.
Curious to know about other furniture designs made from 3D printed concrete? Don't miss The 3D Printed Gradient Furniture Collection by Philipp Aduatz.
What's the story of Roche Bobois?
Roche Bobois knows the benefits of streamlined production all too well. In fact, it's the reason the business began in the first place. Roche Bobois is the story of two families, the Roches and the Chouchans, who were furniture shop rivals before they met during a trade fair in the 1950s.
Each already had a shop in Paris and wanted to take their existing businesses in a more contemporary direction. So, they joined forces, believing that the economies of scale would be better for each business.
Today, this ingenuity can be found in CORAIL, inspired by the beauty of natural imperfection embraced by the 3D printing process that gives free rein to the imagination of its owner. It is a great example of how modern technology can be used to realise contemporary design that's altogether better for the planet, changing the relationship between consumers and design, industry and distribution.
Discover more ways 3D printing is being applied to furniture design, head to Pushing the boundaries of sustainability and digital craftsmanship with The New Raw.