Materials & Surfaces
A resourceful nature: unique, stone-like tiles from by-products of the fishing industry
Fish scales originating from the fishing and aquaculture industry have been studied for their natural composition and have now been transformed into a resourceful raw material for the production of sustainable, decorative tiles for interior design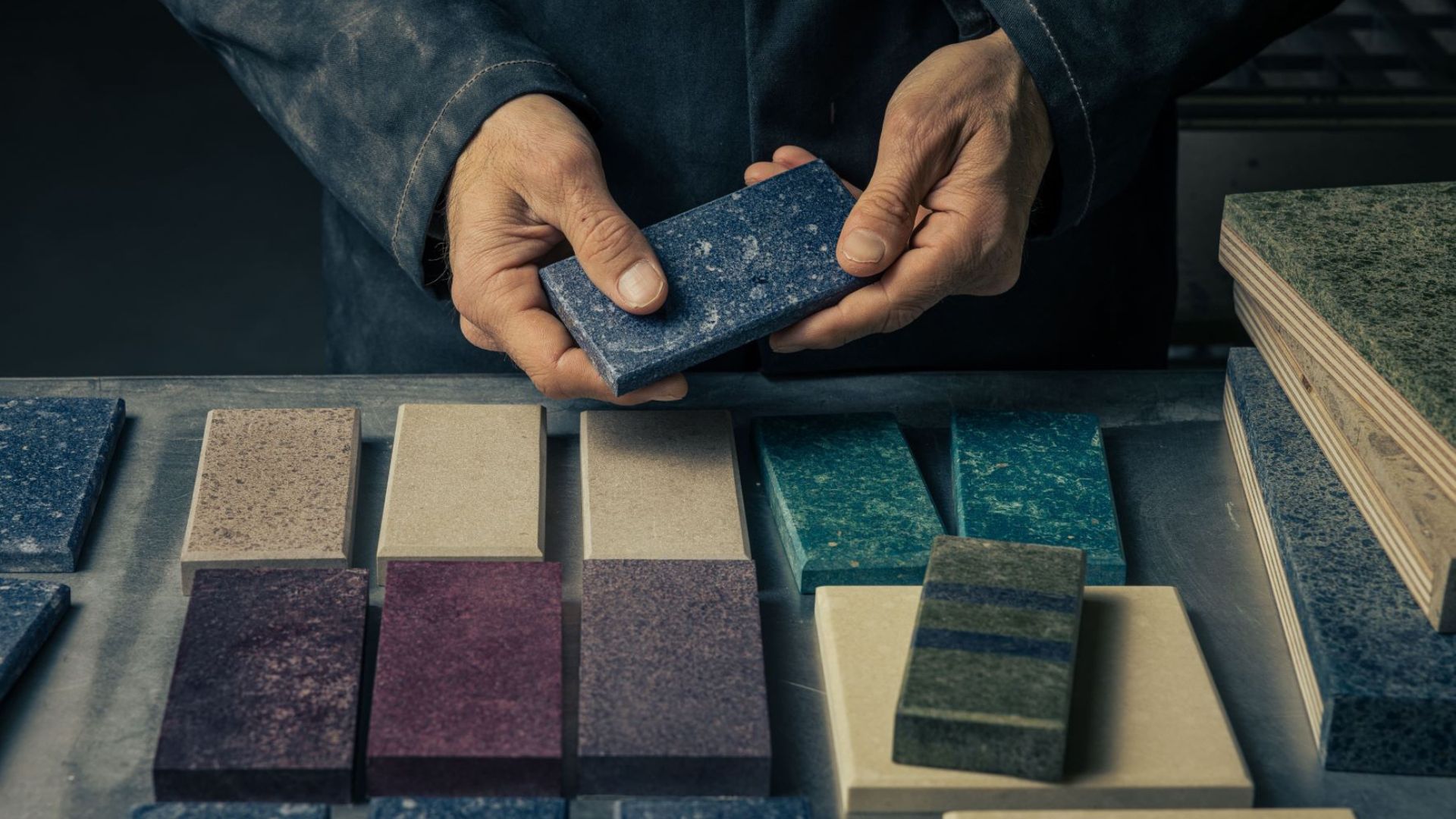 As several factories started to shut down in the French Basque Region, and forecasting the consequent loss of industrial know-how, Erik de Laurens invented Scalite, a new, stone-like material made entirely of fish scales, starting from the idea of an alternative use for what had been considered a waste material for several years.
At the time, he was then completing his Master in product design at the Royal College of Art in London.
After branding the newly developed material under the name Scalite, taken from its intrinsic nature, and after experimenting with product design in the first attempts that lead to the manufacturing of goggles, beakers, and other prototypes, Erik presented the project to his cousin Edouard de Dreuzy and they decided to found together the company Scale, with a strong commitment to the production of ocean-friendly materials.
How Scalite works
Fish scales from sardines, salmon, and other species are naturally composed of two different phases: one mineral phase, and another organic phase. The collagen is extracted from the organic phase during the manufacturing process and acts as a biopolymeric binder when re-mixed with the mineral part obtained from the rest of the scales.
Once mixed together, these parts create the basis of the stone-like material that gets then pressed to form sheets of different dimensions.
Thanks to the natural origin of the raw ingredients, no other additives, chemicals or binders are needed nor added during the process, with the final material resulting in a VOC free, 100% fish scale-based, product.
Applications
With a density of about 1.4 g/cm3 and a stone-like surface and appearance, this material is particularly suitable for wall coverings, furniture, vertical or horizontal displays in retail, offices, and for home accessories.
It is currently available in six different shades, where natural dyes are used, but bespoke colors are also available on request. It has already been used for reception desks, coffee tables, wall coverings and designed home accessories such as hooks, logos and pedestals.
Beside being environmentally friendly and fully recyclable, the material is also classified as fire resistant and is thus suitable for interior design applications in spaces for the retail and hospitality sectors.
Workability & Design
Compared to other heavier stone-like mineral materials, Scalite can be processed with conventional tools used in timber machining such as circular saws, routers, CNC milling. The material can also be bonded directly onto gypsum boards or plywood if needed and is suitable for invisible joint designs.
It is naturally dirt-repellent, so it also requires simple maintenance without the use of detergents. Since it is also water-soluble, a surface coating is needed for protection against humidity. Currently, tiles of 300×300 and 600×600 mm are being manufactured, with a thickness of about 12 mm.
Material insight & Reasons Why
Being increasingly aware of how our choices in terms of materials have an impact on the planet is becoming more and more relevant in design. As a key focus should be now kept on the entire lifecycle of a product, questions about the sourcing of raw materials, the management of waste, recyclability and an ultimate return to nature should be addressed.
Due to the above characteristics of Scalite, such as its 100% bio-sourced nature, its mechanical characteristics and workability, and thanks to the company's commitment to the manufacturing of non-toxic, deleterious products, this new material can definitely be considered a great, responsible choice for sustainable design.