Design events
Not A Virgin: this year's Slow Hand Design Exhibition from Thailand highlights the future of upcycling at MDW 2023
Hosted by the Department of International Trade Promotion (DITP), Ministry of Commerce, the event highlights Thailand's creative industries by introducing upcoming talent to an international audience during Milan Design Week 2023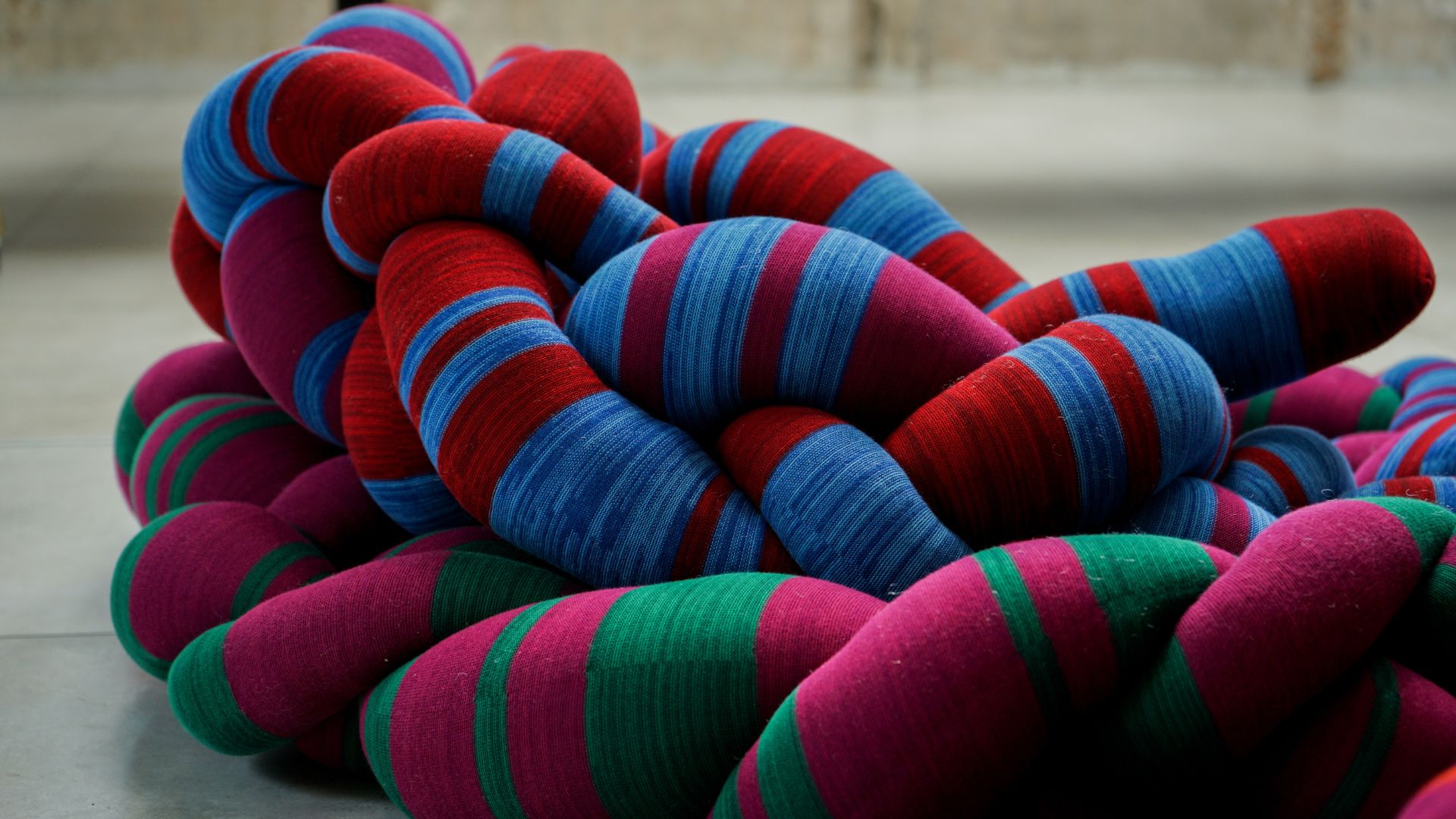 The Slow Hand Design Exhibition returns to celebrate Thai designers that are supporting their country's sustainability endeavours. Hosted as part of the prestigious Superstudio showcase, it promotes Thailand's creative industries with a diverse selection of projects that feature sustainable design practices.
In particular, DITP looks at how design can shape the future of global design, featuring projects that include a ceramics collection made from food waste, and a partition wall featuring brass wire woven to look like fabric blowing in the breeze.
The exhibiting projects are chosen through a Demand Driven strategy, an additional component to the DEmark award established in 2012, an acknowledgement and recognition of outstanding products by Thai designers across the country. Last year, we spoke to the organisers behind the event to understand just how great its impact has been since it was established over a decade ago.
In its more contemporary iterations, the exhibition has sought out to promote Thai creative businesses that are working within the Thai Government's Bio-Circular-Green (BCG) model, which aims to transform Thailand into a value-based and innovation-driven economy by making the most of the country's strengths in biological diversity and cultural richness, as well as technology and innovation.
"This year, I've extended it into the holistic scenario of home interiors that's not just a showcase of objects, but the sustainable materials are also covered in the interior design scope to show the potential of the upcycles to become part of our everyday lives," explains curator Eggarat Wongcharit. "The audience will see that we can produce things out of what already exists. No such destruction of nature needs to exist for new materials."
"The focal point of this theme exhibition is to reflect on the future of global natural environments via design industries. Slow Hand Design in 2023 proudly presents 'Not A Virgin' to the upcoming global design industries as they strive towards sustainable development that reflects the necessity of living with what exists, not destroying or attempting to consume the least of it."
This national agenda was introduced in 2022 as a post-pandemic growth strategy, which promised to use science, innovation and technology to promote the efficient use of resources, restore ecosystems, and reduce waste. In essence, it aims to support a sustainable planet by addressing environmental challenges in alignment with the United Nations Sustainable Development Goals.
"As for the exhibitors, I was surprised by the designers'/manufacturers' material inventions this year," says Wongcharit. "So many items reflect possibilities for shifting towards upcycling without causing pollution."
"A new product line by Design Studio uses organic wastes from food industries, like rice husks, coffee chaffs and tattered banknotes, to create beautiful, practical objects. This is the sort of exciting potential the Slow Hand Design Exhibition is all about."
Sonite will also exhibit its hyacinth wall coverings, which are upcycled from weeds, a barrier of traffic in the river and canals in Thailand. Designed as decorative ornaments, users can place them in various configurations, meanwhile they can reduce reverberation and reflected sound in the immediate environment.
"During the pandemic lockdowns, Thai designers experimented with their design ideas and used sustainable materials," explains Wongcharit. "Thanks to the small and medium enterprises of industrial-craft production, the pros of being small have made it easier for designers and manufacturers to move forward."
"They've prototyped the products and proved to the public that a crisis could become an opportunity if we seek it. Upcycling via crafts technique didn't cost them much at all. This is why in last year's exhibition, many showcased items proved that upcycling and making the most of unconventional material are two of the only possibilities of sustaining the global environment."
Whilst it is definitely admirable, Thailand's unique ability to adapt so easily and follow its new agenda comes as no surprise. Since the country has not yet fully developed into heavy industries, the pros of crafts still exist today. In fact, they are the key to bridging the idea of designers and the practical function of design.
[ Read also Thai Design shined at the Slow Hand Design Exhibition during Milan Design Week 2022 ]
"The country is rooted in culture and crafts are an important part of that culture," says Wongcharit. "Thai designers grow up with surroundings entrenched in traditions. At the same time, the government is very open and accepts technologies by having foreign investments and diverse alienated cultures from other countries."
This combination—of historical practices and keenness for a brighter future—has ultimately led to a generation of designers in Thailand whose first priority is innovation. "Such a crossover has happened and was developed through time. It could be deemed an evolution that has occurred for thousands of years in Southeast Asia, but Thailand has been the foremost advanced country leading the way."
"When it comes to creativity, local artisans/designers have topped it up and developed it intensively until it becomes a part of our life."
Using crafts as a medium and combining it with technology creates a different look for the products. In general, it is the technology that drives the idea and develops the appearance of the objects, the same thing applied to the crafts manufacturing process.
Wongcharit describes it as something instinctual amongst designers: "When Thai designers design something, they don't care much about their past but rather develop their design concept from the present, as the past roots of culture are already in our blood," he says.
"It's not just the design industry but a holistic creative economy policy that the country is gearing towards," says Wongcharit. "Design is a mechanism to drive us there, and it is one of the most critical keys to getting us to a succeeding point of the circular economy."
"'Pick a flower on Earth, and you move the farthest star'—this is the expression we use to communicate that we are one people who want to cherish the earth with a sustainable way of making and designing things."
VISIT THE SLOW HAND DESIGN EXHIBITION FROM 18-23 APRIL 2023 AT SUPERSTUDIO PIU' (VIA TORTONA 27, 20144, MILAN / ITALY)