Architecture
Building a fearless and mindful future with SPARK Architects
SPARK Architects combines sustainability and innovation producing designs with a lyricism that sparks inspiration and connects us to the future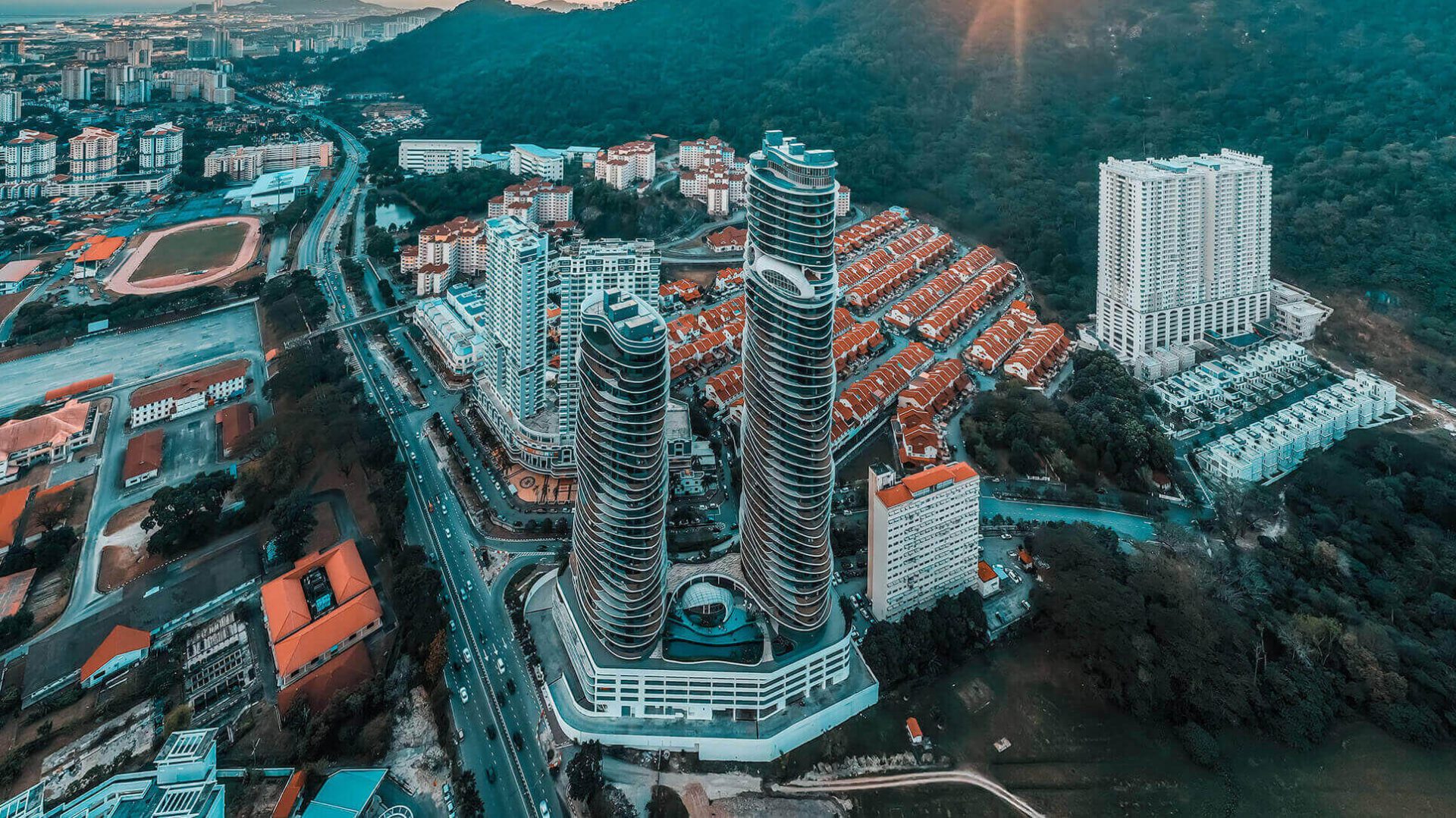 Composed of a team of designers and thinkers, award-winning firm, SPARK Architects approaches design with a fresh perspective to architecture, urbanism, interior design, landscape design, research, and branding.
Evoking the studio's name, SPARK Architects produces inspirational designs that make a positive contribution to the world around us. 
With studios in Singapore, Shanghai, and London, the firm has built award-winning projects across Asia, Europe, and the Middle East. Their work displays their socially and environmentally-sensitive solutions, adding a thoughtful layer to their design by seamlessly connecting society to an inspiring future. 
For over 10 years, SPARK Architects' fearless, holistic and thoughtful approach has proved to be a successful way of thinking and has allowed the firm to produce projects that resonate with the public, their clients, and critics.
DesignWanted had the opportunity to interview SPARK Architects Partner and Director, Stephen Pimbley, to learn more about this inspiring firm. 
Who is part of the SPARK Architects team? How did it all begin?
Stephen Pimbley:
"SPARK has 3 partners, Wenhui Lim MinWei and Stephen Pimbley and 2 associate directors Wai Wing Yun and Jessica Leong. SPARK was established by Stephen Pimbley a former partner of the late British architect William Alsop.
The studio traces its beginnings to Clarke Quay a project led and designed by Stephen Pimbley for the Singaporean developer Capitaland some 20 years ago.
Whilst working in Singapore Stephen was fortunate to win further work in Asia initially in Shanghai and then in Beijing, we took a big risk and set up local studios to service these opportunities and never looked back.
SPARK's Shanghai office is now our China headquarters and is working on a diverse range of projects from master planning, mixed-use developments, and stand-alone buildings including a headquarters for a digital bank on the site of the 2010 Shanghai EXPO."
Which are the main values, core concepts, or style inclinations that, above all, will always represent SPARK Architects?
Stephen Pimbley:
"David Bowie once said of style 'style is about the choices you make to create the aspects of civilization you wish to uphold'. I guess at SPARK we think a lot about social and environmental sustainability and trying to add some value to our collective future history, designing and building something that is positive, helpful, and relevant to improving the quality of life."
If want to know more about architecture firms focusing on sustainability, don't miss Hyde + Hyde Architects on designing meaningful and award-winning buildings.
Your projects are stimulating, innovative, and are an inspired socially and environmentally sensitive alchemy that seamlessly connects society to an inspiring future. Can you tell us what is your design process?
Stephen Pimbley:
"Architecture has to fulfill many different and sometimes opposing criteria, we often forget what is drummed into us at architecture school that of architecture's purpose to itself, its autonomy as a discipline to construct new forms of knowledge that relate to the enrichment of the profession. 
Many architects fear the blank sheet of paper requiring the stimulus of a client's brief, the constraints of the site, etc Will Alsop taught me that you don't need to have a client or a project to have a great idea for a building and not to fear to put ideas on paper, basically affording yourself the freedom of the artist to explore and study things that interest you.
We try to maintain the discipline of exploration in our studios, this is not always easy given the time pressure we are constantly under to deliver projects. I believe the idea of exploration and connectivity across disciplines and industries is inseparable from the nature of design in all its forms and its raison d'être to engage positively with society at large. 
I am in awe of the very basic elemental hospital architecture that has been developed across the world to battle Covi-19.
Hospitals built in China and the UK at lightning speed, collaborations between the military and the healthcare services, extraordinary "emergency architecture" that has left no time for more than basic essential design. It makes the indulgent output of the best of us seem somewhat irrelevant and perhaps a lesson for a less environmentally intrusive architecture post-COVID-19."
You have worked with clients all over the world and received numerous awards for your projects, how do you choose the client and type of project you want to work with?
Stephen Pimbley:
"Honestly, we have never been in the position to select clients, we work hard and keep our heads down doing the best we can with the opportunities that come our way.
We have worked a lot on many different building typologies but always fear the moniker of being an expert as there is usually a better idea if you are prepared to risk, to challenge to disturb the status quo, our twin residential towers in Penang is a good example.
SPARK's proposal of twisted building forms for the Malaysian developer Nusmetro is unlike anything that has been built on the island."
What are the main trends & future directions within architecture and what do you think of them?
Stephen Pimbley:
"I am never quite sure how to answer questions like this and not fond of crystal ball gazing but what I think is encouraging is the breaking down of the boundaries across design disciplines.
I studied architecture at London's Royal College of Art where many design disciplines worked cheek by jowl, to see what was being produced by those studying graphics, painting, furniture, and industrial design was wonderfully enriching.
It's good to see individuals like Thomas Heatherwick designing buildings without bringing architectural intellectual baggage to the process, producing stimulating ideas that challenge preconceptions of the office, culture, education, and living environments.
The office environment, in particular, will undergo a process of reinvention post-COVID-19. The notion of chance encounters stimulating interaction and idea generation in open space on comfy chairs whilst contemplating serendipity may be lost, WeWork has become over the last few months E-Work."
What attitudes do you seek in candidates that you select for junior positions? How can a candidate surprise you?
Stephen Pimbley:
"John Galliano recently wrote in Vogue how his interns influence and keep relevant and "street" focused his design work. We try to find individuals that are not afraid to express themselves and bring something of their cultural experience to the studio.
It is important not to be too protective and too proud, you must listen, then surprises will happen. If you are too dictatorial, self-absorbed, and have all the answers you won't fit in at SPARK."
What are the challenges or goals for SPARK Architects in the near future?
Stephen Pimbley:
"Besides the big stuff which still continues at a pace across China, we are working on a heart-warming project in Bangkok for a human rights organization that should be finished by the end of the year, a simple but meaningful endeavor for a small group of people who do fantastic work under very difficult circumstances.
Also GRiD a youth-focused retail and education mall of sorts in Singapore, a renovation/transformation of an existing rather grey building. I am a passionate believer in the idea propagated by RetroFirst, a movement that advocates renovation over new build to reduce the wasteful economic model of the construction industry.
GRiD is a great example that illustrates the positive re-use of existing built infrastructure without wastefully tearing down and rebuilding from scratch.
2020 marks 20 years since I started to work in Asia, we are marking the event by posting every month a few of our less well-known projects that have been instrumental in maturing SPARK's raison d'être."
If you are curious to know more about architecture studios with a fresh perspective, don't miss The thoughtful and delightful work of FORMA.