Furniture design
Supernovas debuts swappable furniture collection made from 100% recyclable plastic
Designed by Dutch studio Odd Matters, the two-piece collection marks the launch of Supernovas 'Streaming' service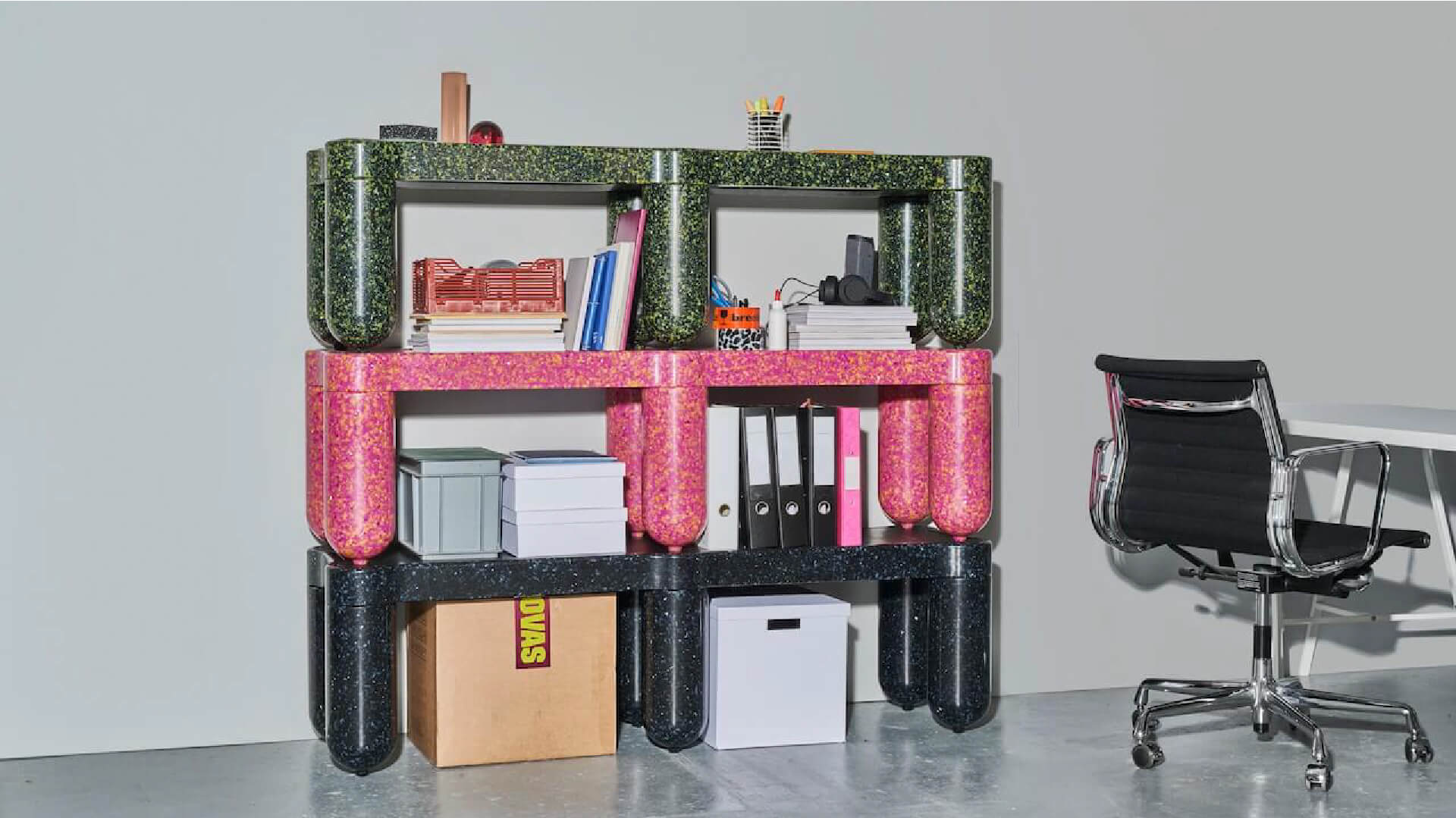 From food packaging to furniture – plastic is everywhere and the plastic that's already out there isn't going anywhere. Luckily, a new generation of designers and studios like Supernovas are looking to recycling and circular economies as sustainable solutions, seeing possibility in one of the most controversial materials of our time.
Afterlife features two easy-to-assemble 100% recycled and recyclable products that prove, if treated with creativity, waste can be beautifully integrated into everyday life.
The collection is Supernovas's first furniture line entirely made from recycled plastic and entirely recyclable through a unique process that brings together different types of cutting-edge manufacturing techniques​.
The minds behind Afterlife – Supernovas and Odd Matter
Supernovas is a circular design and lifestyle company changing the way pieces are bought, used and reused.
It creates design objects and furniture from recycled plastic waste streams such as PE and PET, keeping all products 100% mono-material to ensure their full recyclability.
Challenging collaborators to contribute to an evergrowing collection, Supernovas transforms waste into furniture with the end goal to allow customers the freedom of buying, swapping or returning items, ensuring the unwanted materials never become waste again.
Operating across interiors, concepts, product design and commissions, Odd Matter is a Dutch design studio founded by Els Woldhek and Georgi Manassiev who met while studying product design at the Royal College of Art in London.
Together, they focus their interests on materiality and new surface treatments developing research and unusual processes to produce unique objects and furniture pieces.
Recent projects have seen the studio create pieces for Nilufar Gallery in Milan during Milano Design City, as well as Italian marble specialists Bloc Studios and other brands including Carhartt, Reebok and Kinfill.
Materials and techniques – Rotomoulding, Pressing & 3D-printing PET waste
To produce its recycled assemblable objects, Supernovas has pioneered three manufacturing techniques: rotomoulding, pressing and 3D printing.
The whole collection is made from recycled LDPE and PET waste streams, namely those found in bottles, packaging, squeeze bottles, toys, gas and water pipes.
As with all Supernovas products, the PET bottle waste is shredded into pellets and turned into filaments with the addition of natural colours.
The filaments are then reprocessed to create the final collection.
Supernovas keeps all products 100% mono-material and always refrains from using glue to ensure their full recyclability.
[ Are you looking for ready-to-use sustainable furniture? Discover Hoek Home, the flat-packed furniture that clicks together in seconds ]
Style & Aesthetics – Colourful
Afterlife combines eye-catching patterns and unique colourways in a collection that highlights the beauty of plastic.
Benches and crates because of the malleability these objects allow for; they can be given different purposes and can functionally contribute to any living or working space.
The Afterlife collection includes benches and crates, which Supernovas plans to release in new colourways according to the waste streams available throughout the year.
Together with Odd Matters, they opted for these particular styles because of their versatility – both crates and benches can be easily assembled without tools, and stacked together to create libraries.
Sustainability from start to finish
Supernovas incorporates its sustainable mission to every stage of the customer journey in alignment with their dynamic lifestyle; delivering objects in flat packs with completely recycled and recyclable packaging.
Design memento – Swap and Return
Together with Afterlife, Supernovas has launched Streaming, a ​members program​ that allows customers to swap or return their products.
It demonstrates the brand's belief in circular economy both from a product and service design perspective, catering to changing lifestyles and changes in taste while making sure the material never becomes waste again.
The writer's comment – There's possibility in plastic!
The problem with plastic…
Plastic waste is only a problem because of the linear 'take-make-dispose' model of consumption. Products are manufactured, bought, used briefly, and then thrown away, mostly in a hugely irresponsible way. Otherwise, plastic is a hugely flexible and versatile material.
Supernovas has hit the nail on the head designing circular solutions that work to reconfigure our perception of Plastic – rather than thinking of it as waste it has transformed it into a renewable resource with which to be creative.
[ Being sustainable also means fighting waste in the design process: Noho decided to win this battle with beautiful furniture ]