Furniture design
Reform Design Lab has designed MOTIF – the chaise longue that is meant to break the status quo
Reform Design Lab continues to be the forerunner for both technical and aesthetic movements with their new chaise longue design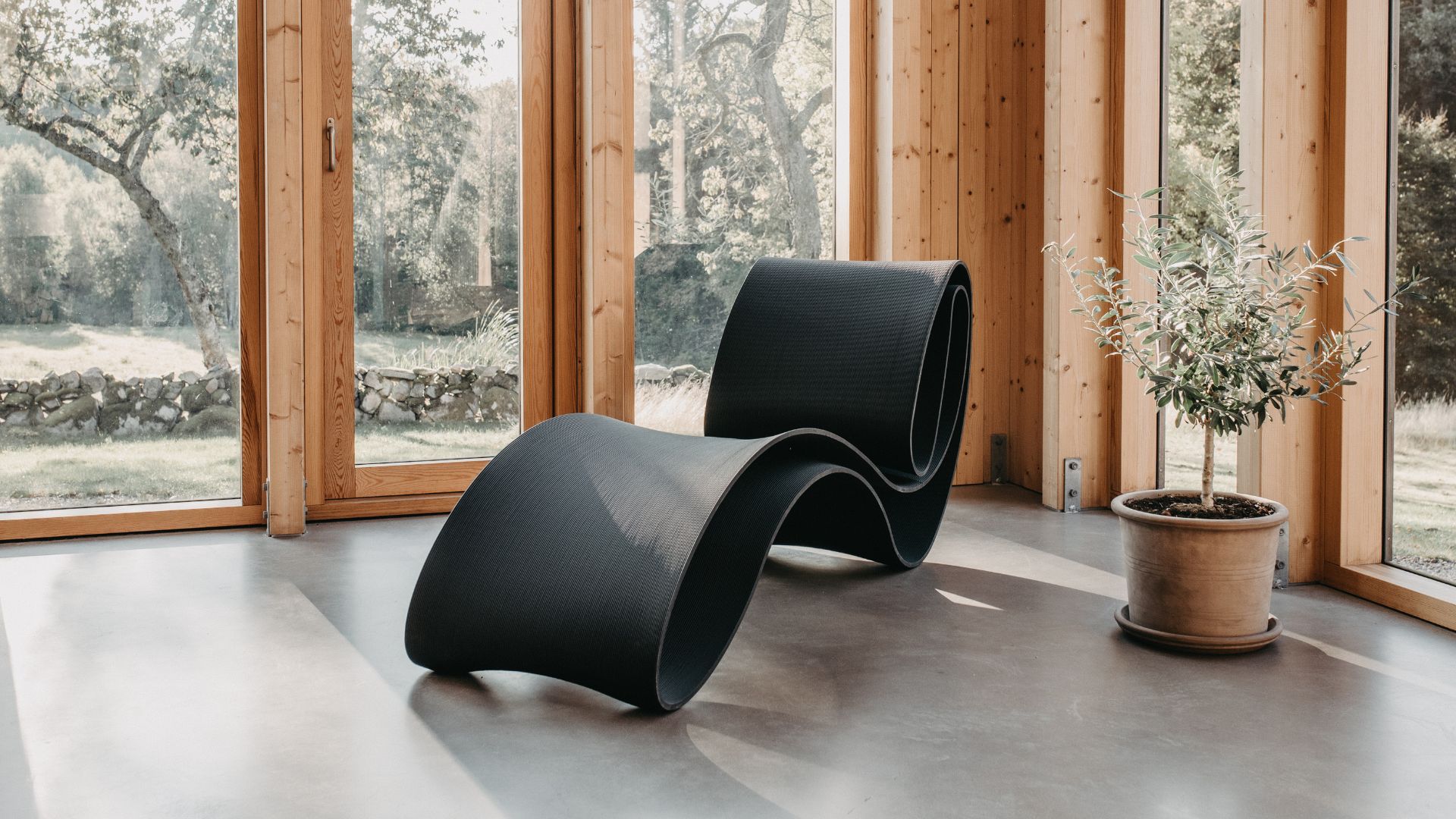 Once again, Reform Design Lab is breaking boundaries by merging art and technology and creating sustainable design pieces. This time, DesignWanted had an exclusive sneak peek at their new design piece, a one-of-a-kind chaise longue that will definitely be the center of attention in any space.
Highlighting the unique design style of the brand, the new chaise longue comes to revolutionize the interior and exterior design industry with its fabrication, material, and shape. As it is with other Reform Design Lab pieces, the new design forms part of the circular transition, made out of 3D-printed biocomposite that can be used both indoors and outdoors.
In this interview, DesignWanted had the opportunity to speak to the co-founders of Reform Design Lab: Måns Broman, Jurij Rahimkulov, and Rutger Andersson. In this conversation, they spoke about the unique qualities of the new chaise longue, the design process behind it, the characteristics of the specific 3D printing, and their perspectives on the future of design.
We have been looking forward to your new product and we are so excited to hear about it! Can you tell us please what it is and when will it be released?
Reform Design Lab:
"Our new chaise longue MOTIF by Jurij Rahimkulov is meant to break the status quo of both linear production and conceptions of how furniture is perceived. It is an aesthetic and environmental statement. It will be launched at Stockholm Light and Furniture Fair in February 2023. It is intended for both indoor and outdoor use.
Having had a sneak peek of the new Chaise longue MOTIF, we noticed that it is coherent with the unique, identifiable style of the brand. How would you describe the style or inspiration behind Reform Design Lab design pieces?
Reform Design Lab:
"Being forerunners for both technical and aesthetic movements isn't always easy. We need to be distinct and our design needs to be excellent. We know more companies and artists will follow and we have actually already seen it. For us, this is a new design paradigm, not unlike the distinct style of the Bauhaus movement.
New materials and new manufacturing methods, in our case additive manufacturing, leads to new ways of doing things. Jurij understands this better than most and Reform Design Lab as a company was formed around his design. I would say our aim is to always be at the front, and for us being good isn't good enough."
When making the first sketches, prototypes, and then fabrication of the Chaise longue MOTIF, were there variations in the shape because of the fabrication of it? Or is it the shape that guides and challenges the fabrication to adapt?
Reform Design Lab:
"We have quite a lot of experience now and we work with the best but still, a new product is always a challenge. First, we knew it needed to stand out, just as with our launch for 2022, the coffee table Gestalt. We always prototype a lot. Making small 3D-printed versions before going big.
But yes, there are always modifications to be made. But we're quite happy with the result. It's another design classic to be."
Being an astonishing design for both indoors and outdoors, how does the buying process for a Chaise longue MOTIF work?
Reform Design Lab:
"We have our webshop at www.reformlab.se and we ship all over Europe. Besides this, we have resellers worldwide and you can find links to all of them on our website, from Japan to the US. Since our products are very durable, they suit both public and private spaces.
We have noticed an increased interest from architects and interior designers and we believe we will be involved in a lot more projects in 2023. In fact, we know we will. One of the great benefits of 3D printing is how effective manufacturing is. In many cases we can print and ship within just a few weeks, some others might need 8-12 weeks or more! "
The Chaise longue MOTIF is entirely made of biocomposite materials, allowing for a minimum environmental footprint. We were wondering if the material itself gives the colour or if it can have variations in tone and colour?
Reform Design Lab:
"We have opted to only work with trusted material suppliers, such as UPM Biocompisites. There are a lot of waste streams and recycled materials out there that can be used but there are also a lot of unknown factors. We need to know exactly what material we use and how it behaves. We know our biocomposites are easy to use and durable but we wouldn't put a product on the market unless it's thoroughly tested.
We experiment with a lot of new materials but we haven't found any that are good enough for us. Same goes with colours. When we have solved all problems, we will introduce new colours and materials."
Being at the forefront of technological and environmental change with a circular transition of 3D printing with sustainable materials, what would be advice you would give to students in terms of thinking outside of the box and looking for new sustainable processes?
Reform Design Lab:
"To be curious and bold. And not to give up. And not to be too proud. Every day, learn something new and be humble in knowing that you don't have all the answers. We ask those who know more and learn from them.
That's how human culture has evolved for thousands of years. This advice goes for experienced professionals as well."
With your experience combining extraordinary design with state-of-the-art technology, what are some upcoming trends you see in the world of design?
Reform Design Lab:
"We are just at the beginning of this technological shift. We will see a lot more AI-generated design, a lot more 3D printed design and new disruptive sales strategies and distribution channels. Trends are incremental, they move slowly and are found between the deeply rooted human traits of curiosity and stability. That's why they stir up feelings. They force us to change and adapt.
I think that's what we're seeing in the world right now. Everything is changing and we don't know how to react, so we seek shelter and blame others. But we need to accept that we need to change. It will come. Hopefully soon and in a peaceful way."
Besides the upcoming launch of Chaise longue MOTIF in 2023, what else should we be looking forward to from Reform Design Lab?
Reform Design Lab:
"We have a product we would love to launch, but it's proven a bit difficult. That's how innovations work. At first, all is possible, then you realize there are all these barriers you need to tear down and then you realize you need to have everything in place and are slowly transformed into a conventional company.
Our goal for 2023 is to establish ourselves as a trusted furniture company in Europe. Asia and the US are far more eager to adapt, but trends move slower in Europe. We Europeans love to talk about them but we're a bit more anxious.
Our products can be found in private homes and public places all over the world and we believe the European markets are ready for us. After all, as with all trends, the faster you adapt the greater the rewards!"