Furniture design
Pushing the boundaries of sustainability and digital craftsmanship with The New Raw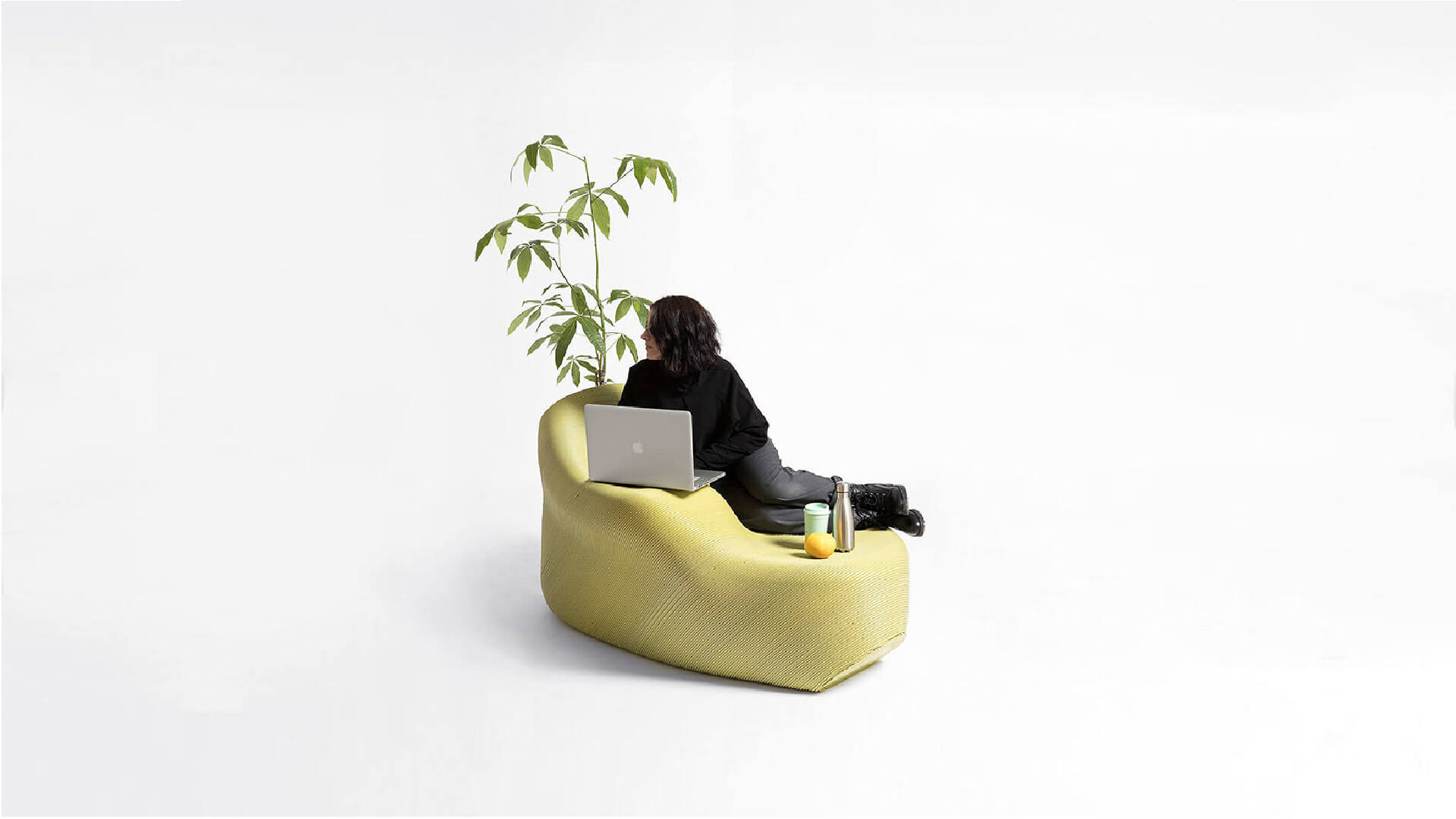 Rotterdam-based studio The New Raw works towards a sustainable future by creating circular design concepts that close material cycles and achieve societal impact through the use of additive manufacturing.
As we strive for a more sustainable future, designers and studios are finding new ways to optimize processes and create innovative products that reduce waste and energy consumption through sustainable manufacturing. And while there are many designers creating innovative solutions, there is one studio achieving circular design concepts that not only close material cycles but also raise public awareness, The New Raw.
Founded in 2015 by architects Panos Sakkas and Foteini Setaki, The New Raw is a research and design studio based in Rotterdam focusing on exploring new ways of recycling plastic through the use of robotic 3D printing. It is through the integration of design thinking, robotic production, and material research that The New Raw develops and implements circular design concepts that achieve high aesthetic value and incredible societal impact.
Their vision to contribute to a closed material cycle for plastic, raise awareness, and stimulate local production propels each one of their projects. From small scale products to large systems, every design brings forth an ever-growing ecosystem of multidisciplinary collaborators and stakeholders that work towards a better future.
With a commitment and a never-ending quest for sustainability, DesignWanted had the opportunity to interview founders Panos Sakkas and Foteini Setaki to find out more about The New Raw, their implementation of circular design, and their use of additive manufacturing to create a more sustainable future.
Who are Panos Sakkas and Foteini Setaki? How did the journey for The New Raw begin?
Panos Sakkas and Foteini Setaki: "We founded The New Raw in 2015. Our creative practice emerged via seeking of meaningful ways to apply new technologies in architecture and the built environment, by pushing the boundaries of sustainability and digital craftsmanship.
We both studied Architecture in Athens, Greece, and Building Technologies at TU Delft, the Netherlands. Foteini was always intrigued by digital processes of design and making and Panos was always focused on sustainability and materiality."
Why The New Raw, why robotic 3D printing with recycled plastic?
Panos Sakkas and Foteini Setaki: "We started from the observation that we live in a growing society; consuming more and more resources and generating enormous amounts of plastic waste.
As creatives, we wanted to discuss this issue in a positive approach; by suggesting a new way of thinking regarding materials and their applications and also explore what design can do for the environment.
By implementing new technologies in the recycling and reshaping process of plastic, new and unexplored possibilities are opening up."
3D printing can be seen as a double-edged sword: it generally produces less waste compared to traditional manufacturing processes but rapid prototyping is undoubtedly generating a sizable amount of waste. What are the biggest challenges or constraints of the design process, but definitely crucial to your practice?
Panos Sakkas and Foteini Setaki: "All our products are 100% circular. This means that our own waste, coming from prototypes and/ or misprints, can be shredded and 3D printed again!
Further waste minimization comes from our robotic 3D printing technology, which follows an additive approach. By being involved both in the design and production process enables us to reach high levels of understanding between the form, material, and manufacturing technique; hence bringing us closer to our goal toward zero-waste production process."
Can you imagine to be able to print your own house with a 3D printer? The architects from HANNAH have made it possible.
In 2019, you launched the first recycling center Zero Waste Lab in Greece equipped with a robotic arm and recycling facilities. Could you tell us more about this lab and what has been people experience while immersing in the world of recycling and 3D printing?
Panos Sakkas and Foteini Setaki: "In 2018, we launched the Zero Waste Lab in the city center of Thessaloniki, in collaboration with Coca-Cola in Greece.
Here, citizens could become creators and transform their plastic waste into customisable 3D printed street furniture in a hands-on approach, using our robotic setup. They could bring their plastic waste to the lab and via our on-line customisation tool design the new city furniture.
In this manner, we managed to make the recycling process of plastic "transparent" and motivate citizens to be actively involved not only in the recycling process of plastic but also in the co-creation of public space."
Is the Zero Waste Lab similar to your new facilities in Rotterdam? What is a day like at The New Raw studio?
Panos Sakkas and Foteini Setaki: "In the Zero Waste Lab we focused on the societal impact of our technological approach; in Rotterdam, we focus mostly on design, R&D and production; in the Blue Cycle Lab, we work with marine plastic. All our facilities, include machinery for processing of plastic from shredding to recycling with robotic 3D printing.
On a daily base, we enjoy getting our hands dirty with robot coding, material research and design. By dealing with all those aspects in-house, we gain control of the production process and inform design with material and fabrication parameters. We identify our shelves as designers, thinkers, materialists and digital crafters."
With 'Print Your City' initiative, you show a better way of using plastic in long-lasting and high-value applications as a way to re-design urban space. What are the main trends in 3D printing plastic and what do you think of them?
Panos Sakkas and Foteini Setaki: "There is a growing interest in applying 3D printing in the recycling process of plastic. We think this is meaningful when achieved locally, with less energy involved and in long-lasting applications.
By employing design (and not only engineering) it is possible to craft beautiful products. Beauty is the vehicle towards perpetuity; hence the best strategy towards sustainability!"
The New Raw has recently joined forces with BlueCycle to recycle and process marine plastic pollution creating affordable and sustainable products that are 100% circular. What is the next step for The New Raw?
Panos Sakkas and Foteini Setaki: "This period we do a lot of R&D that is based in three main directions: material, digital craftsmanship and new applications. From a material point of view, we extend our range by exploring the printability of different types of plastic waste streams such as marine, household, post-industrial plastic waste.
At the same time, we develop further our digital craftsmanship skills by programming pattern printing and optimizing material usage and printing times. Lastly, we develop new applications and products for retail, interiors, facades of buildings, playgrounds, and many more. You can always follow our activities on our social media."
The mission of Zero Waste Lab is to recycle, raise awareness, and create a better future through design, and Print Your City is its perfect realization.