Hospitality Design: the award-winning creations of THDP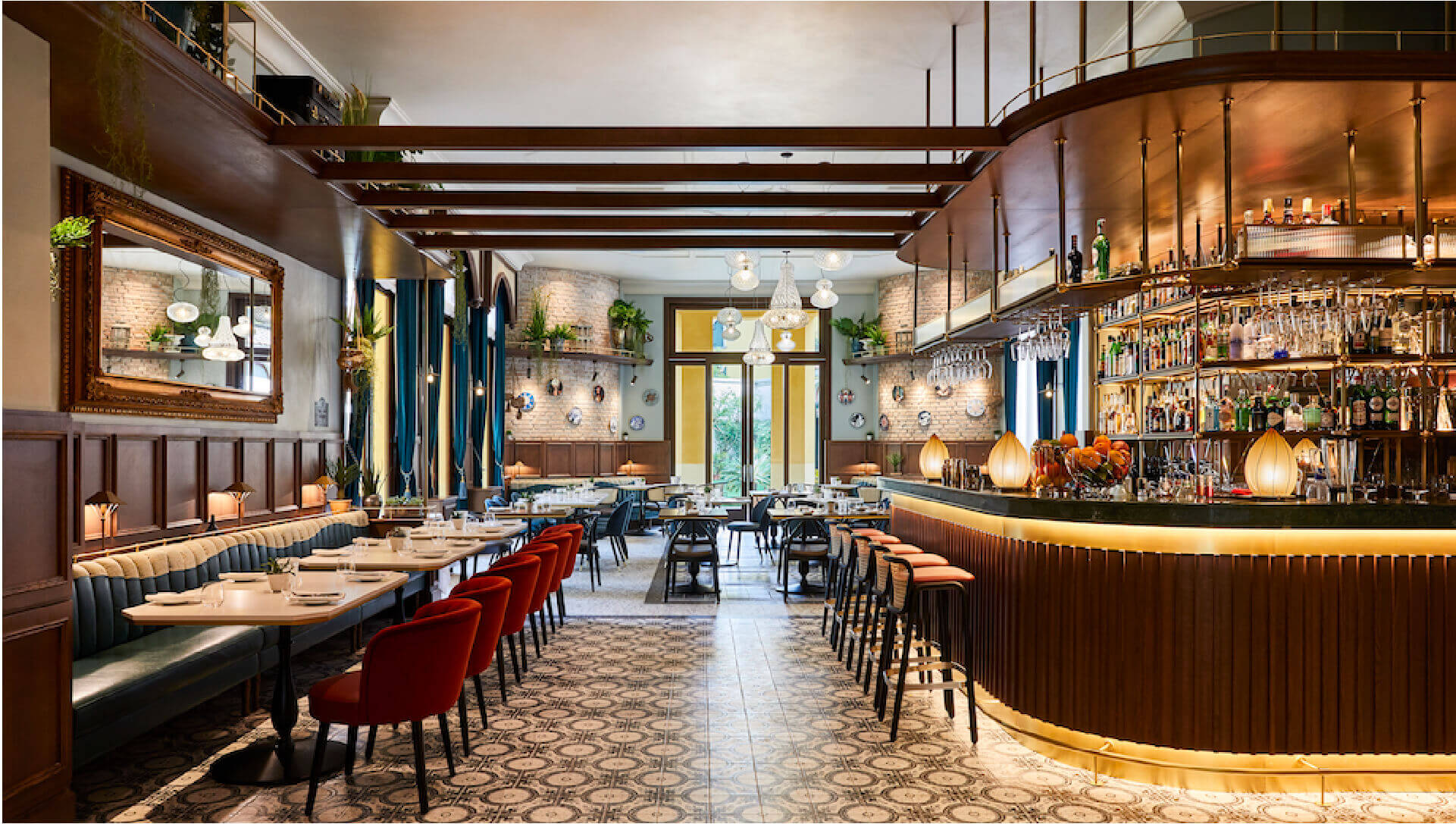 Based in the UK & Italy, THDP is a multi-award-winning architecture and interior design firm creating beautiful hospitality projects internationally through a multidisciplinary and progressive approach.
Established in 2004 by Nicholas J. Hickson and Manuela Mannino, THDP – The Hickson Design Partnership – is an architecture and interior design firm focusing on hospitality, high-end residential projects, and product design. With offices in the UK & Italy, THDP brings together talented creatives to produce incredible projects for diverse and prestigious international clients.
As a multi-award-winning practice with a multidisciplinary approach, THDP provides customized solutions to their clients and works comfortably in the planning, consulting, development, and execution process to create the beautiful designs they are known for. Their progressive point of view and inherent talent allows them to be flexible, adapt, and innovate while delivering exceptional projects in the ever-changing hospitality industry.
Impressed by their portfolio, DesignWanted had the opportunity to interview THDP and found out more about their practice, some of their outstanding projects, and what is next for the successful firm.
Who are Nicholas Hickson and Manuela Mannino? How did the journey for THDP begin?
THDP: "Nick and Manuela met in London in 2000. The turning point of their career was a phone call to get invited to be part of the site team of the main ski resort for the Turin 2006 winter Olympic games.
Together they left London to set sails for Turin, hometown of Manuela, where they ended up designing the interiors for the resort and having the best time ever, living in the mountains for one and a half years during the construction phase of the resort, now a Club Med."
Why THDP, why focus on hospitality, high-end residential projects, and product design?
THDP: "We soon realized that hospitality had a buzz like nothing we did before and we enjoyed so much the different layers of hotel design, from creating a concept narrative to fine-tuning details for the opening. Product design is part of every project and now it is the right time for us to focus on developing the products we design for each hotel in a new collection of small series, so that every project has a sort of legacy, every product is meaningful in the sense that it is created to last and to be of great artisan quality.
A great sense of belonging to the arts, a passion for creating spaces, restless curiosity is inside every designer, and doing the job is a way to express part of what it is in our minds, to give us centre and balance. Right now our goal is to increase in ourselves, our teams, and clients a strong mindfulness of ethics and to be very aware that every decision that we take every day in any project has a consequence for the environment."
Curious to know more about luxury in the hospitality industry? Don't miss Interior design for luxury hôtellerie – The word goes to Tony Chi.
Interiors are not static entities but lively systems, filled with people's moments, encounters, thoughts, and movements. How do you shape the experience of a space?
THDP: "We start from the location and we build from that. We avoid the instagrammable hotels, in favour of a more subtle way of finding little details to discover. Like a film that you have to watch a few times to find new discoveries on each screening."
Your project for the Hilton Verona Grand Hotel des Arts was inspired by act II of the Romeo and Juliet play. Can you give us some examples of how this inspiration is reflected in the space?
THDP: "It was impossible to be in Verona and avoid Shakespeare, so we wanted to talk about love as an absolute timeless moment in life, like the second act of Romeo and Juliet's play. The two lovers meet at night on Juliet's balcony in her garden.
We designed the reception like a theatre stage, with the reception pods inspired by Juliet's balcony shape. The carpet with a rose design is a reference to the famous caption "what's in a name? That which we call a rose, by any other word would smell as sweet". There are also references to birds in the artworks, a symbol of freedom, and an artwork of Juliet with sunglasses to represent her rebellion to her strict family rules.
In this fun project, we wanted to celebrate love and the arts as the hotel is formerly called Hotel Des Arts for the big art collection of the building owner, which we curated to follow our narrative and that we arranged in a new thematic way."
For the project Venice Sant'Elena, you converted a business hotel into a boutique hotel. Can you describe the process and how did you reach your goal?
THDP: "Sant'Elena is very close to the Giardini of the Biennale, there is a Mediterranean tree park on the way to the hotel, originally a convent, which also has an internal courtyard garden. We wanted to create a visual memory of the trees starting from the Vaporetto journey and ending in the bedrooms, where we used foliage and tree wallpaper for the walls. As you enter the hotel before you could not read that it was a church because some partitions were built transversally to the long nave.
We demolished the walls and united the space, by also opening a tall french window at the end of the apse which opens up to the internal garden. We found some old photos of the church with the help of the research by local architect Diego Giallombardo, who went to the Historic Archive to find the original photos and drawings of the church.
We then revealed part of the original brick walls and we decorated the space with shelves and hanging planting. The concept narrative was created along the legend of Sant'Elena, the mother of Emperor Constantine and we introduce references to the Byzantine palette of deep oranges, green, and gold and decorative objects like Les Ottoman's plates or the Alberto Valese marbleized papers in the Ebru technique."
The Hilton Frankfurt: Hudson Yards bar recently opened and it has been inspired by a futuristic vision of Manhattan's Hudson Yards district. Which elements did you incorporate in the project to get there?
THDP: "This project started with the refurbishment of the rooms. The views are amazing and there is this speechless feeling of wonder when you look out at the night skyline.
It really feels like Manhattan. We played with the idea that Frankfurt is becoming a new European business hub and to celebrate this new beginning we took inspiration from the new fervent mix used in the district of Hudson Yards. We then created a completely new "American bar", with a generous counter with stools around, glasses racks, and illuminated liquor shelves. This is in the middle of the lobby, so the bar is now giving a new gravitas to the whole space, which is quite tall as all the room floors corridors overlook the lobby space at ground level."
The Aürt restaurant – which won a Michelin Star just 8 months after the opening – has been designed right in the middle of Hilton Diagonal Mar Barcelona's lobby. How did you manage to create an intimate environment inside such a big space as the lobby of a hotel?
THDP: "The Chef Artur Martinez, wanted to create a look which could express his confidence and determination, sensual, but not decorative. The back wall is quite dark and long, cut through by all visible kitchen equipment for the chef's table preparations.
So we needed contrast and we found some beautiful Gervasoni polished brass suspensions looking like umbrellas which were perfect to create a more intimate ambiance and facilitate the unique experience that is dining at Aurt. (Aurt in Catalan means a fist on the table)."
Being a multi-award-winning Architecture and Interior Design practice, what is next for THDP?
THDP: "We are working on short term residential luxury rental in three Italian cities such as Venice, Rome, and Naples. We need time to re-center and we see this strange 2020 as an opportunity to find new challenges, to take slowly, and to do them with joy and with a new sense of responsibility for the new generations."
Find out more about design firms working in the hospitality industry, don't miss Throwing the status quo out the window with DesignAgency.