Furniture design
The New Raw gives new life to marine plastic waste with 3D-printed beach furniture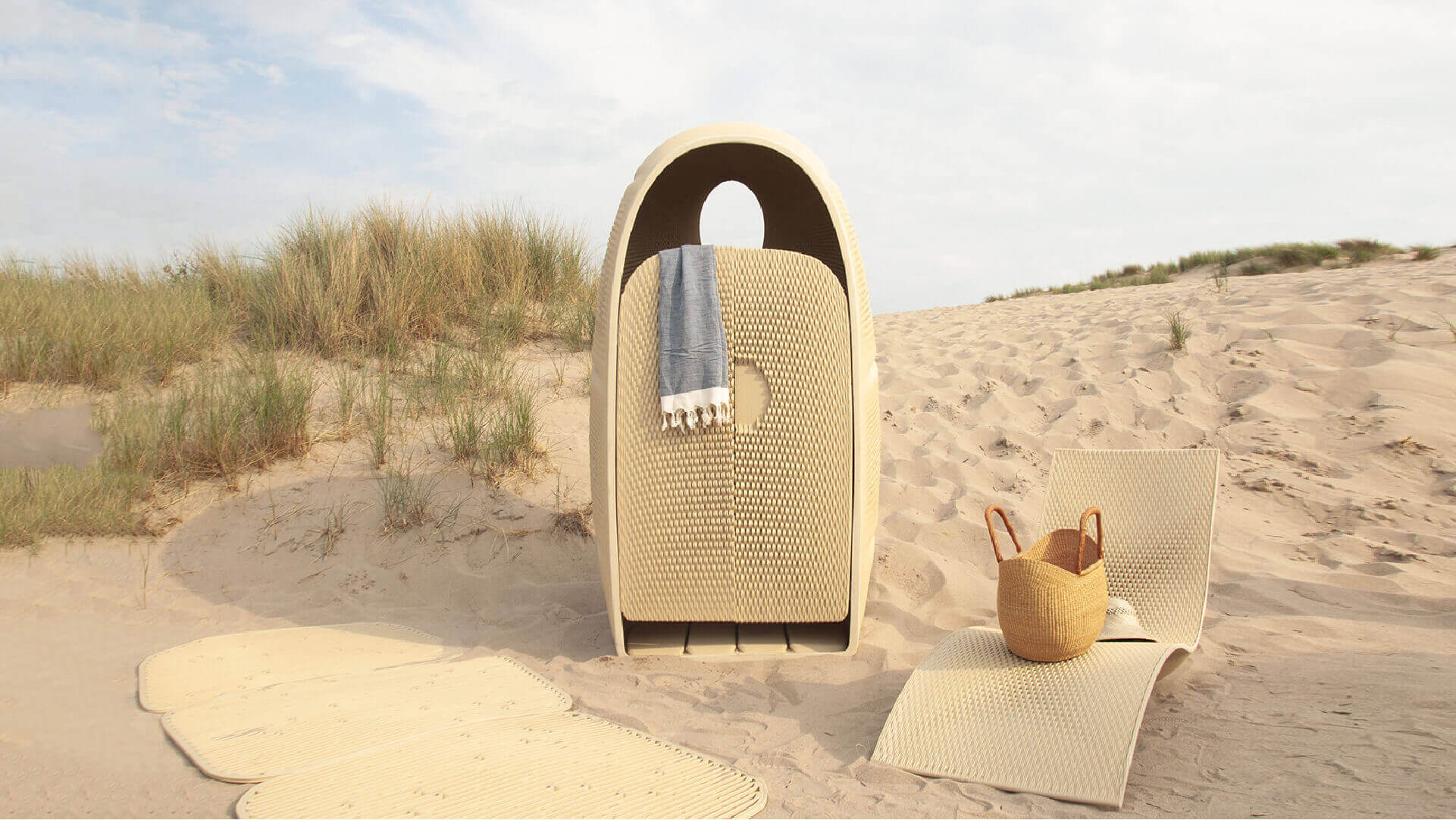 The Elements is a limited edition collection that uses 80% recycled marine plastic and is 100% recyclable.
There's beauty in the fact that Dutch design studio The New Raw has created beach furniture out of marine plastic waste. It sounds impossible but their limited edition collection, with its sandy colour and wavy forms, turns the issue of plastic pollution on its head and makes shorelines an even prettier place.
Called The Elements, the collection consists of three different products: a changing room, a sunbed, and a modular walkway, which can be deployed quickly at various locations when new configurations are needed.
As you can probably tell by the name, the design draws inspiration from the elements, mainly those you can expect to experience by the sea. Beyond being available in two fitting colour tones: aqua and sand, the organic shapes found in saltation patterns on the sand have been echoed in the rippled surfaces of each sculptural piece.
To create the collection, The New Raw collected 720 kilograms of marine plastic waste, melted it down and transformed it into a 3D printing filament. Employing a robotic manufacturing process, each piece has been made with 80% recycled marine plastic and is 100% recyclable to potentially become the raw material of future products.
Interested to know more about how The New Raw transforms plastic waste into incredible products? Don't miss The New Raw – From plastic waste to furniture with 3D printing.
The studio encoded 3D textures, which are both ornamental and functional components used to achieve climatic comfort. For example, the sunbed and the changing room both feature an almost thatched-like pattern to support ventilation, light irradiation, water drainage, and cooling.
Based in Rotterdam, lead architects Panos Sakkas and Foteini Setaki are committed to such processes, sharing an ambition to give new life to discarded materials. The studio develops its own digital techniques and in-house manufacturing processes to explore the potential of turning plastic waste into beautiful products that are 100% circular.
We haven't mentioned the fact that Coca-Cola Greece commissioned the collection because the design speaks for itself. However, when the genuine support of big brands gets behind projects like this, it's possible to see how a 360-degree approach based on "making with waste" can help to create a more sustainable future.
Already during the summer of 2021, The Elements collection has been implemented across six beaches located in popular locations across Greece including on the islands of Crete, Rhodes, and Kythnos.
Get to know The New Raw's methodology, design process, and vision! Don't miss Pushing the boundaries of sustainability and digital craftsmanship with The New Raw.