Design
Transforming materials: shifting from industrial to artisanal perception
During the fifth edition of EDIT Napoli, Pedrali, in partnership with DWA Design Studio led by Frederik De Wachter and Alberto Artesani, unveiled their innovative UNICO project at one of the seven locations dedicated to EDIT Cult
Inspired by the leftover materials produced during chair molding at Pedrali, Frederik De Wachter and Alberto Artesani, Cofounders of DWA Studio, had the idea to harness the potential of this colorful, shapeless amalgam, highlighting its transformation from a liquid to a solid state, giving birth to UNICO.
Their original concept revolved around not reprocessing these scraps but rather utilizing them in their raw form, transforming them into genuine objects through processes like turning or sanding. This approach imbued these objects with the appearance of stone, wood, or other organic materials, resulting in a distinctive fusion of reuse and craftsmanship.
With a longstanding interest in fostering collaborations between companies and designers, particularly in the realm of recycling and upcycling initiatives, we had the opportunity to pose some direct questions to those directly involved.
In conversation with Monica Pedrali, CEO and Sales & Marketing Director at Pedrali.
How did the partnership between Pedrali and DWA Design Studio for the UNICO project originate?
Monica & Giuseppe Pedrali:
"Our collaboration with DWA Design Studio kicked off at the 61st edition of Salone del Mobile.Milano 2023. In this collaboration, Alberto Artesani and Frederik De Wachter masterminded the #PedraliBacktoNature exhibition stand, which pays homage to the company's roots, starting from its outdoor collections and evolving into a diverse range of indoor products.
Their design creates a seamless interplay between interior and exterior, with one seamlessly extending into the other. To gain a deeper understanding of our company, these two architects embarked on a tour of our facilities in Mornico al Serio, Bergamo. Their journey took them through our showroom, offices, and the very heart of our operation – the factory.
It was here, amidst the production process of our chairs, that the inspiration for the UNICO project was born. Upon witnessing the discarded materials generated during the chair molding process, they had a groundbreaking realization: the potential of these discarded materials, a colorful and amorphous amalgamation, lay in their transformation from a liquid to a solid state. Their ingenious idea was not to reintegrate these waste materials into production but to elevate them into tangible objects.
These objects would undergo processes like turning and polishing, granting them the appearance of materials such as stone, wood, or other organic substances. This approach represents a harmonious fusion of reusability and craftsmanship, breathing life into an array of distinct pieces, each possessing a unique and inherent value."
In accordance with the current times, sustainability is one of your core values. What aspects are you giving the highest priority to in order to effectively bring this vision to life?
Monica & Giuseppe Pedrali:
"Sustainability, alongside technological innovation, continues to guide the company's choices, not only regarding products but also in terms of the efficiency of processes and production sites. To this end, in 2020 the company presented its first "recycled grey" products, made from recycled polypropylene: 50% post-consumer waste and 50% industrial waste. Following this process, Pedrali has obtained the ReMade in Italy® certification from 2021.
The company's sustainability is further confirmed using FSC® C114358 certified wood from controlled forests and of water-based coatings composed mostly of plant-derived resins, as well as the study of the company's Corporate Carbon Footprint since 2018. This study measures the total amount of greenhouse gas (GHG) emissions caused both directly and indirectly, by the organisation in a given time span.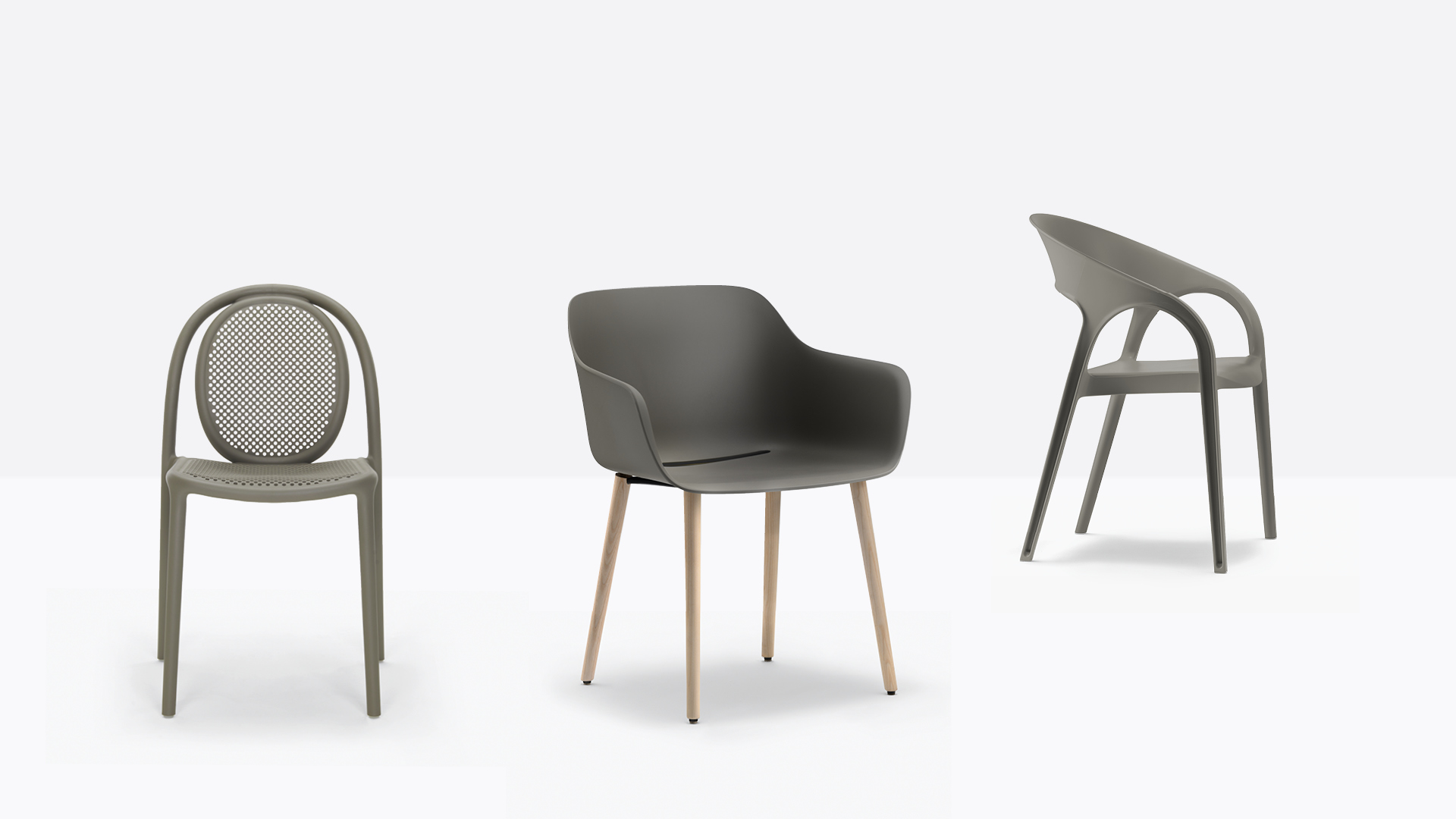 With a view to continuously improving the company's sustainability, Pedrali is also making a series of investments aimed at reducing its environmental impact in terms of CO2 equivalent emissions by means of a set of clearly identifiable goals. For example, it has installed over 6000 sqm of photovoltaic panels at its factories, producing 1.2 MW of energy during periods of high light intensity, a power capacity capable of meeting the energy needs of the Mornico al Serio (Bergamo) production site.
To reduce energy consumption, during the cold season the hot water produced in plastic injection processes is recovered and ducted into the other production departments to heat them. Likewise, during the warmer season, a system composed of cooling towers lowers the temperature of the mould water, reducing the consumption of water itself. The company has also converted all internal and external lighting fixtures to LED lights.
These actions merely continue the path that Pedrali has always pursued, a journey towards environmental sustainability, alongside planning – during both the design and the production phase – the optimised use of raw materials, the rationalisation of resources, the reuse and/or recycling of waste, the disassemblability and controlling emissions."
For a company like Pedrali, what does it represent to participate in an event like EDIT Napoli?
Monica & Giuseppe Pedrali:
"For us, taking part in EDIT Napoli with the UNICO project was an opportunity to recount the theme of sustainability in a different key, and with ideas that go beyond our usual sphere of action, through a quality positioning within an event that presents itself as a perfect marriage between art and design."
In conversation with DWA Studio
How did the idea for UNICO come about? And why did you choose EDIT Napoli to present it?
DWA Studio:
"During a visit at the Pedrali Factory we were struck by the resulting material that is poured on the floor when changing the colour in the injection moulds for plastic chairs. It had a very organic and sculptural aspect, always different in size, shape and colour. We decided to use these characteristics of the material to create new objects rather than re-emit it in the recycling process as usually done.
We discovered that we could work the material in the same way as wood. In order to fully present the uniqueness of the project we were convinced that the occasion should have been a curated design event like Edit Napoli, far away from the overcrowded design happenings elsewhere."
Considering that these are leftover materials from production, what opportunities and constraints did you face in the design process?
DWA Studio:
"It was wonderful to discover that each material we began to work with was different in shape and colour. Each piece of UNICO has its own specific sculptural quality. When working the material on the turning machine we often had pleasant discoveries of hidden textures and colours. On the other hand, we also discovered that not every leftover was suitable. Some plastics were too hard to be worked or did not have the right thickness to be transformed."
What kind of collaboration did you have with the company during the creative phase? Did you coordinate with their technical department? If so, how?
DWA Studio:
"With the technical team of Pedrali, we tried to find a way in order to pour the material in bigger thicknesses so we could obtain deeper vessels. All the production process from working the pieces on the turning table, to cutting and assembling the pieces of the bases, was assisted by an artisan woodworker in Milan."
From your perspective, what types of projects could these materials, production residues, be used for?
DWA Studio:
"Normally these production residues are used by Pedrali for the production of recycled grey plastic (50% post-consumer waste + 50% industrial waste). We thought it was interesting to change the perception of the material from industrial to artisanal."