Viccarbe's Savina sofa and Funda stool spearhead the brand's sustainability campaign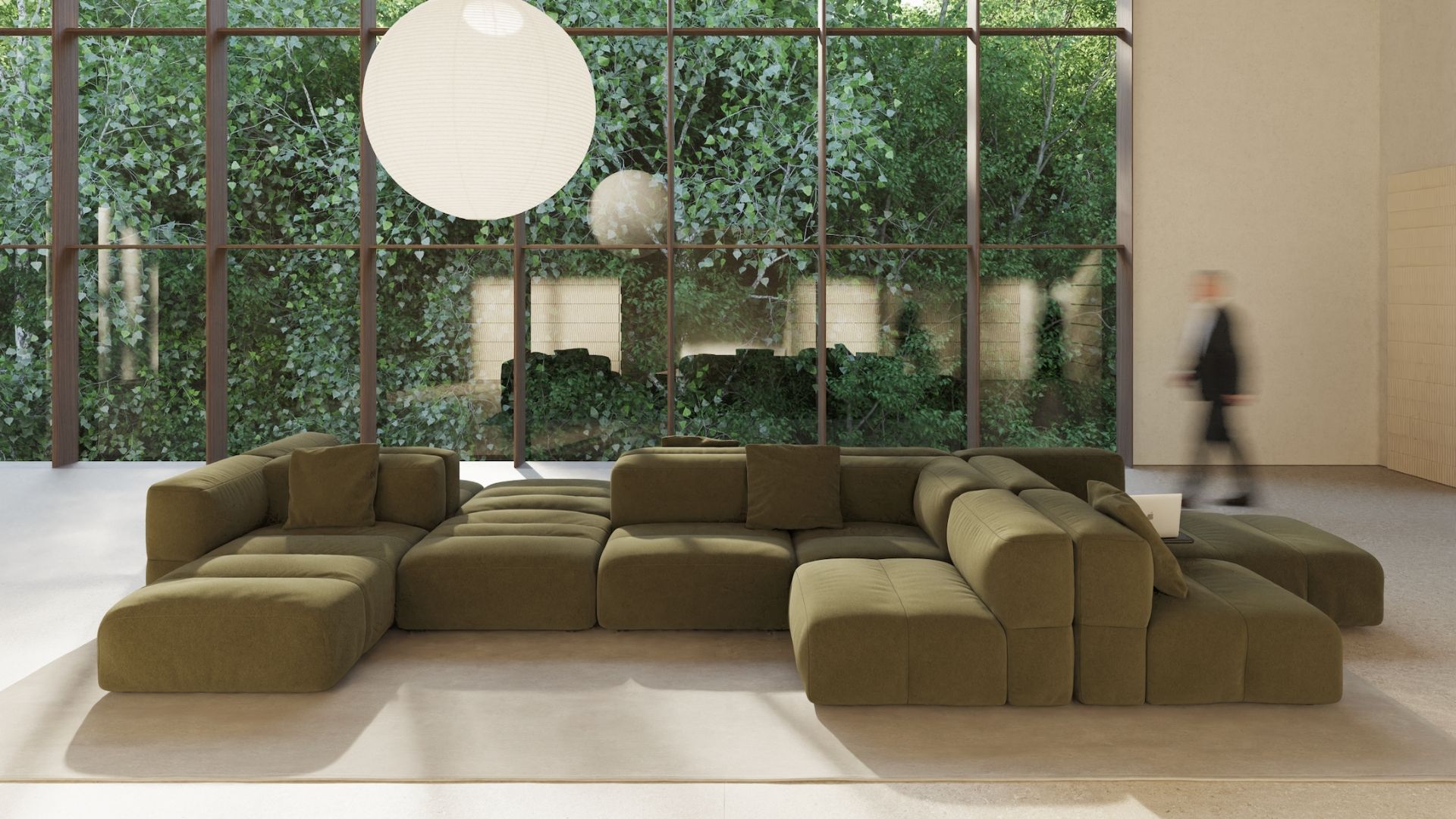 The Valencia-born brand's latest designs promote comfort and sustainable practices in equal measure.
For Spanish furniture brand Viccarbe, sustainability is a multifaceted objective that requires an all-encompassing approach, which ranges from working with local suppliers to avoid any unnecessary transports to using exclusively sustainable materials.
First and foremost, however, is making sure products last.

"There is nothing more sustainable than creating durable furniture pieces that will remain with you for a lifetime, furniture that you do not want to throw, and you are able to repair in case any tear and wear occurs," says Marta Cerezo, Communications Manager for Viccarbe.

Of course, this goes hand in hand with the brand's choice of materials. Since Viccarbe was founded in 2000, the company has used FSC and PEFC certified wood in its production, which comes from controlled and sustainable logging in Europe.
In 2007 it received the ISO 14001 certification, which offers a framework on how a company can set up an effective environmental management system.
In practice, this led to its headquarters using energy from only renewable sources.
"Sustainability has always been very important for us; it is something we value and seek for every project we begin," says Marta Cerezo, Communications Manager for Viccarbe. "We want to make things different in the design industry and we want to be part of the change."
"We take environmental impact into account when selecting raw materials. 98% of our suppliers are European, allowing us to minimise the environmental impact caused by transport. The remaining 2% come from the U.S."
Not limited plastic and wood, Viccarbe's efforts extend to other materials in a bid to incorporate sustainability within every component of its designs.
It offers a selection of graded-in fabrics made from 100% recycled materials as a result of its joint venture going with Ecoalf, a fashion brand that designs and markets high quality textile products and accessories made of recycled materials.
"These sustainable fabrics are available from the entry price of upholstered products," explains Cerezo.
"As a novelty, our latest launch, the Savina Sofa, Ecoalf Edition, has been designed with recyclable materials and recyclable foams from unwanted mattresses. We have given a second life to these pre-loved mattresses that have been discarded, fostering sustainable habits."

Designed by Viccarbe founder Victor Carrasco to promote sustainable consumption, the Savine sofa consists of 7 parts each of which can be replaced and recycled separately.
The modular collection includes several elements including different types of seats, backrests, upholstered and wooden armrests, optional hidden casters, integrated outlets and other accessories like auxiliary tables and matching cushions.

That's not all though. Viccarbe is working on several collections with designers which also promote sustainable practices and the circular economy. Collaboration, the brand says, is key in achieving these objectives.

Another example is the Funda by German designer Stefan Diez, which is made up of two different pieces: a metallic structure that works as its skeleton and an upholstered seat that uses a technical Kvadrat fabric known for its comfort and resistance.

It's curved form combines a long-lasting upholstery known for its comfort and resistance. In this way, Funda manages to evoke the maximum expression of comfort with as few elements as possible.
Again, both parts that make up the chair can be recycled independently, extending its lifecycle and fostering circular economy.

"In our experience, finding the right recyclable and recycled materials and making sure all the pieces in the design puzzle respond to the optimum quality standards we require, has been and is a big challenge," says Cerezo.
"[But you also] have to make sure your suppliers, designers and partners are all prepared for change and only working with those who do is the best learning advice we can give."
"Collaborating and learning from the best is key to grow and speed things towards the sustainability journey."