Architecture
Villa Chams rests in Lebanon's arid landscape like a modern-day temple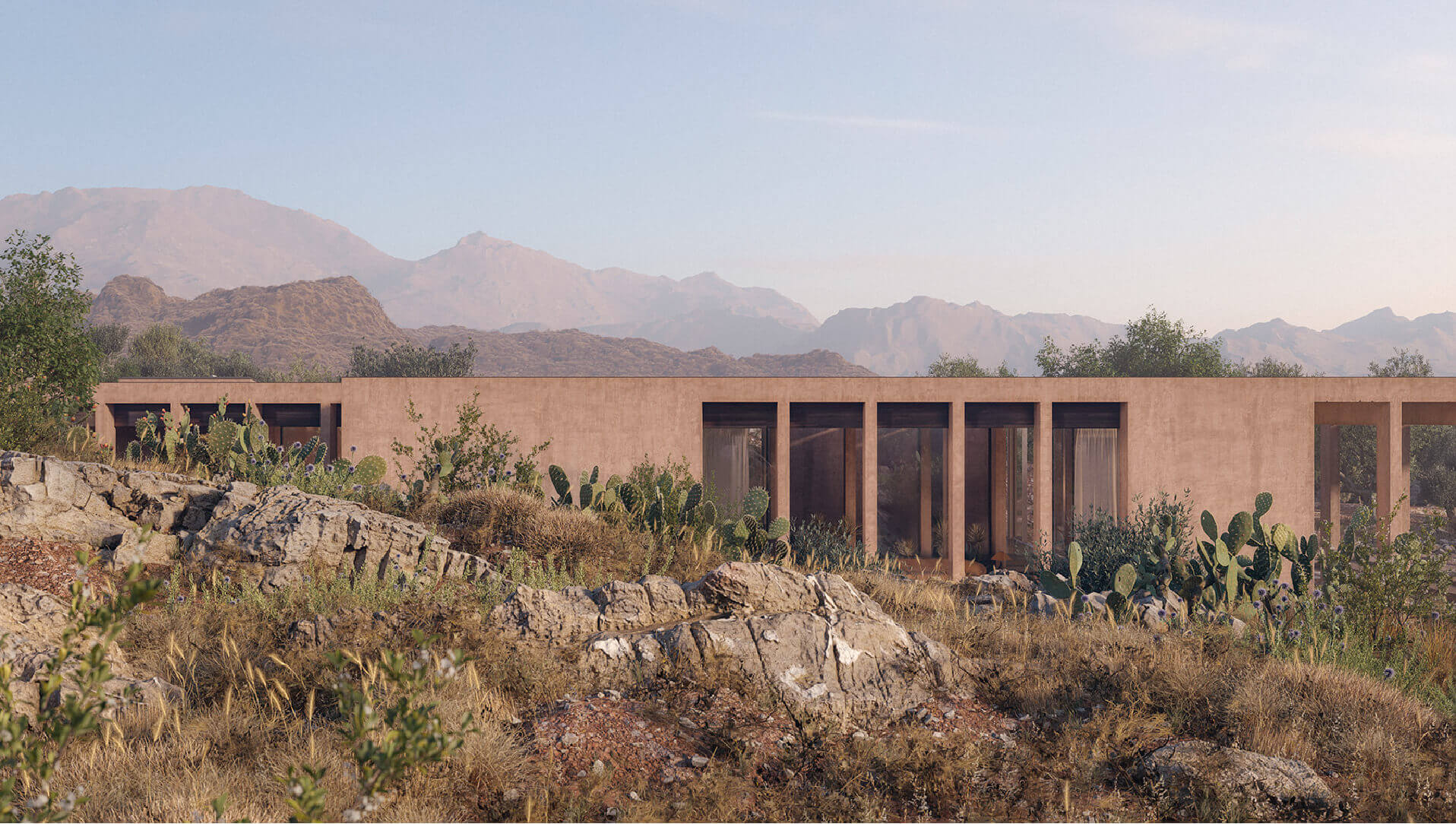 Carl Gerges Architects has designed a villa retreat inspired by Roman ruins, characterized by a series of columns that line the facade.
Embracing Lebanon's mountainous landscape, Villa Chams merges with the preserved rocks, opuntia, olive trees, and other flora that make up the surrounding topography in Baalbek, a city located east of the Litani River in Lebanon's Beqaa Valley, about 85km northeast of Beirut.
Why Villa Chams? To introduce a melodic residential architecture inspired by the Roman temples and add another dimension to the harmony of the site
The aim was to introduce an architectural gesture with as little physical impact on the site as possible.
The minds behind Villa Chams – Carl Gerges Architects
Carl Gerges Architects is a Beirut-based architecture studio founded by Carl Gerges, a Lebanese architect who is also a well-known musician. He is best known for being a member of the rock band Mashrou' Leila, which he co-founded in 2008. After graduating with an architecture diploma from the American University of Beirut in 2011, Carl Gerges worked in several architectural firms both locally and internationally including the locally-based Paul Kaloustian.
In 2020, Gerges founded his own studio to offer 'comprehensive services in building design, interior design and product design,' shortly after making the cover of Architectural Digest Middle East for a story that featured his home, which he also designed. In the six years prior, Gerges toured with Mashrou' Leila whilst also working on some design projects and employing his architectural skills to work on stage design and the band's art direction.
Curious to know more about site-specific residential architecture? Don't miss The dreamlike, romantic, inhabited and humanized cave in Portugal.
Materials & Techniques – Poured earth concrete, stone and water
Based on a rudimentary grid, which orchestrates a rhythmic flow between equally distant walls and columns, Villa Chams combines a series of private spaces and open extensions. These are houses in one shelled structure made from poured earth concrete, giving the property its raw and natural aesthetic.
A pool, which is probably better described as a 'body of water' in this case, flows through the property like a river, pierced by concrete columns and bordered by rocks. At its base, a mix of native mineral aggregates creates a rough terrazzo in keeping with the project's ode to nature.
Style & Aesthetics – Living Nature
The style of Villa Chams is dictated by a language that merges nature and architecture. The interiors are furnished with poured earth concrete walls and stone. Meanwhile, light and layers of view create an earthy sensorial balance.
In the bathroom, only skylights illuminate a floor to ceiling rock and contrasting smooth sound reflective walls, surfaces intended to enhance the soothing sound of water flowing and reverberating. Further emphasizing the living nature of this house, certain materials were also chosen for their changing characteristics when standing the natural wear of time.
Carl Gerges honours the essentialism of music and its roots in nature
Emerging as one of Villa Chams' most charming features is the music and reading room, which has been built a level lower into the ground. It's a symbolic gesture that emphasizes not just the architect's, but also humanity's deeply rooted emotional connection with sound and nature – this particular room opens to an eye-level glazed view of the outdoors.
Design memento – A modern-day Roman temple
The entire property was actually inspired by the Temple of Bacchus, which is one of the three main temples at a large complex in classical antiquity, at Baalbek in Lebanon. It's also the venue where Mashrou' Leila played its first big concert back in 2012.
Villa Chams echoes the monumentality of this UNESCO World Heritage Site, with a rectangular structure incorporating a series of equidistant walls and columns. Meanwhile, water elements reference Roman baths and water acoustics, the gentle sound of fountains.
The writer's opinion comment – A beautiful understanding of abstract materials
Villa Chams merges naturally with the landscape in a way that feels more like a discovered dwelling than a contemporary residence. It comes down to Carl Gerges' use of natural materials and not just the use of earth concrete, which is similarly successful in grounding the property.
What I particularly like is his use of light and sound, elements that have been strategically designed to embrace the history and the seasonal nature of the site. It makes for an overall tranquility between nature's multi-layered complexity and the built environment.
If you are curious to know more about breathtaking architecture that celebrates nature, don't miss VTN Architects bridge the divide between people and the natural environment with Ha Long Villa.