Architecture
Quintessentially Milanese: This duplex penthouse is a muted take on Visionnaire's 'Meta-Luxury'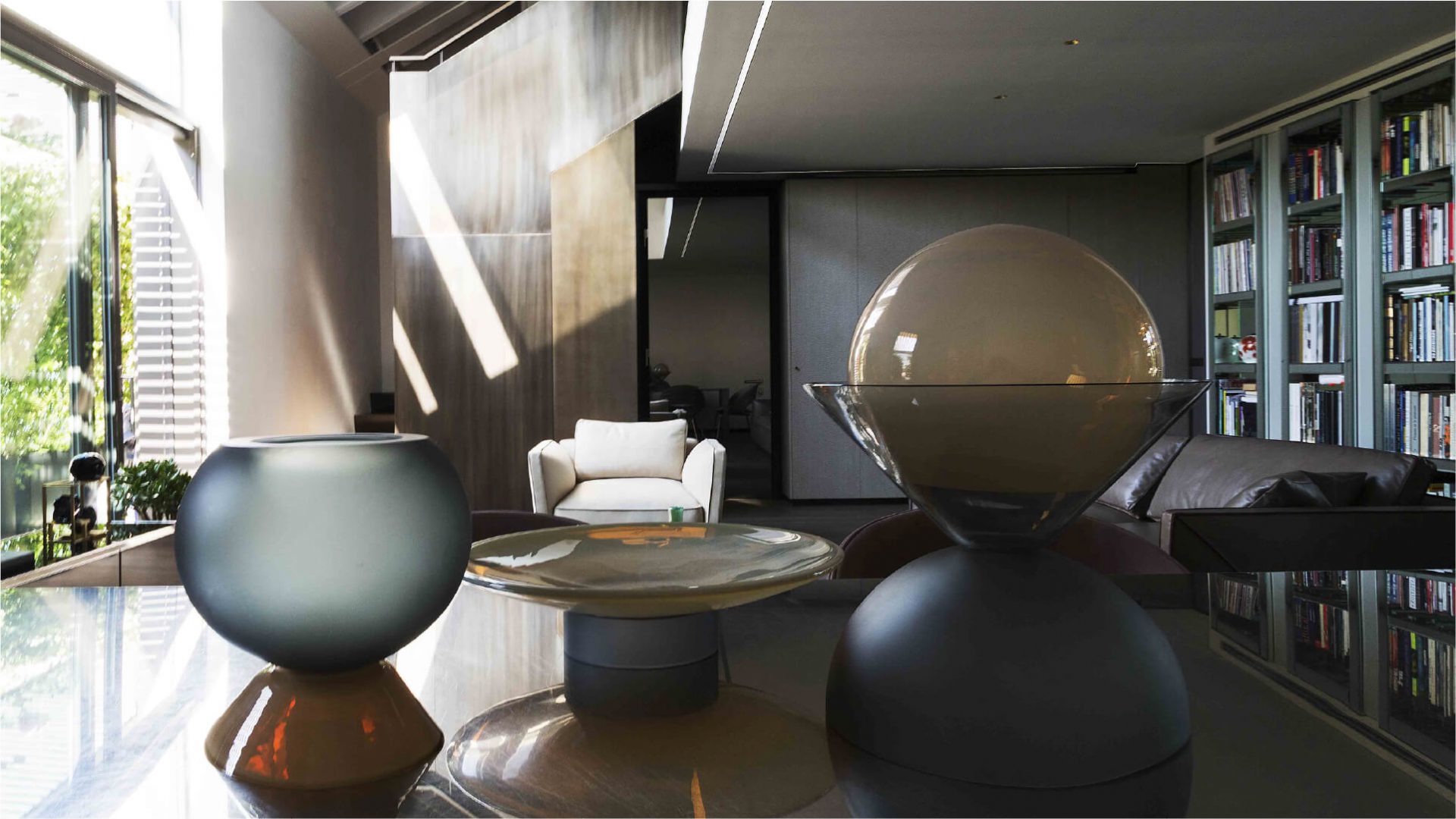 Luxurious finishes and a collection of unique, handcrafted pieces transform the loft of this residential courtyard complex designed by architect Daniele Fiori.
Welcome to the home of Eleonore Cavalli and Marco Morandini, respectively Art Director at Visionnaire and Curator of Visionnaire's art gallery WUNDERKAMMER. The Italian furniture brand made a name for itself championing a 'meta luxury' concept: in less than two decades, Visionnaire has grown beyond simple furnishings, creating tailor-made spaces that like Cavalli's own abode, follow closely the lifestyle of those living within them.
The duplex penthouse is set over two floors in the annexes of a new residential complex in Milan, formerly the home of a convent in the center of the city and damaged during World War II. The plot has been transformed by architecture firm DFA Partners, which has drawn inspiration from the perspective of nature and created a successful example of urban forestation.
The concept of a green, quiet cloister is the guiding factor of the entire project with green rooftops, private patios, and terraces that interact with the building while capable of reducing CO2 emissions and acting as a screen from the outside. Other features include built-in photovoltaic cells and groundwater with the ability to produce geothermal energy.
Its green credentials make it the perfect home for a chic collection of pieces from Visionnaire whose all-around vision of luxury is based on values of quality and aesthetics but knowledge, research, and sustainability too. Its commitment to reducing the environmental impact of its production processes starts from the selection of certified raw materials and ends with careful consideration when it comes to manufacturing.
Inside, the interiors are designed by architect Massimiliano Camoletto and rigorously oriented towards respect for the lifestyle and character of the owner, contemporary art connoisseur Cavalli and her husband, Marco Morandini, an art curator by trade. The two-story living area is architecturally shaped around two custom furnishing elements: a load-bearing partition based on a sequence of Speyer mirrored bookcase modules, and an impressive staircase volume in metal and wood, which like a soft-tech chrysalis encloses the shoe rack and closet.
Curious to know more about the beautiful pieces used in the interiors this residence? Don't miss Visionnaire unveils Beauty Collection during Milano Design City 2020.
On entering the apartment, visitors are welcomed by a space that is soft yet striking in impact. In terms of the decor, the apartment is characteristic of Visionnaire's contemporary style, expressed through a subtle palette of neutral shades.
The living area is defined by the brand's classic styles, the Bastian sofa in powder-color leather and carob-tone ribbons, the Bastian armchair in nabuk maestrale, both designed by Mauro Lipparini. Pieces are given subtle details and finishes — like the Kings Cross low table structure that sits at the center in solid Canaletto walnut with an open-pore finish and Dalmatian marble top.
The dining area is furnished with pieces that capture an effortless elegance characteristic of Milanese apartments. Visionnaire's Kudrun steel dining table, and the Kylo padded chairs in dove grey and tobacco, designed by Alessandro La Spada. Accessories include the Equilibri crystal vases by Zanellato and Bortotto, and the Ballet set of collectible bottles in Murano glass by Marta Giardini. On the wall, a work in enamel on wood by Emmanuel Barcilon.
The living zone extends to the outside where a bioclimatic greenhouse by Pratic features an adjustable roof. The space is decorated with climbing plants and Mediterranean species including olive and lemon trees, jasmine, roses, wisteria, camphor trees, and maples. An Argante carpet the shape of a butterfly anchors the terrace, which is furnished with a Backstage chair and a trio of Granger tables of different heights, hand-finished with a bronze coating.
Back inside, the kitchen was designed in collaboration with Ernestomeda, and is characterized by a metallized lacquer finish, smoke grey etched glass, and Grigio Alpi stone. The Dark-Day toilette is also a space of unexpected surfaces, reminiscent of an elegant Art Deco powder room. It features a combination of volcanic stone by Alimonti with hand-painted ceramic tiles that amplify the connection with nature.
Upstairs, the penthouse's two bedrooms join a minimal fitness space warmed by floors in large-format planks of thermo-treated wood, produced and installed by Domenico Mori. A balcony overlooking the lower levels connects all three spaces, with walls in petroleum green and a large work by the Catalan artist Susy Gomez.
Characterised by a calming canvas of muted colours, like the residential complex itself, this modernist apartment unfurls in a series of stylish geometries that combine modernity and elegance in a skillful interplay.
Find out more about Visionnaire's values, don't miss The nature-infused environmental-conscious meta-luxury of Visionnaire.